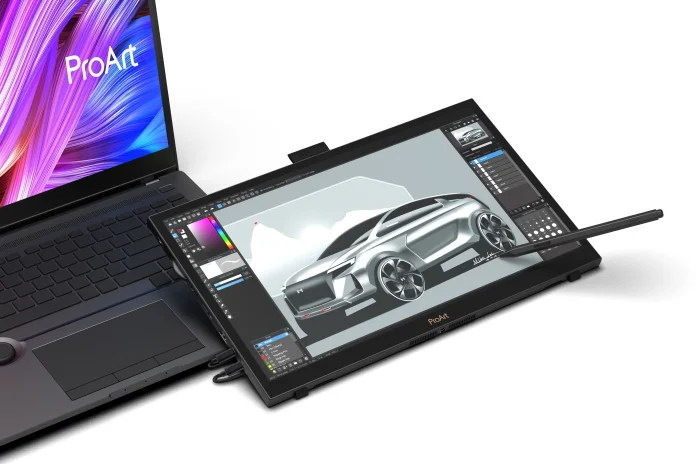 For many creative workflows, nothing beats the accuracy, simplicity, and control of stylus input, and no tech is trusted more than Wacom EMR when it comes to natural-feeling handwriting, sketching, and drawing. The new ProArt Display PA169CDV, launching at CES 2022, gives creators a secondary display and a flexible input device with Wacom EMR technology, the ASUS Dial, and Control Panel software, all in a slim package design that fits right into a laptop bag.
Versatile input for a wide range of creative tasks
The PA169CDV boosts your creative efficiency with versatile physical controls and customizable software. It starts with natural-feeling and precise stylus input through Wacom's electromagnetic resonance (EMR) tech. This layer of sensors behind the display creates a magnetic field that perfectly captures the movement and pressure of every stroke of your stylus. Wacom EMR also passes power through the LCD display, so the included ProArt Pen doesn't need a battery. This lightweight, cordless stylus is easy to use for long periods of time, and its leather pen holder keeps it protected and ready to hand when it's needed.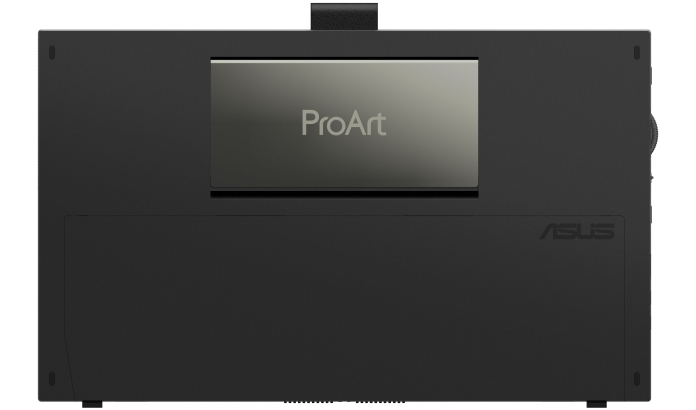 To give you quick, fine-tuned control as you're creating, the PA169CDV also includes an integrated ASUS Dial. Built right into the left edge of the display, this intuitive tool gives you quick access to the most commonly used functions in your favorite creative apps. It's a quick and easy mechanism for changing tools or parameters without losing focus on the task at hand, and it's ready to streamline your workflow in Adobe After Effects, Photoshop, Premiere Pro, and Lightroom Classic. It's compatible with Microsoft Surface Dial features, as well.
The Control Panel software interface takes advantage of the PA169CDV's 10-point capacitive multi-touch display to offer creators even more tools for working within Adobe apps. You can populate the interface with virtual dials, buttons, scroll wheels, and sliders, and then link those elements to your most commonly used software functions. With a simple tap on a button, you can bring up a tool, or spin of the dial to get the exact color you're looking for.
For the ProArt Display PA169CDV to excel as both a display and an input device, its innovative stand offers two kickstands. The lower kickstand raises the display higher for the best viewing angle. The upper kickstand places the PA169CDV at the ideal angle for writing, all the while raising it off your desk just enough to let you position it close to your keyboard.
Professional-grade colors and accuracy in a portable package
The ProArt PA169CDV is light and slim enough to slip inside a laptop bag, yet it's equipped with all the specs that professionals demand for creative work. This 15.6" display houses an IPS panel for wide viewing angles and excellent color reproduction, and it offers a richly detailed 4K resolution.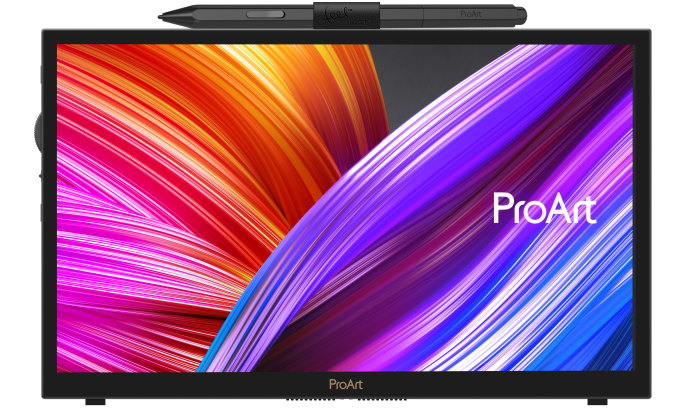 Indeed, accuracy is paramount for digital art, photography, and videography, and the PA169CDV delivers what creators in those fields need. It offers 10-bit color, and it covers 100% of the common sRGB and Rec. 709 color gamuts. It's Pantone Validated and Calman Verified to achieve an average ΔE value of less than 2—making it the world's first portable monitor to bear both certifications. From the moment you open the box, this display is ready to go to work.
Versatile I/O makes this portable monitor easy to deploy wherever you take it. A pair of USB Type–C ports let you quickly connect the PA169CDV to a wide range of devices, and an HDMI port ensures even broader compatibility.
Pick up a pen and create
The ProArt Display PA169CDV's Wacom EMR tech, exceptional display, innovative ASUS Dial, and convenient design give creators a wealth of input options and a professional-grade display all in one portable package. With two kickstand options, it's ready to empower your work anywhere from a coffee shop table to a hotel room desk. This combination of features earned it a coveted CES 2022 Innovation Award. Wherever you find inspiration, the PA169CDV will be ready to bring your creative visions to life.
To learn more about pricing and availability of the ProArt PA169CDV display in your region, contact your local ASUS representative.