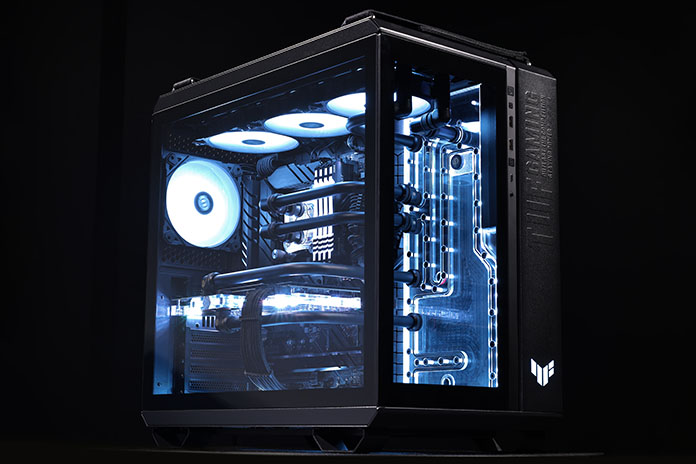 PC builders know that cooling can't be an afterthought. Today's high-performance CPUs and graphics cards offer unprecedented processing power for gamers, creators, and users of all kinds, and it's exceptional cooling that unlocks that potential. The TUF Gaming GT502 computer case, with its dual-chamber thermal design, gives builders an eye-catching and versatile enclosure that's primed and ready for high-end components.
Dual-chamber cooling that does more
The TUF Gaming GT502 chassis gives you a wide array of options for planning out the cooling system of your next high-powered build. It arrives in two variants: the TUF Gaming GT502 PLUS Edition, which ships with four pre-installed ARGB fans and an ARGB hub, and the TUF Gaming GT502 standard Edition, which invites you to design and install your own cooling system.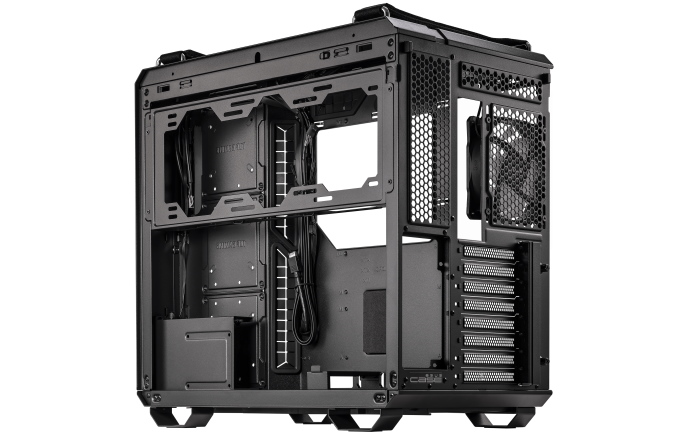 Both variants feature a dual-chamber design. The roomy rear chamber offers a 90mm wide space for cable management—but that's just the start. It also houses your PSU, and it includes a versatile bracket that you can use to mount up to three storage drives—or even a 360mm radiator. And it's all isolated from the primary heat-producing components in the main chamber.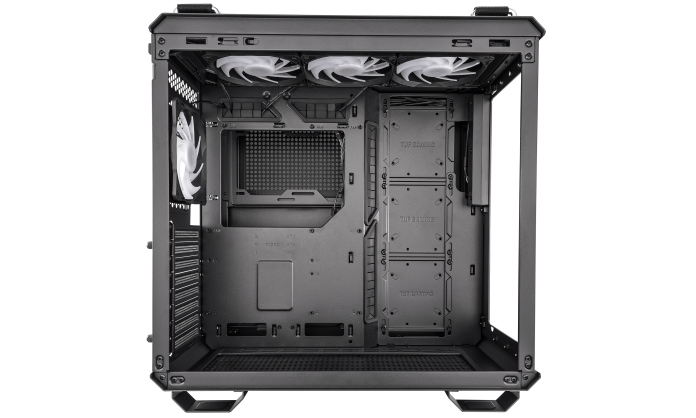 Speaking of that main chamber, it's built end-to-end for efficient cooling. Broad vents draw cooling air in from the bottom panel. The PLUS Edition uses four pre-installed 120mm ARGB fans to exhaust heat through the rear and top of the case, and there's plenty of room to add more. In total, the GT502 supports a maximum of 13 fans, letting you direct cooling air right where you need it.
But that's just the start of how you might cool your high-end rig. The top vent in the main chamber supports radiators up to 360mm, enabling you to cool your CPU, GPU, or both with an AIO liquid cooler—or design a custom loop. Even if you're dialing in a beastly overclock, the GT502 will give you the cooling options your hardware needs.
Build with confidence
We designed the TUF Gaming GT502 inside and out to give you an easy building experience. With its support for ATX PSUs and up to ATX motherboards, you'll have a wide array of options as you select parts. The tool-free side panels let you roll up your sleeves and start building without any hassle.
Cable management is easy, too. The right chamber offers a full 90mm of space for routing cables, giving you ample room to arrange everything just so. We designed the versatile right fan bracket with built-in cable clips and outlets, so whether you're using it for storage, fans, or a liquid cooling radiator, you can conveniently route all the necessary cables.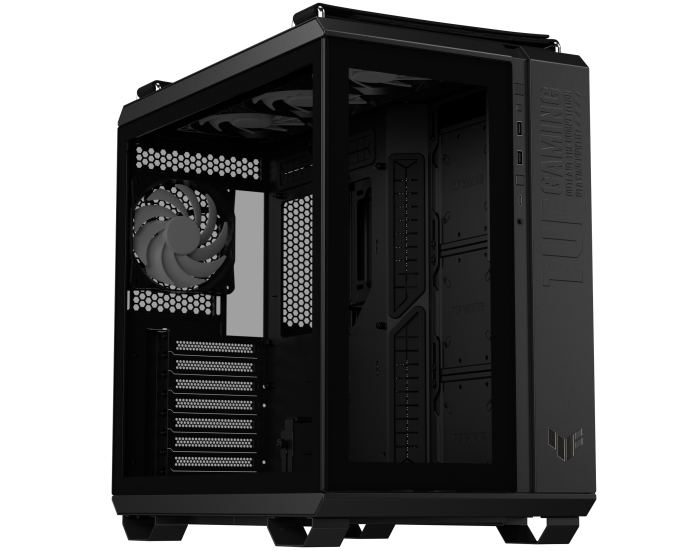 The GT502's spacious interior houses graphics cards up to 400mm long. An included vertical mounting bracket lets you choose whether you'd prefer to orient your graphics card horizontally or vertically—all you need is a riser cable if you want to show off your card's shroud and fans in a vertical orientation.
Today's high-performance graphics cards often use a thick heatsink to dissipate heat. The GT502 helps you keep your card perfectly level over time with an included graphics card holder. Its three-section adjustment structure supports a wide range of graphics cards, no matter how you've installed them. It'll shoulder horizontal graphics cards in a range of 46-139mm, and vertical graphics cards in a range of 15-42mm.
The GT502 gives you exceptional versatility right out of the box, but we know that many builders will want to apply their own mods to personalize it even further. With over 25 detachable parts, this case gives modders exceptional customization options. So go ahead and put that rotary tool back in the toolbox—if there's a section of the GT502 that you'd like to customize with your own design, you'll be able to quickly remove it.
Out in the open
The TUF Gaming Alliance gives you a broad selection of components rigorously tested for compatibility, stability, and durability—and they all look good together thanks to their cohesive aesthetic. The TUF Gaming GT502's wide transparent windows on the left and front panels give you a commanding view of your carefully coordinated build.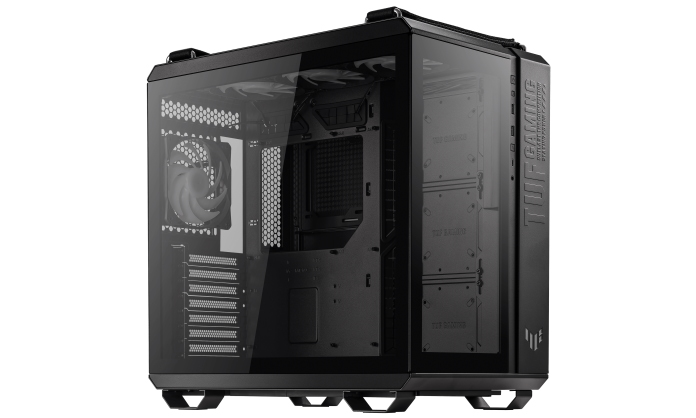 Whether you love to go all-in on RGB lighting or just prefer a set of understated accents, the GT502 gives you the options that you're looking for. The illuminated TUF Gaming logo on the front panel supports Aura Sync, so it's easy to coordinate with your other gear. Owners of the PLUS Edition can use the included 6-port ARGB hub, protected from accidental short circuits with its plastic housing, to set up a dazzling array of lights. Synchronize it all through your compatible motherboard with Aura Sync, or toggle between preset lighting effects with a button on the front panel—it's all your choice.
Convenient connectivity and maintenance options
The TUF Gaming GT502 case offers conveniences that go far beyond the building process. It's designed for comfortable everyday use, as well. A rich selection of ports on the front panel make it easy to connect your headset and other peripherals. The USB Type-C port on the front is wired for speed—install a motherboard with a USB 3.2 Gen 2 Type-C header to put exceptional transfer speeds within arm's reach.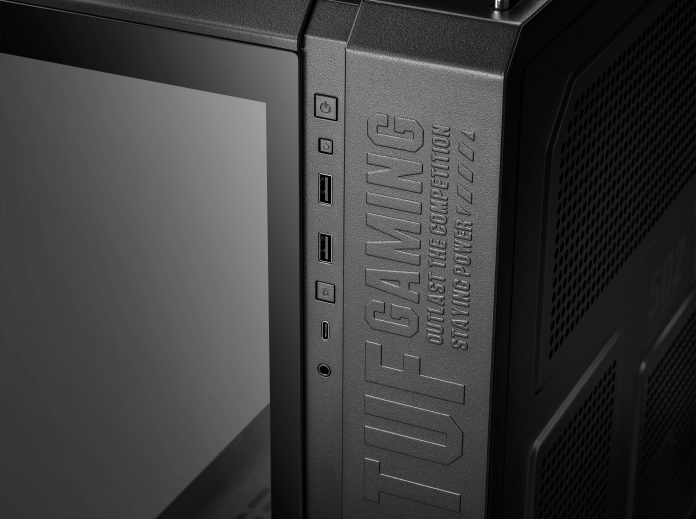 We also made the GT502 easy to move around. It includes two woven-cotton handles tested to securely support up to 30kg. Whether you're placing your freshly-built PC on your desk, moving it to a new location in your house, or taking it along to a LAN party, you can carry your build in confidence. The handles are strong enough for just about any selection of parts you might install—though if you've assembled a large custom liquid cooling loop, it might be prudent to check the weight of your completed rig on a scale.
The GT502 makes your dusting routine quick and painless, as well. Removable filters for the top, bottom, and right-hand vents help keep clogging dust away from your components to begin with, and are easy to remove and clean whenever necessary.
TUF Gaming GT502 PLUS
TUF Gaming GT502
Form factor
ATX, Micro-ATX, Mini-ITX
Size
285 x 450 x 446mm
12kg
Materials
Steel, plastic, tempered glass
Front I/O
2 x USB 3.2 Gen1 (Type-A)
1 x USB 3.2 Gen 2 (Type-C)
1 x Audio combo jack
1 x ARGB LED Button
3.5" / 2.5" drive bays
4
Expansion slots
8+3
Maximum GPU length
400mm
Maximum CPU cooler height
163mm
Maximum PSU length
200mm
Radiator compatibility
Top: 120/140/240/280/360mm
Rear: 120mm
Side: 120/240/360mm
Right: 120/140/240/280/360mm
Cooling support
Top: 2 x 140 mm / 3 x 120 mm
Rear: 1 x 120 mm
Bottom: 3 x 120 mm
Side: 3 x 120 mm
Right: 2 x 140mm / 3 x 120 mm
Pre-installed fans
Top: 3 x 120mm
Rear: 1 x 120mm
N/A
Removable dust filters
Right / top / bottom
Cable routing
90mm
Extension hub
Supports 5V ARGB 3-pin x6
N/A
Included accessories
Vertical Graphics Card Bracket (3 slot)
VGA Holder
Versatility, performance, and style all in one package
The TUF Gaming GT502 case gives you the options that you're looking for in your next high-performance PC. With its dual-chamber design, it lets you design an exceptional cooling system. Full-sized tempered glass panels on the front and left side put your carefully selected components in full view. And with hassle-free cable management options, a vertical mounting bracket for your graphics card, an included 6-port ARGB controller, and easy modding options, you can make the most of the panorama those windows provide.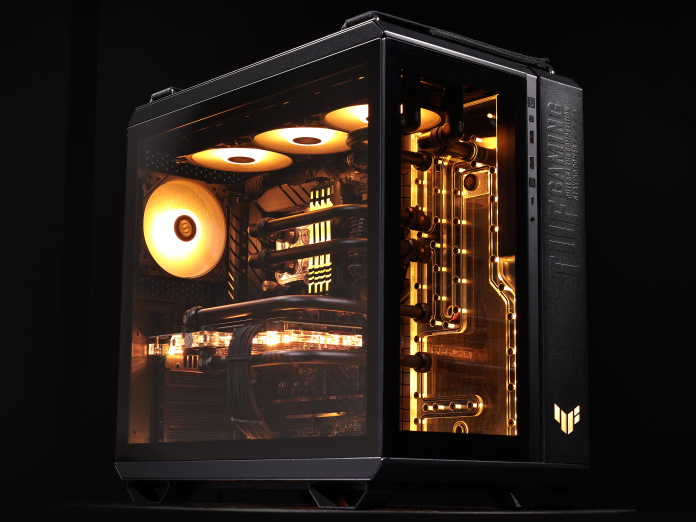 With its clean look, powerful cooling, and extensive customization options, the TUF Gaming GT502 case is the ideal case for your next high-performance build. For information on the pricing and availability of the TUF Gaming GT502 case in your region, please contact your local ASUS representative.