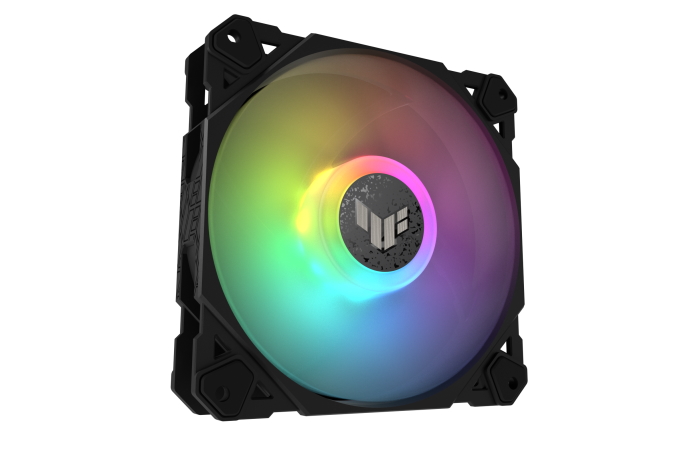 Case fans aren't just crucial for your PC's performance and longevity—they've also become one of the best ways to show off your style. TUF Gaming is proud to announce a new 120mm ARGB fan designed for high-performance cooling and low-noise operation, with plenty of lighting options for your custom rig. 
Of course, performance comes first, which is why we've fitted the TF120 ARGB with an advanced fluid dynamic bearing. Compared to common sleeve and ball bearings, fluid dynamic bearings offer lower noise levels, higher performance, and a longer lifespan. The TF120 ARGB provides class-leading airflow, with up to 76 CFM at only 29 dB of noise, for up to 250,000 hours of trouble-free operation. And, while it's designed primarily as a case fan, it also has ample static pressure performance at 2.5 mmH2O for heatsinks and radiator usage. 
The TF120 ARGB's PWM circuit supports a wide range of RPMs, allowing you to plug it directly into your motherboard and adjust fan curves to your liking—the fan can be configured to spin at ultra-low speeds when system temperatures are low during light tasks, for a super quiet experience. Anti-vibration pads help this endeavor as well, since they can prevent the fan's structure from vibrating against your case and making more noise. Silence is golden.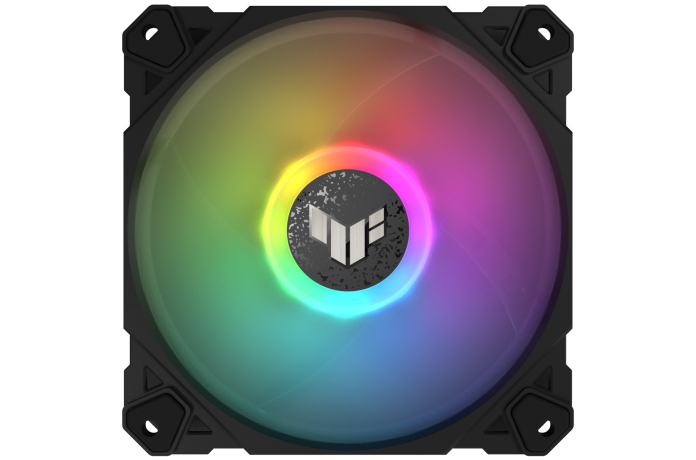 Once you've got those fan curves dialed in, you can make that rig truly yours with a bevy of lighting effects through the double-layer ARGB LED array. The TF120 has 16 LEDs arranged in two layers for deeper color saturation than single-layout alternatives. This dual-layer array also provides more lighting options, which you can cycle through using our ARGB hub, bundled with every 3-pack of fans. Four buttons control the brightness, speed, color, and effect mode, offering more combinations than many competing options with only allow you to choose from a few basic effects. The hub also offers Aura Sync support, so you can coordinate your fans with the rest of your system for a showcase-quality build. 
For more information on pricing and availability of TUF Gaming TF120 ARGB fans in your region, please contact your local ASUS representative.