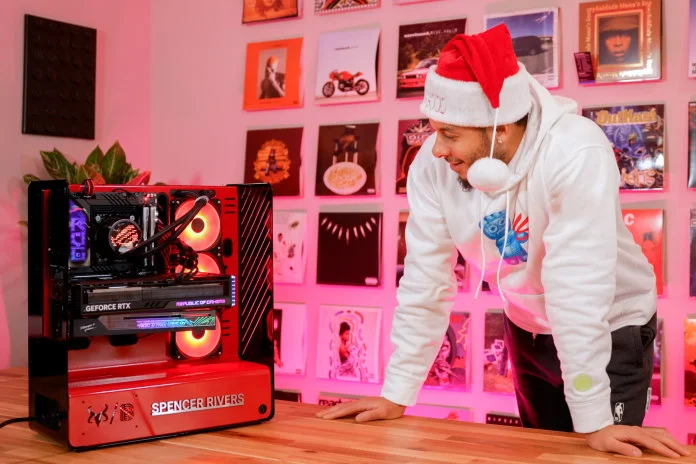 Christmas came early for the family of basketball superstar Seth Curry — or, at least, it did for his brother Spencer Rivers. Spencer, a development coach for the Philadelphia 76ers, wanted to learn for himself just how much more immersive Call of Duty could be on a powerful gaming PC compared to his well-used console. Now, Seth has felt for years that he needed to give back to his brother for all the love, support, and encouragement that he provided when they played on the same team between 2020 and 2022, so Seth couldn't pass up this opportunity to get his brother started on PC gaming.
That's when Seth made a few phone calls. First, he rang the ROG emergency hotline to see if we could spare any high-performance gaming components. When Seth comes knocking, we don't think twice about answering. Second, he dialed up renowned PC modder and photographer ModsByBen. With his proven track record for building one-of-a-kind custom computers, Ben was undoubtedly the perfect man for the job. Between the cutting-edge ROG components, Ben's PC-building expertise, and Seth's can-do attitude, we constructed Spencer a Christmas present he'll never forget.
It makes you smile to see it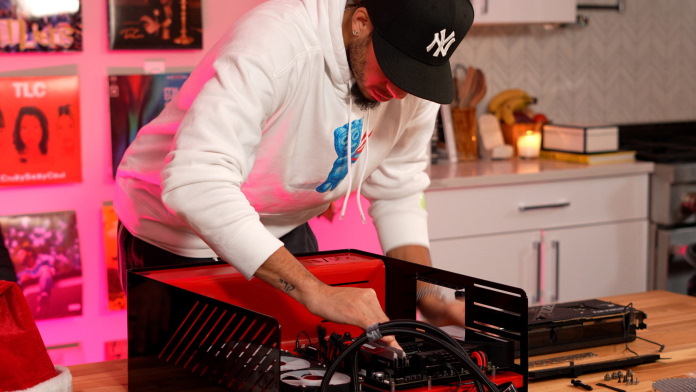 Don't look now, but Seth's becoming quite a PC builder in his own right. Here, he's setting the stage with the ROG Maximus Z790 Hero gaming motherboard. This premium board was born and bred to take a 13th Gen Intel Core CPU to its limits — for this build, Seth and Ben set up Spencer with an Intel Core i9-13900K processor. With five M.2 slots and a PCIe 5.0 M.2 slot on the bundled Hyper M.2 Card, this motherboard is ready to host a large and speedy gaming library.
The case is a work of art in its own right. A custom-painted semi-open case designed and fabricated by Yuel Beast, this chassis features robust steel construction with 18-8 stainless steel rivets, a unique perpendicular 360mm fan pattern cutout, and no restrictions on GPU length.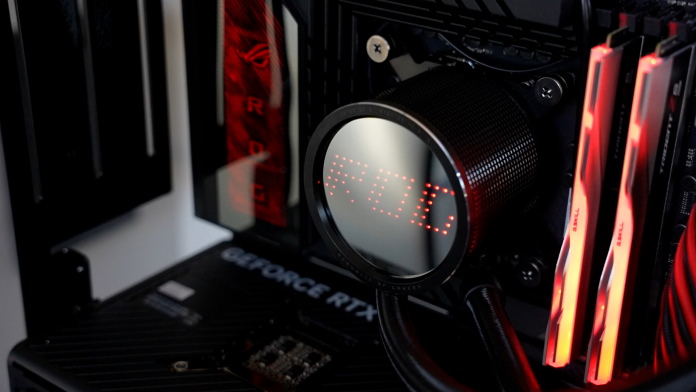 For stylish and powerful CPU cooling, we hooked up Seth and Spencer with an ROG Ryuo III 360 ARGB AIO liquid cooler. This unit boasts a 7th Gen Asetek pump for exceptional cooling and minimal noise, and it has a unique 3.5" LCD display that can display real-time system stats, personalized logos, or custom animations. The quality ROG fans on the 360mm radiator deliver high airflow and minimal noise, and their RGB LEDs let our savvy builders synchronize their lighting effects with the rest of the build through Aura Sync.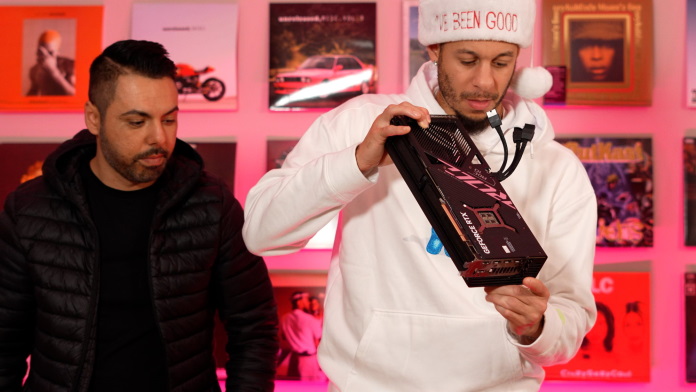 Spencer's new motherboard offers not one but two PCIe 5.0 x16 slots. We made sure to supply his new machine with a graphics card worthy of the occasion. We hooked him up with the new king of the graphics card hill: the ROG Strix GeForce RTX 4090. Gamers and creators the world around covet this graphics card for its chart-topping performance, massive 24GB pool of GDDR6X, and exceptional thermal performance. Hope your hands are steady, Seth.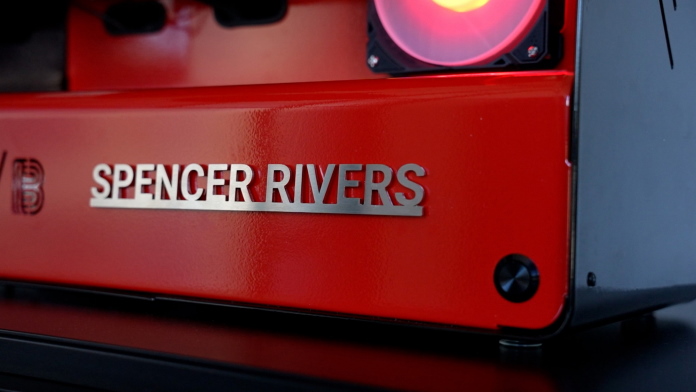 Seth and Ben went out of their way to add some personal touches to Spencer's build, and their effort shines through. This machine is like a heartwarming handmade Christmas card that Spencer can use to school the competition in Call of Duty.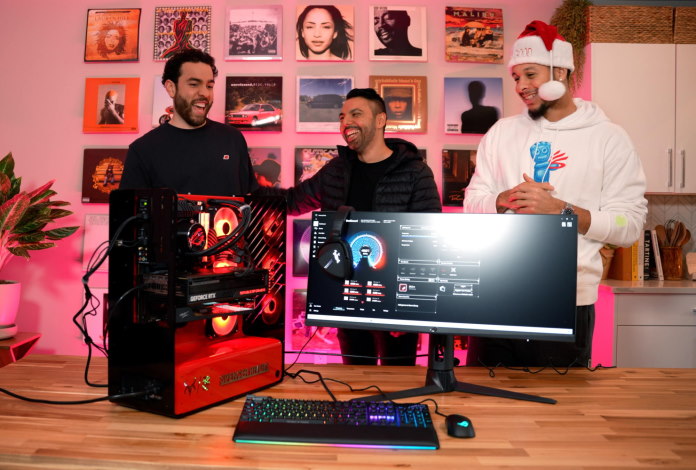 Completing the dream team
We rounded out Spencer's custom gaming PC with a powerful set of components and peripherals. An ROG THOR 1000G Platinum II power supply delivers copious power at whisper-quiet noise levels. Its Aura Sync lighting effects and OLED display peek out through the custom cutouts in Spencer's PSU shroud. For Spencer's display, we hooked him up with the ROG Strix XG309CM. This ultrawide monitor will give him a commanding view of the battlefield, and its overclocked 220Hz refresh rate will keep him in charge of every moment.
The lightweight ROG Keris gaming mouse houses a sensitive optical sensor ready to track Spencer's every movement as he tracks enemies in digital battlefields. We paired this ergonomic mouse with the ROG Strix Flare II gaming keyboard. It's equipped with ROG NX Red key switches for ultrafast actuation. Finally, we couldn't resist giving Spencer a part of this build that he could customize on his own. The ROG Delta S Animate headset features AniMe Matrix displays on both ear cups so that he can display his own logos and animations in unforgettable retro style.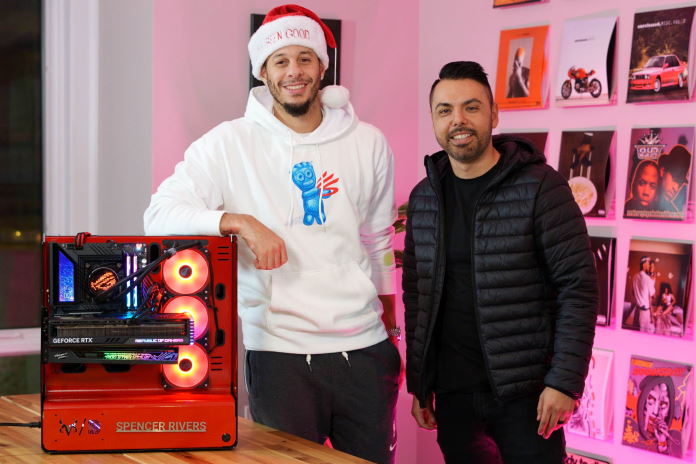 Seth and Ben's completed build is stunning. We wonder if the elves in Santa's workshop could possibly deliver more joy on Christmas morning than these two did when they presented this beastly gaming machine to Spencer. The rest of us should be so lucky.
Building memories
But as unquestionably stylish and powerful as this PC is, the greatest gift that Seth gave Spencer was his time — time spent together doing something that both of them loved. That's something that all of us can share. If there's a PC enthusiast in your life in need of a new PC, this holiday season is the perfect time to make some memories together by building a new PC. Head on over to our holiday deals page for some discounts to get you started.