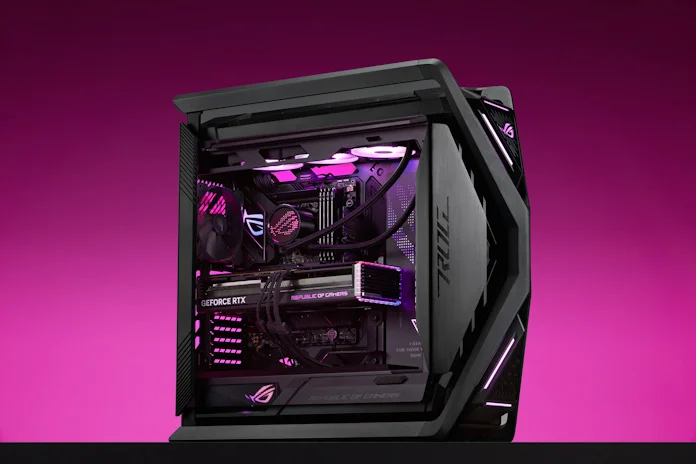 Nothing earns you street cred at the local LAN party quite like custom liquid cooling loop. Everyone loves a maze of colorful coolant tubes that lurks inside your PC like the life support system inside Samus Aran's body armor. What if I told you that you can get a huge proportion of the performance afforded to liquid cooling, with none of the headache? Enter the all-in-on liquid cooler. The coolant is already inside. There are no fittings to fuss with, no tubes to measure out. You mount the pump housing on top of the CPU, you find a home for the radiator, you plug in a couple wires, and you move on with your life. But it's a better life, because you've got a badass loop of coolant inside your PC.
Perhaps you're shopping for someone on your holiday shopping list who loves their gaming rig, but has never fulfilled their lifetime goal of building a liquid-cooled PC. Here's your play: Buy them the ROG Ryuo III 360 ARGB. This premium all-in-one liquid cooler boasts cutting-edge hardware ready to tame the thermals of their high-performance PC. Flagship performance is paired with unforgettably good looks too, courtesy of an embedded AniMe Matrix display, an aluminum cover, and a vacuum-coated lens.
The next generation of chill
Let's dig deeper into the ROG Ryuo III 360 ARGB and examine what makes this AIO a cut above the competition. At the beating heart of this unit you'll find one of the latest 8th gen Asetek pumps, making it an ideal partner for the latest high-end chips from Intel and AMD. This pump sports a 3-phase motor capable of higher flow rates than previous generations, all while operating more quietly. The square coldplate is larger than last gen, as well, and its size makes it ideal for this year's flagship CPUs.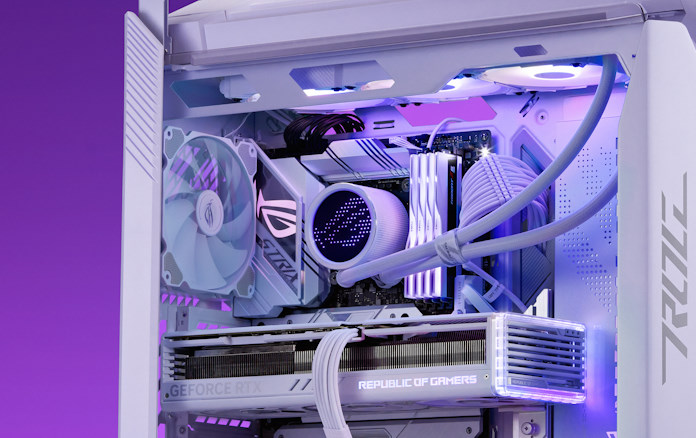 Coolant from the pump passes to a high-volume radiator. You could go smaller as necessary to accommodate a smaller build, but since this is a Christmas present and not a stocking stuffer, let's go big. For every 100W of load, our new 360mm model delivers temperatures 2° Celsius lower than last-gen. ROG AF 12S ARGB fans offer an ideal balance of static pressure, high airflow, and low noise levels as they keep air moving through the radiator. And they offer a dash of style to your build with ARGB illumination that you can coordinate with the rest of your PC through Aura Sync.
The gamer you're shopping for almost certainly has an opinion on CPU brands, but broad compatibility readies the ROG Ryuo III 360 ARGB for work in either AMD or Intel machines. If they're building a cutting-edge PC with a Z790 or X670 motherboard, this cooler covers their needs without a fuss. Its backward compatibility is extensive, too. Included hardware lets you mount the cooler on a motherboard with an AM4 socket, and it's also ready for action on Intel motherboards with LGA 1700, LGA 115X, and LGA 1200 sockets.
Unbounded customization with AniMe Matrix
All these elements make the ROG Ryuo III 360 ARGB an eminently practical gift for PC enthusiasts. But as anyone who's unwrapped a vacuum cleaner or a bag of socks on Christmas morning can attest, practicality isn't always the right mindset while you're doing your holiday shopping. The ROG Ryuo III 360 ARGB AIO liquid cooler is more than a highly effective cooling solution, though. It's a stunner. Right on top of its pump housing, you'll find our dazzling AniMe Matrix display. This array of mini-LEDs will let the lucky gamer on your shopping list show off ROG-exclusive content, core system stats, and custom animations with unforgettable style.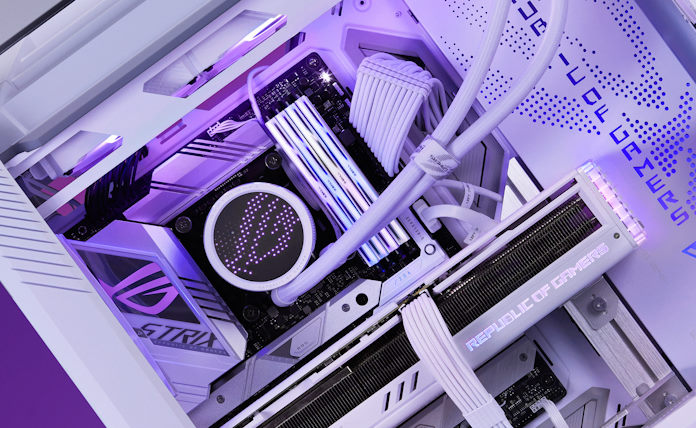 From the moment your loved one pulls their cooler out of the box, they'll have access to ten exclusive ROG animations. They can simply fire up the Armoury Crate app, pick their favorite, and enjoy the show. Matrix Editor makes it easy to tweak the color and basic effects of the AniMe Matrix. If they're into custom artwork, they can also create their own images and text using the Armoury Crate Pixel Editor.
Okay, the AniMe Matrix is ready for serious work, too. Through Armoury Crate, they can also use the display to keep you up-to-date with vital system information, such as temperatures, frequencies, and fan speeds.
Flagship aesthetics
The AniMe Matrix display is just the start of the ROG Ryuo III 360 ARGB's sophisticated good looks. To complement the matrix pattern of the display, we fabricated a special knurled aluminum cover for the pump housing. The two patterns work together to create a striking and cohesive design aesthetic.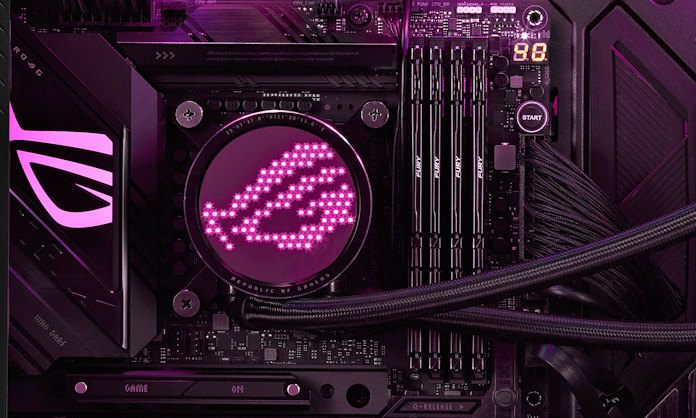 The diamond-cut bezel along the top edge of the housing focuses attention on the AniMe Matrix display. To maintain the aesthetic of the device under all circumstances, we install a vacuum-coated lens above the display. This special glass won't let anyone see through the mini LED array to the hardware underneath when the PC is powered off or when your loved one has chosen not to display any lighting effects.
Premium cooling, premium style
High-end PC builds deserve powerful cooling to unleash the full potential of their cutting-edge hardware — and carefully selected components deserve a stylish centerpiece that brings it all together. The ROG Ryuo III 360 ARGB all-in-one liquid cooler provides high-end cooling performance and fully customizable good looks in one sophisticated design. And with black and white-themed versions available, you can pick a model that exactly matches the aesthetic of the gamer that you're shopping for.
If the gamer on your shopping list is like many of us, they've been dreaming for years of building their first liquid-cooled PC. Let's make that dream a reality. Set them up for high-performance gaming in style with the ROG Ryuo III 360 ARGB AIO liquid cooler.