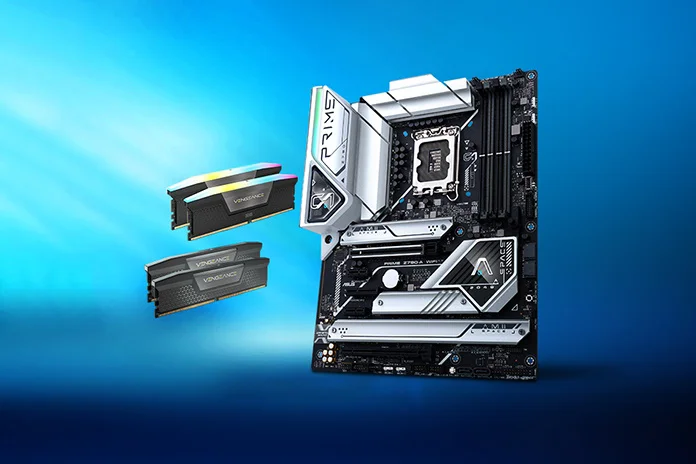 When you grab a 700 or 600 series Intel motherboard from our ROG Maximus, ROG Strix, ProArt, TUF Gaming, or Prime lineups, you often have a choice to make. Should you grab an option with support for budget-friendly last-gen DDR4 memory, or should you future-proof your purchase with a DDR5 model instead? As the market for DDR5 RAM has matured, it's gotten harder for enthusiasts to ignore the performance potential of next generation memory. Now it's even easier to recommend our motherboards with DDR5 support. We're proud to announce that with a BIOS update, our entire selection of 700 and 600 series motherboards can support the latest 24GB DDR5 memory modules.
A simple BIOS update is all you'll need to reap the full potential of these new memory kits. We've partnered closely with Corsair on their upcoming 2x24GB memory kits, and we've confirmed that our full lineup can support up to 48GB of DDR5 RAM at 7000 MT/s — or up to 192GB of DDR5 RAM at 5600 MT/s. Whether you prefer a cutting-edge Z790 motherboard ready for supreme overclocking or a feature-rich yet wallet-friendly B760 option, you'll be able to pair it with a DDR5 memory kit that offers the right blend of capacity and speed for your workflow.
Ready for enthusiasts of all kinds
When many of us purchase a new and larger memory kit, we make a joke to friends or family about how it will let us open even more browser tabs. There's a kernel of truth to this joke, despite the fact that it'd take a fairly impressive number of browser tabs to noticeably clog up a modern PC with 16GB of RAM. The truth is that many of us actually can take advantage of larger pools of high-bandwidth RAM. Some games can take up more than 16GB of RAM on their own, and that's before accounting for any apps you might just prefer to leave running in the background. Video editors, architects, product designers, 3D modelers, Twitch streamers, engineers, data scientists and many others all routinely fire up memory-sensitive workloads.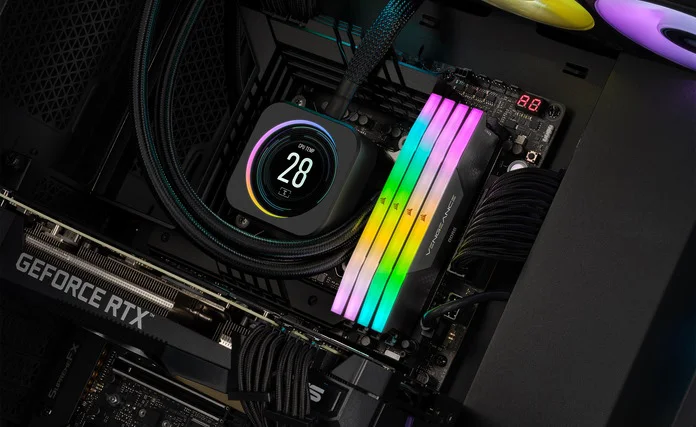 These professionals and creators — not to mention all of us who heavily multitask on a daily basis — have eagerly watched the developing DDR5 market. The next generation of memory kits offer better scaling for today's high-core-count CPUs, a massive increase in bandwidth, and welcome efficiency improvements, all without significantly affecting overall system latency. Click here to learn about all the advantages of DDR5 over DDR4.
Upcoming DDR5 memory modules from manufacturers like Corsair stand out for just how much memory capacity they offer at dazzling data transfer rates. DDR5-7000 kits are currently available, but they cap out at 16GB per module. Corsair's new Vengeance DDR5 48GB (2x24GB) DDR5 7000 memory modules let you get up to 48GB of DDR5 RAM running at 7000 MT/s. That's a tempting proposition for anyone who doesn't just need a lot of memory, but a lot of high-speed memory. Prefer to outfit your PC with even more RAM? Upcoming kits like Corsair's Vengeance DDR5 192GB (4x48GB) DDR5 will give you 192GB of RAM at a plenty-speedy 5600 MT/s data rate.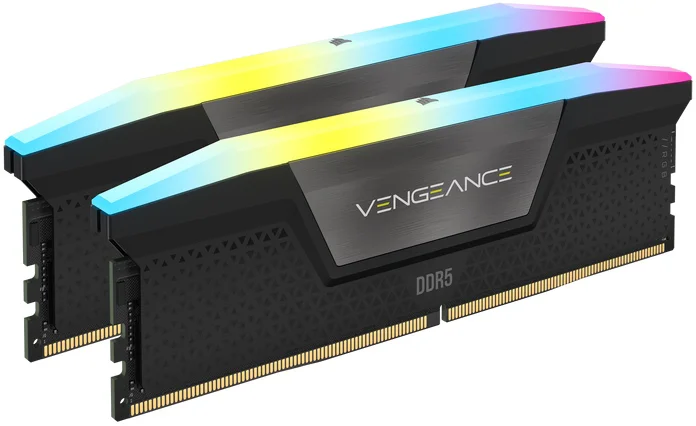 Keep CPU compatibility in mind as you're planning your next-gen memory upgrade. You can get the full speeds of these new DDR5-5200 and DDR5-5600 kits using either a 12th Gen or a 13th Gen Intel Core CPU. However, the DDR5-7000 kits require a 13th Gen Intel CPU to run at their full rated speed.
Power to the people
For any PC builder looking for a new motherboard with DDR5 memory support, we offer a wide range of options ready to meet your needs and budget. Our top-tier Z790 motherboard lineup is full of DDR5 models. Every one of our ROG Maximus Z790 motherboards, including the fully loaded ROG Maximus Z790 Extreme and the enthusiast grade ROG Maximus Z790 Hero, are ready and waiting for DDR5 kits.  In many instances, you'll have a choice between DDR4 and DDR5 as you look at our ROG Strix, TUF Gaming, ProArt, and Prime Z790 options. Any model that supports DDR4 will have the tag "D4" at the end of its product name.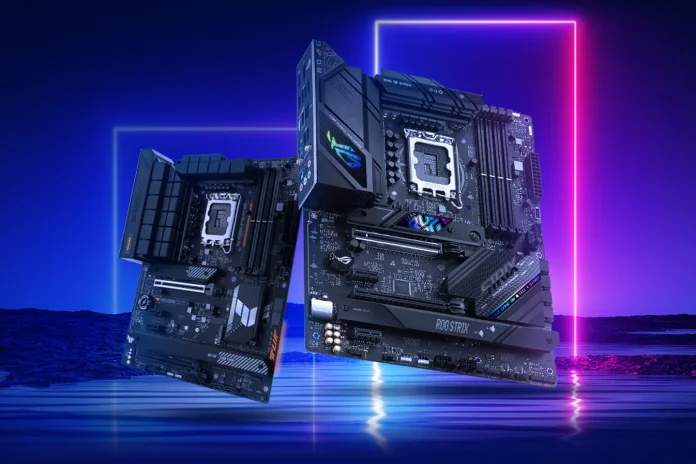 If your computing needs don't require the premium services of a cutting-edge Z790 motherboard, we have an array of options that are still more than ready for the latest DDR5 memory kits. You'll find DDR5 motherboards in our B760 and H770 lineups, such as the potent ROG Strix B760-F Gaming WiFi. Our last-gen Z690 and B660 motherboards have plenty of life left in them, too. With the latest BIOS updates, they're compatible with the latest DDR5 memory kits and 13th Gen Intel CPUs, making them tempting options for anyone who needs to make the most of their PC building budget. Not sure which board is best for your needs? Click here for an overview of our full Intel 700-series motherboard lineup.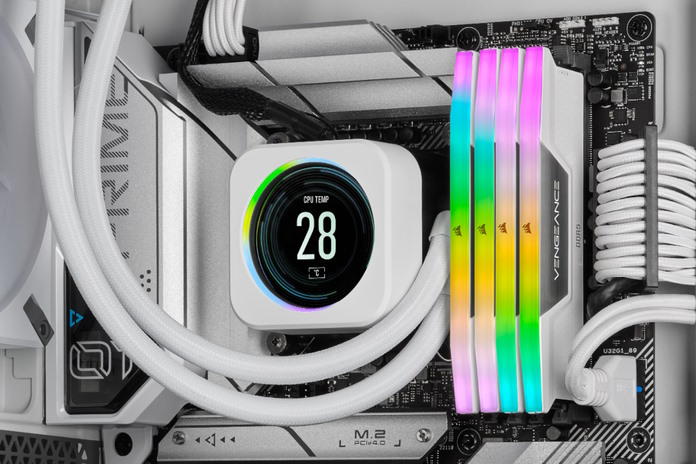 Whichever motherboard you choose, make sure that it's fully updated to the latest BIOS so that you have the best experience with your new DDR5 memory kit. Even if you're buying a new board to accompany your new RAM, it's important to check the firmware. We make every effort to ensure that our motherboards leave the factory with the latest updates installed. However, if you're building a new PC shortly after the launch of these new memory kits, there is a chance that you may receive a motherboard from older stock without the necessary firmware. Use the chart below to find the latest BIOS version for your Z790 motherboard.
Soon, we'll also have the requisite BIOS updates for our DDR5 H770 and B760 motherboards, as well as all of our 600-series motherboards with DDR5 RAM support, so that you can access the latest memory kits with these products, as well. When the BIOS update for your motherboard is available, we'll post it on the ASUS Support site.