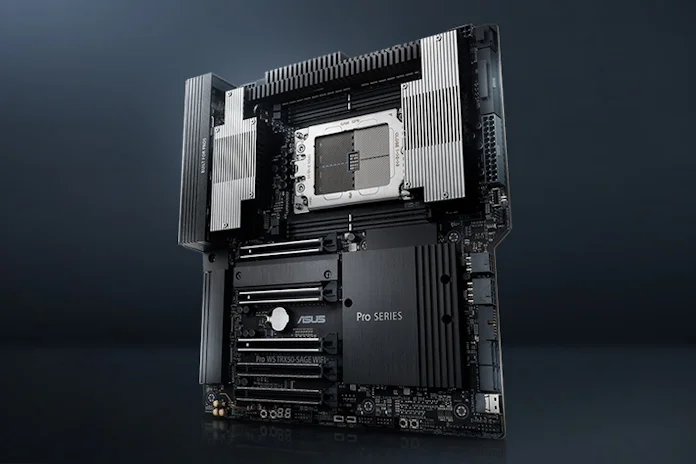 Most PC builders can browse the menu of CPUs provided by AMD's Ryzen 7000 Series lineup and find cutting-edge options that meet or exceed their performance needs for gaming, content creation, and everyday computing. Yet there are workstation builders out there who are always on the hunt for more: more CPU cores, more memory capacity, more PCI Express expansion slots, more connectivity, more everything. These power users are exactly who AMD's Threadripper 7000 Series processors are made for. These premier chips require new TRX50 or WRX90 motherboards, and we've readied two boards for the occasion: the Pro WS WRX90E-SAGE SE and Pro WS TRX50-SAGE WiFi.
Designed for professionals in AI training, deep learning, animation, 3D rendering, and media production, the Pro WS WRX90E-SAGE SE and Pro WS TRX50-SAGE WiFi feature expandable graphics, extensive storage, impressive connectivity and exceptional overall performance and reliability. Each motherboard includes centralized management software, so they're also an efficient and cost-effective option for IT administrators. For creative professionals of all kinds, these high-performance boards are the ideal solution.
Increased power on all fronts
Available later this year, AMD Ryzen Threadripper PRO 7000 WX-Series processors and AMD Ryzen Threadripper 7000 Series processors offer staggering performance for demanding users. The highest-end AMD Ryzen Threadripper PRO option offers a whopping 96 cores and 192 threads for multithreaded workloads like complex simulation, software compilation tasks, generative design, and rendering, and with up to 144 usable PCIe lanes, it's primed and ready for systems with many add-in cards, gobs of connectivity options, and massive storage arrays.
AMD Ryzen Threadripper PRO 7000 WX-Series processors require a feature-rich motherboard — and that's where the Pro WS WRX90E-SAGE SE motherboard steps in. With a VRM comprising (16*2)+3+3+3 power stages, it delivers the power and efficiency that these top-end processors demand. Second-gen ProCool II connectors ensure a snug and reliable connection to the 12V CPU input, and feature metal armor and solid pins for better heat dissipation. This workstation motherboard includes an additional PCIe 8-pin power connector to ensure power output reliability, and it also offers dual PSU support for users who need to fully unleash their system. A total of eight DDR5 memory slots, with support for ECC R-DIMM memory, allow you to set up a large, high-bandwidth pool of memory with automatic detection and repair of single-bit memory errors. Plus, the innovative Q-Release Slim design on each PCIe slot makes it easy for users to remove their graphic cards or add-on solutions.
Modeling, simulation, and rendering applications all can leverage the power of multiple GPUs for enhanced performance. The Pro WS WRX90E-SAGE SE gives you plentiful options for configurability and expandability with its seven total PCIe 5.0 x16 slots.
For high-end desktop (HEDT) builders, AMD Ryzen Threadripper 7000 Series processors beckon, offering up to 64 cores and 128 threads, not to mention 88 usable PCIe lanes. The Pro WS TRX50-SAGE WiFi stands ready for these potent chips with its overclocking-ready VRM comprising (18*2)+3+4+4 power stages, primed to deliver copious amounts of power. Four ProCool II connectors ensure power output stability and reliable connections. Five total PCIe x16 slots, three of which are wired for PCIe 5.0, let you put a substantial set of graphics cards and other add-in cards to work, and four DDR5 memory slots with ECC R-DIMM memory support let you install a fast, large, and accurate memory kit.
Robust cooling comes standard
The Pro WS WRX90E-SAGE SE and Pro WS TRX50-SAGE WiFi both offer a thorough thermal design ready for the challenges of cooling their high-end circuitry. Massive VRM heatsinks made of extruded aluminum with a finned design wick away heat from the MOSFETs and chokes. Two fans, one on either side of the CPU socket, create a steady stream of cooling air to draw heat away from the motherboard.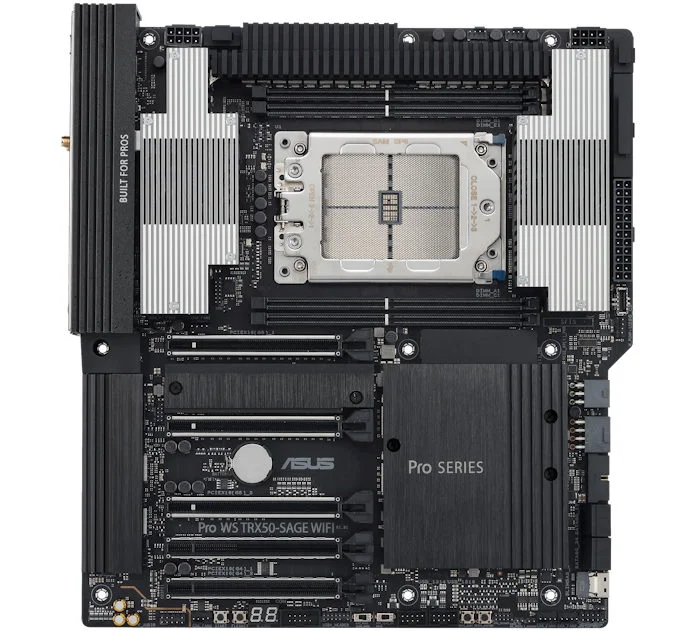 To keep your high-performance M.2 SSDs cool under demanding workloads, all four M.2 slots are covered by beefy heatsinks and bolstered with additional M.2 thermal pads to keep them at optimal operating temperatures for consistent performance and reliability. A large unibody heatsink for three of the M.2 slots and the motherboard's chipset pulls double duty for keeping temperatures low. The Pro WS WRX90E-SAGE SE takes things a step further with an active M.2/PCH fan to enhance thermal efficiency.
The cooling design of the Pro WS WRX90E-SAGE SE and Pro WS TRX50-SAGE WiFi motherboards also shows some love to the 10G Ethernet controller. An extended heatsink near the PCIe x16 slots ensures stable performance for their high-speed networking hardware.
Exceptional connectivity options for power users
Wide-ranging connectivity options ensure high-bandwidth and versatile connections to your full PC setup. Ultrafast networking highlights the list. The Pro WS WRX90E-SAGE SE features dual onboard 10G LAN ports powered by the premium Intel X710-AT2 Ethernet controller, allowing it to make short work of multi-terabyte transfers. An additional gigabit Ethernet port facilitates fast data transfers to the onboard baseboard management controller (BMC).
The Pro WS TRX50-SAGE WiFi offers a pair of ports for high-speed wired networking: a Marvell AQtion 10G Ethernet port ready for streaming uncompressed 4K videos, performing system backups, or transferring large files to a NAS unit, and an Intel 2.5Gb Ethernet port stands ready for today's high-speed multigigabit internet connections. In addition, onboard WiFi offers high-bandwidth, low-interference networking. Pair this motherboard with the latest WiFi routers to take advantage of additional bands for an alternative to the 2.4 GHz and 5 GHz bands used by last-gen routers and devices.
Both boards feature an array of speedy USB ports for versatility connectivity options. They each include a header that allows you to set up a front-panel USB 20Gbps Type-C port — and the Pro WS TRX50-SAGE WiFi gives you Quick Charge 4+ 27W support so that you can recharge your smartphone quickly using this port. There's USB4 support on tap, too. The Pro WS TRX50-SAGE WiFi has an onboard USB4 header that you can connect to a USB4 expansion card to enable bi-directional speeds of up to 40Gbps, while topping off the connected device's battery with fast-charge support.* The Pro WS WRX90E-SAGE SE, on the other hand, has a USB4 port on the back panel featuring both 40Gbps data transfers and DP Alt Mode with support for displays up to 8K@60Hz.
The options you need for storage
These motherboards give you high-speed USB ports for connecting external storage drives while also offering plentiful options for connecting internal drives. The Pro WS WRX90E-SAGE SE leads the charge with four onboard PCIe 5.0 M.2 slots, two of which allow for the longer M.2 22110 format to allow for higher-capacity drives. Four onboard SATA ports and two SlimSAS connectors let you easily connect a large number of additional drives for a vast storage array. The Pro WS TRX50-SAGE WiFi checks in with two PCIe 5.0 M.2 slots and one PCIe 4.0 M.2 slot, and gives you the tools to expand even further with four SATA ports and one SlimSAS connector.
Server-grade remote management
The Pro WS WRX90E-SAGE SE and Pro WS TRX50-SAGE WiFi motherboards feature server-grade remote management tools that keep you in control. The Pro WS WRX90E-SAGE SE uses a dedicated Gigabit Ethernet controller assigned to the onboard baseboard management controller (BMC) for the connection of IPMI architecture. This allows administrators to remotely communicate with the BMC with remote interfaces, including ASUS Control Center Express or a web UI, for a wide range of control functions. Users can access similar functionality with the Pro WS TRX50-SAGE WiFi by installing an IPMI expansion card.
For enhanced security, increased productivity, and better protection against unauthorized access and data leaks, you can monitor and manage these motherboards through our easy-to-use ASUS Control Center Express (ACCE) software. This centralized IT management app is designed to provide a convenient, effective, secure, and cost-saving solution for enterprises in any industry.
The Pro WS WRX90E-SAGE SE and Pro WS TRX50-SAGE WiFi are ready for Ryzen Threadripper CPUs
Next-gen AMD Ryzen Threadripper 7000 Series CPUs are sure to tantalize PC enthusiasts and professionals with demanding workloads. The Pro WS WRX90E-SAGE SE and Pro WS TRX50-SAGE WiFi give these chips an exceptional foundation for your workstation build. Whether you're going for the top-end performance, expansion options, and connectivity available through a Threadripper Pro chip and the WRX90 platform, or aiming for a TRX50 build with its quad-channel memory support and plentiful PCIe lanes, you'll find the feature set you need with these two motherboards. And since they're both validated for extensive compatibility with the latest technologies, tested for 24/7 operation, and given expansive Qualified Vendor Lists for memory kits, these motherboards are set up to give you an easy setup process and reliable operation for years to come.
For more information on the pricing and availability of the Pro WS WRX90E-SAGE SE and Pro WS TRX50-SAGE WiFi motherboards in your region, please contact your local ASUS representative.
*The USB4 expansion card can only be connected to PCIEX16(G4)_1.