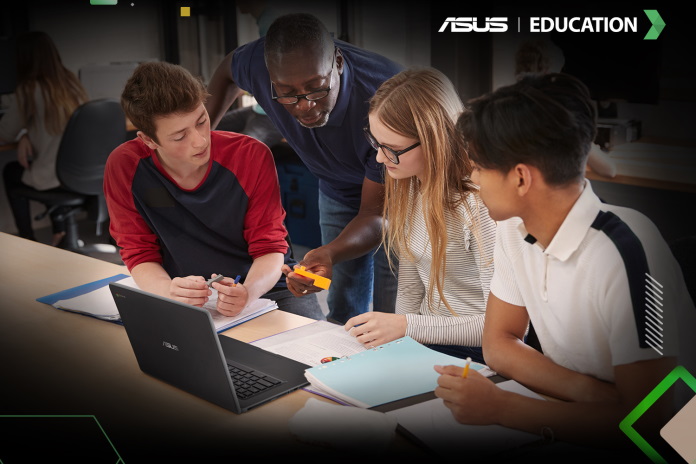 Institutions of all kinds understand that a commitment to sustainability has far reaching implications, even beyond a reduced environmental impact. For example, data centers that reduce their carbon footprint with solar power arrays and innovative cooling techniques can enjoy reduced operating costs. The same is true for educational institutions. Purchasing ruggedized, repairable tech for students, teachers, and staff can help keep e-waste out of landfills — all the while helping with your budget your and easing your IT staff's workload.
Across our organization, we're accelerating our years-long commitment to sustainability. Our latest solutions for education showcase our latest efforts to incorporate more recycled materials in products and packaging, refine the durability of our tech to help ensure a long usable lifespan, and design products built from the ground up for hassle-free repair by your IT staff. You'll see this approach across our full lineup of laptops, mini PCs, desktops, displays, and peripherals.
Our comprehensive product range provides the tools needed for teaching or learning, ensuring that every child has the opportunities they need. Four distinct elements guide our process whenever we design a product for education. We cater to students from kindergarten to higher education, offer essential features for efficient learning, provide reliability in the classroom environment, and streamline IT workflows with easy-maintenance designs.
From early learning experiences to graduation
When a young student uses technology to learn about the world around them, the possibilities are endless. The world becomes accessible at their fingertips. That's why teaching students with technology enhances lessons and deeply connects students to the material through image, sound, and touch.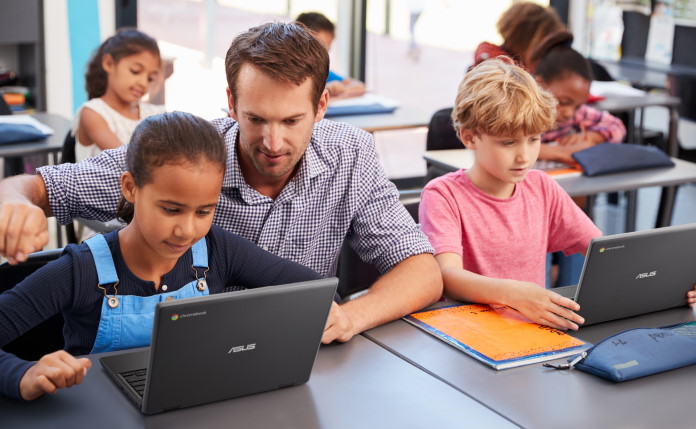 At ASUS, we pursue designs that meet the needs of learners from their first educational experiences in kindergarten all the way through their postsecondary education. From our rugged, touch-friendly laptops built for students still learning the basics of using a touchpad, keyboard, and mouse to our lightweight yet powerful laptops that serve students as they explore exciting career skills in content creation, 3D animation, architecture, and more, our full laptop portfolio includes options fine-tuned for every student. And our complete lineup of mini PCs, displays, peripherals, wireless networking products, and PC components stands ready to meet the needs of all of your learners as they advance in skill and knowledge.
Essential learning features
Maximum learning relies on minimum disruption. ASUS products for education offer the key features that students need as they explore, collaborate, and create. It starts with multiple remote-learning features, such as AI noise-canceling technology that intelligently and seamlessly minimizes background noise for clear communications. Even with a classroom full of students talking synchronously online, you can ensure that each learner will hear and be heard clearly.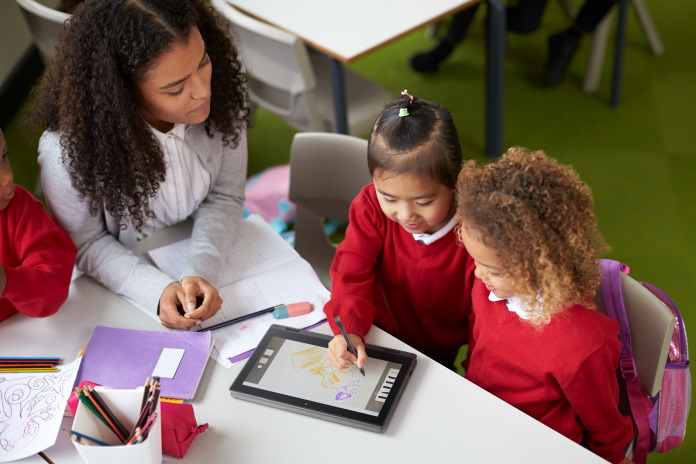 For our laptop family specifically, we make sure that they're available in a wide variety of forms. From the familiar clamshell form factors to versatile flip designs with a 360° hinge, we empower your classrooms with a wide array of options. Whether you need touchscreens, stylus input options, or models with a detachable keyboard, we offer the essential features you need for simple, enjoyable and effective learning.
Classroom-ready reliability
Reliable operation ensures that your students not only have the right features and design, but that they can depend on their laptops day after day. We build our education solutions from the ground up to go the distance.
We manufacture our laptops for education to meet or exceed military-grade standards for durability. These rugged machines proved their reliability during stringent testing procedures, so you can trust them to hold up under the incidental wear and tear of everyday classroom use. Our innovative engineering ensures that even our lightweight, portable options offer the durable performance your students need.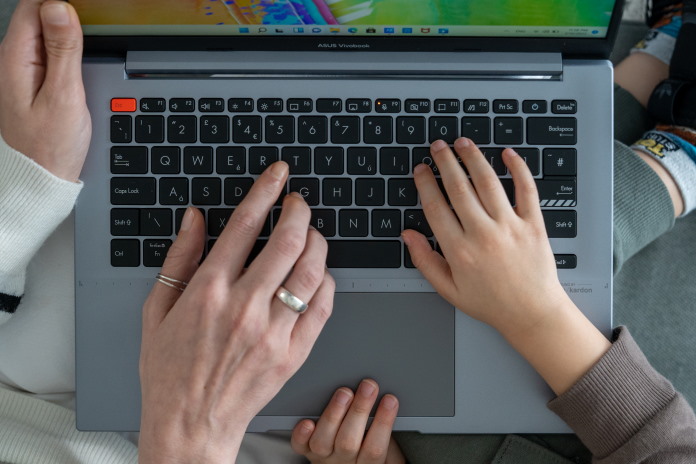 Today's schools deploy multiple solutions for protecting the health of their students. We think that technology should support student health, as well, especially devices that pass from hand to hand in the classroom. That's why often-touched surfaces on select laptops and displays now feature ASUS Antimicrobial Guard. This laboratory-proven silver-ion coating inhibits the growth of bacteria on plastics and other non-porous materials by more than 99%. For even more protection, ASUS Antimicrobial Guard Plus, available on select products, also uses a denser treatment that also inhibits viruses.
Designed for easy maintenance
In a classroom environment, accidents happen. We understand that your educational institution needs laptops that are easy for your staff to service and maintain. That's why we build our devices for easy on-site servicing with reduced downtime.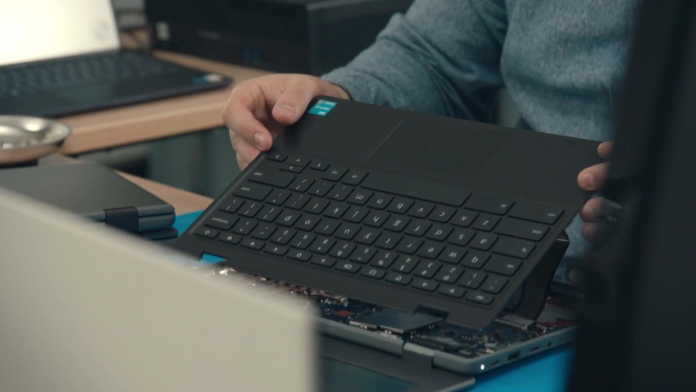 ASUS laptops for education employ a modular construction design to streamline maintenance and repair. Key components, including the keyboard, battery, thermal module, and I/O ports, can be replaced in minutes with simple tools. A damaged USB port or enter key doesn't have to end a laptop's useful lifespan—with ASUS products, you can empower your IT staff to quickly perform repairs and get your laptops back in the hands of students.
Proven partners for education
ASUS PCs and peripherals made all the difference for Scholars Collective. A small business run by educators, this organization works directly with local families and schools to provide convenient, high-quality educational enrichment for kids in Long Beach, California—with a special emphasis on helping youths without access to PCs the opportunity to develop skills and familiarity with this game-changing technology.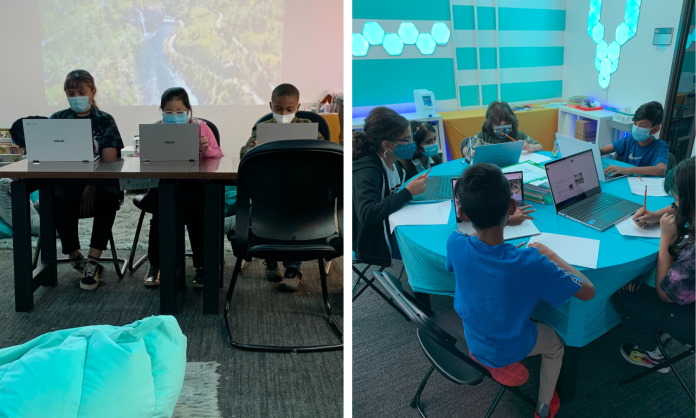 As a fairly new organization, one of the first challenges for Scholars Collective was finding the right mix of technology. They reached out to ASUS as they built their tech lab and homework help center. According to Angela Macias, the owner, "ASUS showed great commitment to what we are doing at Scholars Collective and this makes them a wonderful partner for us," Angela said. "We hope to do our small part in tackling the digital divide by allowing youth opportunities to learn new skills for both academic and personal use."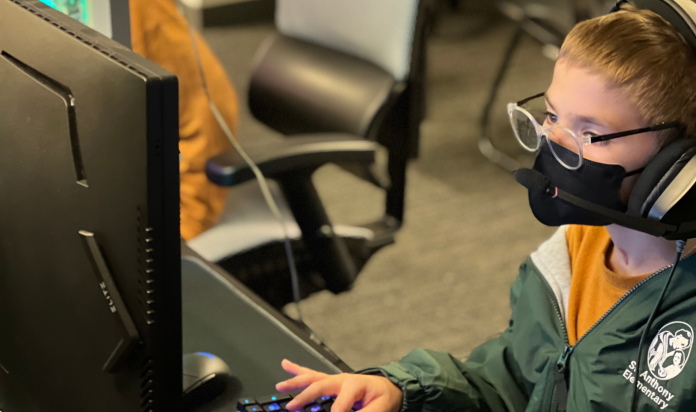 Students who participate in Scholars Collective's programs use ASUS PCs for a wide range of activities. Angela said, "Our after school program, classes, and camps allow youth to engage with computers in a wide range of activities such as studying and research, coding, content creation, game design, and esports." Students come to their programs with a passion for technology. Scholars Collective channels that enthusiasm into pathways that improve the students' chances for academic success.
K-12 laptops that do more
Our 2023 lineup of laptops for education includes a wide array of options engineered for the unique needs of K-12 educational institutions. It starts with rugged, versatile Chrome OS devices. Schools everywhere love the value, built-in security, and easy functionality of Chromebooks, and IT staff love the zero-touch enrollment feature that allows them to drop ship Chrome OS devices that will automatically enroll into enterprise administration as soon as the end user connects to the internet.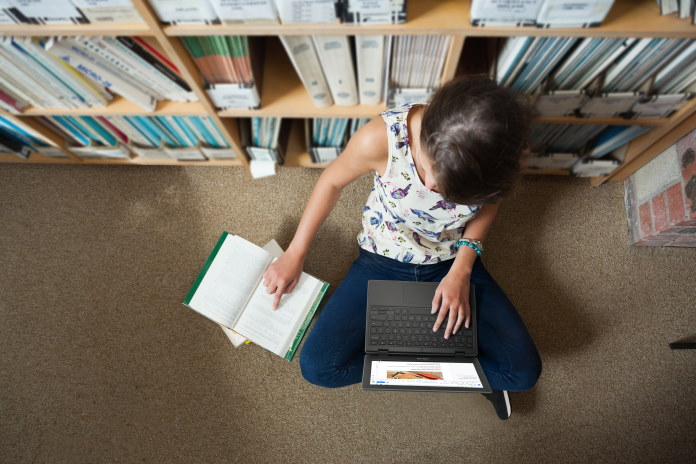 The ASUS Chromebook CR11 is a dependable option ready for a wide range of scenarios. Available in clamshell or convertible designs, this laptop is ready for a long lifespan of classroom use with its all-round rubber bumper, spill-resistant keyboard, and ultra-tough hinge. Rigorously tested to surpass demanding US military-grade MIL-STD-810H durability standards, these Chromebooks are built to go the distance. For easy on-site servicing, they have a modular design that allows for key components to replaced in minutes using simple tools. That reduces total cost of ownership, simplifies operations, and helps reduce your organization's e-waste.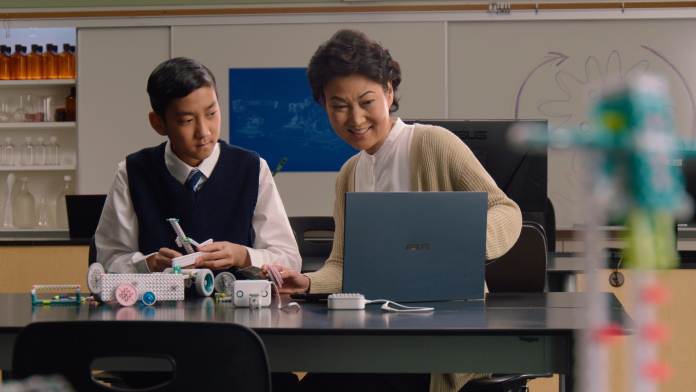 Of course, there's ample reason why your staff might request Windows devices, instead. Microsoft's operating system is the platform of choice for a wide array of applications. The ASUS BR1102F is an excellent starting point for a classroom Windows laptop. Its modular design and bottom-panel captive screws make them easy for your IT staff to service, while its rubber bumper, scratch-resistant cover, spill- and tamper-resistant keyboard, and rubber carrying bar make it a rugged, dependable partner for learning.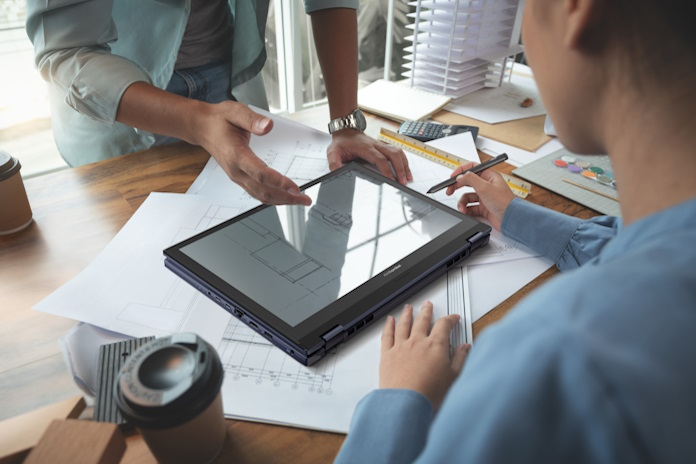 Increasingly, educational institutions need laptops that are not only durable, but offer strong performance, as well. The ASUS Expertbook B6 Flip empowers students and educators to use the demanding apps necessary for many STEM and STEAM workflows thanks to powerful Intel Core CPUs and NVIDIA RTX graphics.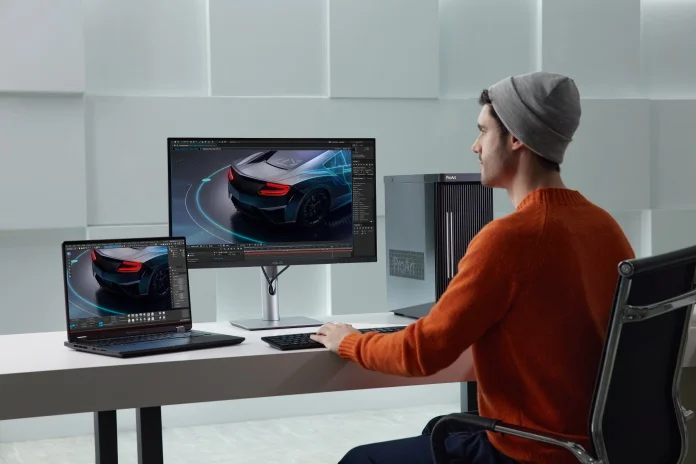 Creators rely on accurate displays to produce professional-quality work. The ProArt Display PA279CRV will give your institution's STEAM lab a versatile, highly accurate display that's ready to help your students pursue their creative ambitions. With its wide color gamut coverage, detailed 4K resolution, and energy-efficient operation, it'll give your students the canvas they need to explore valuable new skills while also taking you one step toward a more sustainable future.
Classroom-ready desktop PCs
The portability of laptops makes them an ideal choice for many scenarios, but they're not the only game in town. There are many reasons why your institution might be looking at desktop computers instead — perhaps you're building or upgrading a dedicated lab, for example, or maybe your priorities lean toward upgradability, easy repair and replacement of parts, and extensive connectivity options.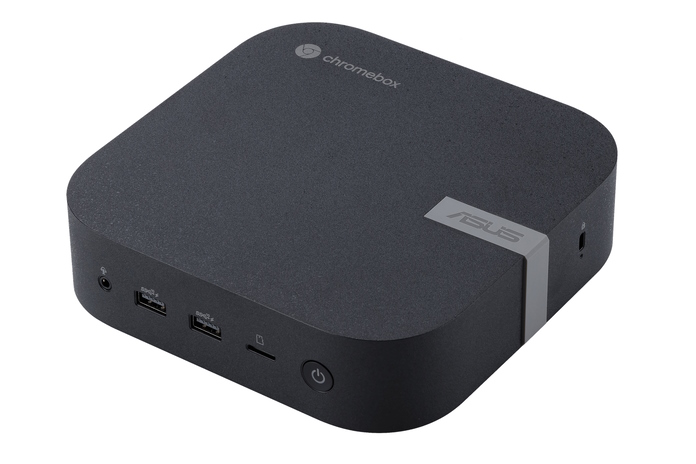 A mini-PC like the ASUS Chromebox 5 makes it all easy. This petite PC demands very little desktop space, yet it powers fluid computing experiences with its Intel Core or Celeron processor, WiFi 6E connectivity, and a high-speed Thunderbolt 4. A built-in 15W Qi certified wireless charger conveniently tops off the battery of compatible devices. And it's all built on the familiar, easy-to-use, and rapidly deployable Chrome OS. Complete the set with the ASUS Chrome OS Keyboard and Mouse—an ultra-slim, compact and quiet keyboard and a comfortable ambidextrous optical mouse—and you've got a complete desktop PC solution.
Prepped and ready for higher education
Students in higher education are ready to take the skills and knowledge they've acquired over years of study and apply it as they pursue their career goals and passion projects. Their work demands ever-more powerful devices with a broader range of connectivity. Yet in many ways, laptops for higher education need to have many of the same qualities as laptops for K-12 environments. Rugged designs, easy maintenance, and versatility are essential here, as well.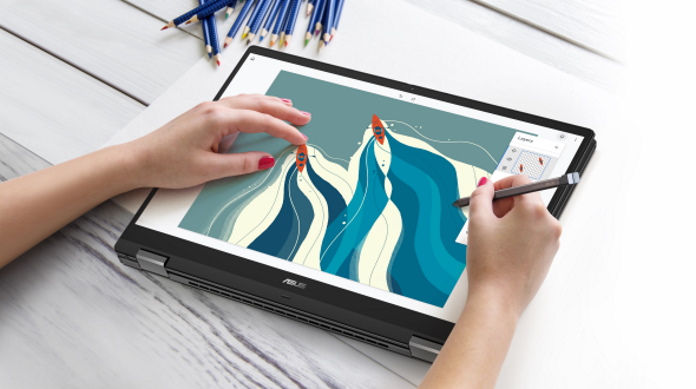 That's why we built the ASUS Chromebook CX56 Flip and ASUS Chromebook Vibe CX34 Flip on the same DNA as our other laptops for education. These thin-and-light Chromebooks offer military grade durability, long battery life, and a convertible design with a touchscreen and a garaged USI stylus. They're built to do more with the high-end performance of Intel Core processors, Intel Iris Xe graphics, and WiFi 6. Dual USB Type-C ports, a USB Type-A port, and a microSD card slot give students plentiful options for connecting peripherals, external displays, and storage media. The Chromebook CX56 Flip's Energy Star 8.0, TCO 9.0, and EPEAT Silver certifications demonstrate that this laptop was built for sustainability across its entire product lifecycle.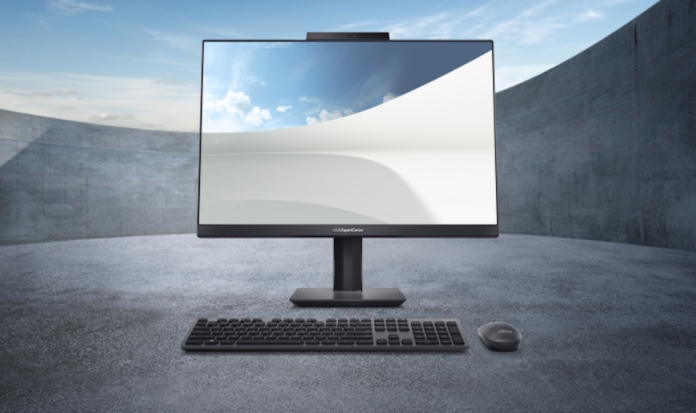 For cutting-edge performance that's ready for lab or office setting, the ASUS ExpertCenter E5 AiO 24 gives you exceptional power in an all-in-one design. Up to an Intel Core i7 CPU, up to 32GB of RAM, and a spacious 1TB SSD offer snappy performance and endless versatility. The AI Camera and AI Noise-Canceling technology allow for clear and seamless online meetings.
Learn more about ASUS education solutions at ISTE 2023
At ASUS, we develop technology that empowers today's classrooms, students, staff, and administrators. Our mission is to create innovative tools and solutions that meet the needs of modern classrooms and learners.
You can learn more about ASUS products for education at the annual ISTE Conference and Expo. Recognized the world around as the most comprehensive educational technology conference in the world, ISTE brings together educators and education leaders to engage in hands-on learning, exchange ideas and network with like-minded thinkers seeking to transform learning and teaching.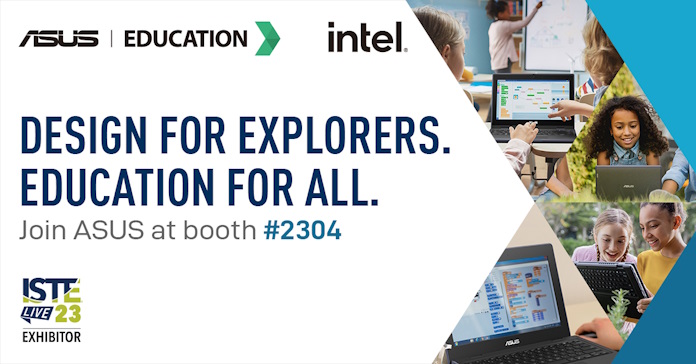 Between June 25th and 28th, join us in person at the Pennsylvania Convention Center in Philadelphia in booth #2304 to see our products in action. There, you can get hands-on experience with our latest products for education, participate in our ASUS Edu Passport activity for a chance to win awesome daily prizes, and meet our education experts and sales representatives in person. We will also host live sessions with industry thought leaders. Alternatively, you can register for an ISTELive 23 Virtual Pass to get access to digital resources including live-streamed sessions, expo hall demos, and recorded sessions. Register here to receive more information about the event and our ASUS education solutions.