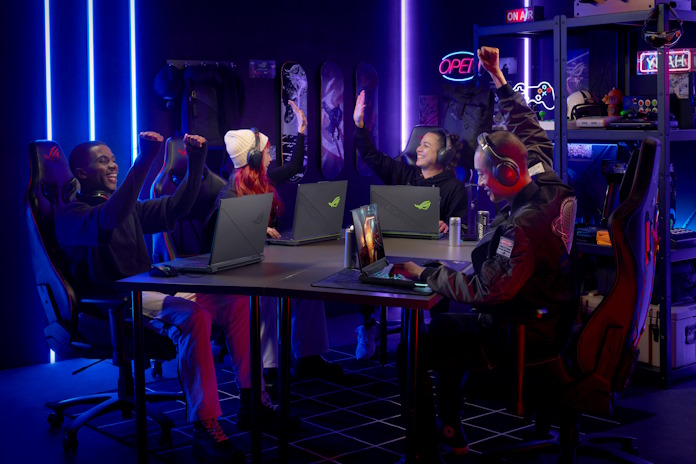 It's back to school time again. New notebooks, new bags, new friends. But it might also be time to upgrade your laptop for a new school, or set up a loved one with the hardware they need as they move forward in their education. ASUS is proud to offer a wide range of options, but for students who need the latest hardware for both the classroom and late-night game sessions, we'll highlight two excellent options: the ROG Strix G16 and the ROG Zephyrus G14. Let's dive in.
Gaming prowess or all-around practicality?
For many students, a gaming laptop is a better pick than a standard laptop. Part of that has to do with gaming, of course — with so many people playing games these days, it's become a key way that students spend time with friends. But it's more than that. The hardware that allows gaming laptops to play the latest titles at fast frame rates is the same kind of hardware that accelerates STEM projects and creative tools. If you're shopping for a student with a passion for coding, video editing, live streaming, game development, or 3D rendering, a gaming laptop could help them get to the next level.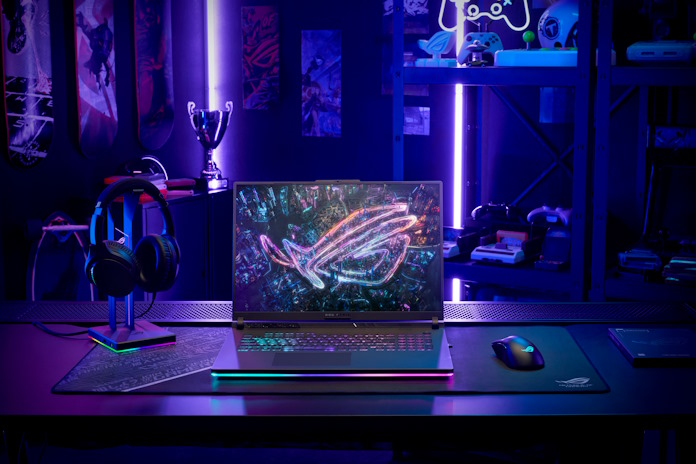 Both the ROG Strix G16 and ROG Zephyrus G14 have flagship processors ready to keep up with any student's ambitions. Whether it's the Intel Core i9-13980HX for the Strix G16 or the AMD Ryzen 9 7940HS for the Zephyrus G14, both processors have the chops to keep up with any current game or production application. Both models also come equipped with 16GB of high-speed DDR5 RAM, with the option to upgrade to a maximum of 32GB on each machine.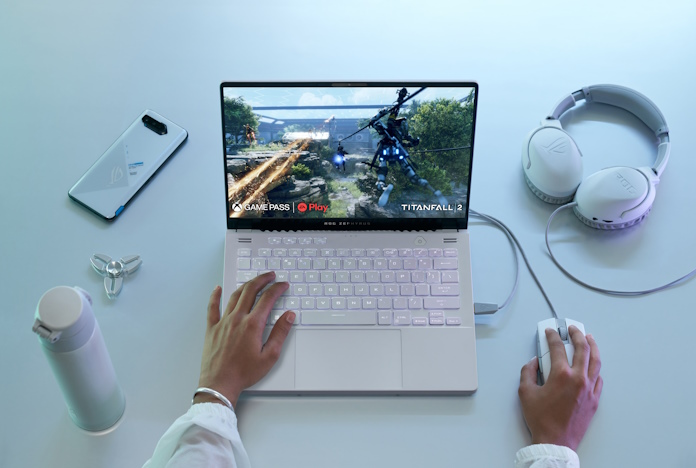 To accelerate any student's ambitions for creative projects, not to mention excellent gaming experiences, we equip both of these laptops with discrete GPUs. This model of the Strix G16 comes with an RTX 4050 Laptop GPU, but if your budget allows for a bit of flexibility, the G16 chassis supports up to an RTX 4070 Laptop GPU with a max TGP of 140W for some truly competition level performance. Despite its much more compact frame, the Zephyrus G14 comes equipped with an NVIDIA GeForce RTX 4060 Laptop GPU, the next class up in GPU performance. Both machines come with the full NVIDIA software suite, including DLSS 3, for solid framerates in all of the latest titles.
Do you want portable, or ultra-light?
A student's laptop tends to travel everywhere, what with regular journeys to and from school — not to mention hangouts with friends. Because these machines are so evenly matched in hardware, portability becomes a significant factor when deciding which laptop is right for you. Despite having the number 16 in its name, the Strix G16 easily slips into most standard 15-inch laptop bags and backpacks. And weighing in at just 5.51lbs (2.5 kilos for the non-Americans), it won't lead to back strain when the student you're shopping for is hoofing it from the dorm to the library.
For those who demand even more portability, the Zephyrus G14 might be the better fit. As a Zephyrus machine, it was designed to be lightweight and ultra-portable. This 14-inch machine slips into nearly every bag with plenty of room for your other gear, and at just 3.64lbs is significantly lighter than the Strix G16. If you're always on the move, or need a few other items in your bag to get through the day, that extra weight and space saving can add up quickly.
See the light
If you're shopping for a student with a wide range of interests, a versatile, fully featured display will make sure that they have a great experience throughout their day. Our Nebula Displays make the process of picking a great screen easy. We rigorously tested these panels to hit an exceedingly difficult set of requirements, including refresh rate, response times, and color accuracy. If you see the Nebula Display badge on an ROG laptop, rest assured it's rocking one of the best panels available on a gaming laptop today.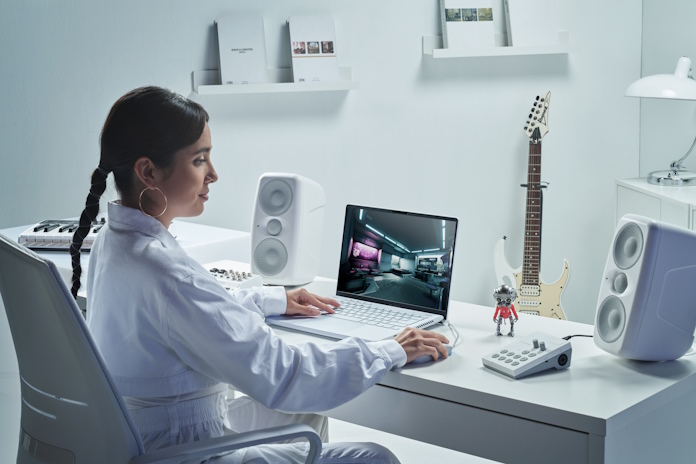 As a smaller, more portable laptop, the Zephyrus G14 doesn't have as much space for a display as the ROG Strix G16. Yet it makes the most of the available room with its ultra-slim display bezels and its 16:10 aspect ratio. With its extra-tall vertical dimension, it'll make sure that you or the student you're shopping for can see more of your current project or website without scrolling. That's a real productivity booster. When it's time to game, its 165Hz refresh rate will keep the on-screen action fast and fluid.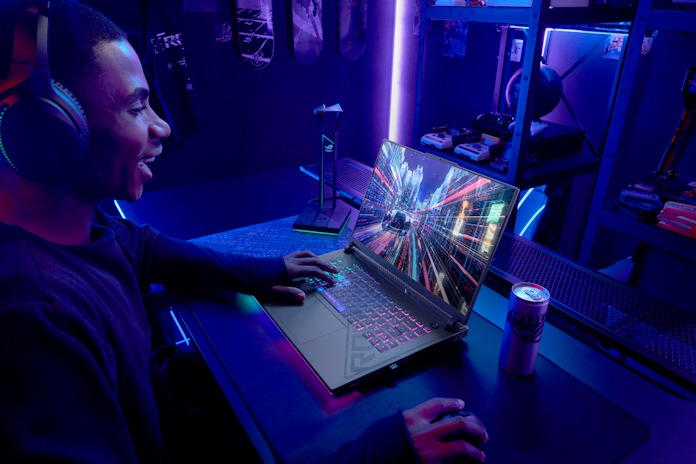 Many students will happily tote a larger laptop because it means that they can enjoy a larger screen. If that sounds like the student on your shopping list, opt for the ROG Strix G16. Since it also has a 16:10 aspect ratio, it boasts a display that's larger than what you'd usually get, even from competing 15-inch models. That maximizes space for schoolwork for the day, and it opens up a wider view to the battlefield at night. Backed up by a lightning-fast 240Hz refresh rate, the most frenetic firefights will look gorgeous on this gaming display.
While these panels do have some key differences, both machines feature NVIDIA G-SYNC support, ensuring these displays will appear silky smooth in all of your games. And keep in mind that if you ever want to upgrade your gaming setup, both machines support external monitors of any resolution and refresh rate.
Aesthetic choices
We'll let you make the call when it comes to aesthetics. But we can help define the two machines a bit.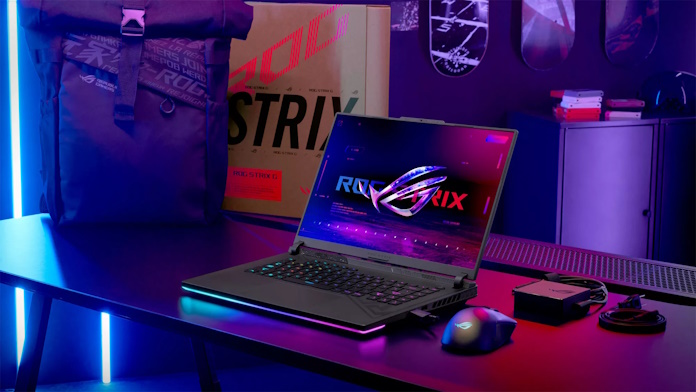 Strix machines are loud and proud with their RGB, and the Strix G16 is no exception. With per-key RGB in addition to a wide lightbar on the front of the machine to complement the main black coloring of the chassis, this laptop has serious gaming vibes. One thing to note: if you already have RGB-equipped accessories like a mouse, keyboard, or headphones, they could pair very nicely with the Strix G16 for a cohesive look.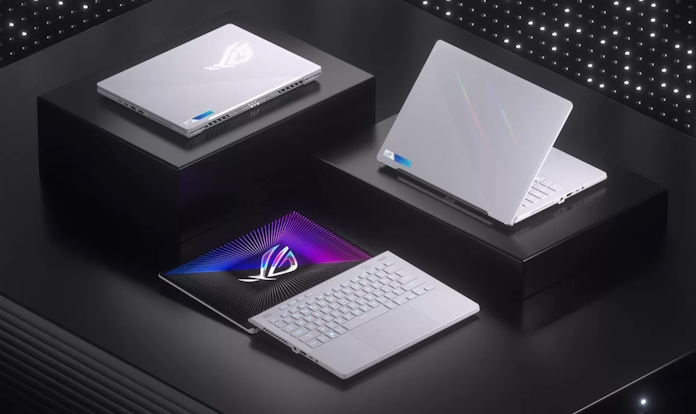 Zephyrus machines are much more understated by design. Intended to be completely at home in a gaming den or a coffee shop, the Zephyrus G14 will be a great fit for any student who prefers to fly under the radar. That said, this machine rewards close inspection with a sophisticated design that defies the convention — no one will mistake it for a run-of-the-mill consumer laptop. This model comes in white, which can also pair elegantly with other white accessories or décor, something the Strix G16 simply cannot offer.
Pricing and other final considerations
Last but not least, let's talk pricing. Currently available at $1,499.99 USD, the ROG Strix G16 is a tempting offer for those looking to break into the gaming world without breaking the bank. For students who love to game and don't care who knows it, this laptop offers the performance, connectivity, style, and features that they desire.
Coming in at just slightly more expensive, for $1,599.99, the ROG Zephyrus G14 is a gaming powerhouse in an ultra-portable form factor. Very few models on the market can match the way that it travels effortlessly while still offering excellent performance.
No matter which machine you choose, it'll ensure that you or the student you're shopping for will be ready to kick off the school year in style. Prepped to provide a high-end experience for STEM, creative projects, gaming, and much more, these gaming laptops are both excellent choices for the back-to-school shopping season. Follow the links below to purchase one today.
Model
ROG Strix G16 (G614JU)
ROG Zephyrus G14 (GA402XV)
Processor
Intel® Core™ i9-13980HX
AMD Ryzen™ 9 7940HS
Graphics
NVIDIA® GeForce RTX™ 4050 Laptop GPU
NVIDIA® GeForce RTX™ 4060 Laptop GPU
Display
ROG Nebula Display
16-inch
ROG Nebula Display
14-inch
Memory
8GB DDR5-4800 SO-DIMM x 2
16GB DDR5 on board
Storage
1TB PCIe 4.0 M.2 SSD
512GB PCIe 4.0 M.2 SSD
I/O
1x 3.5mm Combo Audio Jack
1x HDMI 2.1 FRL
2x USB 3.2 Gen 2 Type-A
1x USB 3.2 Gen 2 Type-C
1x RJ45 LAN port
1x Thunderbolt™ 4
1x 3.5mm Combo Audio Jack
1x HDMI 2.1 FRL
2x USB 3.2 Gen 2 Type-A
1x USB 3.2 Gen 2 Type-C
1x Type C USB 4
1x card reader (microSD) (UHS-II)
Wireless
WiFi 6E
Bluetooth 5.3
WiFi 6E
Bluetooth 5.3
Dimensions
35.4 x 26.4 x 2.26 ~ 3.04 cm
(13.94" x 10.39" x 0.89" ~ 1.20")
31.2 x 22.7 x 1.85 ~ 1.95 cm
(12.28" x 8.94" x 0.73" ~ 0.77")
Weight
2.50 Kg (5.51 lbs)
1.65 Kg (3.64 lbs)
Battery
90WHrs, 4S1P, 4-cell Li-ion
76WHrs, 4S1P, 4-cell Li-ion
Availability (U.S.)
ASUS
B&H
EXCaliberPC
HIDevolution
Micro Center
Newegg
Best Buy