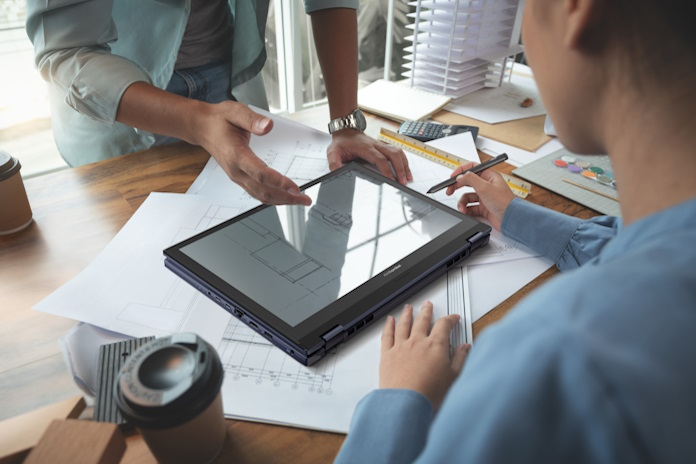 Corporations in a wide range of industries are finding that the performance needs of their employees are growing at a fast pace. The apps most commonly used by architects, engineers, and product designers rely on GPU acceleration. The 3D workflows of animators and game developers require potent processing power. Filmmakers, video editors, and VFX artists all lean on speedy storage, powerful processors, and potent GPUs. What's more, in this new era of remote and hybrid work arrangements, more employees than ever need tech that travels. A set of high-performance desktops at the corporate HQ just doesn't cut it for many enterprises.
Employees care first and foremost about performance and portability, but enterprises have needs that go above and beyond those factors. Consumer-grade devices can deliver the performance that users need, but only laptops built for business offer the hardware-based security, remote management, and validated components that today's businesses require.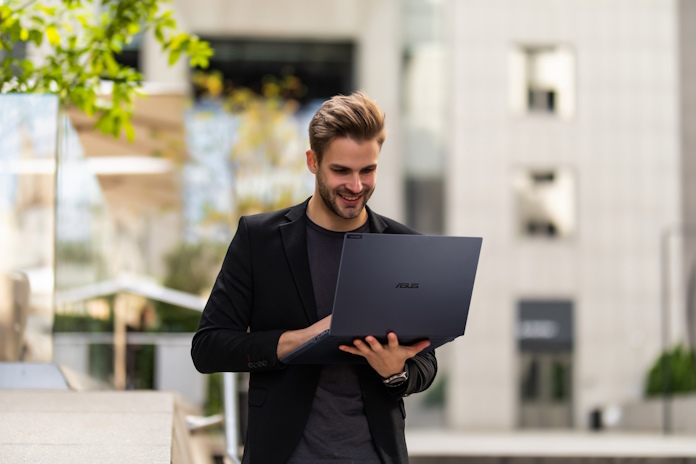 Finding a fleet of business laptops that meets all these different criteria — performance, portability, security, management, and stability — might seem like an impossible task, but the latest ASUS ExpertBooks make it easy. For 2023, we're debuted the ExpertBook B5 OLED, ExpertBook B5 Flip OLED, and ExpertBook B6 Flip. We built these premium devices for what IT needs and users want.
Rock-solid CPU performance
At the beating heart of these machines sits an Intel vPro processor. The thin-and-light ExpertBook B5 Flip OLED and ExpertBook B5 OLED can be configured with up a 12th Gen Intel Core i7 vPro Essentials CPU, while the companies with more demanding performance needs can configure the ExpertBook B6 Flip with a more potent 12th Gen Intel Core i9 vPro Enterprise processor.
These chips are built on the legendary performance of Intel's Core series of CPUs, but sheer horsepower is just one part of their story. For smooth fleet management, these laptops are designed on the Intel vPro Enterprise platform and include a collection of validated and integrated components that go beyond the CPU. Rigorous testing helps ensure a stable foundation that your enterprise needs for hassle-free fleet management.
Discrete GPUs lead the charge
Discrete GPUs are most famously used for gaming, but the truth is that apps of all kinds can take advantage of the specialized hardware in these chips to accelerate workflows. Everyone from web developers, financial analysts, video editors, architects, and VR developers benefit from laptops that offer both a potent CPU and a capable GPU.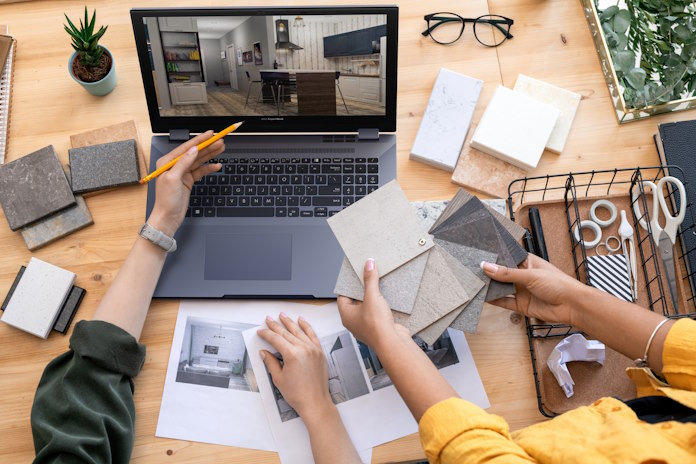 The ExpertBook B5 OLED and ExpertBook B5 Flip OLED offer up to the latest Intel Arc A350M discrete graphics to give users a jolt of GPU processing power above and beyond what they'd get with Intel's quite-capable integrated Iris Xe graphics. This chip handles video encoding duties deftly, and it's a proven performer in fields that rely on previsualization in the early stages of development. The combination of the Intel vPro CPU and Intel Arc GPU makes these new ExpertBook B5 laptops a compelling pick for industries that need a balance of effortless portability and computational horsepower, like financial analysis and data management.
The ExpertBook B6 Flip goes above and beyond with high-performance NVIDIA RTX A2000 graphics. This GPU has the throughput to help your employees quickly turn around projects, the enterprise drivers they need for worry-free performance, and ISV certifications that give them the confidence to work in high-stakes environments. This workstation-level chip is ready for the complex 3D tasks at the heart of everyday tasks in the fields of architecture, large database management, VR development, machine learning, and much more.
Keeping their cool
An everyday consumer laptop built for folks with minimal performance needs can get away with power-sipping components and a passive or single-fan cooling solution. In contrast, a powerful laptop with a high-end CPU and GPU produces heat under load that has be dissipated for sustained, reliable performance.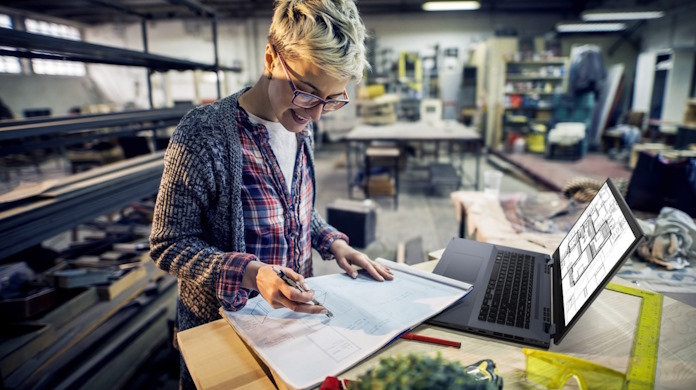 The lightweight ExpertBook B5 OLED and ExpertBook B5 Flip OLED business laptops deliver quiet, cool, and powerful computing with a dual-fan design that pulls cooling air across the vital circuitry and through heatsinks bristling with fins before exhausting it through unobtrusive vents. The workstation-class ExpertBook B6 Flip takes its cooling system to the next level. A liquid-metal thermal compound efficiently and quickly transfers heat away from its high-performance CPU. Five heat pipes, split between the CPU and GPU, effectively move heat to the laptop's substantial heatsinks.
Your employees need to be able to concentrate on the task at hand without distractions, so the ExpertBook B6 Flip's cooling system is designed to be as quiet as it is effective. High-efficiency 98-blade fans exhaust heat from the chassis while producing minimal noise. Seven intelligent sensors track temperatures to ensure optimal cooling performance. All told, this laptop produces less than 40 dBA of noise in Standard mode, even when tasked with a challenging workflow.
Comprehensive security features
For any business, the security of your data is paramount. ASUS ExpertBook business PCs deliver the enterprise-grade security necessary for your fleet of devices. The ExpertBook B6 Flip offers the multi-layered security features necessary for fields like finance and government. This includes a discrete trusted platform module (TPM) 2.0 chip to securely store authentication information such as passwords or encryption keys. It also has a smart card reader to enable easy two-factor authentication, with a password and recognized card required for login — plus an IR camera for easy face login with Windows Hello, and a fingerprint sensor integrated into the power button for one-tap boot up and login.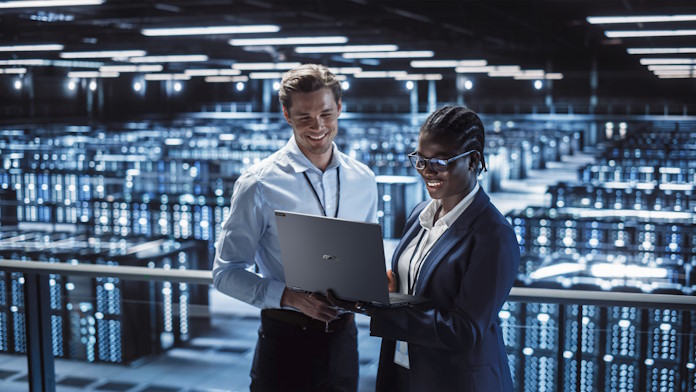 For enterprise-grade security, the ExpertBook B5 OLED and ExpertBook B5 Flip OLED offer a discrete TPM chip. A Kensington lock slot provides physical security against theft, and USB device control keeps your business and its future safe.
ExpertBook B5 OLED
ExpertBook B5 Flip OLED
ExpertBook B6 Flip
Model
B5602
B5602F
B6602F
CPU
Up to Intel Core i7
vPro Essentials
Up to Intel Core i9
vPro Enterprise
Graphics
Up to Intel Arc 350M
Up to NVIDIA RTX A2000
Security
Fingerprint-reading power button
Face login
TPM 2.0
Kensington lock slot
USB device control
Key features
OLED display
Military-grade durability
OLED display
Touchscreen
Military-grade durability
Garaged stylus
ISV certified
Touchscreen
100% DCI-P3
Military-grade durability
Stylus support
Ready for business
For many enterprises and small businesses alike, Intel vPro makes all the difference. Intel vPro Essentials provide a solid foundation for small businesses, giving them comprehensive security right out of the box, versatile performance, and a streamlined pathway for growth. For larger organizations, Intel VPro Enterprise delivers a forward-looking business PC platform with multilayer security features, professional-tier performance, exceptional stability, and a complete set of remote management tools. Often among the first laptops on the market to offer these features to competitors, ExpertBook laptops stand out from the crowd as premier laptop options for businesses of all sizes that need more than everyday consumer PCs can provide.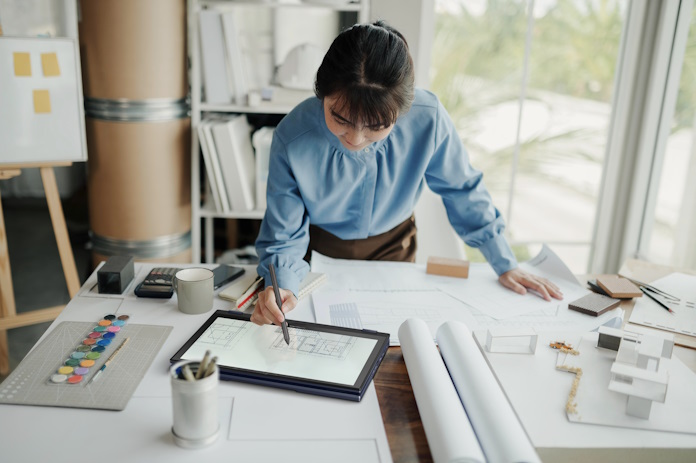 Your enterprise can't compromise on your security, manageability, and performance needs. Keep your employees and IT staff productive while safeguarding your data and devices with the ExpertBook B5, ExpertBook B5 Flip, and ExpertBook B6 Flip. These business laptops are primed and ready to accelerate the work of today's professionals. Reach out to our sales staff today for more information about how our ExpertBook series can streamline the technological needs of your business.