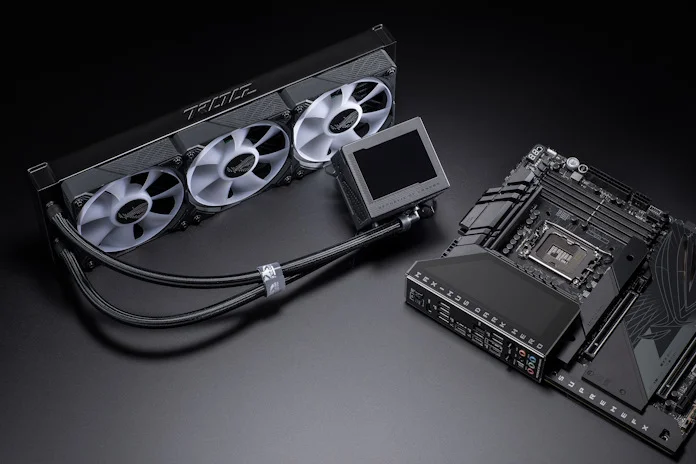 Intel's latest 14th Gen Core CPUs have arrived, raising the bar yet again. Like many others in the PC building community, you might already be making some plans for a new PC based on one of these cutting-edge chips. To help spark your imagination, we're here with five fresh build ideas, each centered around one of our latest Z790 motherboards. But that's not all. We're also celebrating the occasion by giving hardware away. 10 lucky contest winners will take home premium PC component bundles.
You'll notice that each build pairs an ASUS motherboard with an ASUS all-in-one liquid cooler. That's no mistake: with no disrespect for our competition, there are a variety of reasons why you might be best off staying in-house as you pick an AIO cooler to accompany your new motherboard. Not only do the industrial design aesthetics create a cohesive look in your build, you're also setting yourself up for easy compatibility. With an exact match between the industrial design of both components, your build has a cohesive look from the get-go.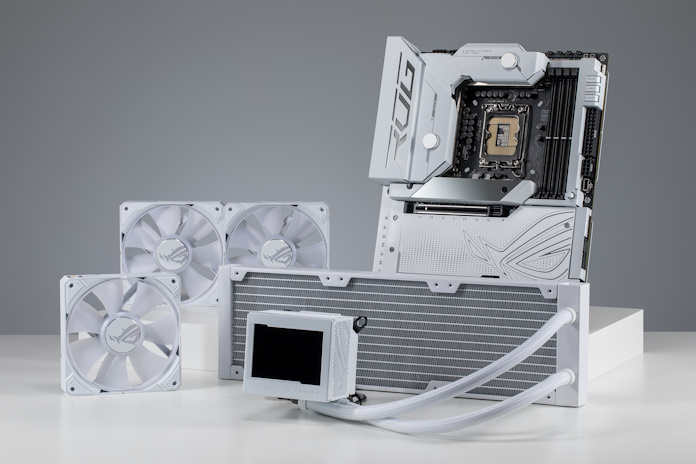 On top of that, other brands may not have taken the time to consider compatibility with our motherboard lineup, which can lead to frustrating moments during your build, if not outright obstruction problems. Additionally, you'll be able to customize your experience for both components with one app: Armoury Crate. Through Armoury Crate, you'll be able to synchronize all your RGB LED lighting effects, adjust fan speeds with FanXpert 4, monitor CPU voltage, frequency, and temperature, ands check on the status of your AIO cooler. And depending on the model you choose, you'll be able to enjoy ASUS-exclusive features, like the 3.5-inch LCD screen on the pump housing of the ROG Ryujin III.
Build #1: Frozen Throne
We'll start with a powerhouse of a machine boasting the top-end Intel Core i9-14900K. At the pinnacle of Intel's latest CPU options, this is the dream CPU for power users: content creators, hardcore gamers, engineers, streamers, and more. In this build, we pair this beastly CPU with one of our highest-end ROG motherboards: the ROG Maximus Z790 Formula. Built for liquid-cooling enthusiasts, this motherboard features a HybridChill VRM Block that you can connect to a custom liquid cooling loop to keep your power circuitry cool even under extreme workloads.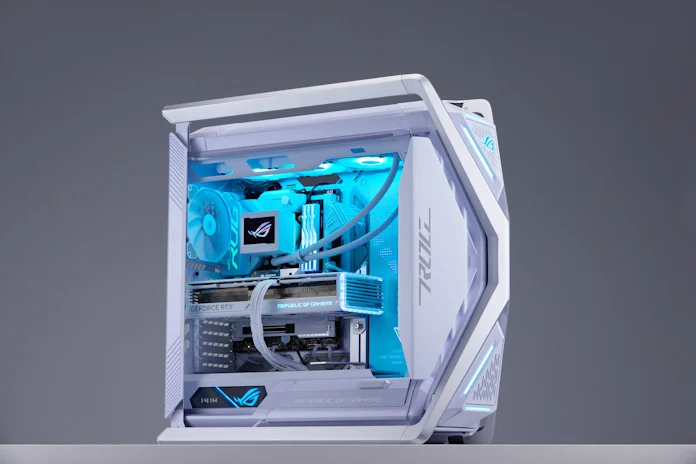 Even without a custom loop, the HybridChill VRM Block is remarkably effective as a passive cooler, allowing you to pair it with one of our white AIO coolers for your CPU. For the Frozen Throne build, we've selected the ROG Ryujin III 360 ARGB White Edition AIO liquid cooler. With its beefy 360mm radiator, it has the high coolant volume you need for sustained cooling performance. Its fully customizable 3.5-inch screen can be used to display real-time system information — or custom animations and graphics. It's all up to you.
Since both of these components feature frosty white surfaces, it only made sense to flesh out the rest of this build with hardware featuring the same pristine white aesthetic. For top-of-the-line graphics horsepower, we turned to the ROG Strix GeForce RTX 4090 White. Prized by enthusiasts everywhere for its chart-topping thermal performance, top-end graphics processing power, and spacious 24GB pool of GDDR6X, this is a premium GPU wrapped up in an unforgettable package. The mighty ROG Thor 1200W Platinum II supplies the power, and we fit it all in the ROG Hyperion White chassis.
Build #2: From the Shadows
They say that the color black never goes out of style. If that's the case, then this build won't either, because it's draped in shadowy hues inside and out. It features a motherboard destined to be an instant classic: the ROG Maximus Z790 Dark Hero. Clad in layers of stealthy armor set off by dazzling Polymo lighting on the I/O shroud, this motherboard checks every item on your list for a cutting-edge PC. WiFi 7, dual Thunderbolt 4 ports, ROG SupremeFX audio, a front-panel USB 20Gbps connector — this board has it all, and it's a perfect home for the mighty Intel Core i9-14900K CPU.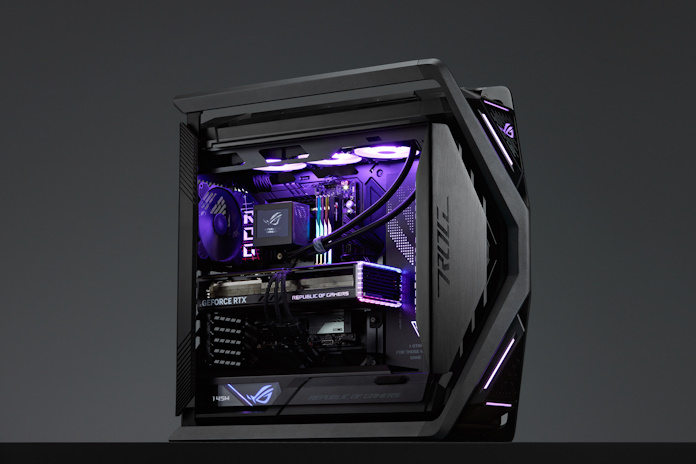 The ROG Maximus Z790 Dark Hero's shadowy aesthetic is perfectly matched in color and style by the ROG Hyperion chassis, the ROG Ryujin III 360 ARGB AIO liquid cooler, ROG Thor 1200W Platinum II PSU, and the OG of our RTX 40 Series graphics card lineup: the ROG Strix GeForce RTX 4090.
Build #3: Intergalactic Explorer
Gamers seeking excellent performance and bold style have long turned to our ROG Strix series of PC DIY components. For this build, we're returning to the white aesthetic of our first build — but with more accessible components that will put the price tag of this powerful build within the reach of a larger audience.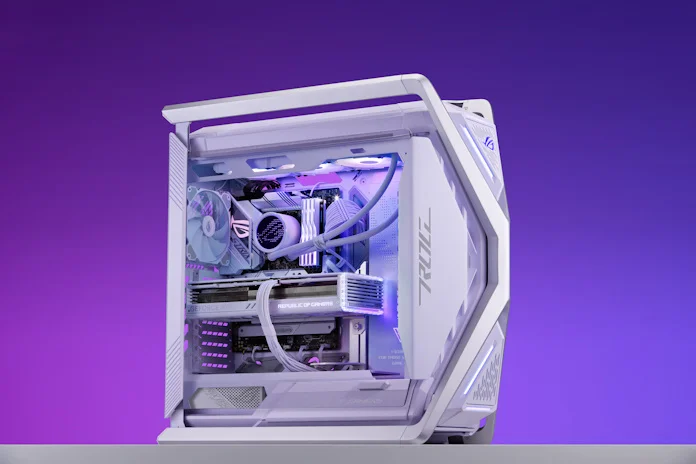 To accomplish that goal, we start with the Intel Core i7-14700K CPU. While it's not at the absolute pinnacle of Intel's 14th Gen lineup, it delivers substantial gaming power that independent reviewers indicate is on par with Intel's last-gen flagships. We pair it with the high-end ROG Strix Z790-A Gaming WiFi II. Featuring onboard PCIe 5.0 M.2 SSD support, a header for a front-panel USB 20Gbps Type-C port, AI Overclocking, and WiFi 7 support in a white-themed package, this motherboard delivers the perfect balance of style and performance for this build.
For cooling, we're selecting the head-turning ROG Ryuo III 360 ARGB White Edition. Armed with an 8th Gen Asetek pump solution and a substantial 360mm radiator, this AIO liquid cooler has the goods to keep this CPU operating comfortably, all without creating undue fan noise. For boundless customization options, it includes the ASUS-exclusive Anime Matrix™ on the pump housing. This mini-LED array can display ROG-exclusive anime content, core system stats, and customized animations.
The ROG Strix GeForce RTX 4080 White serves up the graphics performance for this build. Just one rung down from the mighty RTX 4090, this graphics card delivers the horsepower you need for 4K gaming, the latest RTX features for immersive, fluid gaming, and exceptional thermal performance. The ROG Strix 1000W Gold Aura White power supply keeps the lights on and looks good in the process, and the ROG Hyperion White wraps it all up in an eye-catching design build from the ground up for great airflow.
Build #4: Dreadwalker
ROG Strix motherboards take the basic DNA of our ROG Maximus series and distill it into more attainable designs that provide exceptional gaming performance and outspoken style. The highest-performance model in the lineup is the ROG Strix Z790-E Gaming WiFi II. With its PCIe 5.0 x16 slot and onboard PCIe 5.0 M.2 slot, this is the ROG Strix motherboard to get if you have a hankering for the best graphics cards and SSDs of today and tomorrow. It offers a robust power solution primed for overclocking, WiFi 7, and a connector ready to help you set up a high-speed front-panel USB Type-C port with 30W PD fast-charge.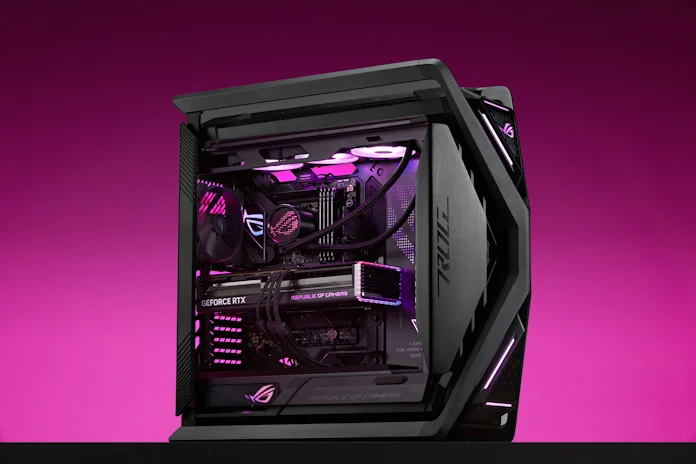 These qualities make the ROG Strix Z790-E Gaming WiFi II the perfect partner for the Intel Core i7-14700K. To keep it cool, we opt for the classic black version of the ROG Ryuo III 360 ARGB AIO liquid cooler. For its graphics card, we turned to the ROG Strix GeForce RTX 4070. This upper-midrange card is a great fit for gamers with a 1440p display — and now that you can combine 1440p resolutions high refresh rates, as with the ROG Swift 360Hz PG27AQN, more gamers than ever are upgrading to high resolution displays for gaming.
Build #5: TUF as Nails
TUF Gaming components bring your gaming dreams to life with their reliable performance, essential gaming features, and price points that don't break the bank. And thanks to the TUF Gaming Alliance, you can easily assemble a full build with a cohesive battle-hardened aesthetic.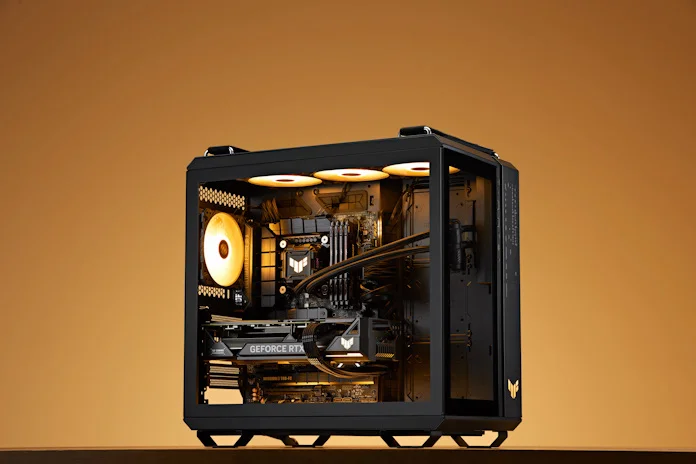 The TUF Gaming Z790-Pro WiFi motherboard carries the TUF legacy forward with its premium power solution, comprehensive cooling, and next-gen connectivity. We give this brawny board a potent partner in the Intel Core i7-14700K CPU, and supply you with affordable graphics horsepower through the TUF Gaming GeForce RTX 4060 Ti. A great pick for 1080p gamers, this graphics card gives you next-gen graphics performance and access to NVIDIA's latest RTX technologies. For the theme of this build, the TUF Gaming LC II 360 ARGB AIO liquid cooler is the perfect choice. It offers bright ARGB lighting on the radiator fans, 400mm of reinforced, sleeved tubing, and it's styled to sit front and center in your TUF Gaming PC.
The chassis of this build deserves special mention. The TUF Gaming GT502 PC case is as versatile and customizable as they come, and it's designed to showcase your building skill with its tinted tempered glass panels on the front and side. Its dual chamber design lets you configure independent cooling zones, and it has a USB 10Gbps port on the front panel ready to serve up fast transfer speeds.
Upgrade your gaming setup with a special giveaway
Ready to level up your battlestation? For a limited time, we're holding a global Upgrade-A-Palooza gaming PC hardware giveaway contest. It gives participants a chance to win one of ten bundles of PC components, including bundles with a new 14th Gen Intel® Core™ processor and premium ASUS hardware, such as an ROG Maximus Z790 Dark Hero motherboard, GeForce RTX™ 4070 OC or 4060 Ti OC graphics card, power supply, chassis, gaming monitor and gaming peripherals.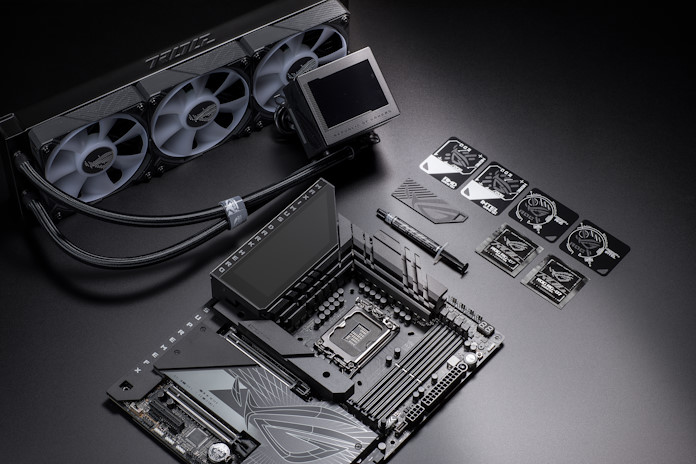 Gamers everywhere are invited to play. Participation is easy: simply follow the instructions on the contest website and submit an entry. Don't miss out on this limited-time opportunity.