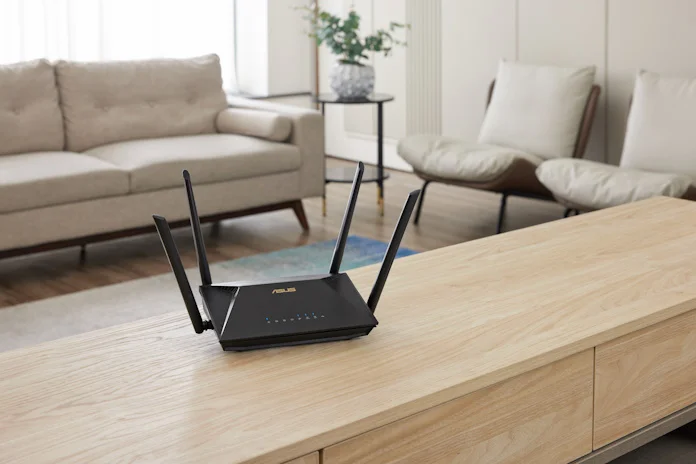 At ASUS, we think that buying a wireless router should be easy. You should be able to browse a full selection of options, purchase a model with the features you need, and quickly set up a home network tailored to your specific needs, all for one clear upfront price. Unfortunately, some companies out there make this process more difficult than we'd like by hiding important, if not strictly essential, features behind paid subscriptions — or not offering them all. This leads to circumstances where a router might be a cheaper short-term option, but significantly more expensive over the long haul.
So let's take a page from the business world and talk about total cost of ownership (TCO): how much does a router cost, not just on the day you buy it, but over the longer term? We think you'll find that even when ASUS wireless routers cost a few more bucks than competing models — and they often don't — they end up saving you considerable cash in the long run with their generous warranties and included bundle of free features.
We're so confident about the value proposition of our routers that, for a limited time, we'll offer you a substantial discount on one of our routers just for taking a moment to see how the cost of our routers compares to that of our competition over two years of ownership. Read through to the end of this article to learn how you can take advantage of this limited-time opportunity.
Advanced network security options come standard
You'll find a basic level of network security baked into just about any wireless router on the market. But it's a mistake to assume that all routers work equally hard to protect your devices and data.
Take the ASUS RT-AX58U, for example. This very affordable WiFi 6 router works overtime to keep your network secure with ASUS AiProtection, a commercial-grade suite that leverages powerful cybersecurity solutions and cloud data centers from Trend Micro to shield your smart home and all connected devices from cyber threats. You get free automatic security updates, malicious site blocking vulnerability protection, and built-in tools to detect and block infected devices — all without a subscription fee. And it's all easy to set up and use with the ASUS Router app.
With some competing models that you might be considering, it's not nearly so simple. One competitor's comparable AX3000 router provides a similar set of network security tools — but only for one year. After the first year is over, you'll have to pony up $99.99 a year to maintain access to the same security tools. Not only is the ASUS model cheaper on day one, it's cheaper in the long run, too, for anyone prioritizes network security.
Advanced parental controls, right there when you need them
Tech-savvy parents know that the easiest way to set up robust, common-sense, hassle-free parental controls is through their wireless router. The free parental controls that you get with ASUS routers, like the ASUS RT-AX82U, takes the guesswork out of protecting your kids. In the ASUS Router app, you'll find preset profiles based on age that will automatically apply filters for inappropriate content and set suggested daily screen time schedules for your kids' devices. Through the included internet activity dashboard, you can easily keep tabs on your kids' browsing behaviors.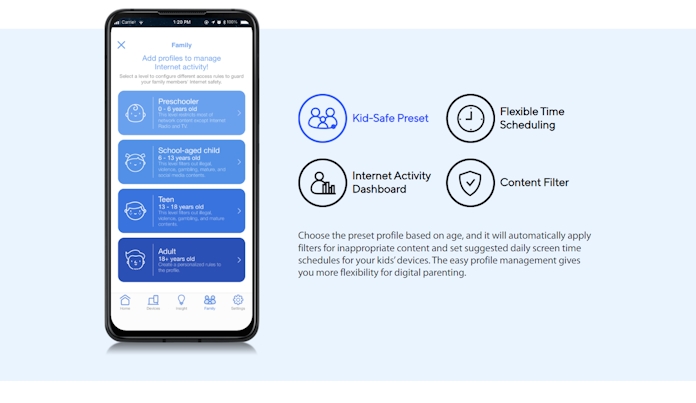 If you're shopping on the other side of the router aisle, you'll find models that look like they offer comparable parental controls, but once again, they're typically locked behind subscriptions. Perhaps you'll get a basic set of features without paying, or perhaps you'll get a month or year of free access to the full toolkit, but eventually you'll either have to choose between a flat monthly fee or finding another way to manage your kids' screen time.
For one straightforward upfront price, the ASUS RT-AX82U gives you our full suite of parental controls. One competitor's comparable AX5400 router has the same MSRP — but if you include the yearly cost of their parental controls subscription, you'll actually end up spending 50% more on their product over two years of ownership.
Easily extend the reach of your network with AiMesh
Quite regularly, folks find that a wireless router which provides the range and bandwidth they need today doesn't meet their needs tomorrow. Sometimes it happens when they move to a new home — the standalone router that worked fine in their two-bedroom apartment struggles to reach every room in a detached house. Other people build an addition, finish their basement, or construct a backyard patio only to find that they get inconsistent WiFi when they spend actually spend time in these spaces.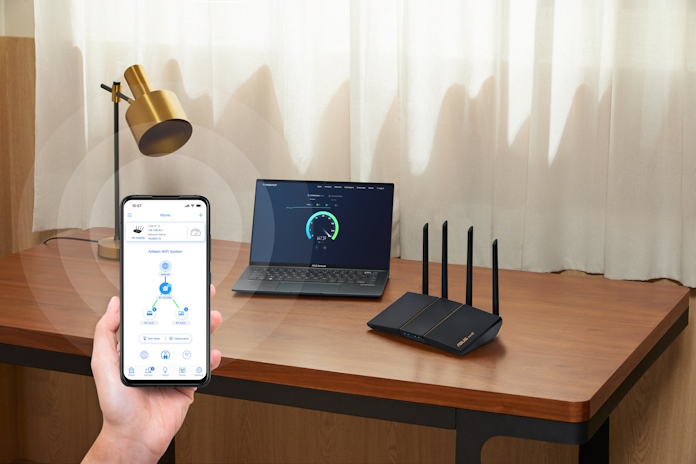 One easy answer to all these scenarios is mesh WiFi technology. A mesh WiFi system uses multiple units, spaced throughout your house, to manage a single network. These systems make it easy to ensure that you can get a great connection in every room.
Most of our competitors require you to start completely over with new hardware if you want a mesh WiFi network. Many of their routers simply don't offer mesh WiFi support at all. Some require the purchase of a separate, dedicated extender. Their units that do offer support for mesh typically require you to stay in the same product family if you need an additional node.
Our extendable routers — nearly every router that we sell — include AiMesh support so that you can use your existing router as part of a mesh network, should you need to expand the range of your network down the road. When your networking needs increase down the road, you won't have to throw out your ASUS router and start over — the router you buy today can still play a key role in your expanded home network.
VPN support that goes beyond the basics
These days, far more people than just IT professionals make use of a virtual private network (VPN). Employees in remote or hybrid work arrangements often use a corporate VPN to securely connect to company resources. Gamers use VPNs to establish the best connection to game servers. Other people use a VPN to improve their privacy when they go online.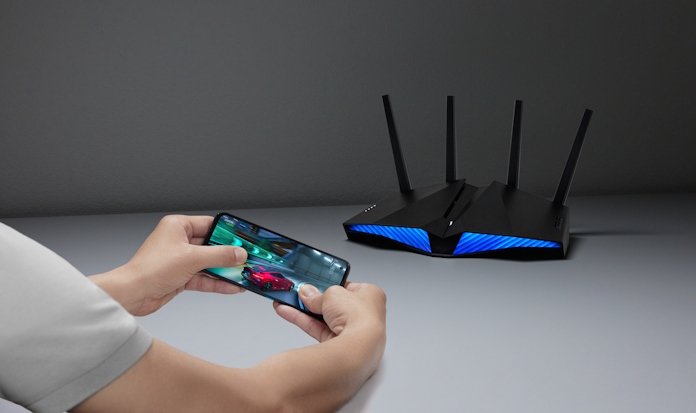 As you shop for a new wireless router, you'll find basic VPN functionality across a wide range of options. Unfortunately, "basic" might be the most charitable way to describe the VPN support that you'll get with many competing models. With ASUS routers like the ROG Rapture GT6 — and most of our other options, as well — you'll get access to VPN Fusion, a tool that lets you set up VPN connections even to set-top devices on which you can't install VPN client software, and it'll let you do so while also running your ordinary internet connection for other devices. Even if one device is using a VPN, you can enjoy maximum speeds on your other devices.
ASUS routers also give you access to Instant Guard, no extra subscription required. Instant Guard uses VPN tech help you establish a secure connection even when you have to use a public WiFi network. You won't need any special networking knowledge to configure Instant Guard. With a couple taps in the ASUS Router app, you'll be able to browse securely no matter where you go.
ASUS routers deliver unbeatable value over the long haul
Looking at the total cost of ownership for a wireless router, it's clear that ASUS routers are significantly cheaper over the long term for anyone who takes advantage of advanced network security features, advanced parental controls, mesh WiFi, or VPN support. If you make use of any of these features today, or are likely to use them at some point in the next 2-3 years, you're best off purchasing a router that doesn't wall those features off behind a paid subscription.
ASUS routers make it easy for you to get all the advanced features that you need for your home network, all without hidden costs and unexpected subscriptions. What's more, we back them with a generous two-year warranty — twice what some of our competitors offer — to give you peace of mind that your router will go the distance.
Choose the Best Extendable Router for You
ASUS RT-AX3000
Competitor #1
Competitor #2
Wireless Speeds
3000 Mbps
3000 Mbps
3000 Mbps
Frequency Bands Supported
2.4GHz
5GHz
2.4GHz
5Ghz
2.4GHz
5GHz
Wireless Communication Standard
Up to WiFi 6
802.11ax
802.11ac
802.11n
802.11a
802.11b
Up to WiFi 6
802.11ax
802.11ac
802.11n
802.11a
802.11b
Up to WiFi 6
802.11ax
802.11ac
802.11n
802.11a
802.11b
Advanced Network Security
Free
$54.99/year after 1 month
$99.99/year after 1 month
Advanced Parental Controls
Free
$69.99/year after 1 month
-
Mesh Technology
Extendable across ASUS models
Dedicated extender purchase required
None
VPN Support
Yes + VPN Fusion
Yes
Yes
Warranty
2 years
2 years
1 year
List Price
$159.99
$149.99
$159.99
Price + Fees for 2 Years of Ownership
$159.99
$250+
$360+
Get a great discount on your next ASUS router
Between September 4th and September 30th in select markets, we're offering a special discount on any wireless router sold through the ASUS eShop. To get the exclusive coupon code for this offer, all you have to do is visit this website and use the compare button to explore how the total cost of ownership of ASUS routers stacks up against our competition. Don't wait to get started — this offer won't last forever.