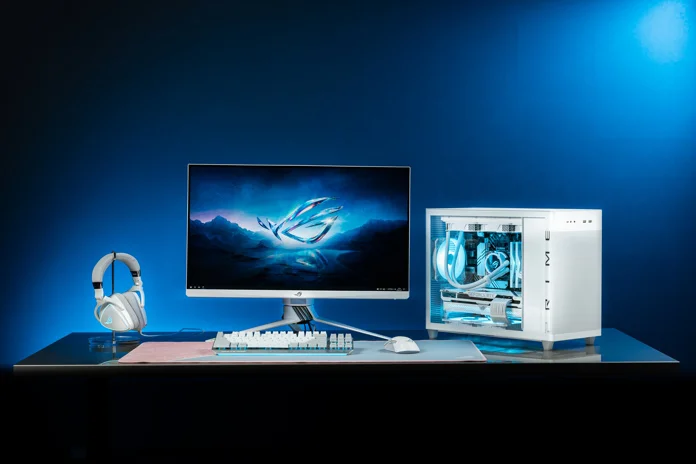 There's something about the color white that never goes out of style. White PC hardware offers a clean, fresh look that takes a turn away from ordinary without looking out of place — and it provides a perfect surface for capturing the glow of RGB LEDs. To fully equip your passion for a white-themed setup, we've added white PC hardware options across nearly our entire product portfolio: peripherals, mesh WiFi systems, monitors, motherboards, graphics cards, laptops, and more.
Whether you're building a Star Wars stormtrooper PC, hunting for the perfect peripherals for your Moonlight White laptop, or finding tech that matches the décor of your living spaces, we have the hardware you need. Here, we'll introduce you to some of our most compelling options.
Unrivaled customization: the ROG Azoth gaming keyboard
It's never been easier to personalize the look and feel of your keyboard. The ROG Azoth is a 75% gaming keyboard bristling with DIY features traditionally found on premium custom keyboards. A metal top cover with silicone gasket mount and three-layer dampening, hot-swappable, pre-lubed ROG NX mechanical switches and keyboard stabilizer, ROG PBT doubleshot keycaps and bundled switch lube kit combine to create unprecedented typing experiences. The ROG Azoth also has an OLED display with intuitive controls, versatile tri-mode connectivity with SpeedNova wireless technology in 2.4 GHz mode, three adjustable tilt positions, and macOS support.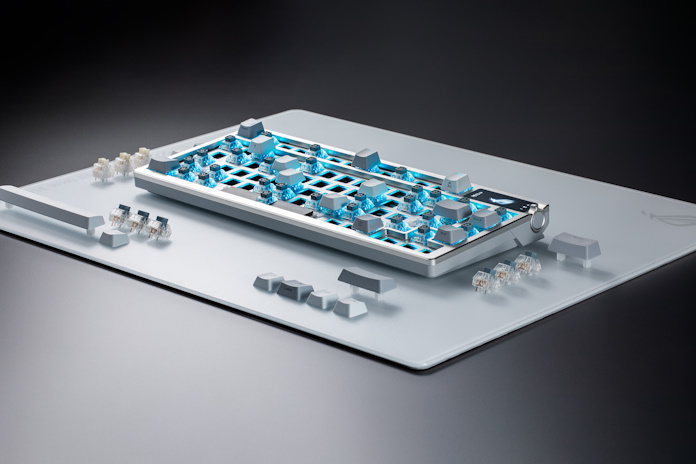 Now, you can get the customizable goodness of the ROG Azoth in Moonlight White. Stick with its pristine surfaces or swap out some keycaps to enjoy how the white frame makes bold colors pop — it's up to you. With the latest Azoth models, you'll also have your pick from our latest ROG NX Snow and ROG NX Storm switches. Their walled stem design enhances stability for wobble-free typing, and they arrive specially tuned and factory pre-lubed for ultra-smooth actuation.
On top of all that, the latest ROG Azoth is also compatible with the ROG Omni Receiver. This dongle allows wireless connection to one compatible keyboard and one compatible mouse at the same time, all the while keeping latency low.
Competition-grade accuracy: the ROG Harpe Ace Aim Lab Edition gaming mouse and the ROG Moonstone Ace L mousepad
If you're looking for a gaming mouse compatible with the ROG Omni Receiver to accompany your new ROG Azoth, there's no better choice than the ROG Harpe Ace Aim Lab Edition. Available in both black and Moonlight White, this ultra-lightweight 54-gram wireless gaming mouse is perfect for the frantic action of today's fast-paced competitive esports games. Its next-gen 36,000-DPI ROG AimPoint optical sensor tracks every mousing movement with uncanny accuracy, with industry-leading <1% CPI deviation for ultimate precision.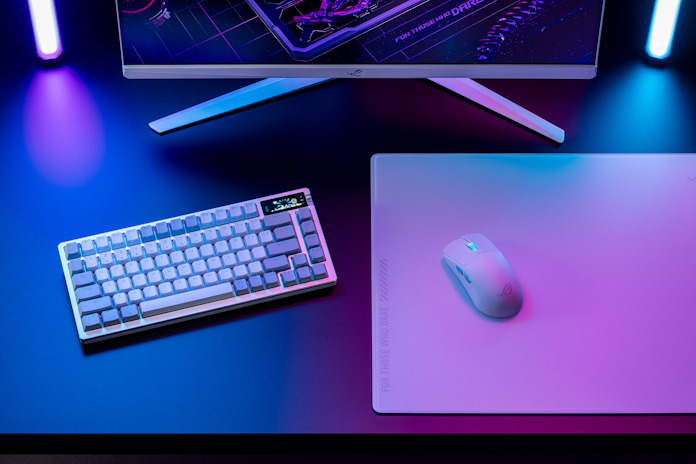 Let's give your elegant clicker an equally luxurious surface on which to do its work. The ROG Moonstone Ace L is a premium mouse pad made of impact- and scratch-resistant tempered glass for exceptional durability. Its specially treated surface provides unmatched levels of precision as well as effortless swipes and tracking. With moves so fast and clean, your opponents won't know what's hit them.
Premium on-the-go audio: the ROG Cetra True Wireless and the ROG Strix Go Core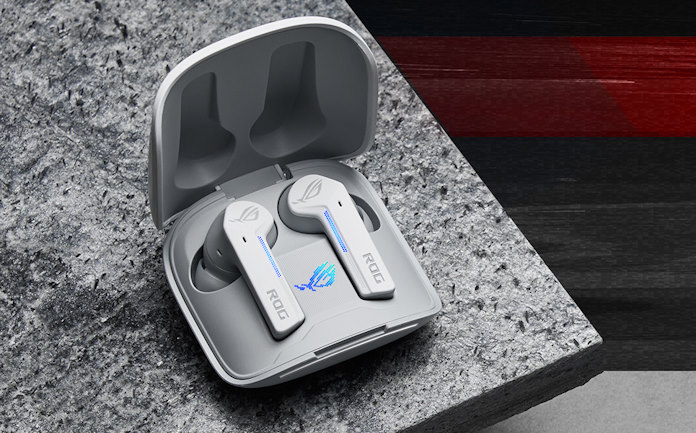 For a complete white-themed setup, don't forget your headphones. If you prefer the ultraportable convenience of earbuds, check out the ROG Cetra True Wireless gaming earbuds. These lightweight units have specially tuned 10mm ASUS Essence drivers that deliver high-quality audio, and they have built-in active noise cancelation tech. And with their charging case and quick charge technology, they're always ready for action.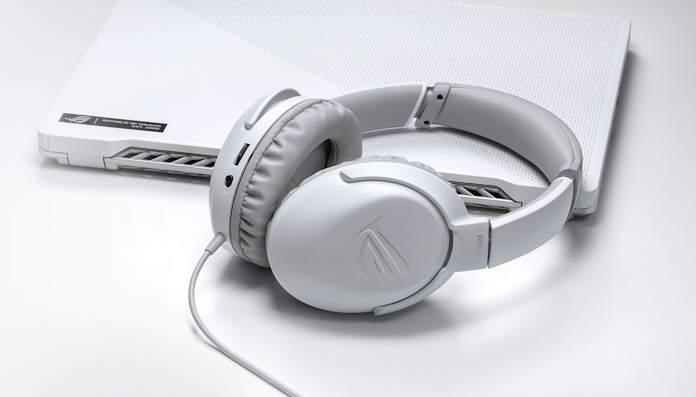 Perhaps you prefer a pair of over-ear headphones? Look at the ROG Strix Go Core Moonlight White gaming headphones. With cross-platform support for PC, smartphones, and many consoles, it's a perfect fit for anyone with a wide range of devices that they use regularly.
Stylish mesh networking: the ROG Rapture GT6 and ZenWiFi XT9
Everyone loves the stability and speed of a high-performance wireless router, but not everyone has a router that's stylish enough to put on display. With one of our mesh WiFi systems, you can get exceptional home networking and classy looks in equal measure.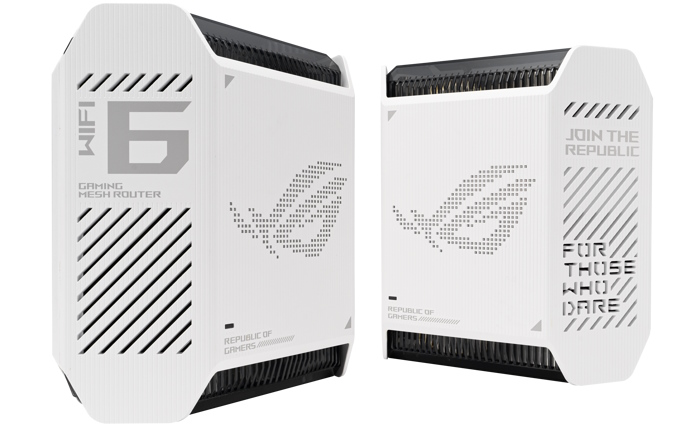 ROG's first tri-band mesh WiFi system, the ROG Rapture GT6, sizzles with great gamer style. It offers massive network capacity, and it's built inside and out for gamers. WiFi 6 tech makes it well-equipped to handle a full household of connected devices, and as a mesh system with two nodes, it can provide excellent coverage to larger, multi-floor homes.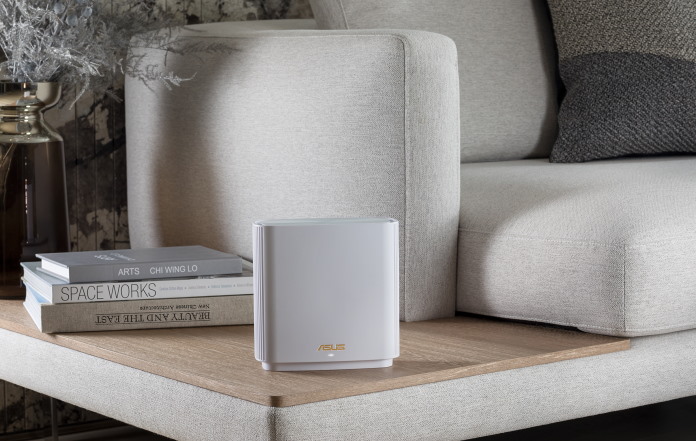 Nearly all ZenWiFi mesh WiFi systems come in a classy, elegant white color that easily aligns with a wide range of interior décor styles. We have many ZenWiFi options ranging from high-performance professional systems to more-affordable solutions for any home. Here, we'll highlight an option with an unbeatable balance of performance and value: the ZenWiFi XT9. As an upgrade to our award-winning ZenWiFi XT8, the ZenWiFi XT9 offers faster speeds of up to 7800 Mbps. It stakes its claim as one of the first mesh WiFi systems on the market to support the newly opened UNII-4 spectrum, also known as the 5.9 GHz band.* With this third, interference-free 160 MHz channel, the ZenWiFi XT9 fully harnesses the power of WiFi 6, delivering improved wireless backhaul performance and even more reliable connections for your wireless devices. With the 160 MHz channel's signal range boosted by up to 20%*, you can enjoy the fastest WiFi 6 speeds across your smart home.
The ultimate handheld Windows gaming PC: the ROG Ally
Peek under the hood of the ROG Ally, and you'll see everything you need for a great gaming experience wrapped up in a compact handheld device. The flagship model boasts an AMD Ryzen Z1 Extreme CPU, a muscular chip equipped with 8 cores and 16 threads. AMD RDNA 3 graphics are ready to take on any game in your library, and 16GB of LPDDR5 RAM and a 512GB PCIE 4.0 SSD keep boot and load times snappy. Those powerful components give you a fantastic Windows 11 gaming experience anywhere you go.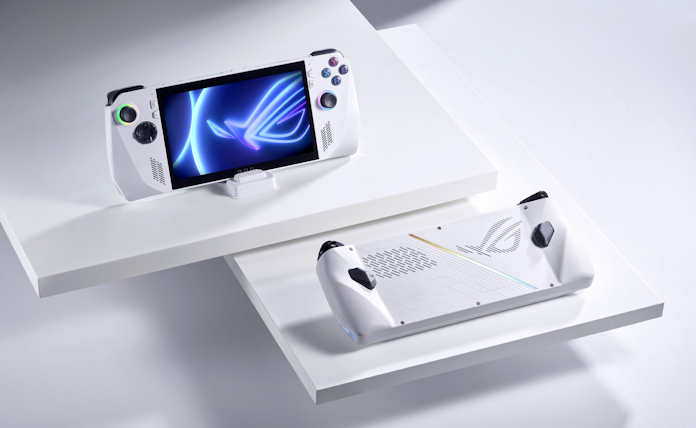 This potent handheld also perfectly complements the aesthetic of your other ROG Moonlight White hardware. When you have the Ally connected to your full desktop battlestation, you'll be gaming in undeniable style.
A gaming monitor that travels: the ROG Strix XG16AHP-W
The ROG Ally's 7-inch display with a 120Hz refresh rate and 1080p resolution is a cut above the competition. But for moments when you want to game with friends, you might prefer a larger screen. The ROG Strix XG16AHP-W portable monitor is ready for action — and it's draped in the same Moonlight White color as the ROG Ally.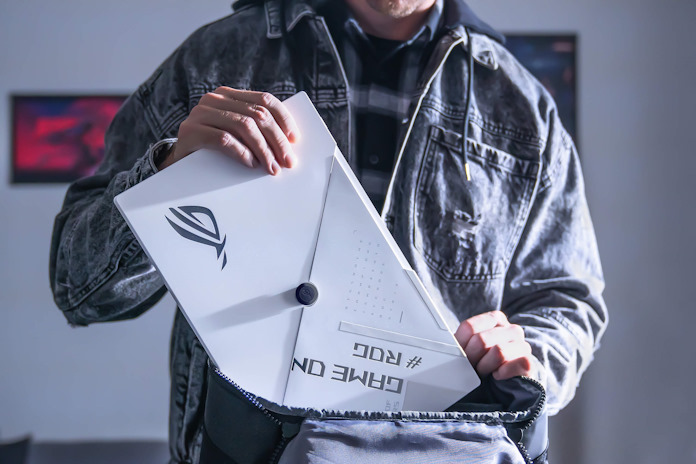 This slim unit with a fold-out kickstand is easy to take with you thanks to the bundled ROG sleeve. The included ROG Tripod folds up to travel with you, and it'll give you even more options for setting up the display on the go. The ROG Strix XG16AHP-W's USB Type-C and micro-HDMI ports let it connect easily to a wide range of devices, including the ROG Ally. With its 144Hz refresh rate, NVIDIA G-SYNC Compatible tech, and 15.6-inch panel, it's poised to offer great gaming experiences, and its built-in 7800 mAh battery ensures that you don't even need a nearby outlet to get in on the action.
Lightweight gaming excellence: the ROG Zephyrus G14 gaming laptop
Perhaps your checklist for a new gaming laptop looks like this: you want a traditional layout with keyboard and touchpad, you want a model that travels easily, and you want it draped in a sophisticated white finish. Look no further than the ROG Zephyrus G14.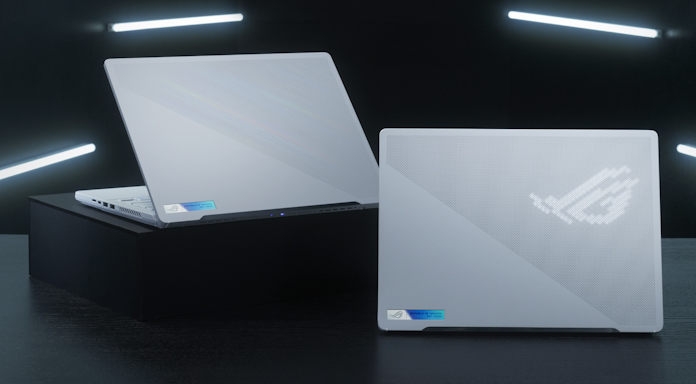 Year after year, the Zephyrus G14 has racked up awards for its outstanding feature set — and the 2023 version is our best yet. Boasting a premium ROG Nebula HDR display, a stylish and customizable AniMe Matrix lighting array, and configuration options up to a top-of-the-line NVIDIA GeForce RTX 4090 Laptop GPU, this compact 14-inch machine offers an unbeatable balance of portability, power, and elegant style.
The ROG Zephyrus G14 is available in a wide range of configuration options, up to and including high-end models with an AMD Ryzen 9 7940HS CPU and an NVIDIA GeForce RTX 4090 Laptop GPU. Click here to browse our options.
The foundation for your white-themed DIY PC: the ROG Strix Z790-A Gaming WiFi II
Let's turn our attention to the components you'll need to build your own PC. Our selection of motherboards, cases, graphics cards, and power supplies give you plentiful options for building a white-themed PC that's as stylish as it is powerful.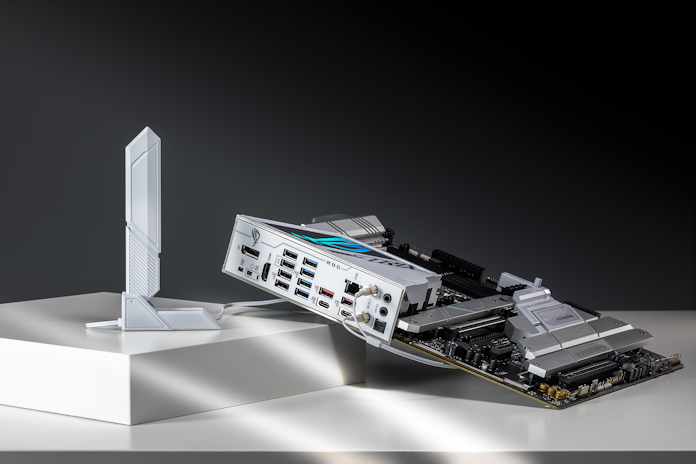 For motherboards, we'll highlight one of our latest options: the ROG Strix Z790-A Gaming WiFi II. ROG Strix motherboards take the basic DNA of our ROG Maximus series and distill it into more attainable designs that provide exceptional gaming performance and outspoken style. The ROG Strix Z790-A Gaming WiFi II moves the series forward with more connectivity, refined VRM cooling, and more storage options.
The ROG Strix Z790-A Gaming WiFi II stands ready to serve as the foundation for your white-themed build with its striking white and silver I/O shroud and heatsinks, each an eye-catching contrast to the black PCB. Even the ASUS WiFi Q-Antenna is draped in luxurious white so that your build has a cohesive aesthetic.
As a WiFi 7 motherboard, the ROG Strix Z790-A Gaming WiFi II will make waves with its support for the latest wireless standard. But that's far from the only upgrade offered by the ROG Strix Z790-A Gaming WiFi II. We've boosted its M.2 slot count up to five, and each of those slots has robust cooling with a built-in heatsink. The rear I/O selection now includes a total of 12 USB ports to ensure that you have the connectivity that you need. And we've bolstered the VRM cooling solution with massive heatsinks and high-conductivity thermal pads.
Stunning and feature-rich: the ASUS Prime AP201 and ROG Hyperion White
Next, let's give your white-themed motherboard a home. Here, we have several options for your consideration. We'll start with the mighty ROG Hyperion.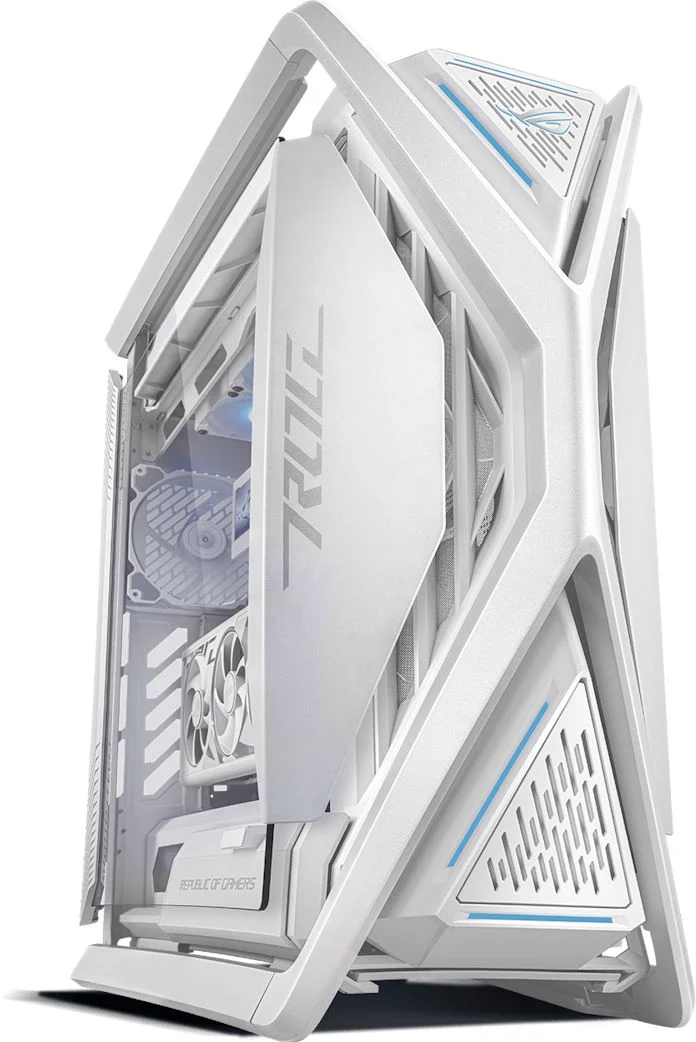 This stylish tower is built for the ground up to provide excellent airflow to your vital components, setting you up to build a PC with some of the finest hardware available today. Its wide tempered glass side window sets up a striking contrast to its brushed metal accents. Aura Sync RGB LEDs provide eye-catching accents, and they're ready to be synchronized with the lighting on the rest of your gear. And with its overall white aesthetic, it's the perfect enclosure for your white themed PC hardware.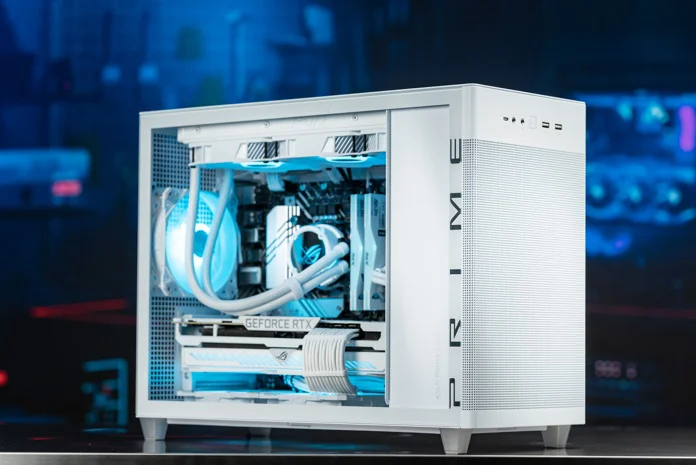 If you're more interested in a mid-size PC, consider the budget-friendly ASUS Prime AP201 and ASUS Prime AP201 Tempered Glass Edition. These microATX cases don't demand much in the way of desk space, but they're compatible with standard ATX PSUs and beefy graphics cards. You'll get great connectivity with a front-panel USB Type-C port, and these cases are designed from end-to-end for great airflow.
Premium gaming horsepower: the ROG Strix GeForce RTX 4080 16GB GDDR6X White OC Edition graphics card
A case like the ROG Hyperion lets you easily mount your graphics card in a vertical orientation to show off its style — so let's outfit your white gaming PC with a graphics card that fits the theme. Enter the ROG Strix GeForce RTX 4080 16GB GDDR6X White OC Edition.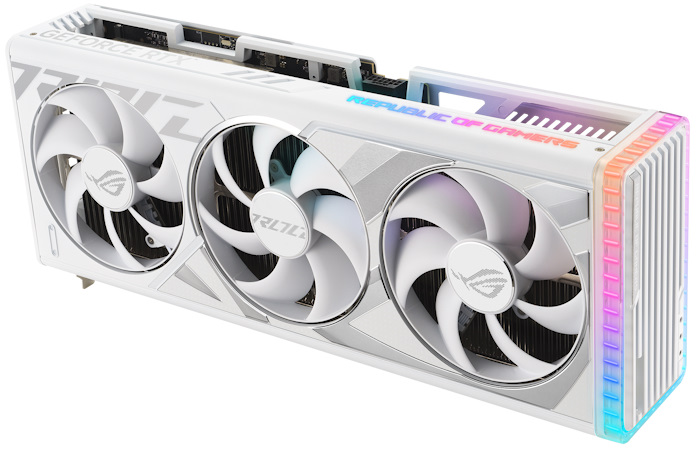 This potent graphics card boasts exceptional power for gaming, no matter what title you care to throw at it. A beefy ROG cooling solution featuring a vapor chamber, Axial-tech fans, and a vented backplate deliver chart-topping thermal performance. The diecast shroud and frame shine bright with a dazzling Moonlight White finish and RGB LED accents.
Massive power, quiet operation: The ROG Thor 1000W Platinum II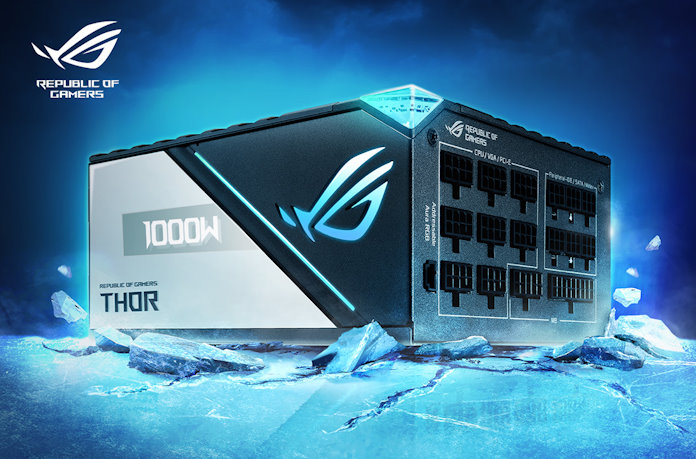 Let's equip your new graphics card with a power supply that's ready to meet the moment: the ROG Thor 1000W Platinum II. This PSU offers the wattage you need to power a cutting-edge CPU and graphics card, but that's far from the only trick up its sleeve. It wields cooling and component upgrades that make it the quietest PSU in its class** — and an exceptionally efficient model, as well, as attested by its 80 Plus Platinum certification. To complement your white-themed components and peripherals, it has a black and white side panel that frames an OLED display which lets you keep tabs on your power draw.
TUF x AMD, now in white: The TUF Gaming Radeon RX 7800 XT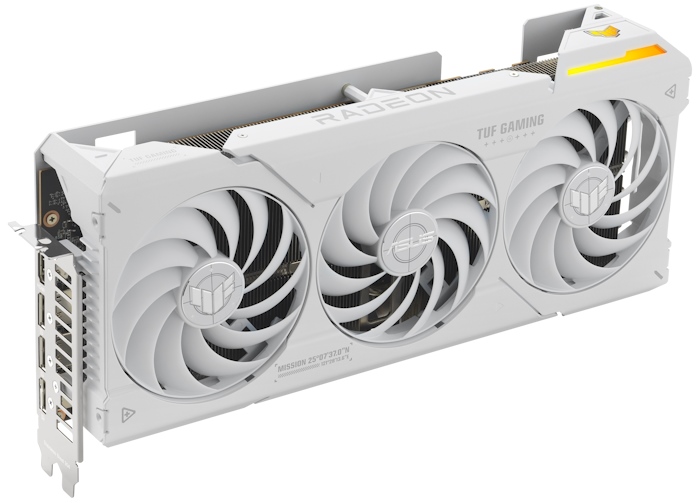 Perhaps you appreciate the stripped-down military-themed aesthetic of our TUF Gaming hardware, you're looking for white hardware, and you love the bang-for-the-buck value offered by AMD graphics cards. The TUF Gaming Radeon RX 7800 XT White Edition is the card for you. With an impressive 3840 streaming processors and the ability to hit all new clock speeds, this card gives you excellent performance in the latest games. Backed up with 16GB of GDDR6 VRAM on a 256-bit bus, the TUF Gaming Radeon™ RX 7800 XT can crank textures up to max without breaking a sweat. And its white fans, shroud, and backplate make it a natural fit for your white-themed PC build.
White-themed graphics muscle for the masses: the ASUS Dual GeForce RTX 4070 White Edition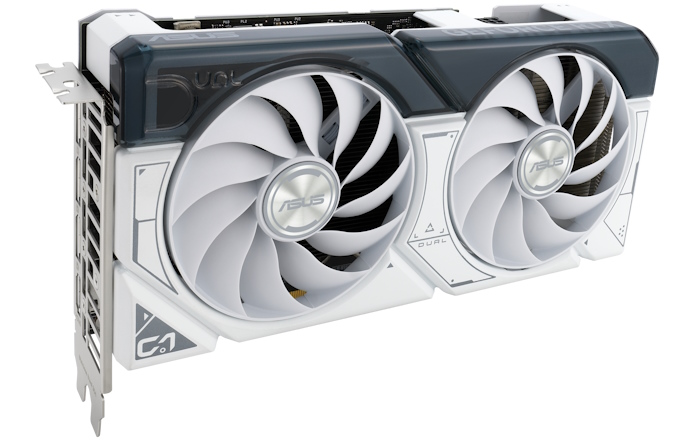 You don't need to spring for one of the best graphics cards on the planet to enjoy a white-themed build. The ASUS Dual lineup gives you plentiful gaming power, retro-futuristic style in black or white, and effective cooling, all at a price that won't break the bank. The ASUS Dual GeForce RTX 4070 White Edition graphics card is a great pick that will give you excellent gaming performance for years to come. The space-themed stylings make it a great fit for one of our budget-friendly ASUS Prime motherboards — and the style signature of that series includes white and silver accents, making them an excellent pick for your white-themed build.
Power, reliability, and style: the ASUS Prime 750W power supply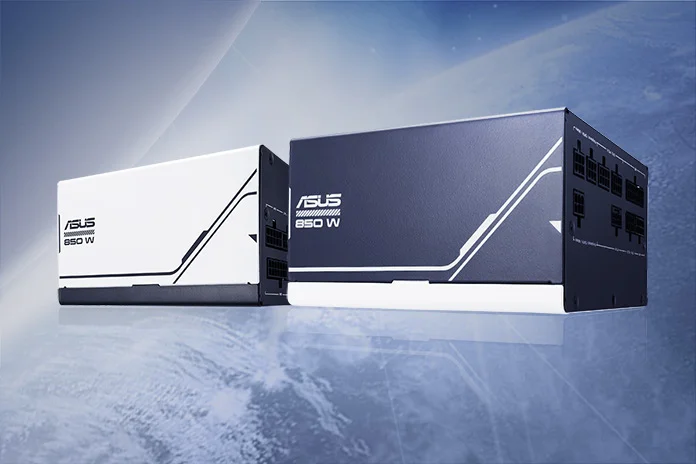 Finally, here's a power supply that's easy to recommend for your ASUS Dual graphics card: the ASUS Prime 750W Gold power supply. As the very first PSU from the Prime family, this ATX 3.0 power supply offers full modularity, an 80 Plus Gold certification, and a generous 8-year warranty, all for a reasonable price. With one side black and the other white, this power supply is sure to fit right in amongst a wide variety of builds and cases — and notably, your new white-themed PC.
Even more white-themed PC hardware options
With all these white-themed PCs, peripherals, mesh WiFi systems, and components, it's easy to deck out your entire PC setup with white gear that looks great together. We have even more options available, so if you're still hunting for that last piece of Moonlight White gear, click here to browse even more options.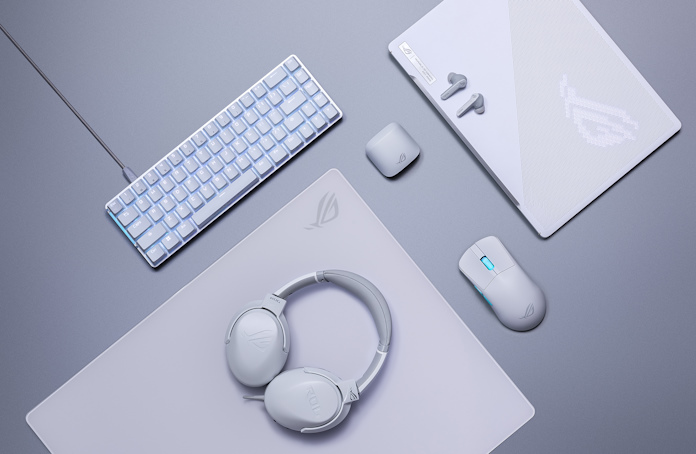 *UNII-4 spectrum support not available in all regions due to current regulatory restrictions.
**Based on Cybenetics PSU test result database entries before October 2021