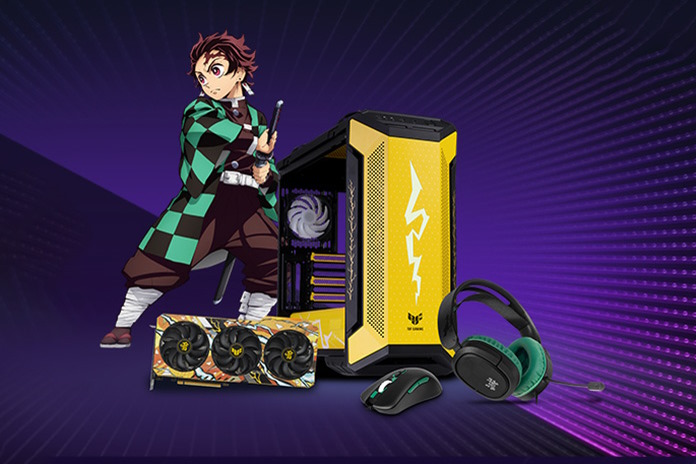 PAX East 2023 is packed to the gills with everything gaming: arena tournaments, community meetups, gaming lounges, and much more. We're bringing our latest gear from ROG, TUF Gaming, and ProArt so that you can witness first-hand what our hardware offers to gamers and creators. You'll find us in booth #18055, so don't miss out. In addition to showing off our hardware, we have a wide range of activities for you to participate in, and we'll be bringing in IceManIsaac for a livestream and a meet and greet.
If you can't make it to the event, don't fret. For those who aren't able to travel to the Boston Convention and Exhibition Center in Boston, Massachusetts, we have an exclusive giveaway of TUF Gaming x Demon Slayer gear and a wide range of deals over at the ASUS eshop. Read on to learn more about everything that we're up to this year at PAX East.
See the latest hardware in action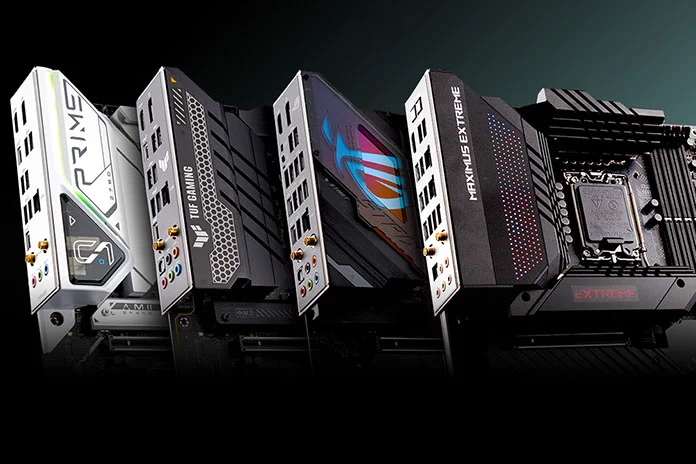 We loaded our booth at PAX East with our latest gaming hardware. There's no better place to find the core pieces for your next build. Gamers around the world are flocking to Intel's powerful 13th Gen Core CPUs, and our motherboards serve as the perfect foundation for these chips. Come check out the fully loaded ROG Maximus Z790 Hero motherboard, ProArt Z790-Creator WiFi, and TUF Gaming Z790-Plus WiFi.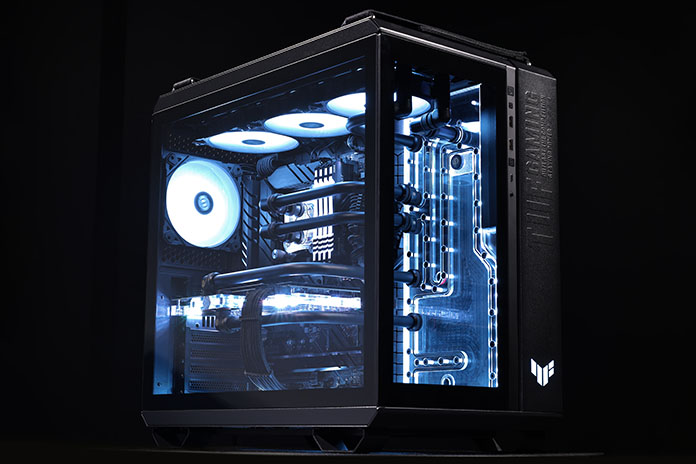 To provide your new hardware with plenty of airflow, check out the roomy, customizable TUF Gaming GT502. Available in industrial black or pristine white, this case uses a dual-chamber design to keep your components at comfortable operating temperatures. If you're building a supreme gaming PC with a cutting-edge ROG Strix graphics card, look no further than the ROG Hyperion. This beastly case offers ample room for today's premium components and ensures that they get the airflow they need.
These motherboards and cases are just the start of what we have on display at PAX East. Drop by to check out our latest innovations with cooling hardware, monitors, peripherals, and more.
Earn ROG Elite Rewards Points through a scavenger hunt
Through our ROG Elite Rewards global loyalty program, we give back to the dedicated citizens of the Republic of Gamers. By participating in online activities, quizzes, and surveys, you can earn rewards like gaming peripherals, game codes, and in-game items.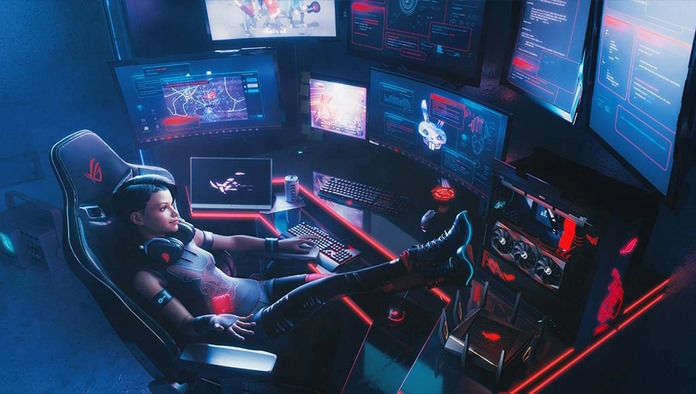 For PAX East, we're giving visitors to our booth a new way to rack up the ROG points: a scavenger hunt at our booth. Upon completion of the scavenger hunt, participants will receive free swag at the ROG Arena Booth and receive one entry into our daily giveaway. The drawing will be held every day of the event at 12:20PM, and it'll be held at the Intel stage.
Personalized swag
To give visitors to our booth something special to take home, we're also giving away personalized mini license plates to folks who visit our booth and sign up for the ROG Elite Rewards program. Customize your own with your unique gamer tag, and take home a memorable souvenir of your trip to Boston.
IceManIsaac enters the fray
IceManIsaac has racked up quite a following on Twitch and YouTube for his in-depth guides and top-tier gameplay. On Friday, March 24th, he'll be streaming live from our ROG station at our PAX East booth between 2:30PM and 3:30PM. Afterward, he'll hold a a meet and greet with fans at the Intel Insider's lounge between 3:30PM and 4:30PM.
TUF Gaming x Demon Slayer giveaway
Our thrilling TUF Gaming x Demon Slayer gear mashes up the style and attitude of the Demon Slayer anime with the rugged gaming performance of TUF Gaming. For PAX East, we're giving away a Demon Slayer PC DIY bundle to one lucky winner. You don't have to travel to Massachusetts to enter — simply head over to our giveaway page to learn about all the ways that you can enter the giveaway.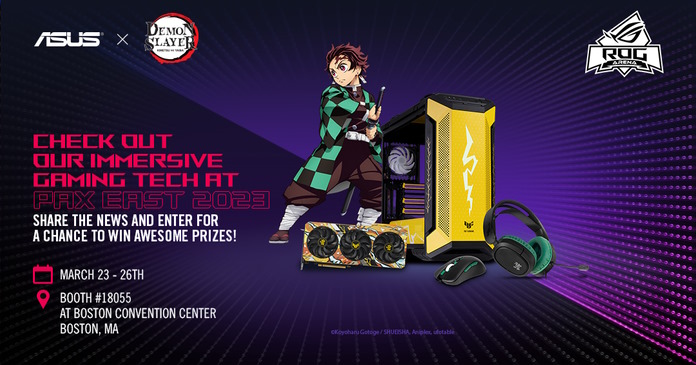 You won't want to miss out. This bundle is overflowing with attitude and power. It starts with the unforgettable colors and style of TUF Gaming GT501 Demon Slayer edition PC case. For great performance in games, we're including the TUF Gaming NVIDIA GeForce RTX 3060 Demon Slayer Edition graphics card. For elite control and immersion in your games, we're even including the TUF Gaming x Demon Slayer L.E. Tanjiro Kamado gaming headset and the TUF Gaming x Demon Slayer L.E. Tanjiro Kamado gaming mouse.
Build out your gaming setup with fantastic deals
Only one lucky winner can take home the TUF Gaming x Demon Slayer giveaway bundle, but everyone can upgrade their gaming setup with the PAX East deals that we're offering over at the ASUS eShop. The discounts are available from March 20th to March 31st, 2023, and we're throwing in a little something extra for those who shop early. The first 30 customers of the PAX East deals will also receive a bonus mystery gift.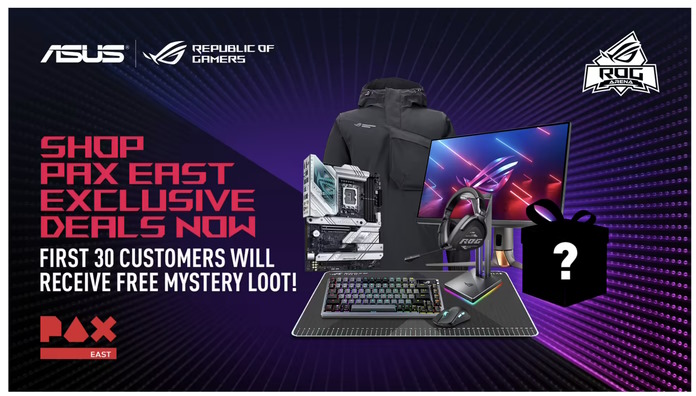 For anyone who loves the unmistakable gamer style and exceptional performance of our Republic of Gamers gear, we have a wide range of deals at the ready. Level up your battle station with deals on the all-new ROG Destrier Ergo Gaming Chair, ROG Harpe Ace Aim Lab Edition, and ROG Hone Ace Aim Lab Edition. If you're looking for a new machine, get ready for some prime discounts on our remaining inventory of 2022 ROG gaming laptops. These notebooks have plenty of life in them yet, but these deals won't last forever. Save $500 on an ROG Strix SCAR 17 equipped with an Intel Core i9-12900H CPU and an NVIDIA GeForce RTX 3070 Ti Laptop GPU, or save $400 on an ROG Flow Z13 equipped with an Intel Core i7-12700H and an NVIDIA GeForce RTX 3050 Laptop GPU.
This is just a selection of the deals we're offering for PAX East, so head over to the ASUS eshop to find your next upgrade.