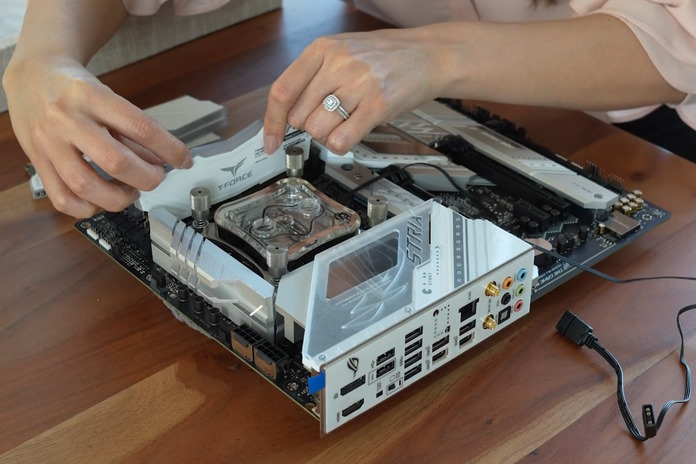 As PC enthusiasts, we love watching builders and modders from around the community use our hardware as foundational pieces for creative custom PCs. We've eagerly followed the career of ModsByBen as he's moved from one inspirational project to the next and shared them with the world through his outstanding photography skills. We've worked with Ben on more than a few projects, and as we've gotten to know him personally, we've had opportunities to meet his wife Christina. As talented and creative as Ben is, it's clear to us that her unconditional love and support are major reasons for Ben's success.
For Valentine's Day this year, we asked Ben and Christina to celebrate their relationship by building a special PC together. During the build, Christina shared their story and talked about what it means to her to support Ben in his career.
Getting started
Ben's career has taken many unexpected twists and turns since he met Christina in college. She studied fashion, and he studied animation, but work took him in a different direction. "For years, we were photographers, though we actually come from an art background," Christina said. "We've been on this journey of working together, and I get to see him be creative in many different fields."
After many years working as a professional photographer, Ben decided to pursue a new career in industrial design. His existing PC didn't meet the minimum requirements for his course work, so he started looking for a replacement. Due to his deep-seated creative impulses, he didn't want to just grab something off the shelf. He researched the work of custom PC builders, ordered his own parts, and set to work building his own machine. As a photographer, he couldn't resist the urge to document the process and share it online. Ben is still active and engaged online — head over to his Instagram to check out all his latest projects.
Christina attributes Ben's early success to his well-honed skills behind a camera: "From photography he still uses the same skills. When he came into the tech world it started with him building these amazing builds for sure, but then also creatively capturing them. That's what got everyone's attention."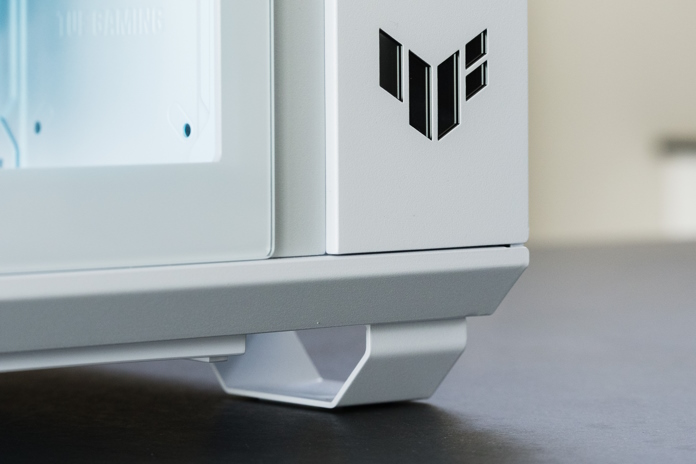 Ben has an undeniable knack for controlling light in a way that showcases his subjects in engaging and striking ways. Occasionally, Ben and Christina run into people who struggle to believe that there isn't some CGI magic happening in his photographs. "People would say, 'That's not real, that's a rendering,' and I would just laugh," Christina recalled. "If people only knew the amount of work that actually goes behind capturing something in a really detailed and creative way."
The couple that builds together, stays together
For their Valentine's Day build, Ben and Christina selected white components to make their PC stand out from the crowd. Their parts list started with the white version of the TUF Gaming GT502 chassis.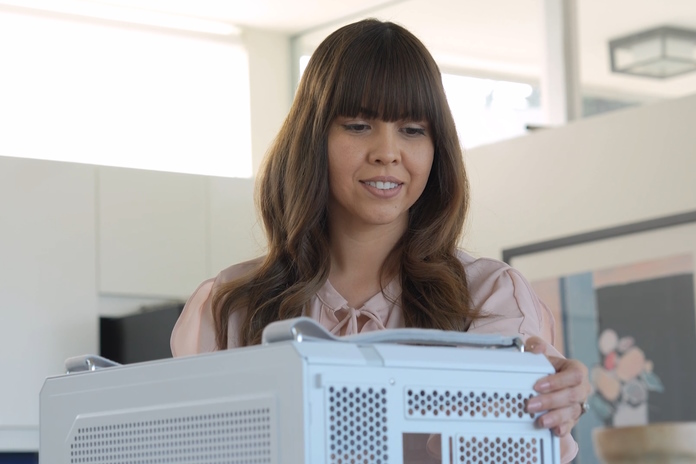 This spacious mid-tower PC case features a dual-chamber design that lets you configure independent cooling zones for the CPU and GPU. Tempered glass panels on the front and side provide a panoramic view of the components within — perfect for showing off Ben's masterful work with metal tubing.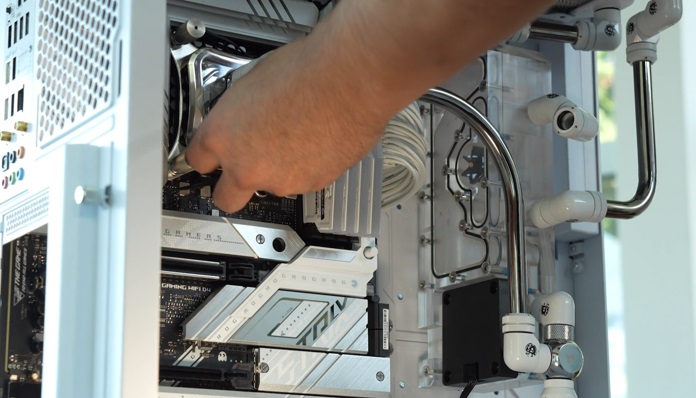 To complement the pristine white surfaces of the GT502, Ben and Christina selected the ROG Strix Z790-A Gaming WiFi D4. Ready for the latest Intel 13th Gen Core processors, this premium board preps gamers for action with PCIe 5.0, WiFi 6E, a robust power solution, and a comprehensive selection of high-speed connectivity.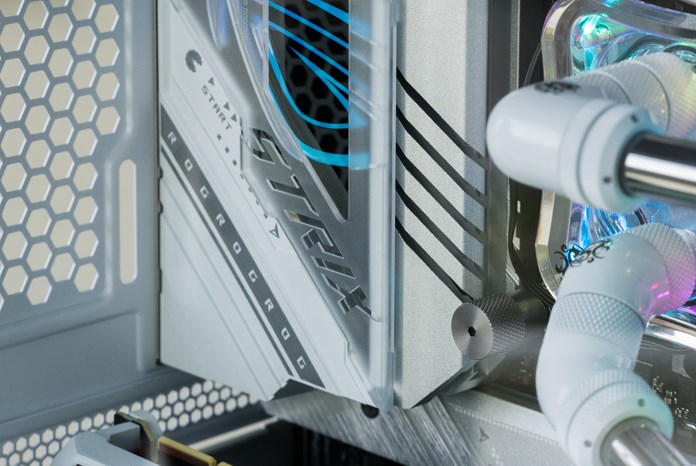 The Strix board's heatsinks and integrated I/O shroud all feature white metallic surfaces that perfectly complement Christina and Ben's vision for the build.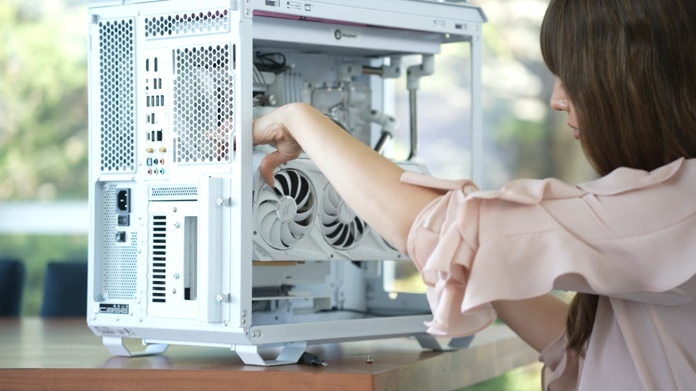 Ben and Christina didn't have to choose between aesthetics and performance when they selected a graphics card. The ROG Strix GeForce RTX 3090 White graphics card offers undeniable horsepower for gaming, and it fit in perfectly with the rest of their build. The TUF Gaming GT502's included vertical GPU mounting bracket let them show off the graphics card in style.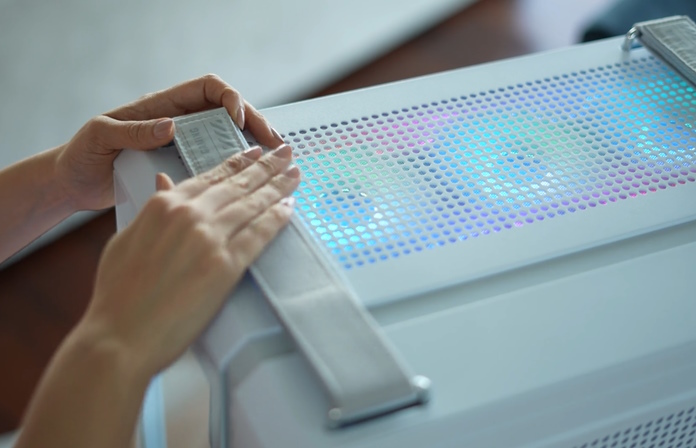 Building a PC typically involves at least a few moments when you need to move the chassis and completed build. That's why the TUF Gaming GT502's sturdy top-mounted straps are so handy, even for folks who don't intend to take their completed PC on the road.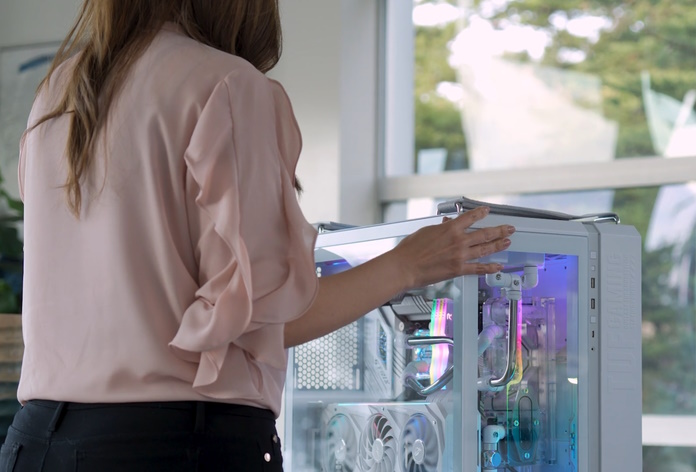 RGB LED illumination is a fun way to customize the look and feel of any PC build, but it's especially eye-catching on a white build. White surfaces perfectly showcase the glow of your LEDs, even in rooms with plenty of natural light. Coordinating the look of your RGB LEDs is easy, too. With Aura Sync, you can synchronize the RGB LED illumination of all your compatible components and peripherals.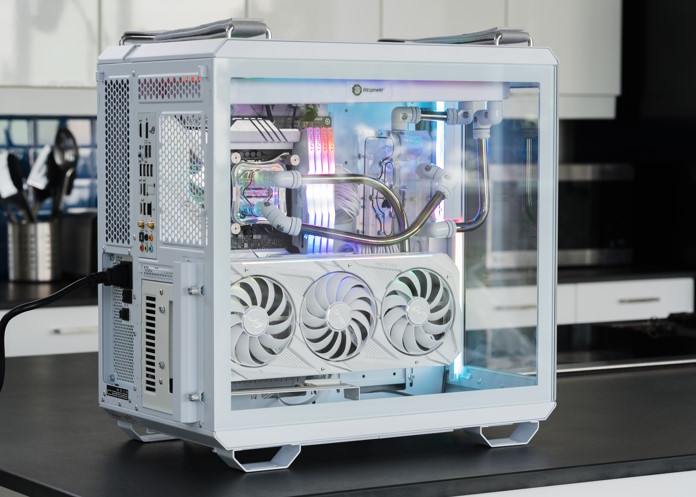 Teamwork makes the dream work
Building a PC together is a great way to connect as a couple, to take some time to work together toward a shared goal. As Christina reflected on the many ways that she supports Ben in his work, she recognized that helping him select and assemble a PC is just the start of how she builds him up in his career.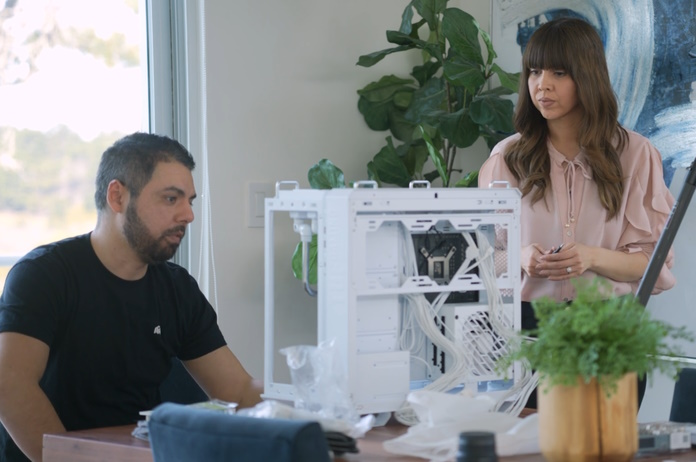 "When you support someone it's because you know who they really are. You know who they are in their ups and downs," Christina said. "For me, support is reminding that person who they are when they don't feel like it, when their current situation doesn't line up with how they're feeling."
Even for a PC modder as talented as Ben, there are times when he needs help when he encounters negativity with his projects. Christina explained how to support someone like Ben in these moments: "Sometimes when it's frustrating or when there's naysayers, or when there's people who don't appreciate the work like you'd want them to, you remind the person of who they really are."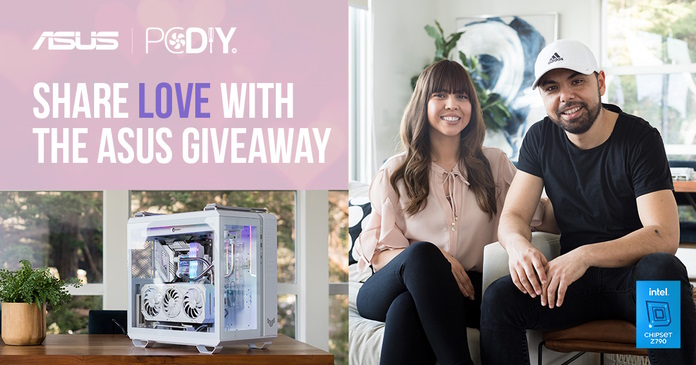 As we chatted with Ben and Christina, she took a moment to speak directly to Ben. "Yes, you're a designer, yes, you're creative, but yes, you also have a good heart and you're trying. There are a lot of things that each of us would like to do one for the other, but the best thing that I can do, and that you can do for me, is that we remind each other of who we really are."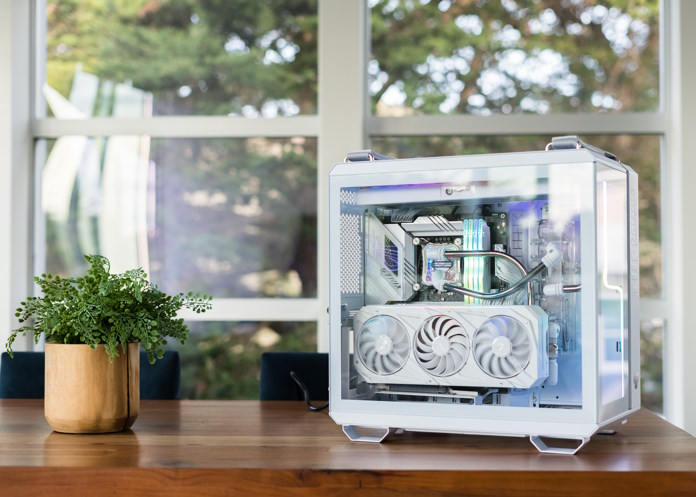 Build a PC with your Valentine this year
Do you also have a significant other with a passion for PC building? You don't need to have the skills, talent, and creative vision of ModsByBen to assemble a PC. This year, surprise your loved one with some quality time together building their dream computer. If you're feeling inspired by Christina and Ben's white-themed Valentine's Day build, head over to our PC DIY portal. There, you'll find example builds, easy-to-use planning tools, and an extensive library of tutorials that will help you with any stage of the process.
Between February 10th and 19th of 2023, you'll also have the opportunity to win this very PC that Ben and Christina worked on together. Click this link to learn more about this special giveaway opportunity.