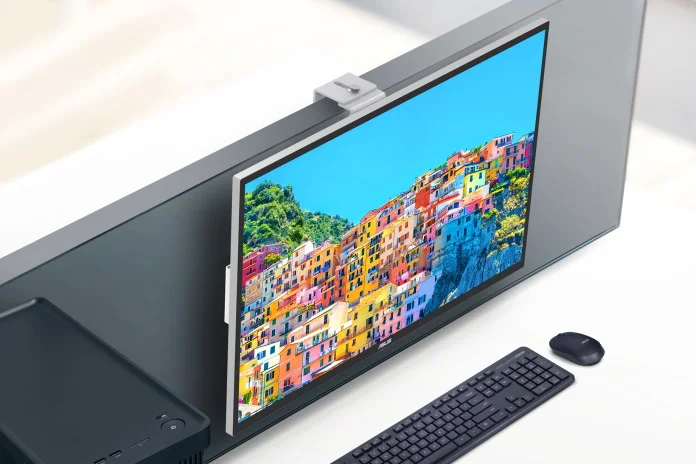 Standard LCD displays fit the needs of many folks, but high-end users need monitors with outstanding characteristics. For creators working with high-dynamic-range (HDR) content, for photographers and filmmakers who need an exceptional reference display, and for studios who need vibrant, bright, accurate displays with versatile mounting options, the ProArt Display OLED PA32DCM stands ready. Debuting at CES 2023, this cutting-edge OLED display offers world-leading color accuracy, wide color gamut coverage, and extensive connectivity in a slim, sophisticated design that's ready for any context.
Built for creative professionals
We fine-tuned the ProArt Display OLED PA32DCM's vivid OLED panel to meet the needs of the creators working with HDR content. Its generous 31.5" diagonal gives you a close and careful look at your work, while its 3840×2160 resolution brings out all the fine detail in your creations. 700 nits of peak brightness keep the on-screen image clear and vivid, even in well-lit locations, and makes it capable of dazzling highlights in HDR content.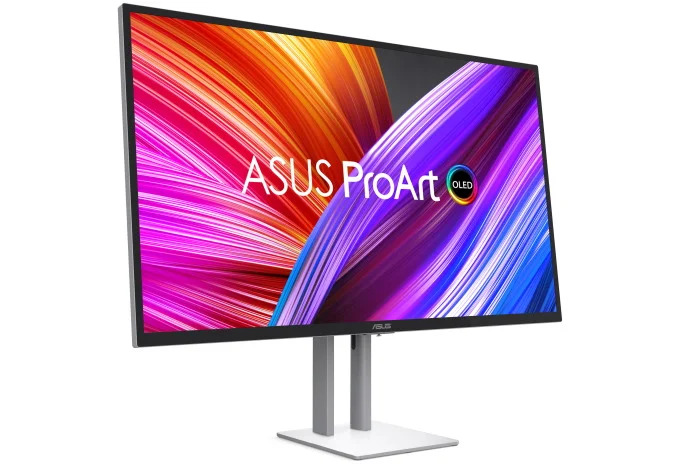 As an OLED display, the PA32DCM offers exceptional contrast, delivering inky, lifelike blacks and bold highlights. Unlike other OLED panels that use an RGBW or PenTile sub-pixel array, the PA32DCM uses an RGB sub-pixel arrangement for the crispest on-screen images and text. Its ultrafast 0.1ms response time makes it a natural fit for mastering fast-moving HDR content, as each pixel can rapidly transition to a new color without visible blur.
OLED panels are known for their excellent color reproduction, and the ProArt Display OLED PA32DCM is a shining example of what the tech can provide to even the most demanding of creators. It offers true 10-bit color, and it covers 99% of the cinema-grade DCI-P3 color gamut. For world-leading color accuracy, it's factory calibrated to achieve an average ΔE of less than 1. You can use ASUS ProArt Hardware Calibration for color-accuracy optimization and color profile write-back, and you can work seamlessly with Calman Ready and LightIllusion ColourSpace CMS tools to recheck the accuracy of the display over time.
ASUS Smart HDR technology ensures compatibility with existing streaming video services and a growing list of HDR-enabled games. We're targeting the specifications of the VESA DisplayHDR True Black 500 certification for the PA32DCM, and this display supports multiple HDR metadata formats so that you can check how content will appear for a wide range of target displays before it's sent off for final delivery. HDR10 ensures compatibility with existing streaming video and a growing list of HDR-enabled games while hybrid log gamma (HLG) support addresses broadcast and satellite TV.
Ready for any scenario
The ProArt Display OLED PA32DCM's slim and versatile design gives you versatile options for integrating it into your full creative workstation. It starts with a refined stand design that's 50% smaller than last gen, giving you more desk space for your PC and creative tools. You'll be able to cut down on the desk clutter with this display, too. Its two full-function Thunderbolt 4 USB Type-C ports, one with 90W Power Delivery and one with 15W Power Delivery, turn it into the hub of your full setup. They'll recharge a device, connect your peripherals through the built-in USB hub, and send a DisplayPort signal all through one cable.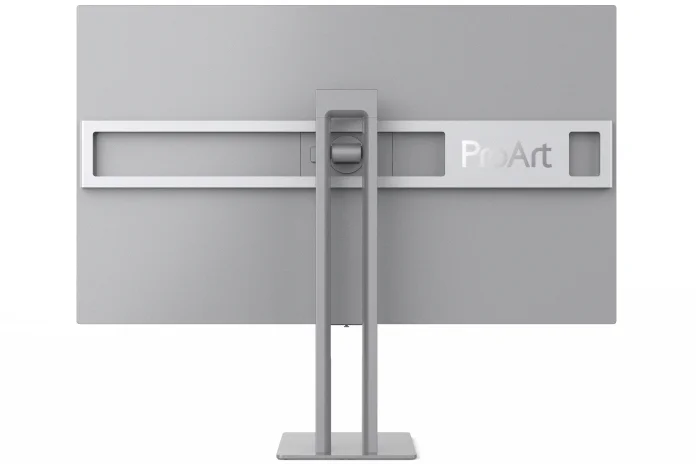 In a corporate office, a studio, or a gallery, you'll have even more options. An included bracket lets you mount the display on a partition wall. Built-in anchor points make it possible to hang the display horizontally or vertically. In any scenario, the slim and elegant design of the ProArt Display OLED PA32DCM makes sure that it integrates cleanly and neatly.
Easy management tools for enterprises
The ProArt Display OLED PA32DCM's slim profile, versatile mounting options, and professional-grade color reproduction make it a tempting option for studios and business who employ an office of creators. ProArt Color Center gives your enterprise a centralized online color management tool that makes it easy to deploy and manage your displays.
ProArt Color Center offers remote group control and calibration tools, allowing you to handle these vital tasks from a centralized location. You'll be able to save valuable time by setting up an automated calibration schedule. It allows users to check when the monitors were last calibrated and whether the monitors need calibration.
ProArt Color Center can be used to schedule calibration times for multiple monitors, even if they use different color parameters and are situated in different locations. Does your business have multiple teams of creators with varying color gamut and calibration needs? ProArt Color Center makes it easy to define and establish parameters for separate groups. For example, you could schedule monitor calibration for a design team in London that works with sRGB and a Taipei-based video editing team that uses DCI-P3, all through ProArt Color Center.
The ProArt Display OLED PA32DCM is just one of our displays which support ProArt Color Center. The ProArt Display PA32DC, ProArt Display PA32UCX, ProArt Display PA32UCG, ProArt Display PA32UCR, and many others can all be managed by ProArt Control Center, giving you a wide array of remotely manageable high-end display options for your business or studio.
World-leading color accuracy, an exceptional OLED panel, and versatile options for management and deployment establish the ProArt Display OLED PA32DCM as a premier option for HDR workflows. For more information about the pricing and availability of the ProArt Display OLED PA32DCM in your region, please contact your local ASUS representative. Click here to learn about all the products that we announced for CES 2023.