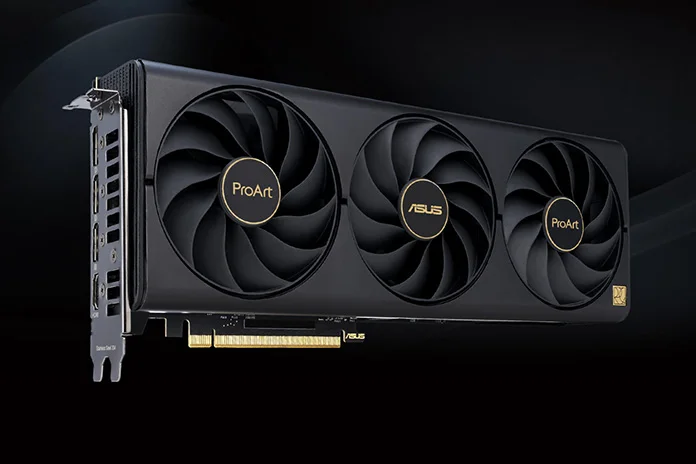 For decades, graphics cards have accelerated the work of architects, engineers, and many other professionals. The apps used in these professions rely not only on the performance of the GPU, but on optimized drivers, extensive certifications, and advanced enterprise features. More recently, there's been a new wave of content creators in fields like video editing, game development, and 3D rendering. Creators in these fields absolutely put their GPUs to work — but they don't always require the certifications and optimized drivers that come with workstation-class graphics cards. Instead, they've been turning to graphics cards originally designed for gamers, like those from our ROG Strix, TUF Gaming, and Dual lineups.
The graphics cards themselves don't care if they're used for Adobe After Effects or Call of Duty, but creators and gamers very often have different preferences and needs. Gamers often prefer designs with a distinct personality, like the cyberpunk style of our ROG Strix lineup or the ruggedized military-themed aesthetic of our TUF Gaming cards. Creators often prefer designs that communicate professionalism first and foremost. Many gamers love to personalize the look of their gear with synchronized RGB LEDs. Creators might turn them off to minimize distractions. Gamers today typically don't see any benefit from dual GPU setups, yet certain creative apps absolutely benefit from multiple GPUs.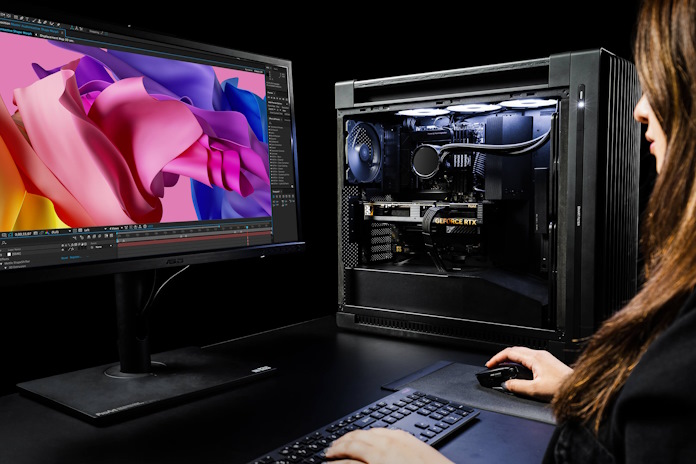 For these reasons, we offer our ProArt lineup of graphics cards. Tailored to meet the needs of creators across a wide range of industries, ProArt graphics cards deliver what today's creators need most. Their NVIDIA 40 Series GPUs deliver exceptional performance, and their NVIDIA Studio Driver support ensures rock-solid reliability. They offer an elegant style that minimizes distractions and communicates professionalism to clients and coworkers. And their compact, space-saving designs provide wide case compatibility, even for smaller chassis options, and allow for dual graphics card setups.
Powerful features for creators
Opting for a ProArt graphics card gives you access to NVIDIA's latest creator-focused features. An important one for many professionals is NVIDIA Video Encoder (NVENC). With it, you can offload video encoding from the CPU to specialized hardware on the GPU. Considering that you get dual NVENC encoders on all GeForce RTX 40 Series graphics cards with at least 12 GB of VRAM, you can considerably reduce video export times with NVENC.
Video producers aren't the only ones who take advantage of NVENC. It's just as important for live streamers, too, as it helps them as they carefully manage CPU and GPU resources to provide the best experience for their viewers. The eighth generation NVENC adds support for AV1 to boost livestream quality even further.
Top-end performance: the ProArt GeForce RTX 4080
The highest-performance option in the family is the ProArt GeForce RTX 4080. The latest Ada Lovelace architecture offers potent power for creation with new streaming multiprocessors that bolster both performance and power efficiency. Fourth-gen Tensor Cores make available the latest AI-accelerated features like DLSS 3, and third-gen RT cores provide up to twice the ray tracing performance over last-gen. An abundant 16GB pool of speedy GDDR6X VRAM keeps creative apps running smoothly, even with high-resolution assets. For content creators with workloads that scale dramatically with GPU resources, like developers working with Blender, this is the ProArt graphics card to get.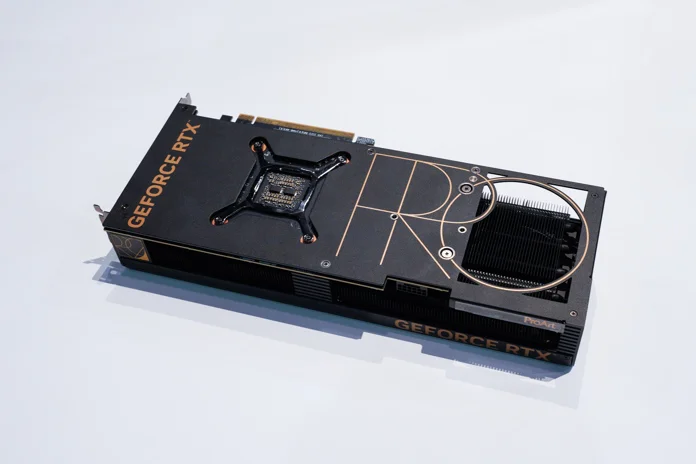 In many contexts, the length of your graphics card is an important concern. Creative professionals often need to make space on their desk for multiple displays, control surfaces, and external drives, leaving little room for an extra-large PC chassis. The ProArt GeForce RTX 4080 keeps a compact profile with its 300mm total length that makes it one of the smallest RTX 4080 graphics cards on the market. It'll be an easier fit in smaller chassis options.
The thickness of the cooling solution matters, too. The beefier RTX 4080 options from our ROG Strix and TUF Gaming lineups have much larger heatsinks, making them compelling options for setups where size isn't an issue. But those cooling solutions might limit creators' ability to make use of the additional PCIe expansion slots on their motherboards. The 2.5-slot design of the ProArt GeForce RTX 4080 is less likely to interfere with other components that creators might need to install.
In the Goldilocks zone: the ProArt GeForce RTX 4070 Ti
To put high-end hardware in the reach of a wider audience of creators, we offer the ProArt GeForce RTX 4070 Ti. Despite sporting a smaller price tag than the ProArt GeForce RTX 4080, this muscular graphics card offers many of the same features. The same 2.5-slot, 300mm-long cooler keeps the GPU and VRAM at comfortable operating temperatures. A trio of Axial-tech fans provides quiet, effective airflow. And you'll enjoy the same elegant design, 40 Series features, and NVIDIA Studio Driver support. If its processing power and 12GB of GDDR6X are sufficient for your primary creative apps, the ProArt GeForce RTX 4070 Ti might be the smart play for your next PC build.
Plentiful VRAM for a wider audience: the ProArt GeForce RTX 4060 Ti 16GB
For many years, creators were concerned with one graphics spec more than any other: VRAM capacity. Now that an increasing number of creative apps are GPU-accelerated, the equation is a bit more complicated than "buy the card with the most VRAM." But it's still true that creators across many industries need more VRAM than gamers do. For example, to set your timeline resolution in Adobe Premiere Pro or DaVinci Resolve to 4K, folks typically recommend at least 8GB of VRAM. Extra VRAM can help provide smooth playback on video projects with multiple 2D and 3D effects. And your VRAM usage will only increase with the length and complexity of your projects.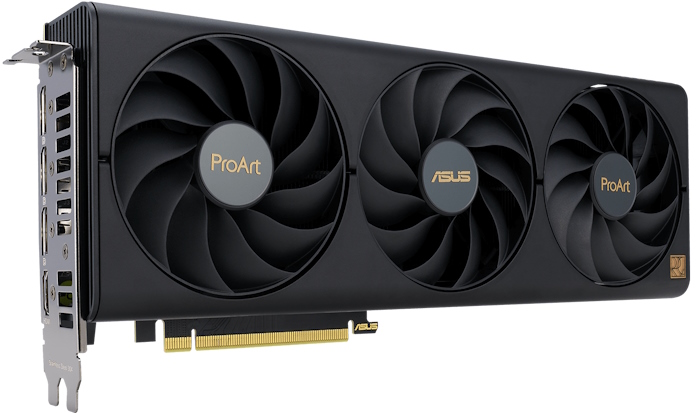 The ProArt GeForce RTX 4080's 16GB pool of VRAM delivers the goods, but perhaps a mainstream graphics card is a better fit for your performance needs and budget. That's where the ProArt GeForce RTX 4060 Ti 16GB comes in. With its plentiful processing resources, RTX 40 Series features, and 16GB of GDDR6, it offers a compelling balance of features that's sure to be a drop-in upgrade for a wide range of creators.
It's worth noting that the ProArt GeForce RTX 4060 Ti 16GB is cooled by a 2.5-slot, 300mm-long cooling solution, just like the ProArt RTX 4080 and RTX 4070 Ti options. That sets it up for whisper-quiet cooling. Perhaps that's not a priority for gamers wearing closed-back headphones whenever their graphics card is under load, but it's perfect for any workflow requiring minimal noise, like audio recording and production. And there are plenty of creators and gamers alike who need silence to stay focused.
Compact power for creatives
ProArt graphics cards boast a sophisticated design, wide case compatibility, and quiet everyday operation, all imperative qualities for many creative professionals. With each new member of the ProArt graphics card family, we've expanded the reach of the series so that it can meet the performance needs of creators everywhere. Whether you're building a workstation for your professional studio or kickstarting your creative ambitions with a powerful new PC, the ProArt GeForce RTX 4080, ProArt GeForce RTX 4070 Ti, or ProArt GeForce RTX 4060 Ti 16GB graphics cards are ready for action.