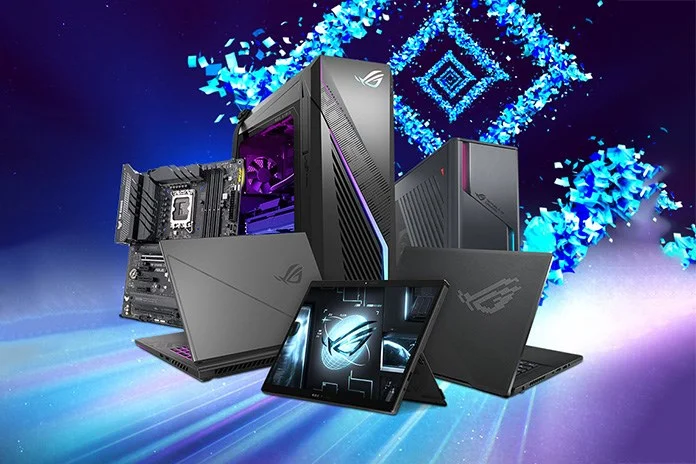 No matter where you are in the world, gaming keeps us connected. Whether it's that friend who moved across the country, or a random player in that new game you just downloaded, gaming is a fantastic way to unwind and make some new allies while doing it. But if your current PC is getting weighed down in the latest titles, worry not. Intel Gamer Days 2023 is here, with a fantastic range of deals on all of the best ROG and intel gaming laptops and desktop PC components. Let's celebrate the great indoors and gaming with some incredible sales on Intel-powered gaming gear.
The choice of champions: ROG Strix G16 and G18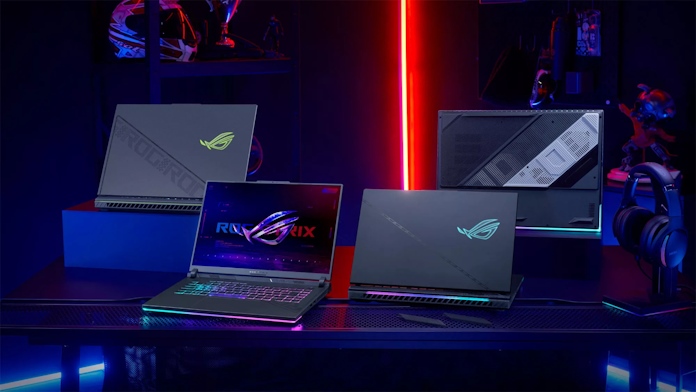 ROG Strix machines are designed from the ground up for those who crave victory in the heat of competition. A fusion of high-powered silicon, lighting fast displays, and cutting-edge cooling keep gamers with ROG Strix laptops one step ahead in every game they play.
Powered by up to a 13th Gen Intel Core i9-13980HX processor and up to an NVIDIA GeForce RTX 4080 Laptop GPU, the Strix G lineup is here to help you dominate the competition in all of the latest games. These high-end gaming laptops also feature brand new technologies from our Intelligent Cooling system, including full-surround vents, a full-width heatsink that covers the entire rear of the device, and a tri-fan design to deliver incredible cooling performance. With these innovations, the Strix G16 and G18's GPU can reach an incredible 175W of power, the highest in the entire ROG lineup. Whether you opt for the Strix G16 or the larger Strix G18, these machines feature lightning fast QHD displays with an extra tall 16:10 aspect ratio to keep you immersed in the action. If you need a machine that will solidify your spot on the top of the leaderboard, look no further.
Model
Key Features
Availability (U.S.)
ROG Strix G18
G814JI-CS94
Performance and style
Core i9 139080HX
RTX 4070 Laptop GPU
18" 240Hz QHD
Nebula Display
ROG Intelligent Cooling
ASUS
Best Buy
ROG Strix G16
G614JV-ES94
Performance and style
Core i9 139080HX
RTX 4060 Laptop GPU
16" 240Hz QHD
Nebula Display
ROG Intelligent Cooling
ASUS
Newegg
Mobility meets muscle: ROG Zephyrus M16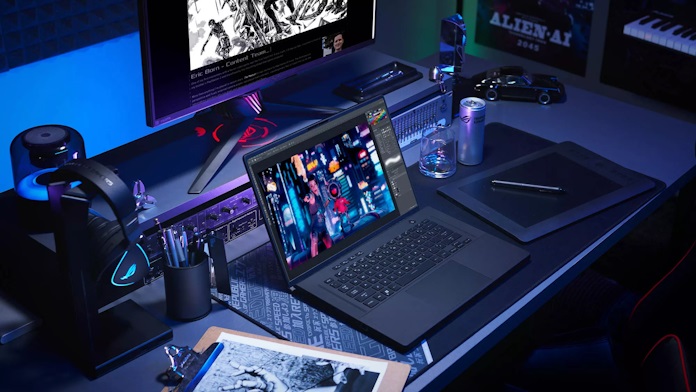 Our ROG Zephyrus line has gaming chops all its own, but leans towards thin and light designs. With less RGB and lower weight, Zephyrus machines are easier to slip in a backpack and carry with you, and stealthier when you do want to get a little game on at the coffee shop. But don't let their stylish looks fool you – even the compact Zephyrus G14 features up to an NVIDIA GeForce RTX 4090 Laptop GPU, ensuring that these machines earn their ROG badge.
For Intel Gamer Days 2023, the Zephyrus M16 leads the lineup into battle. Featuring up to a 12th Gen Intel Core i9-12900H processor, an NVIDIA GeForce RTX 3080 Ti Laptop GPU, and 32GB of speedy DDR5 RAM, the Zephyrus M16 is a gaming juggernaut. Despite its svelte size, Thermal Grizzly liquid metal thermal compound paired with Arc Flow fans and 6 heatpipes allow this thin-and-light machine to sustain 120W on the GPU, granting it flagship level performance in a thin and light chassis. The Zephyrus M16 also features a dazzling Nebula Display, boasting a 165Hz refresh rate, QHD resolution, and 100% coverage of the DCI-P3 color space, ensuring that all of your content looks spectacular.
Model
Key Features
Availability (U.S.)
ROG Zephyrus M16
GU603ZX-XS97
Ultra-portable performance
Core i9 12900H
RTX 3080 Ti Laptop GPU
16" 165Hz QHD
Nebula Display
32GB DDR5
ROG Intelligent Cooling
ASUS
Best Buy
Always on the move: ROG Flow Z13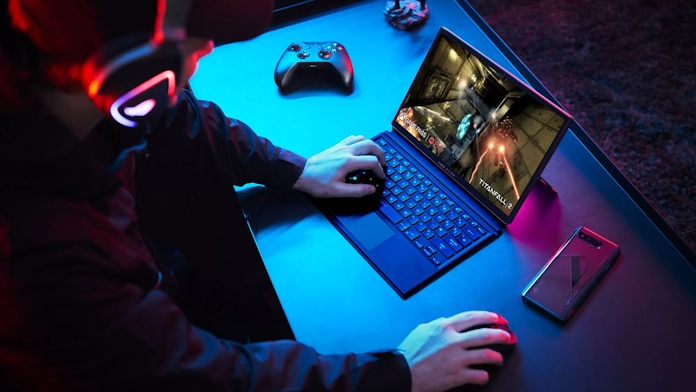 Sometimes life moves you fast. We designed the ROG Flow family of laptops for those who are always on the go. Whether you need an ultra-lightweight and portable machine for travel or you need something convertible that can accommodate any situation, the ROG Flow family of laptops are for you. While they are great gaming machines on their own, they also come with full compatibility with our XG Mobile series of external GPUs, ensuring that you have flagship horsepower whenever you need it. Let's dive in.
The ROG Flow Z13 is one of our most unique deals of Intel Gamer Days 2023 — the machine that redefined gaming tablets. This incredibly svelte 13-inch machine weighs in at just 1.12kg, ensuring that it will slip into nearly any bag or backpack without dragging you down. Featuring an Intel Core i5-12500H and an Intel Iris Xe Graphics, this tablet can handle light gaming and video playback with ease. Dual USB-C ports, one of which supports Thunderbolt 4, should be sufficient for most applications, but if you need to upgrade both your ports and your graphics horsepower, the Flow Z13 also has an XG Mobile interface, allowing it to pair with up to a GeForce RTX 4090 Laptop GPU for extra horsepower and I/O.
Model
Key Features
Availability (U.S.)
ROG Flow Z13
GZ301ZA-PS53
Ultra-portable performance
Core i5-12500H
Intel Iris Xe Graphics
13.4" FHD+ 120Hz
16GB LPDDR5
ROG Intelligent Cooling
ASUS
Amazon
Pint-sized desktop performance: ROG G22CH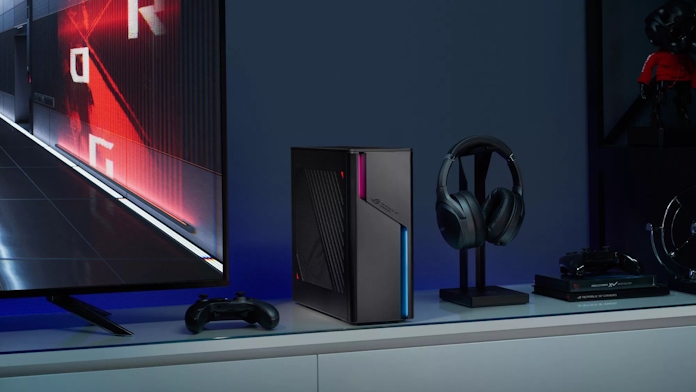 While we certainly love gaming laptops at ROG, we also have a wide range of desktops to suit players of all stripes. If you aren't always on the move, perhaps the aesthetics and ergonomics of a full desktop system setup might be right for you. But we know that not everyone has room for a full tower PC either, so in 2023 we rolled out the ROG G22CH, a small form factor 10L case packed full of Windows 11 gaming goodness.
Model
Key Features
Availability (U.S.)
ROG G22CH
G22CH-DS766
Competitive gaming ready
Core i7 13700F
RTX 3060Ti
16GB DDR5
1TB NVMe
ASUS
Newegg
Amazon
Don't miss our deals for Intel Gamer Days 2023
Intel Gamer Days only come around once a year, so if you're in the market for an upgrade, get these deals before they're gone. We're sure that ROG has a gaming laptop or PC that fits your lifestyle and budget.