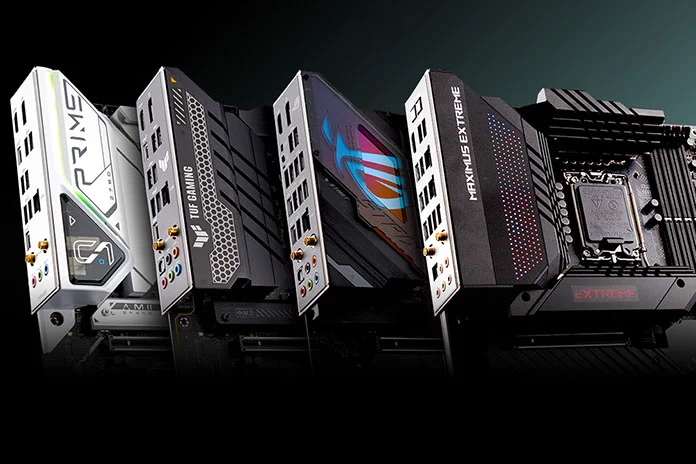 One of the best parts of being a PC enthusiast is the freedom to build your computer in your own way. You're not limited to picking from a couple different preset options. When we launch a new generation of motherboards, we don't just design one model and expect it to meet everyone's needs. We give you a broad range of options from our ROG Maximus, ROG Crosshair, ROG Strix, TUF Gaming, ProArt, and Prime lineups so that you can find the board with the right features and style for your next build.
While it's empowering to have all these different models to choose from, we do understand that it can also be a little intimidating to sort through all the available options. We're here to help. In this article, we'll introduce you to our different motherboard product families, explaining what makes each family unique. Along the way, we'll walk you through some of our naming conventions so that you can quickly sort through the different models in each lineup.
ROG Maximus and ROG Crosshair lead the charge
If you're a hardcore gamer with a thirst for cutting-edge hardware, ROG motherboards are your first choice. For years, these boards have been paving the way for the rest of the industry. Almost all our key motherboard innovations debuted in ROG motherboards. Features like AI Overclocking, the PCIe Slot Q-Release Button, and Dynamic OC Switcher all appeared first in trendsetting ROG boards.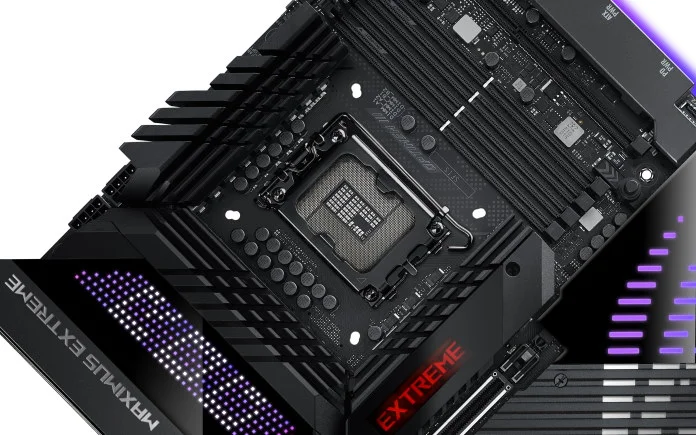 Armed with robust VRMs, beefy heatsinks, and extensive cooling options, these motherboards enable overclockers to extract the full potential of their new CPUs. You'll find everything you need for a premium gaming experience in this lineup: high-fidelity audio, comprehensive connectivity, plentiful high-speed M.2 slots, cutting-edge networking, and much more.
ROG motherboards are divided into two camps: ROG Maximus and ROG Crosshair. ROG Maximus boards have the requisite sockets for Intel CPUs, whereas ROG Crosshair motherboards are built for AMD CPUs.
Extreme vs. Apex vs. Hero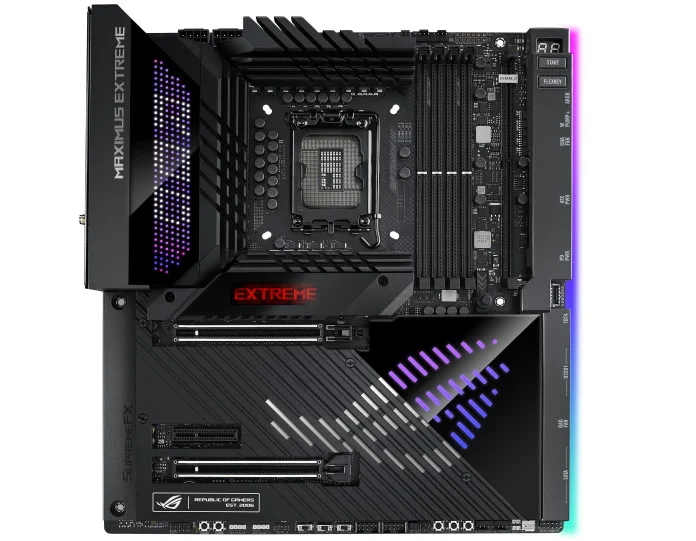 Inside these two camps, you'll find a variety of options. The "Extreme" boards, like the ROG Maximus Z790 Extreme and ROG Crosshair X670E Extreme, are always the highest-end motherboards in the family. Designed for those who dare to want it all, these EATX motherboards are loaded with cutting-edge features and sizzling gamer style. They're currently our only motherboards to include a fully customizable AniMe Matrix display.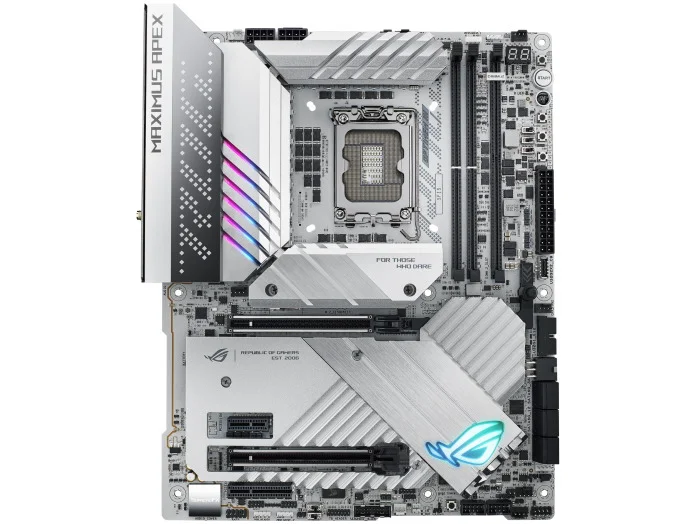 Professional overclockers often turn to our Apex motherboards as they chase new world records. Just recently, our overclocking team used the ROG Maximus Z790 Apex to push an Intel Core i9-13900K CPU past the 9 GHz barrier. The optimized 2-DIMM memory layout of these motherboards lets them reach DRAM timings and frequencies beyond the capabilities of other boards.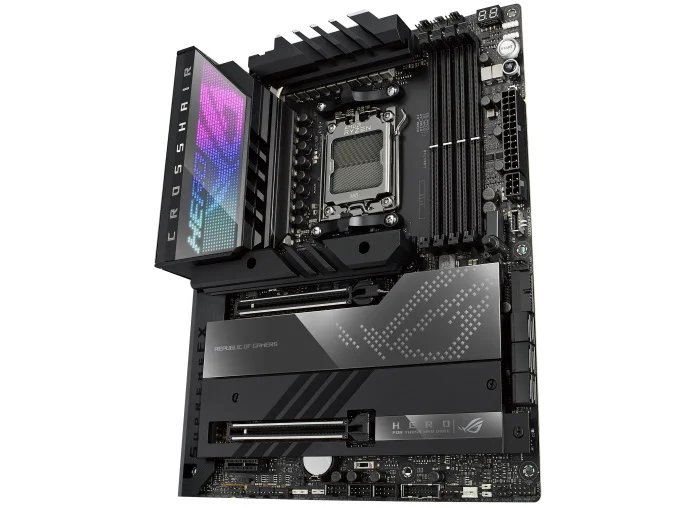 Our ROG Maximus and ROG Crosshair families always include at least one "Hero" model. Loaded with premium features, yet priced within the reach of a wide range of PC enthusiasts, these motherboards are some of our most popular options. If one of Intel's 12th Gen Core CPUs has caught your attention, check out the ROG Maximus Z790 Hero, or if one AMD's latest Ryzen 7000 Series CPUs has your name on it, take a peek at the ROG Crosshair X670E Hero.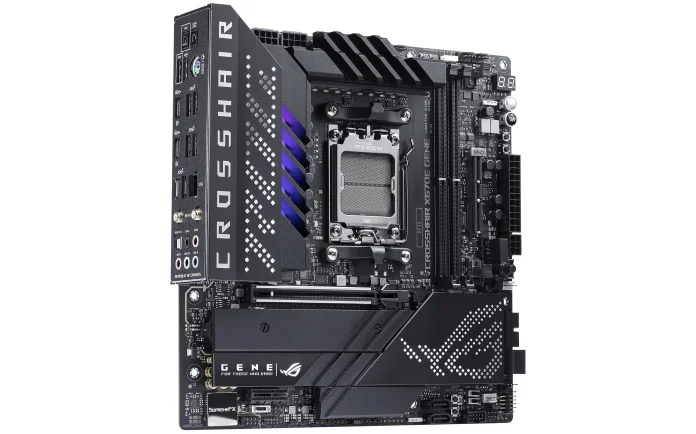 There are a couple more models that you might find in our ROG Maximus and ROG Crosshair lineups, depending on the generation. "Formula" boards, like the ROG Maximus Z690 Formula, set you up for liquid cooling. Additionally, they usually offer a strikingly different aesthetic, typically white-themed. For devotees of the microATX form factor, we sometimes offer "Gene" motherboards, like the ROG Crosshair X670E Gene.
ROG Maximus and ROG Crosshair
Designation
Form Factor
Defining Characteristic
Extreme
EATX
Exceptional performance and features
Apex
ATX
Cutting-edge overclocking
Hero
ATX
All-around excellent gaming performance
Formula
ATX
Tools for liquid cooling and standout style
Gene
micro-ATX
Great performance for compact builds
ROG Strix serves up gaming excellence to mainstream audiences
ROG Maximus motherboards stand at the apex of our lineup, and ROG Strix boards take that basic DNA and offer it in more attainable designs that provide exceptional gaming performance and bold styling.
To distinguish each model in any given ROG Strix family of motherboards, we include a letter after the name of its chipset. For example, if you're shopping for a Z790 motherboard from the ROG Strix lineup, you'll find options like the ROG Strix Z790-E Gaming WiFi and the ROG Strix Z790-A Gaming WiFi.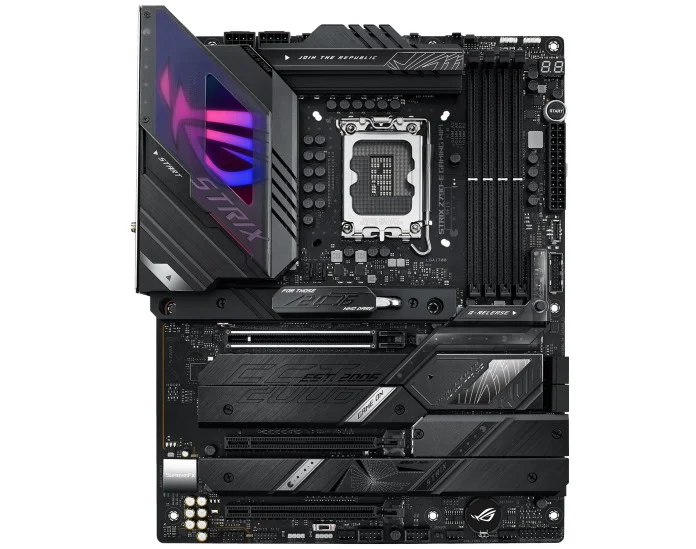 The highest-performance option in any ROG Strix lineup is the "-E" model. It'll have the most power stages, the fastest storage options, and the highest-speed selection of USB ports. The "-F" model will have a very similar style, but it'll come in at a more affordable price point. We typically use the "-A" to designate motherboards with white-themed heatsinks and accents. Most ROG Strix motherboards use the common ATX size format, but not all. If you're building a Mini-ITX machine, you'll need an "-I" designated motherboard like the ROG Strix X670E-I Gaming WiFi. ROG Strix "-G" motherboards are Micro-ATX.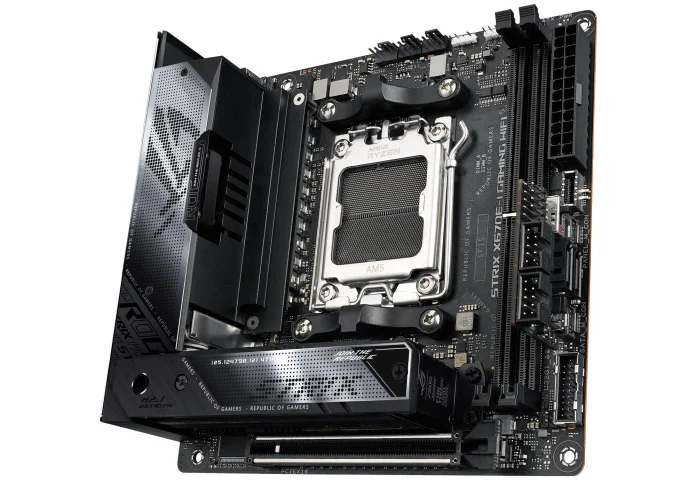 Depending on the generation of motherboard that you're considering, you might have an option between models with DDR5 RAM support and DDR4 support. To make sure that you know exactly what you're getting with your new hardware, we add a "D4" at the end of a product's name to let you know that it's only compatible with DDR4.
ROG Strix
Designation
Form Factor
Defining Characteristic
-E
ATX
Best performance in the ROG Strix series
-F
ATX
Balance of performance and value
-A
ATX
Alternate style in ATX form factor
-I
Mini-ITX
Ready for small-form-factor builds
-G
micro-ATX
Great performance for compact builds
TUF Gaming drills down on the gaming essentials
Many gamers out there have a straightforward shopping list when they're in the market for a new motherboard. They look for products that are ready to go the distance with essential performance, unobtrusive style, and reliable operation. For these PC builders, we offer the TUF Gaming motherboard family. These boards deliver the performance you need in designs that communicate durability and practicality.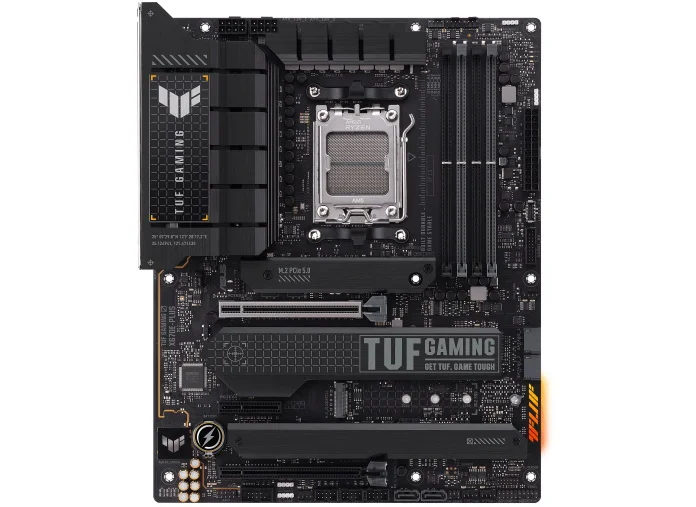 Buying a TUF Gaming motherboard is a straightforward affair. Once you've determined what chipset you need, based on the CPU that you intend to purchase, all you have to do in order to pick out your TUF Gaming motherboard is decide whether you want integrated WiFi and whether you want an ATX or a Micro-ATX option. We put an "M" after the chipset name to identify Micro-ATX boards like the TUF Gaming B760M-Plus D4, and the name itself will tell you if the board includes integrated WiFi, like the TUF Gaming Z790-Plus WiFi. Models with a "D4" at the end of their name offer DDR4 RAM support.
ProArt caters to creators
Thus far, we've looked at our three different gaming motherboard families. While you certainly could use one of these options for pursuits like video editing, 3D animation, and visual FX, ProArt motherboards offer a style and feature set that are fully optimized for the needs of creators.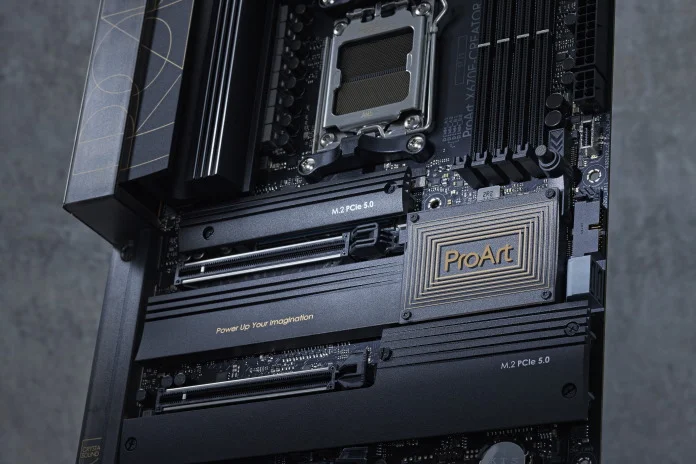 More than almost any other group of PC users, creators rely on wide connectivity options to set up their full kit of peripherals and tools. In our selection of ProArt motherboards, you'll find versatile USB Type-C ports, headers for full-function front-panel ports, multiple options for connecting displays, and high-speed networking ports.
Creative tasks often involve demanding workloads, so ProArt motherboards are equipped to perform. Robust power solutions and comprehensive cooling options provide rock-solid reliability under load. Models like the ProArt Z790-Creator WiFi offer multiple PCIe x16 slots that can operate in an x8/x8 configuration so that you can take full advantage of a pair of graphics cards.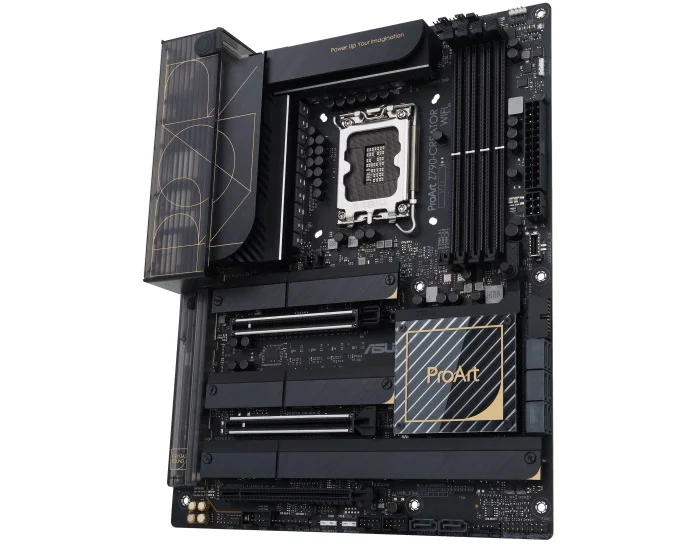 Creators often need a PC that communicates professionalism when they're meeting with clients. ProArt motherboards offer a sophisticated style rooted in clean lines, graceful angles, and precise symmetry, perfect for putting your best foot forward — and for keeping you focused and inspired as you develop your next project.
Prime delivers cost-effective performance for all-around builds
Gamers and creators are often the first to take advantage of the latest CPUs and motherboards for their PCs, but they're not the only PC enthusiasts out there interested in next-gen tech. Many of these creators, engineers, designers, and all-around PC users will find what they're looking for in our gaming-oriented ROG Maximus, ROG Strix, and TUF Gaming options, but others will be on the hunt for a straightforward motherboard that gets the job done in a wide variety of contexts. That's where the ASUS Prime series comes in.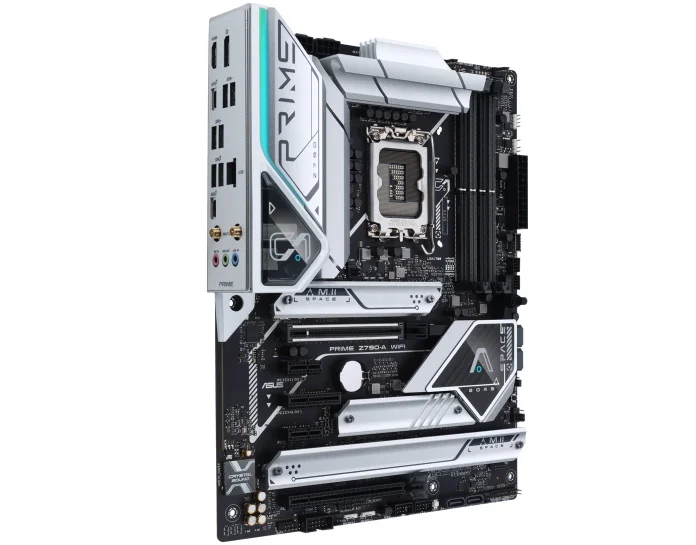 For any given generation of motherboards, you might find a healthy number of Prime models. We know that builders on a budget are typically hunting for a motherboard with everything that they need and nothing that they don't, so we offer Prime boards in a wide range of configurations. You'll typically see ATX and Micro-ATX options, and models with and without integrated WiFi. Other configurations might vary in the selection of USB ports that they offer, the number of stages in their power solution, the type of memory that they support, the number of onboard M.2 slots that they include, or a variety of other factors.
Prime motherboards also appeal to builders who want a PC that looks good without drawing too much attention to itself. Their black-and-white aesthetic blends in nicely with just about any PC hardware on the market. These boards reward close inspection with their unobtrusive space-themed touches and accents, but they're also content to be the unsung hero of your next PC.
Find your next motherboard today
Now that you've taken in a birds-eye view of our different motherboard families, you're ready to find the perfect option for your next build. If you're looking to build a cutting-edge PC with one of Intel's latest 13th Gen CPUs, you'll want an overclocking-ready Z790 motherboard. Head over to our full Z790 motherboard guide to browse our options. Prefer an AMD Ryzen CPU instead? Click here to read about our feature-rich X670 motherboards.
We also have a wide range of options for builders on a budget. Our B650 motherboards offer unbeatable value to anyone building an AMD-powered machine, and for those who want to build an Intel-powered PC that doesn't break the bank, we have a full selection B760 motherboards at the ready.