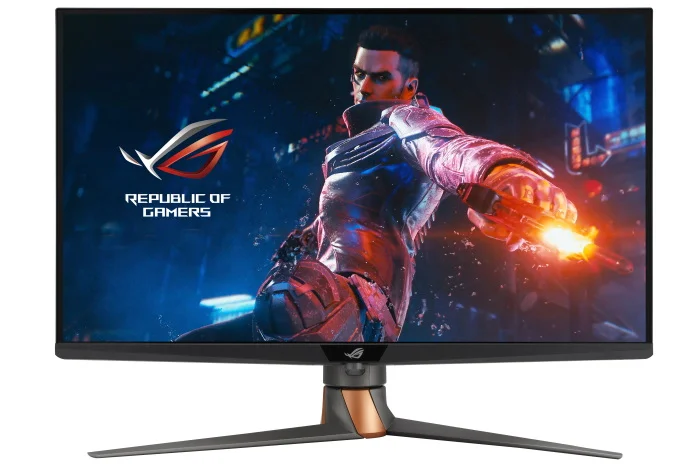 For lifelike, immersive gaming visuals, it's hard to beat a 4K monitor. Whether you love the supreme pixel density of a 27-inch 4K display or the breathtaking vista provided by a 32-inch or larger model, a 3840×2160 resolution vividly brings out the detail in a game's artwork. Displaying these high-resolution frames at the refresh rates that gamers prefer consumes a dizzying amount of bandwidth, though. To sate your desire for high-refresh-rate experiences at 4K, there's a new connector in town: DisplayPort 2.1. Our new ROG Swift PG32UQXR monitor is among the very first to offer these new ports.
A host of improvements
The increased bandwidth offered by DisplayPort 2.1 allows displays to combine 4K resolutions with higher refresh rates than ever before. DisplayPort 1.4 supports a maximum theoretical bandwidth of 32.4Gbps, and it's not hard to run up against that limitation when you game at higher resolutions. Monitors with this last-gen standard can still offer high refresh rates at 4K, but only when they introduce compression into the mix.
Many gamers find that VESA's Display Stream Compression (DSC) tech to be perceptually lossless, but perhaps you'd prefer to simply have more bandwidth instead. That's exactly what you get with DisplayPort 2.1. Through VESA's Ultra-High Bit Rate (UHBR) tech, DisplayPort 2.1 offers up to 80Gbps of total bandwidth — three times the data rate of the previous standard. Now, you can enjoy 4K content at supremely fluid refresh rates without DSC — and you can enjoy all this with HDR and 10-bit color depth, too.
Other quality-of-life improvements offer real advantages to gamers. The DisplayPort cable specification has been updated alongside DisplayPort 2.1, allowing for longer cable lengths and improved connectivity. The increased cable length for higher-bandwidth DP80 cables, in particular, will make it that much easier to deploy a gaming display. An updated bandwidth management tool allows for DisplayPort tunneling over USB4 to better coexist with I/O traffic, so you'll have a better experience when you're using the same USB cable for a display signal and a USB hub.
The first ROG DisplayPort 2.1 monitor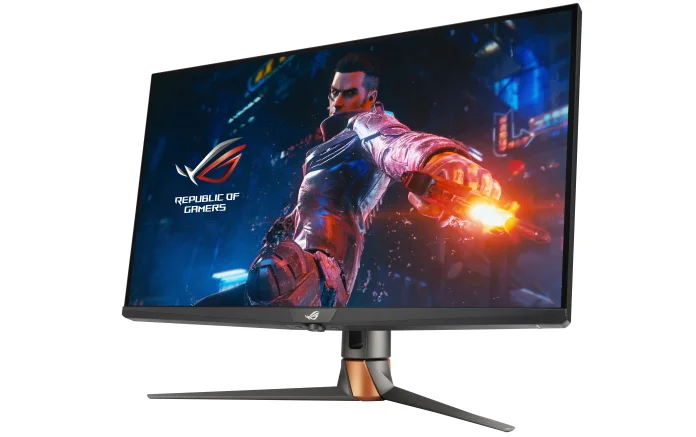 Our first DisplayPort 2.1 monitor comes from our legendary ROG series. For gamers who demand the best, we offer the ROG Swift PG32UQXR. This premium 32-inch gaming display uses a full-array local dimming backlight with 576 independent zones to drive breathtaking HDR experiences. As a FreeSync Premium Pro monitor, it's certified to serve tear-free gaming and premium HDR content. Quantum-dot tech allows it to deliver vibrant, lifelike color — it covers 95% of the cinema-grade DCI-P3 color gamut, in fact, and it's calibrated to achieve an average ΔE value of less than 2 for professional-grade color accuracy. Click here to read more about the ROG Swift PG32UQXR.
Room to grow
As you explore DisplayPort 2.1, you'll find that there are two UHBR cable options: DP80, with a maximum theoretical bandwidth of 80Gbps, and DP40, which cap out at 40Gbps. Both options offer substantially more bandwidth than DisplayPort 1.4. A DP40 UHBR cable, for instance, can handle the demands of serving up 4K resolutions at 160Hz without DSC.
That combination of resolution and refresh rate is a great fit for the capabilities of today's cutting-edge gaming PCs. It's remarkable that DisplayPort 2.1 offers so much room to grow on top of that. A monitor that could take full advantage of the bandwidth offered by a DP80 UHBR cable would be a special display indeed. We're not ready to announce such a display just yet, but you better believe that our engineers are working hard to find ways to use tech like DisplayPort 2.1 to take your gaming experiences to all-new levels.