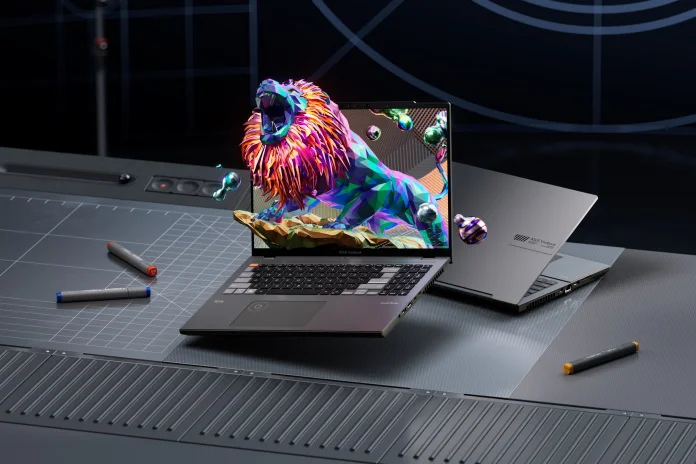 Today's a fantastic time to get started on a career in 3D workflows. Whether you have your eye on game development, 3D rendering, product design, visual FX, or many other exciting fields, there's high demand for creators with the talent and skills for designing in 3D. To accelerate your work, we're debuting the Vivobook Pro 16X 3D OLED at CES 2023. This powerful, versatile laptop is one of the first to feature glasses-free ASUS Spatial Vision 3D visualization tech.
ASUS Spatial Vision and so much more
Get ready to see your projects like you've never seen them before. The Vivobook Pro 16X 3DOLED gives game developers, 3D artists, animators, architects, product designers, visual FX artists, and many others the ability to see their work in 3D with its revolutionary ASUS Spatial Vision tech.
Click here to learn more about this innovative tech, but here's the short version: ASUS Spatial Vision uses a special 3D OLED panel and eye-tracking technology to let you or a client see your work in 3D without the need for bulky glasses. When you enable ASUS Spatial Vision, a set of images are created for each eye using real-time eye tracking tech. These images are then directly projected through a microscopic layer of lenticular lenses built into the display panel to create the 3D effect.
Since the display is an OLED panel with supremely low pixel transition times and a smooth 120Hz refresh rate, the 3D images are clear and convincing. Unlike past 3D display solutions, there are no drawbacks to this additional layer during ordinary usage. When you toggle 2D mode on the Vivobook Pro 16X 3D OLED, you'll get the same great experience you expect from a high-end OLED display.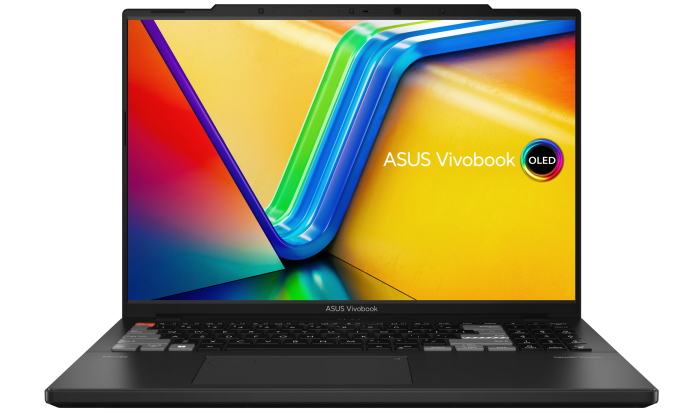 ASUS Spatial Vision headlines the spec sheet for the Vivobook Pro 16X 3D OLED's display, but that's just the start of what it offers for creators. This 16-inch display has a 16:10 aspect ratio that gives you extra space in the vertical dimension — perfect for getting work done. Its roomy 3.2K resolution brings out the fine detail in your projects, and its 120Hz refresh rate offers smooth animation.
This display is prepped for exceptional color performance, too. It's factory calibrated and Pantone Validated to achieve an average ΔE value of less than two for professional-grade color accuracy. The moment you pull it out of the box, you can trust it to paint each pixel with precision. For vibrant, lifelike colors, it covers 100% of the cinema-grade DCI-P3 color gamut, and it offers Dolby Vision support for your work in HDR.
Premium performance that travels
Vivobook Pro laptops give creators everywhere a complete toolkit for taking their work to the next level. The Vivobook Pro 16X 3D OLED takes the series to new performance heights with an Intel CPU up to the Core i9-13980HX and an NVIDIA GPU up to the GeForce RTX 4070 Laptop GPU. NVIDIA Studio drivers ensure broad app compatibility and exceptional stability, while a MUX switch offers smoother and lower latency gaming experiences.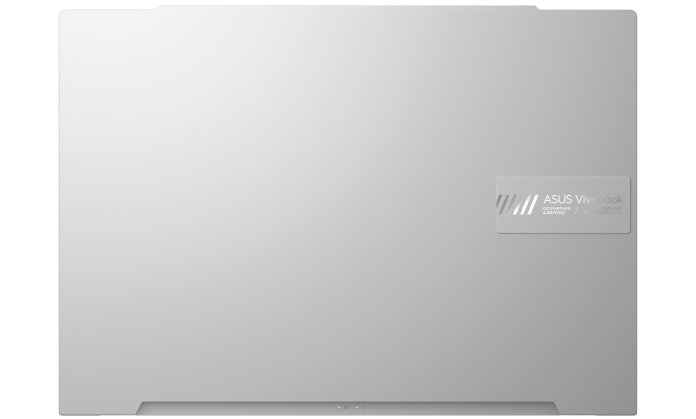 Great cooling gives you the full performance of these high-end components. The ASUS IceCool Pro thermal technology ensures that both the CPU and GPU run comfortably at their combined 150W thermal design power in Performance mode. To achieve this, the dual 83-blade liquid-crystal epoxy-polymer fan blades are just 0.15 mm thin, increasing airflow by up to 6%. We've also introduced a new dual cooling fin design to increase heat transfer. This design provides a larger cooling area, ensuring more heat is transferred effortlessly from heat pipes to fins. The fins have a shark fin-inspired design, increasing the turbulence of the air in the heating layer to ensure efficient heat exhaust. In addition, the Vivobook Pro 16X 3D OLED features three fan modes, easily switched in the MyASUS app, empowering you to choose the right balance between acoustics and performance.
Streamlined for creativity
Everyday laptop users might not need to connect anything more than a wireless mouse to their PC, but as a creator you might have a full workstation of displays, peripherals, and control surfaces that you use on a daily basis. The Vivobook Pro 16X 3D OLED makes sure that you have the I/O selection that you need. It offers two versatile Thunderbolt 4 ports and two USB 3.2 Gen 1 Type-A ports. You'll find an HDMI 2.1 port which supports Fixed Rate Link (FRL) to achieve higher uncompressed resolutions. And to give you convenient access to assets from other devices, there's a built-in standard SD card reader, too.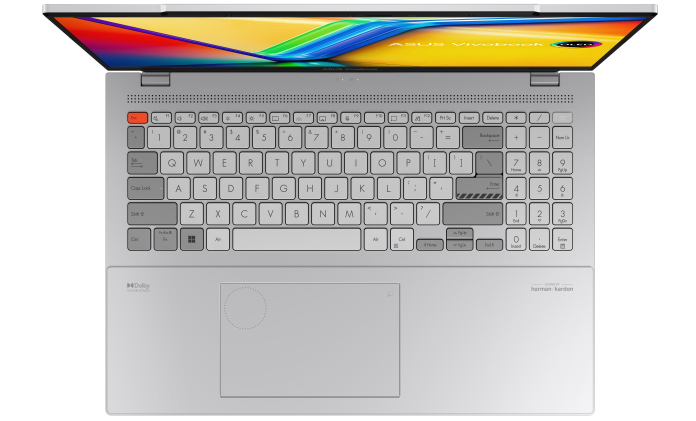 The Vivobook Pro 16X 3D OLED allows you to work with ease and comfort. Through the ASUS DialPad integrated into the touchpad, you'll have precision control over parameters in your favorite creative apps at your fingertips. The ASUS ErgoSense keyboard is tilted at an ergonomic angle for comfortable typing. And our Antimicrobial Guard Plus coating on the laptop's most commonly touched surfaces inhibits 99% of COVID-19, flu virus, and bacteria for better hygiene.
Focus on the essentials with the Vivobook Pro 16X OLED
The ASUS Spatial Vision tech in the Vivobook Pro 16X 3D OLED stands ready to empower a wide range of creators, but perhaps glasses-free 3D visualizations aren't quite as vital to your workflow as they are for other creators. For you, we offer the Vivobook Pro 16X OLED.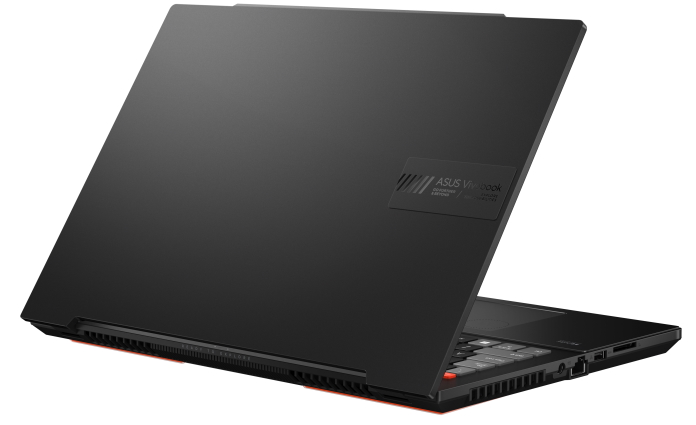 The two laptops are broadly similar, but with either choice, you'll have extraordinary performance and versatile creative tools. The two options differ primarily in their display. The Vivobook Pro 16X OLED elevates your creative efforts with a richly appointed OLED panel. This premium screen gives you all the advantages of a next-level OLED tech: exceptional contrast, vivid colors, a supremely low 0.2ms response time, and a fluid 120Hz refresh rate. It's an ideal display for moving media of all kinds, and its richly detailed 3200×2000 resolution gives you plenty of workspace. For those who prefer an even faster refresh rate, an alternate model with a 165Hz IPS panel will be available, as well.
On top of its cutting-edge components, powerful cooling, and complete connectivity, the Vivobook Pro 16X 3D OLED brings revolutionary ASUS Spatial Vision technology to creators who need a new way to visualize their projects. For creators who are laser-focused on the advantages of a 120Hz OLED display, the Vivobook Pro 16X OLED beckons. For more information on the pricing and availability of the Vivobook Pro 16X 3D OLED and Vivobook Pro 16X OLED in your region, please contact your local ASUS representative. Click here to learn about all the products that we announced for CES 2023.