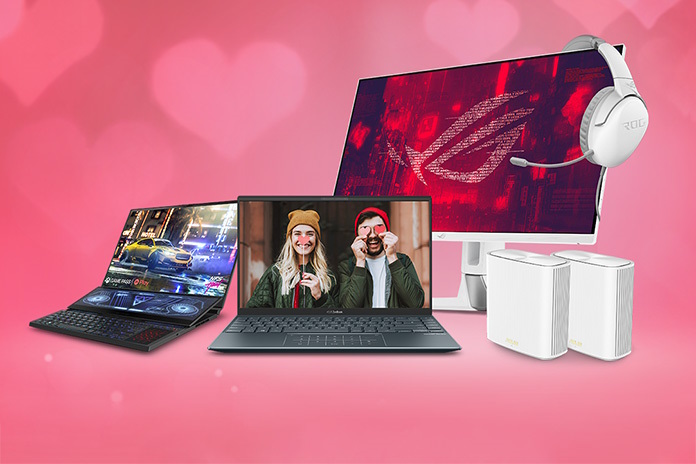 Some of us just love to play the matchmaker. Nothing warms our hearts quite like kindling the flame of true love. We think that you'll find prime opportunities to turn two acquaintances into lifelong partners in a perhaps unexpected place: PC hardware. Just like two souls destined for each other, many of our products are better together. With their cohesive style and complementary feature set, they coordinate computing spaces and let you take full advantage of your new tech.
For Valentine's Day 2023, we're celebrating pairs of our products that are better together. When you partner one of these products with their technological soulmate, you're swiping left on mismatched aesthetics and clumsy coordination. You're making a connection between two products that are more than the sum of their parts. So get ready to play the matchmaker for your Valentine's PC setup — or even for your own. These pieces of hardware deserve a place on your desk on their own merits, but together they make a true power couple.
ROG Gladius III Wireless mouse and ROG Falchion NX keyboard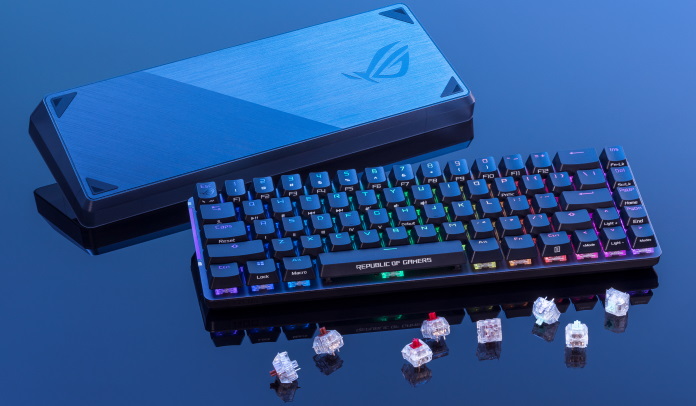 Here's an easy Valentine's Day gift combo for any gamer — or anyone who loves precise wireless input devices with real style. The ROG Falchion NX is a petite 65% keyboard that fits on just about any desk while leaving plenty of room for your mousing hand. It connects to PCs wirelessly with a low-latency 2.4GHz RF signal, and then recharges through a USB cable as necessary, all without missing a beat. Per-key RGB LED lighting will let you or your Valentine customize its style, and the included keyboard cover case makes it an easy addition to your portable PC setup.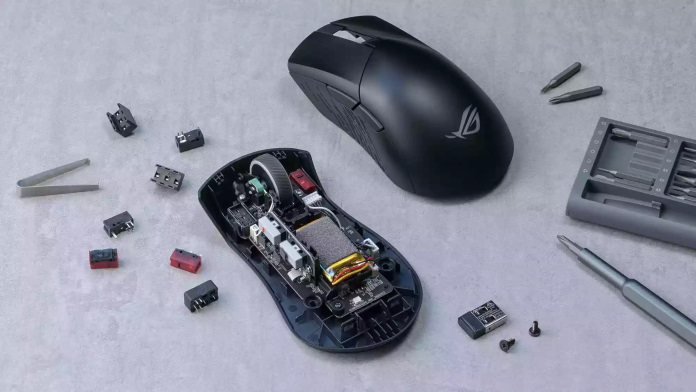 The ROG Gladius III Wireless is the perfect partner for the ROG Falchion NX. This ergonomic mouse fits comfortably in your hand, and its 19,000 DPI optical sensor tracks every motion with exceptional accuracy. High-performance wireless connectivity options make it convenient to cut the cord, and with our unique Push-Fit Switch Socket design, it's easy to extend the lifespan of this mouse or customize the sound and feel of each click. Do your Valentine's Day shopping early, and you'll even find both products on sale.
Elegant everyday laptops and the ZenScreen MB16AH portable display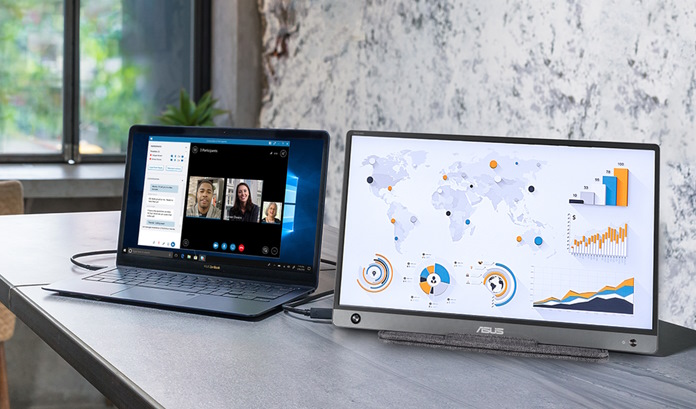 Few things unlock the potential of a laptop quite like a portable display. When you pair a notebook with a second display like our slim and light ZenScreen MB16AH, you get outsized multitasking power whenever and wherever you need it. This 15.6-inch display is slim enough to slide into a laptop bag, yet it offers easy connectivity with USB Type-C and micro-HDMI ports, automatic orientation adjustments between landscape and portrait modes, and a foldable sleeve case that double as a stand.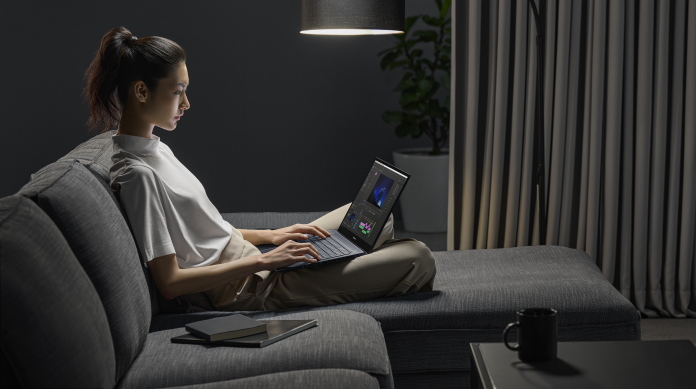 You'll find a kindred spirit for the ZenScreen MB16AH in our Zenbook or Vivobook laptop lineups. Zenbooks offer understated elegance, effortless performance, and premium portability in a wide range of options. If you or your Valentine have creative ambitions, consider the Zenbook Pro 17. This machine's lavishly large 17-inch display will inspire your next project, and its powerful AMD CPU and NVIDIA GPU will give you outstanding performance. If you're looking for something even more portable, consider the Zenbook 14. Sleek and lightweight, it offers a bright and clear screen with ultra-slim NanoEdge display bezels on all four sides. For a great laptop at a great price, consider the Vivobook 15. For one great price, you'll get an Intel Core or AMD Ryzen CPU, ASUS Antibacterial Guard, and thoughtful design elements like a fingerprint sensor and physical webcam shield for privacy.
ROG Maximus Z790 Hero motherboard and ROG Strix GeForce RTX 4070 Ti
For that special gamer in your life, you can't do better than a brand-new gaming PC. The latest high-end Intel CPUs and NVIDIA graphics cards deliver fantastic gaming performance and next-gen features. Here's a powerful duo of components that will lay the foundation for a premium PC.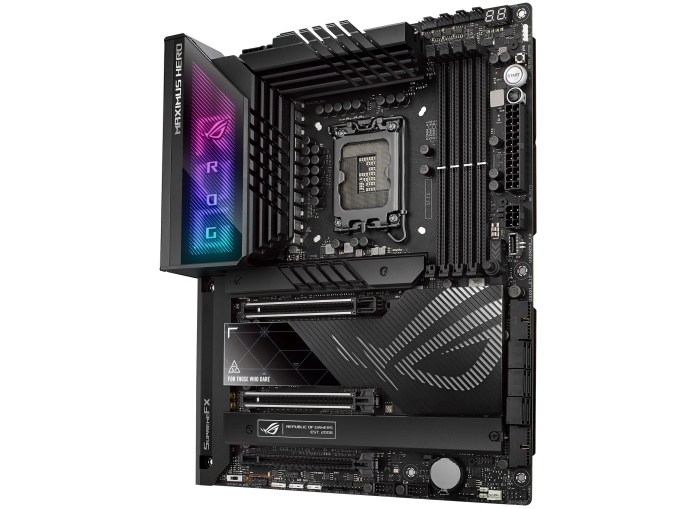 The ROG Maximus Z790 Hero is bristling with cutting-edge features for PC DIY enthusiasts. Scan its mesmerizing landscape of shadows and angles, and you'll find dual Thunderbolt 4 connectors, an overclocking-ready power solution, and plentiful options for building out a high-speed storage array.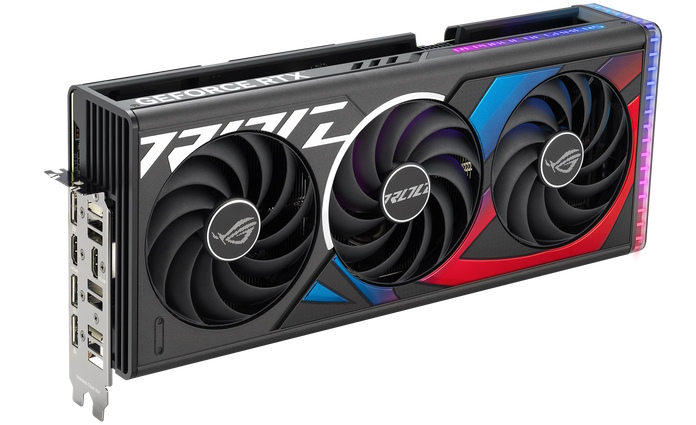 The perfect partner for the ROG Maximus Z790 Hero, in both style and performance, is the brand-new ROG Strix GeForce RTX 4070 Ti. At 3.15 slots thick and 336mm long, this card provides plenty of surface area on its MaxContact heatsink for airflow, all the while retaining the new cyberpunk design and ultra-rigid structure of our ROG Strix 40 series lineup. It's also rocking three of our new 11-blade Axial-tech fans, which can push 31% more air volume and 56.3% more static pressure than its predecessors on the ROG Strix GeForce RTX 3080 — all at a lower power limit with similar noise levels. A massive vented backplate ensures superior airflow, and 0dB technology keeps your card completely silent under lighter workloads.
ROG gaming laptops and the ROG Delta S Animate headset
When you sit down with an ROG gaming laptop equipped with an ROG Nebula Display, you're about to experience something special. These immersive displays are fast, bright, and vivid, perfect for games of all kinds. Rather than wading through a list of specifications, you can trust this certification to cover every element that matters most to your gaming experience. Click here to learn more about what we're doing with Nebula displays.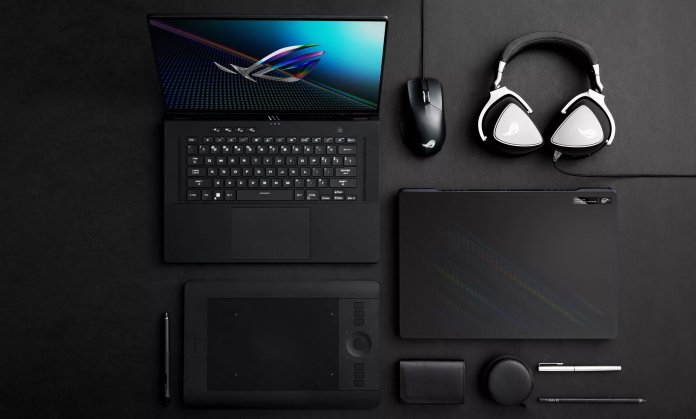 A wide range of ROG laptops include an ROG Nebula Display option, but we'll highlight two of our favorites. The ROG Zephyrus M16 will thrill your senses with its 16-inch display. It puts amazing gaming power at your fingertips with its NVIDIA GeForce RTX 3080 Ti Laptop GPU and Intel Core i9-12900H CPU. For streamers and multitaskers, there's no better gaming laptop than the dual-screen ROG Zephyrus Duo 16.  The ROG ScreenPad Plus secondary display rises up as you open the lid, giving you endless possibilities as you game. This mechanism also opens up wide vents for the GeForce RTX 3070 Ti and AMD Ryzen 9 6900HX processor so that they give you premium performance.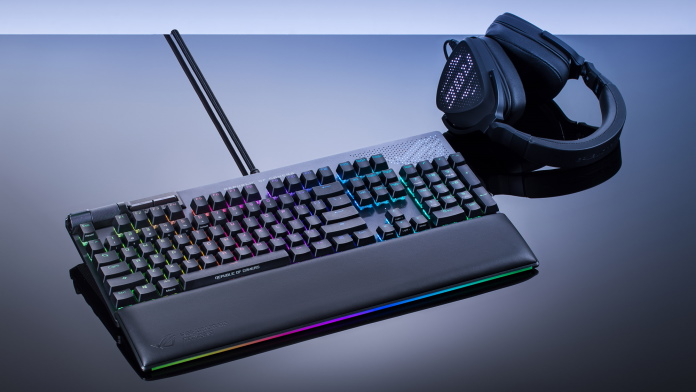 For true gaming immersion, you'll want premium audio to accompany an ROG Nebula Display. Look no further than the ROG Delta S Animate. This gaming-first headset pairs its bold style and customizable AniMe Matrix display on the ear cups with a hi-fi ESS 9281 Quad DAC, an AI Noise-Canceling Mic, and ASUS Essence drivers.
ASUS Dual GeForce RTX 3060 Ti White OC Edition graphics card and ROG Thor 850P power supply
The Valentine's Day 2023 shopping season is a great time to pick up a powerful graphics card for a great price. Not only will you find a broad selection of our NVIDIA 30-series graphics cards discounted for the occasion, but they also come bundled with Marvel's Midnight Suns for a limited time. What better Valentine's Day gift could you give a gamer than a hot new game, a new graphics card, and a high-end power supply ready for action?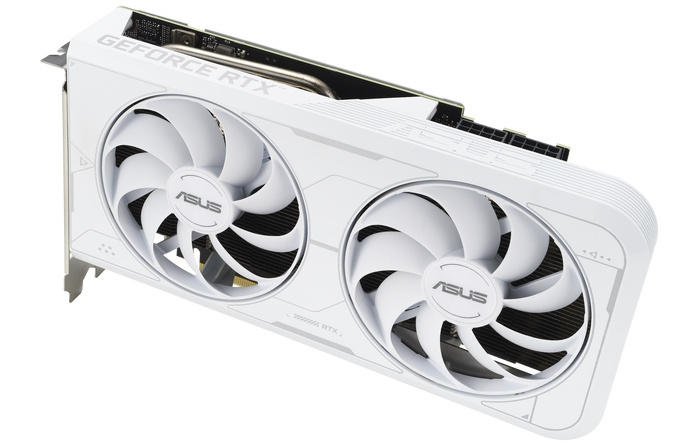 Here's a dynamic duo: the ASUS Dual GeForce RTX 3060 Ti White OC Edition and the ROG Thor 850P.  The graphics card offers a buffed-up design with chart-topping cooling performance. While it's not one of our absolute latest graphics cards, this potent card has more than enough power for a high refresh rate gaming display. Supply it with all the power it needs with an ROG Thor power supply. This 80 PLUS Platinum PSU efficiently delivers plentiful power, and its substantial heatsinks let it run silently whenever temperatures permit, and quietly even under load. You'll even get real-time power draw monitoring with the integrated OLED Power Display.
TUF Gaming F15 laptop and TUF Gaming M4 Air mouse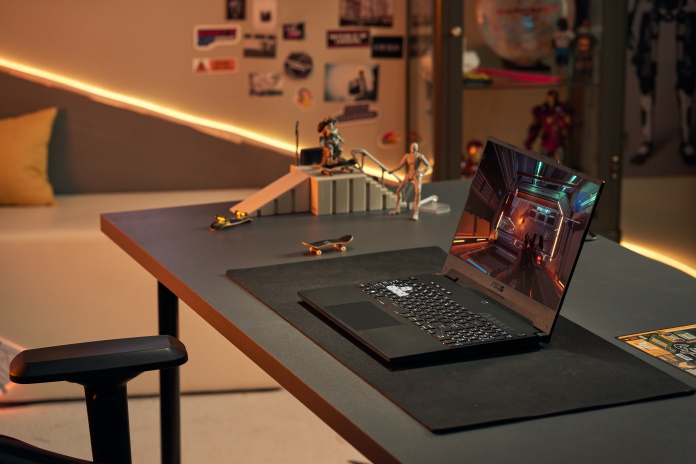 Here are two pieces of hardware that undoubtedly belong to each other: the TUF Gaming F15 gaming laptop and the TUF Gaming M4 Air mouse. The TUF Gaming F15 gives you an impeccable starting point for PC gaming: a fast 144Hz display, an Intel i5 CPU, and a GeForce RTX 3050 Laptop GPU. Comprehensive cooling and military-grade durability give you long-term stability and reliability.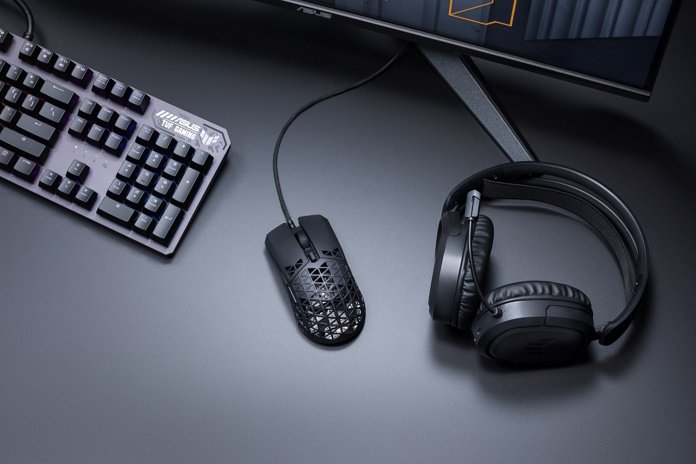 The TUF Gaming M4 Air is the last piece in the TUF Gaming F15's puzzle. For lightning-quick, accurate control in online battlefields, you need a lightweight gaming mouse with an exceptional optical sensor. The TUF Gaming M4 air checks both of those boxes, all the while draped in the same ruggedized aesthetic as the F15. The hollow pyramidal frame keeps it weight down to a mere 47 grams for supremely fast and fluid mousing.
Motherboards and PC cases with complementary style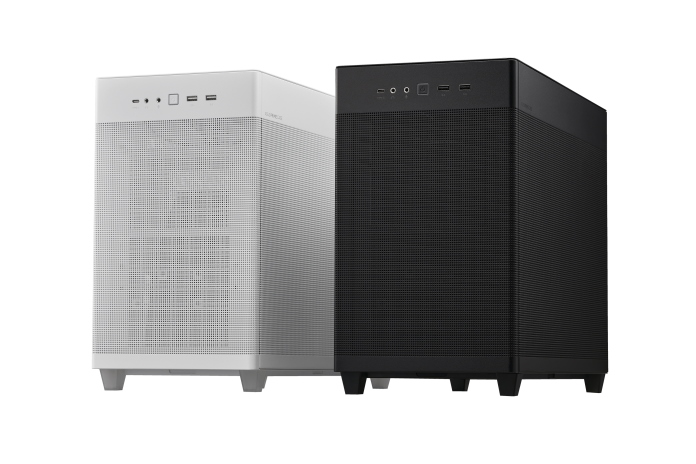 PC builders around the world turn to ASUS Prime motherboards for their legendary reliability, comprehensive feature set, and no-nonsense aesthetic. Their black-and-white color palette fits in nicely with a wide range of cases on the market, but it fits in perfectly with the ASUS Prime AP201 case. Available in either black or white, the AP201 offers a one-of-a-kind look at your internal components through its quasi-filter mesh panels. Despite being quite compact, the Micro-ATX AP201 case offers substantial room for high-performance components.
We have a wide range of ASUS Prime motherboards ready to install into this case. If you're looking a wallet-friendly motherboard ready for one of Intel's latest CPUs, head over to our full B760 and H770 motherboard guide. Our lineup includes a trio of ASUS Prime Micro-ATX motherboards, all ready to serve as the foundation for your budget PC.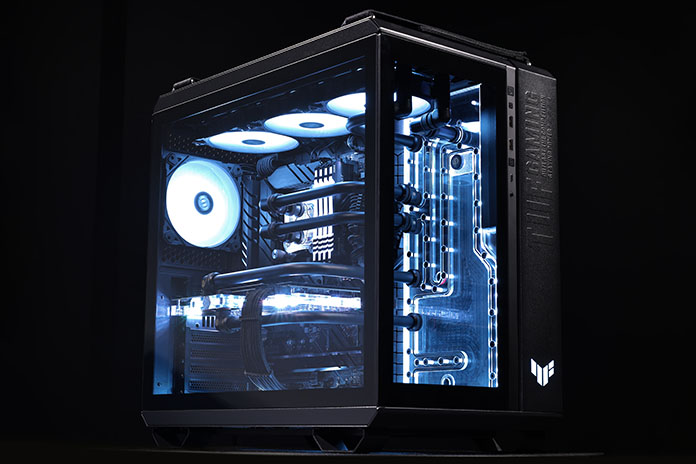 Perhaps you prefer the ruggedized aesthetic of our TUF Gaming series? The TUF Gaming GT502 case gives you a panoramic view of your PC's internals with its front and side tempered glass panels. The dual-chamber chassis separates key components into separate zones for more efficient cooling, and its flexible mounting options for fans and radiators lets you establish the cooling solution of your dreams.
You have a wide range of options for your TUF Gaming build, but if we had to pick one, we'd suggest the TUF Gaming B650-Plus WiFi. AMD's latest Ryzen chips offer a potent value proposition, and this board complements those CPUs with the perfect blend of features, performance, and price. It offers DDR5 support, a PCIe 5.0 M.2 slot for blazing-fast storage, and an onboard USB 3.2 Gen 2×2 USB Type-C® port for fast, versatile connectivity. High-bandwidth 2.5Gb Ethernet comes standard, and WiFi 6 gives you reliable wireless networking.
Gaming laptop, meet gaming monitor
Your ROG gaming laptop has a fast, vivid display that gives you everything you need for PC gaming. But we won't be offended if you like to connect it to a monitor that doesn't fit into a laptop bag. In fact, we think that the combination of a gaming laptop and a gaming monitor is the perfect setup for gamers who are equally likely to play on the road as they are back in their gamer den.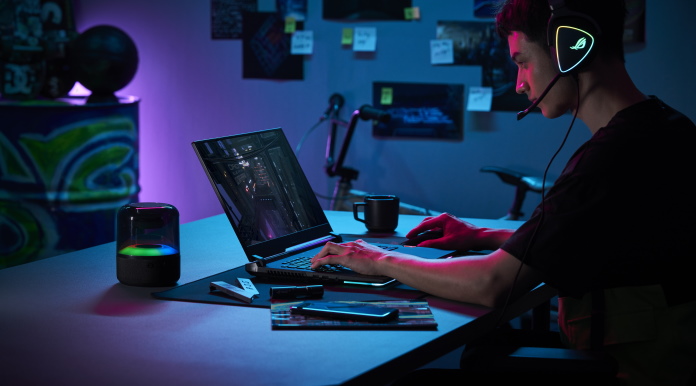 Here, we'll give you a selection of options as you're shopping for your Valentine. The ROG Strix SCAR series empowers esports gamers with hardware that gives them a competitive edge in online battlefields. For ultimate performance, the ROG Strix SCAR 17 SE with its Intel Core i9-12950HX CPU stands out from the crowd. For an all-around excellent machine with a portable design, consider the ROG Zephyrus G15 and its 240Hz QHD display.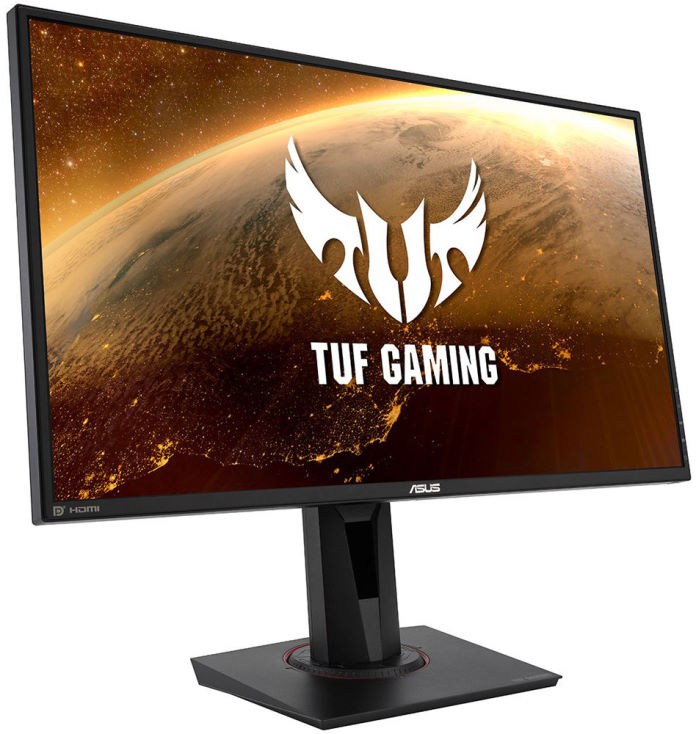 For displays, we'll recommend one of two 27-inch monitors ready for gaming glory. The ROG Strix XG27UQR gives a premium blend of a 4K resolution and a fluid 144Hz refresh rate. It's G-SYNC Compatible for low-latency, tear-free gaming, and it offers a taste of HDR experiences with its VESA DisplayHDR 400 certification. If you'd prefer an even faster refresh rate, consider the TUF Gaming VG279QM. This FHD monitor offers a refresh rate that you can overclock all the way up to 280Hz for supremely fast and responsive gaming.
ROG Phone 6 and ROG Cetra True Wireless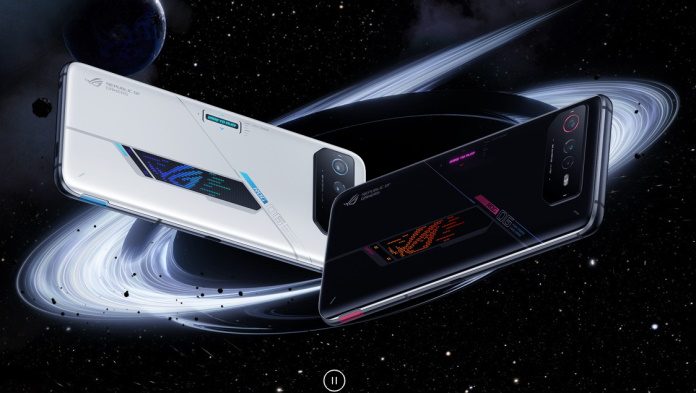 Nobody does PC gaming hardware better than ROG — and nobody does gaming smartphones better than ROG, either. The latest incarnation of our world-beating gaming phone, the ROG Phone 6 smashes every barrier between you and the mobile gaming experience you crave. Empowered by our class-leading GameCool 6 thermal system, the latest Qualcomm Snapdragon 8+ Gen 1 Mobile Platform gives you the performance you need for victory. The 165Hz display draws you in with smooth, vibrant visuals, while our AirTrigger 6 system gives you total control. The ROG Phone 6 pulls it all together with a monster 6000 mAh battery that gives you extended time away from your charger.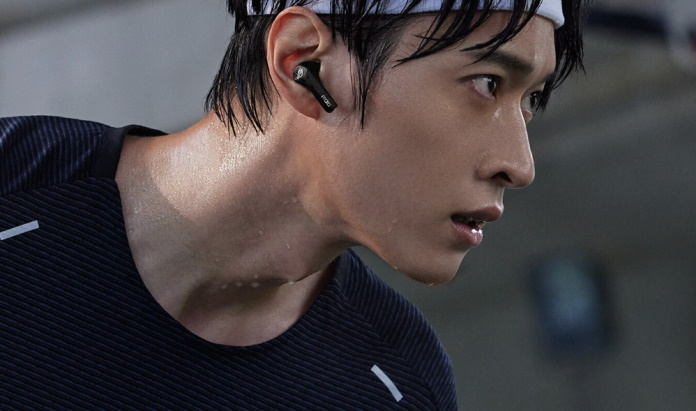 For this ultraportable gaming device, the ROG Cetra True Wireless gaming headphones are a perfect match. These lightweight earbuds communicate to a wide range of devices with a low-latency wireless connection that's fast enough to keep up with competitive games. Specially tuned 10mm ASUS Essence drivers deliver high-quality audio. Active Noise Cancelation (ANC) tech detects and filters out distracting noise for immersive audio experiences. And with a 27-hour battery life and quick charge technology, the ROG Cetra True Wireless headphones are always ready for action.
ROG Harpe Aim Lab Edition mouse and ROG Hone Aim Lab Edition mouse pad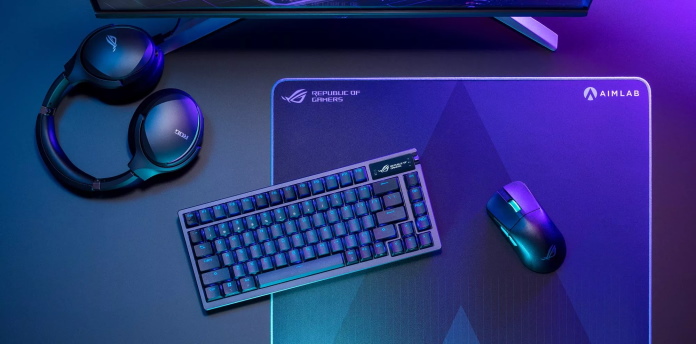 Here's a mouse and mouse pad made for each other — quite literally. The ROG Harpe Aim Lab Edition mouse was designed for esports athletes and professionals, weighing in at an ultralight 52g, sporting a textured ambidextrous 5-button form factor, and an insane 36,000 DPI ROG AimPoint optical sensor. Crafted in collaboration with FPS esports pros, this mouse — and its partner, the ROG Hone Aim Lab Edition mousepad — are the ultimate competitive edge, especially when paired with Aim Lab's Settings Optimizer. With a few specially designed tasks that analyze your FPS habits, Aim Lab's software will suggest the optimal DPI, lift-off, and angle tuning settings for your specific playstyle.
New Chromebook, new router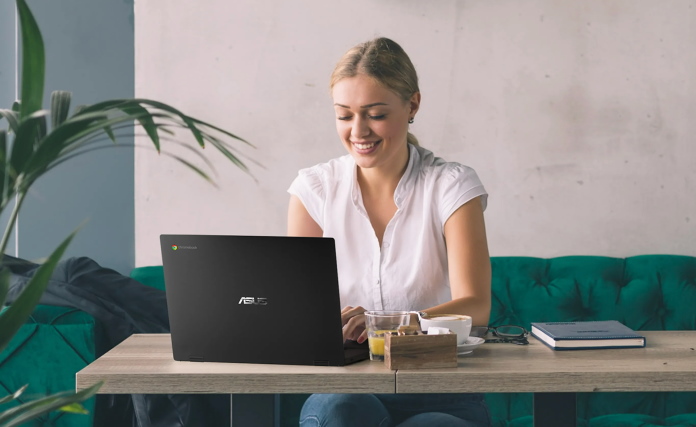 If your Valentine's daily computing tasks are all accomplished inside of a web browser, a Chromebook might be the perfect gift this year. These hassle-free machines make it easy to browse, create, and share in your favorite web apps. We have a wide selection of versatile, portable Chromebooks ready for you. Follow the links below to find the option that's right for your needs and budget.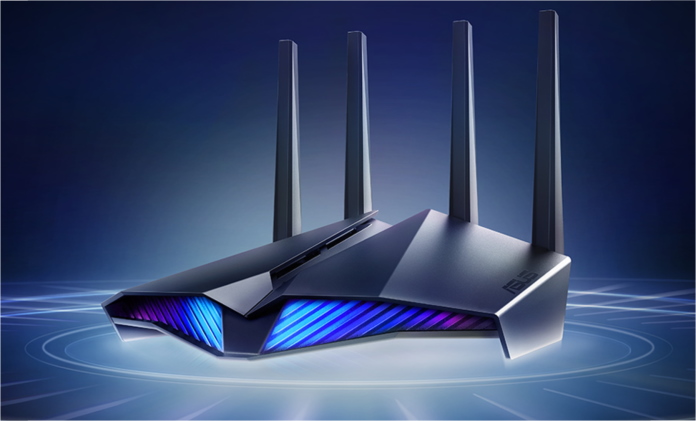 With the freedom that a new Chromebook provides, you'll want to pair it with a router that will give the full freedom of your house. For smaller homes and apartments, the ASUS RT-AX86U will handle your wireless networking needs at a great price. This expandable router has AiMesh support, so you can use it as part of a mesh network down the line to extend your network, and it offers commercial-grade home network security, as well. For a larger home, you might prefer to start right off the bat with a mesh WiFi network. The ZenWiFi XD6 mesh WiFi system gives you whole-home coverage, easy setup and configuration options, and a timeless aesthetic that fits into any room of your house. Alternatively, the ZenWiFi AX Mini (XD4) ships in a three-pack with one router and two extending nodes, perfect for targeting great internet coverage where it's most needed.
Still haven't found the perfect tech gift for your Valentine? We have even more ideas at our Valentine's Day event page. In addition to some great deals on great hardware, for a limited time you'll also be able to enter a special giveaway to win a custom PC built by ModsByBen.