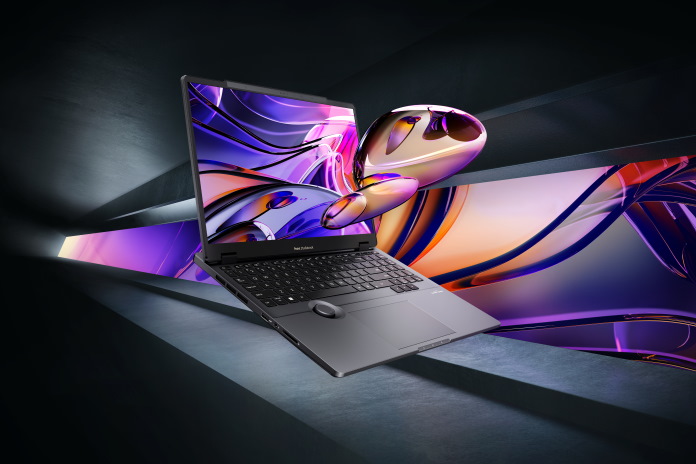 As a professional creator, your checklist for a new laptop is probably rather long, and often quite specific. You need a display with exceptional accuracy and wide color gamut coverage. Wide connectivity options are a must-have, as is muscular performance for intensive tasks. Versatile input options might be essential for your workflow, as well, and that's before we talk about portability and professional-grade drivers. The new ProArt Studiobook 16 3D OLED, debuting at CES 2023, checks off every item on this list, and adds one that you might not have realized was possible: glasses-free 3D display tech.
ASUS Spatial Vision and so much more
Creators in many fields specialize in 3D workflows. The ProArt Studiobook 16 3D OLED gives game developers, 3D artists, animators, architects, product designers, visual FX artists, and many others the ability to see their work in 3D with its revolutionary ASUS Spatial Vision tech.
Click here to learn more about this innovative tech, but here's the short version: ASUS Spatial Vision uses a special 3D OLED panel and eye-tracking technology to let you or a client see your work in 3D without the need for bulky glasses. When you enable ASUS Spatial Vision, a set of images are created for each eye using real-time eye tracking tech. These images are then directly projected through a microscopic layer of lenticular lenses built into the display panel to create the 3D effect. Unlike past 3D display solutions, there are no drawbacks to this additional layer during ordinary usage. When you toggle 2D mode on the ProArt Studiobook 16 3D OLED, you'll get the same great experience you expect from a high-end OLED display.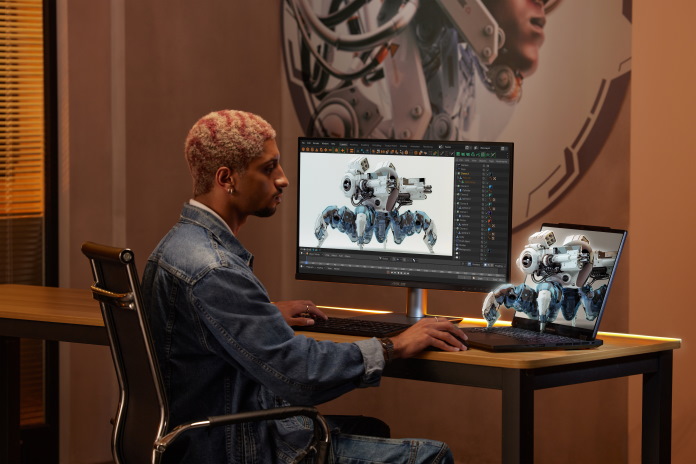 Since the display is an OLED panel with supremely low pixel transition times and a smooth 120Hz refresh rate, the 3D images are clear and convincing. The stepped-hinge design allows you to open the lid a full 180° so that you always have the perfect angle for examining or sharing your work.
ASUS Spatial Vision headlines the spec sheet for the ProArt Studiobook 16 3D OLED's display, but that's just the start of what it offers for creators. This 16-inch display has a 16:10 aspect ratio that gives you extra space in the vertical dimension — perfect for getting work done. Its roomy 3.2K resolution brings out the fine detail in your projects, and its 120Hz refresh rate offers smooth animation.
This display is prepped for exceptional color performance, too. Its factory calibrated, Pantone Validated, and Calman Verified to achieve an average ΔE value of less than two for professional-grade color accuracy. The moment you pull it out of the box, you can trust it to paint each pixel with precision. For vibrant, lifelike colors, it covers 100% of the cinema-grade DCI-P3 color gamut, and it offers Dolby Vision support for your work in HDR.
Versatile tools for any workflow
ASUS-exclusive features make sure that you always have the best tool for the job at hand. The ProArt Studiobook 16 3D OLED features an integrated ASUS Dial. This rotary tool provides quick, intuitive control over your most used functions in creative, productivity, and entertainment apps.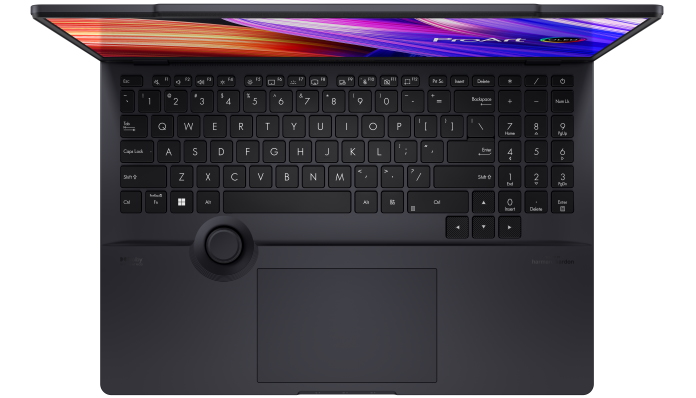 The upgraded touchpad is ready to empower your work. We enlarged it by 26% over the last generation to expand your workspace, and equipped it with LRA haptic technology for the most precise feedback. Finally, we equipped it for stylus work by giving it the same aspect ratio as the display, making it intuitive and natural to sketch your ideas.
A host of conveniences make working with the ProArt Studiobook 16 3D OLED a daily delight. Its FHD IR AI camera allows for instant biometric login, and its ErgoSense keyboard and touchpad make everyday computing comfortable and ergonomic. Per-key even backlighting ensures you can always find the right key, even in low-light conditions.
High-end connectivity
To help you connect your full workstation of displays and peripherals, the ProArt Studiobook 16 3D OLED gives you the complete set of I/O ports you need. Two Thunderbolt 4 USB Type-C™ ports give you speedy transfer times, 100W USB Power Delivery charging, and DisplayPort Alt Mode for connecting displays.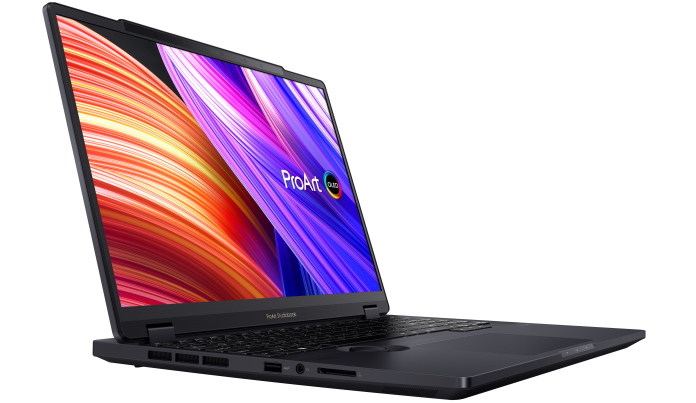 An HDMI 2.1 port lets you easily connect to a high-resolution, high-refresh rate display. An SD Express 7.0 card reader makes it easy to access media from your camera, and you'll find two USB Type-A ports, a Gigabit Ethernet port, and an audio jack. For wireless devices, the ProArt Studiobook 16 3D OLED offers Bluetooth 5.2, and a dual-band WiFi 6E radio delivers speedy wireless networking.
The ProArt Studiobook 16 3D OLED is ready to work
The ProArt Studiobook 16 3D OLED delivers professional-grade performance with an Intel Core i9-13980HX CPU and an NVIDIA GeForce RTX 4070 Laptop GPU. Up to 64GB of DDR5 RAM empowers you to multitask with ease and load up complex projects, while up to 8TB of speedy PCIe 4.0 storage gives plentiful room for your project library. You'll get NVIDIA Studio Driver support to ensure maximum performance, rock-solid reliability, and broad software compatibility.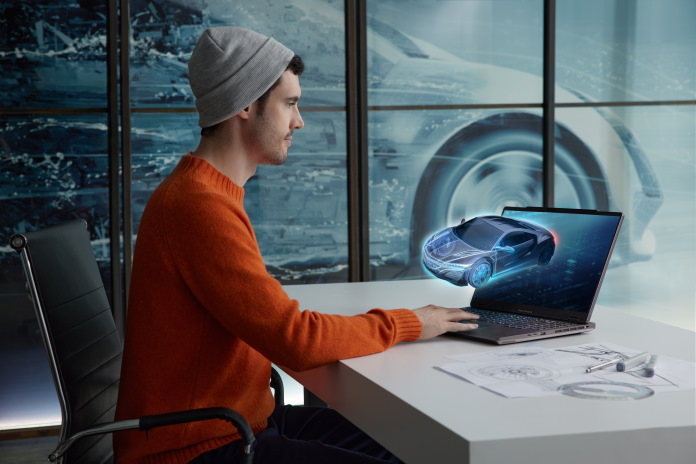 ASUS IceCool Pro tech unleashes the full performance of your hardware with exceptional cooling. The per-key air-intake design directs cooling air right where it's needed while keeping the keys cool and comfortable under your fingers. Liquid metal thermal compound, painted with our precision, automated process, more effectively transfers heat out of the CPU than traditional thermal pastes. All told, this technology allows for a 150W TDP (65W+85W) in Performance mode — perfect for demanding creative work.
Through the ProArt Creator Hub app, you'll have easy control of the performance of your laptop and so much more. It provides a clean, easy-to-read interface for monitoring of vital components, as well as one-click options for switching to the best operating mode for the task at hand. Additionally, you'll be able to easily customize the ASUS Dial and keep your hardware updated.
The ProArt Studiobook 16 OLED offers a powerful alternative
The ASUS Spatial Vision tech in the ProArt Studiobook 16 3D OLED stands ready to empower a wide range of creators, but perhaps glasses-free 3D visualizations aren't quite as vital to your workflow as a well-equipped touchscreen. For you, we offer the ProArt Studiobook 16 OLED.
The two laptops are broadly similar, sharing the same chassis design, configuration options, and connectivity. With either choice, you'll have extraordinary performance and versatile creative tools. The two options differ primarily in their display. The ProArt Studiobook 16 OLED offers a 16-inch 16:10 touchscreen display. It streamlines your work with its 3200×2000 resolution, and it's fully equipped for HDR workflows with its Dolby Vision support and VESA DisplayHDR True Black 500 certification. Its TUV-Rheinland certified Eye Care technologies make it comfortable to use over the long term with minimized eye fatigue, too.
Powerful, versatile new ProArt Studiobook options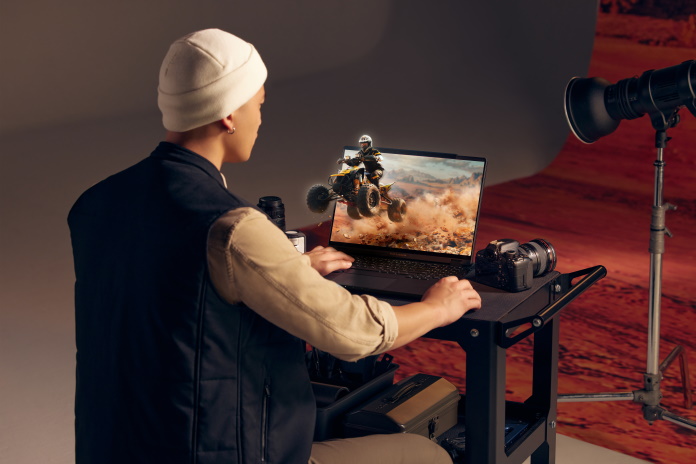 For professional creators who need a powerful tool for visualizing their work with 3D projects and assets, there's no better option than the ProArt Studiobook 16 3D OLED, while the ProArt Studiobook 16 OLED delivers the same performance, convenience, and control to creators who'd benefit more from a touchscreen. For more information on the pricing and availability of the ProArt Studiobook 16 3D OLED and the ProArt Studiobook 16 OLED in your region, please contact your local ASUS representative. Click here for more information on all the products we announced at CES 2023.