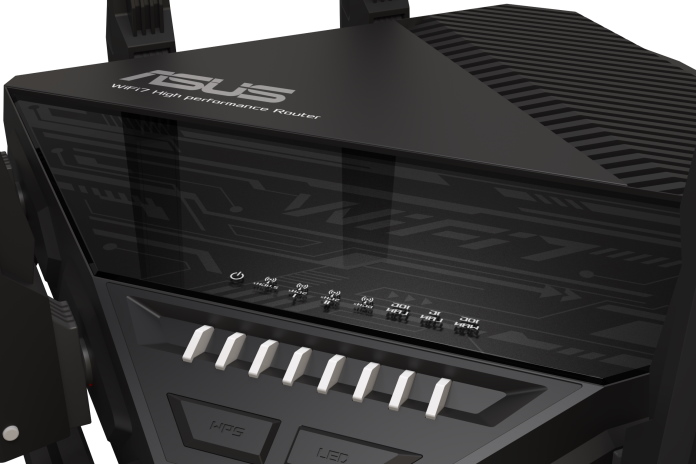 The next generation of wireless networking is here, and we have the routers you'll need to accelerate the network of your home or business. Ultrafast WiFi 7 (802.11be) shatters all boundaries to give you exceptional networking speeds for gaming, entertainment, and much more.
We're leading the charge into the new world of WiFi 7 with two new routers. For truly unleashed gaming, the ROG Rapture GT-BE98 stands alone as the world's first quad-band WiFi 7 gaming router, For homes and businesses, the ASUS RT-BE96U debuts as the world's first tri-band WiFi 7 router.
WiFi 7 opens the throttle of your wireless network
You asked for more speed, and WiFi 7 delivers. While WiFi 6 focused on congestion-busting tech designed for crowded networks, WiFi 7 kicks into high gear with new features that deliver faster wireless speeds than ever, all while retaining or refining the advantages of WiFi 6.*
It starts with ultra-wide 320MHz channels. WiFi 6E opened up access to the 6GHz band, and WiFi 7 lets you do more with it.** These wider channels with their higher capacity allow WiFi 7 routers to deliver higher performance and larger capacity. The 320MHz channel bandwidth on the 6GHz band offers data rates twice as fast as you could get through WiFi 6E. On top of that, 4096 Quadrature Amplitude Modulation (QAM) allows for greater amounts of data to be more densely embedded in each signal.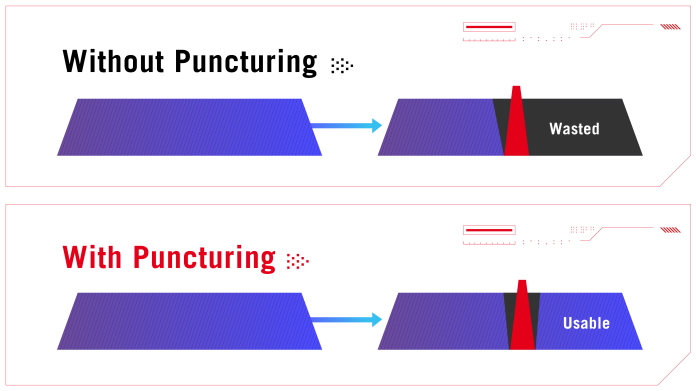 In the past, wider channels were impractical due to spectrum restrictions that may prohibit the use of part of the band. With Multi-RU and Puncturing, WiFi 7 devices will be able to take full advantage of the remaining part of the channels that is not being used or interrupted. This way, the WiFi bandwidth can be used efficiently to make data transmission quicker and more reliable.

Multi-link operation (MLO) allows devices simultaneously transmit and/or receive across different bands and channels, with separation of data and control planes. The parallel links enable faster speeds by aggregating bandwidth, with more reliable WiFi connections on multiple concurrently used bands.***
WiFi 7 vs. WiFi 6/6E vs. WiFi 5
WiFi 5
WiFi 6
WiFi 6E
WiFi 7
IEEE Standard
802.11ac
802.11ax
802.11be
Max data rate
3.5 Gbps
9.6 Gbps
46 Gbps
Bands
5GHz
5GHz
2.4GHz
6GHz
5GHz
2.4GHz
6GHz
5GHz
2.4GHz
Channel size
Up to 160MHz
Up to 320MHz
Modulation
256-QAM
1024-QAM
4096-QAM
MIMO
4X4 MIMO, DL MU-MIMO
8x8 UL/DL MU-MIMO
16x16 UL/DL MU-MIMO
Unprecedented bandwidth for gaming, entertainment, and much more
For CES 2023, we're breaking ground with two WiFi 7 routers: the ROG Rapture GT-BE98 and the ASUS RT-BE96U. WiFi 7 technologies let these wireless routers deliver a revolutionary networking experience.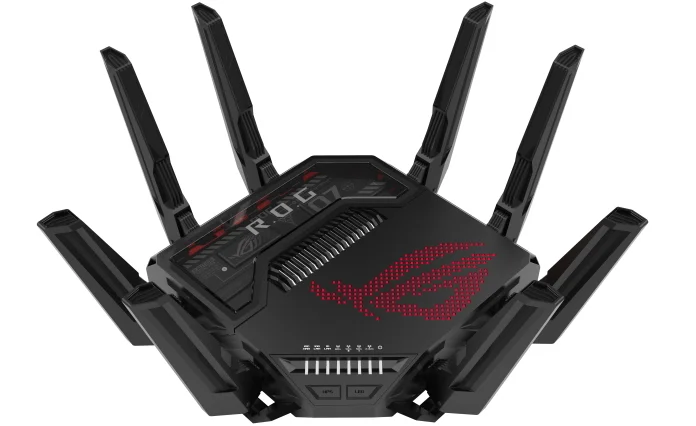 With up to 11,525 Mbps on the 6GHz band, 5,762 Mbps on each of its two 5GHz bands, and 1,376 Mbps on the 2.4GHz band, the quad-band GT-BE98 offers a staggering 25,000 Mbps of aggregate bandwidth for unparalleled gaming experiences. The tri-band RT-BE96U, on the other hand, offers up to 11,525 Mbps on its 6Hz band, 5,762 Mbps on its 5GHz band, and 1,376 Mbps on its 2.4GHz band for a massive aggregate bandwidth of 19,000 Mbps.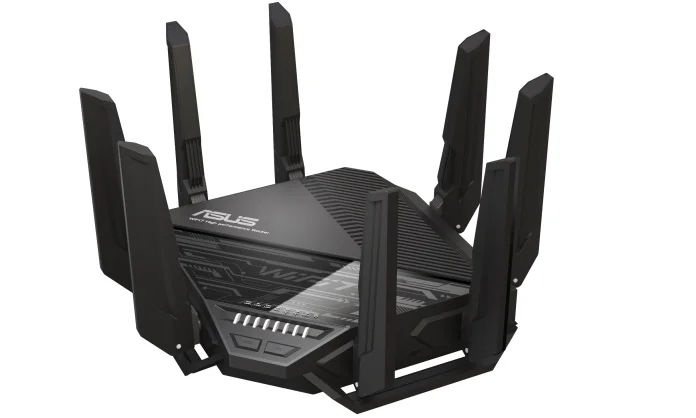 Both routers are powered by potent quad-core 2.6 GHz processors, and the GT-BE98 features three 10 Gb LAN ports (two LAN and one WAN/LAN) to handle the heaviest network traffic, while the RT-BE96U features a pair of 10 Gb ports. Enjoy expanded signal coverage and range through ASUS-exclusive RangeBoost Plus technology. The ROG Rapture GT-BE98 offers triple-level game acceleration that enhances connections from the local network all the way to a game server anywhere in the world.
Much more to come
As with every generation of WiFi technology, you'll need both a WiFi 7 router and WiFi 7-compatible devices to take full advantage of everything that the new standard has to offer. The ROG Rapture GT-BE98 and ASUS RT-BE96U prep you to hit the ground running as soon as WiFi 7 client devices hit shelves near you. We have many more announcements to make regarding WiFi 7 and our product lineup, including our ZenWiFi series, so stay tuned for the latest news. For more information on the pricing and availability of the ROG Rapture GT-BE98 and ASUS RT-BE96U in your region, please contact your local ASUS representative. Click here to learn even more about WiFi 7.
*WiFi 7 features requires WiFi routers and client devices with WiFi 7-supported operating systems to support the corresponding features.
**The 320Mhz in the 6 GHz band may be unavailable in some regions / countries due to regulatory restrictions.
***Firmware support for Multi-link Operation (MLO) on ASUS RT-BE96U/ASUS ROG Rapture GT-BE98 Pro is in development (as of September 2023) and will be released in late 2023 or early 2024.