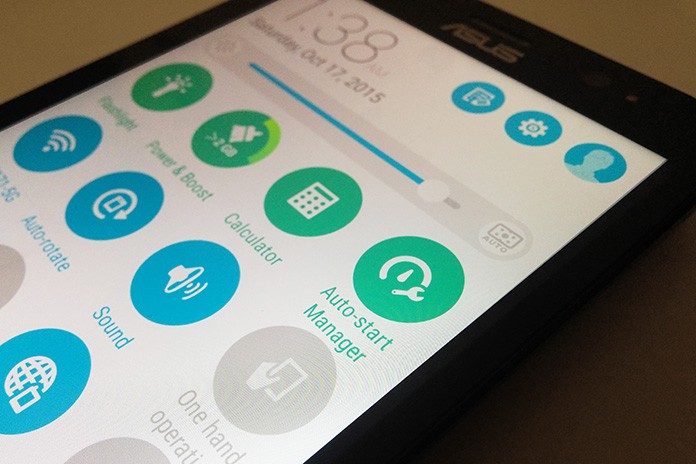 With the latest firmware update  WW_V2.20.40.97 (ZE551ML) and WW_V2.20.40.92 (ZE550ML), some of the people in the community noticed some changes in the way the phone managed apps. I wanted to take some time to go over what Auto-Start Manager is and what it does to help with memory and battery life.
Taking a step back, we realized that with a powerful Intel Z3580 processor clocked at 2.3GHz, the ZenFone 2 would require more juice. Initially, there were some concerns from the community about battery life and how they were experiencing 2-3 hours of Screen On Time (Settings > Battery > Screen); not satisfactory for a 3,000mAh battery. So the team made some tweaks to the UI with the goal of increasing battery life and improving RAM management.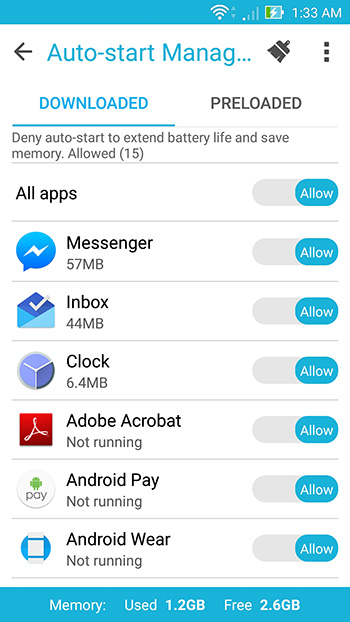 Auto-start Manager
This app is ASUS-exlusive and aims to optimize memory, improve system performance, and increase battery life. It is recommended that when new updates are installed, to check and make sure all the the apps you find important aren't automatically denied from start up. Usually apps that you download from the Google Play Store will be automagically managed and denied.
When you open the app, a list of downloaded and pre-downloaded apps will be featured with the switch on the right hand side with the words "Allow" or "Deny". At the bottom, you'll see the amount of memory that is available.
Soo….How do I use it?
To save memory and increase battery life, you'll want to deny apps that you don't want running in the background. Conversely, you want to "ALLOW" the apps you want to get notifications from (ie., SMS, email, facebook, twitter, clock/alarm).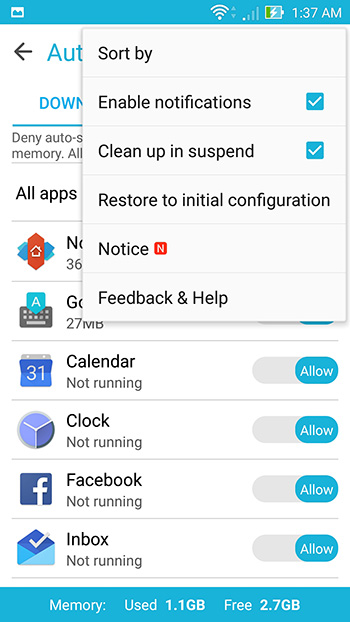 Next, if you want to, you can select the Clean up in suspend mode in the Auto-start Manager settings. What this does is clean the data of apps that you've set to "DENY" from running in the background. This means when you relaunch an app, it will restart from the load screen versus where you left it last. So if you're in a game that you've auto-denied, you'd choose NOT to select this option because it will restart the game instead of reopen where you left off. However, if that doesn't concern you, you can enable that mode and save more memory. Another thing you can do is boost your memory by tapping on the brush icon at the top of the screen. Once you're there, you can tap "Boost" at the bottom to help free up memory and become a bit speedier when opening multiple apps.
The thing to remember
Allow apps you need to get notifications from and deny the ones you don't. You'll see better RAM management and increased battery life so you can stay productive all day and ensure you have enough battery to last.