It's that time of year again. Winter has arrived, the holiday season is in full swing, and it's time to figure out the perfect gift for everyone on your list. Here are the best tech gift ideas for gamers, PC enthusiasts, and everyone else in your circle.
Complete gaming systems that go anywhere
ROG Strix Scar and Hero Edition gaming laptops
Lots of gamers have laptops on their lists this year, and there's no shortage of options with ROG. Our lineup ranges from the Zephyrus, which uses innovative cooling to squeeze high-end hardware into an ultrabook body, to the G703, which combines overclocked internals with a 144Hz display to create the ultimate desktop replacement. Between those extremes lie Scar and Hero editions of the Strix GL503 and GL703. These affordable all-rounders mix fast 120Hz displays with potent GeForce GTX 1060 graphics to create an impressively smooth cocktail for everyone from esports professionals to weekend warriors.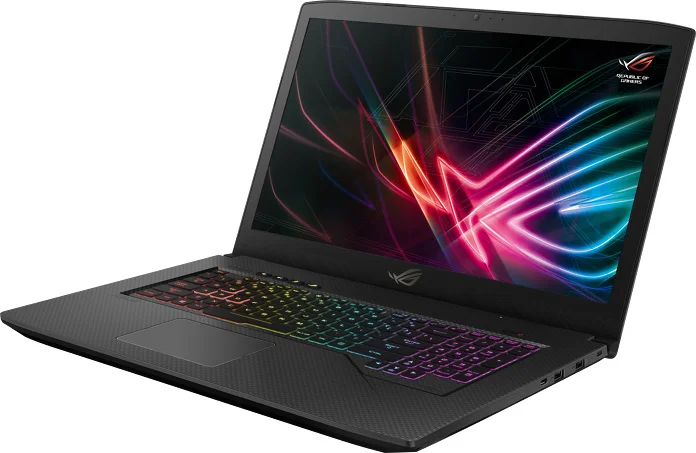 Each machine has a powerful Core i7-7700HQ quad-core processor backed by 16GB of RAM, a 256GB NVMe SSD, and a 1TB SSHD. The keyboards are tuned for gaming with n-key rollover, dedicated hotkeys, and customizable RGB illumination if you want to light up more than your Christmas tree. The Scar Edition caters to FPS players with styling patterned after Kevlar and highlighted WASD keys. Its 17.3" TN display has a quicker response time that reduces blurring with rapid motion like flick shots. The 15.6" IPS-type panel in the Hero Edition produces more colors across wider viewing angles, making MOBAs look especially vivid. Simulated dragon scales on the chassis and highlighted QWER keys complete the fantasy-inspired look.
Both editions sell for $1599 USD and $1999 CAD. The Strix Hero GL503VM-DB74's display is more versatile, making it ideal for gamers who also create a lot of content and watch a lot of videos, while the Scar GL703VM-DB74 is more tightly focused on first-person shooters. Check the table below for retailers stocking each model, and learn more about the lineup in our helpful guide.
ROG GR8 II mini gaming desktop
While consoles are a popular gift for the holidays, PCs can do better. The ROG GR8 II crams desktop parts into a four-liter chassis that's about the same size as an Xbox or PlayStation. Its GeForce GTX 1060 GPU is ideal for gaming on a big-screen 1080p TV. As we saw in two hands-on looks at the system, this little wonder also plays titles like Overwatch and Rocket League smoothly at 4K, and it's powerful enough to handle popular VR experiences with the latest headsets.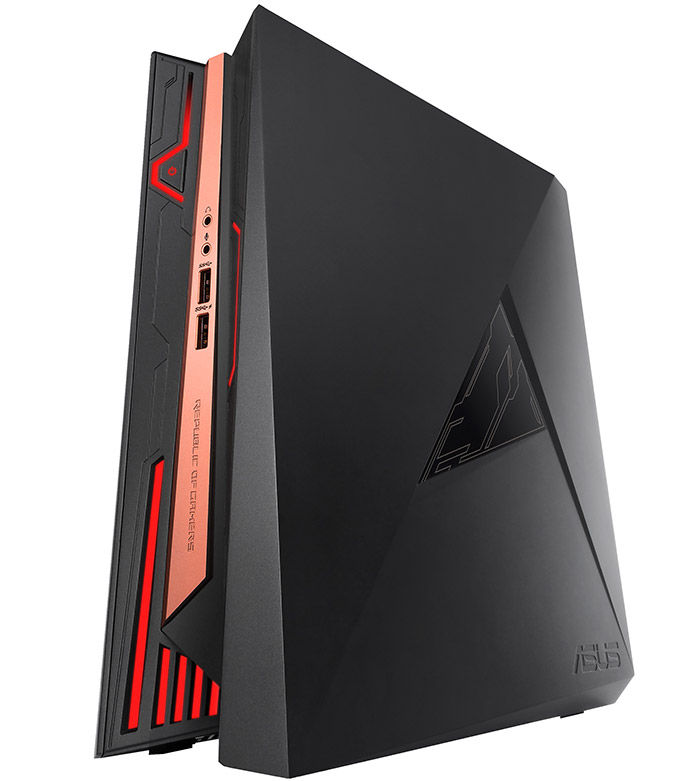 Everything you need is packed into the compact chassis. A quad-core Skylake processor offers great gaming performance with enough oomph for demanding workloads like video editing, dual-band 802.11ac WiFi makes it easy to connect from the living room, and support for dual-drive storage leaves plenty of room for overflowing game libraries. For an added festive touch, the integrated Aura Sync lighting that can coordinate a red and green glow across compatible ROG peripherals.
The GR8 II-T043Z pairs a Core i7-7700 processor with the 3GB version of the GTX 1060, then adds 16GB of RAM, a 512GB M.2 SSD, and a 1TB HDD for $1199 USD and $1589 CAD. It's still in stock at some retailers but is being replaced by a GR8 II-6GT024Z version with the same $1199 USD and $1589 CAD asking price. This new configuration drops the hard drive but upgrades to a GTX 1060 6GB card with more video memory and GPU muscle to improve gaming and VR performance.
One step down the ladder lies the GR8 II-T069Z, which opts for a Core i5-7400 CPU, GTX 1060 3GB GPU, and 512GB SSD for $999 USD and $1319 CAD. The entry-level config pairs the same CPU and GPU with 8GB of RAM and a 1TB HDD for $899 USD and $1189 CAD.
Hardcore components for custom-built battlestations
ROG Strix GTX 1080 Ti graphics card
Whether you're playing games or exploring virtual reality, your graphics card is the single most important factor for performance. More horsepower translates to a better experience, and right now there's no bigger engine than the GeForce GTX 1080 Ti. The GPU is derived from the "Big Pascal" chip behind the Titan XP, but the clock speeds are turned up, and we push them even higher with the factory overclocked ROG Strix.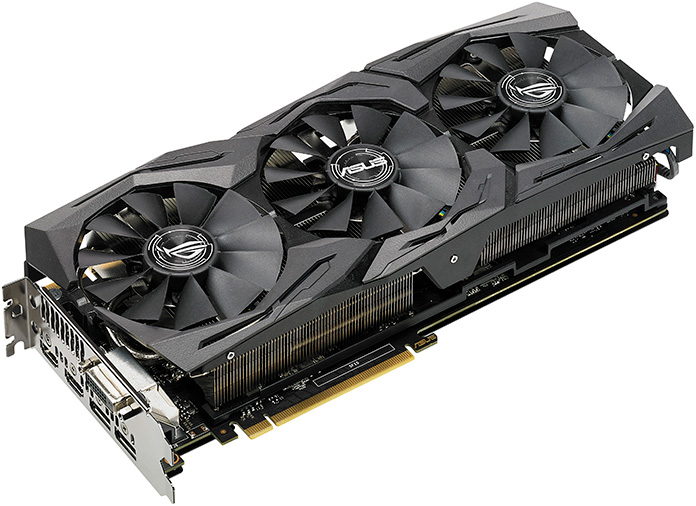 Cooling is critical to maintaining higher clocks, so we strap the Strix to a beefy 2.5-slot cooler with 40% more surface area than its dual-slot predecessor. A flatter MaxContact base improves thermal transfer from the GPU, while dual Fan Connect headers allow you to augment the cooling with two system fans. Onboard intelligence controls the fan speeds automatically and even turns them off completely under lighter loads. The Strix is also part of our Aura Sync ecosystem, which synchronizes the card's RGB lighting with compatible system components from motherboards to monitors. You can even connect an RGB light strip directly to the card.
The Strix GTX 1080 Ti does it all: smooth gaming at 4K resolution, triple-digit frame rates for high-refresh monitors, and stutter-free VR with the latest headsets. This premium gaming experience doesn't come cheap, with the card ringing in at $779.99 USD and $1029.99 CAD, but you get what you pay for. If your budget is smaller, check out Strix versions of the GTX 1060, 1070 Ti, and 1080. They share similar features and styling, albeit with lower performance than the flagship.
ROG Swift PG348Q gaming monitor
While the graphics card bears the responsibility of generating frames per second, the display is what turns FPS into a moving picture you actually see. We have a diverse cast of gaming monitors, including the ROG Swift PG248Q with an esports-grade 180Hz refresh rate and the affordable VG245H with Adaptive-Sync and low input lag for console gaming. But the big daddy of the division is the ROG Swift PG348Q, which spreads its ultra-wide aspect ratio across a panoramic 34" curve that stretches into your periphery.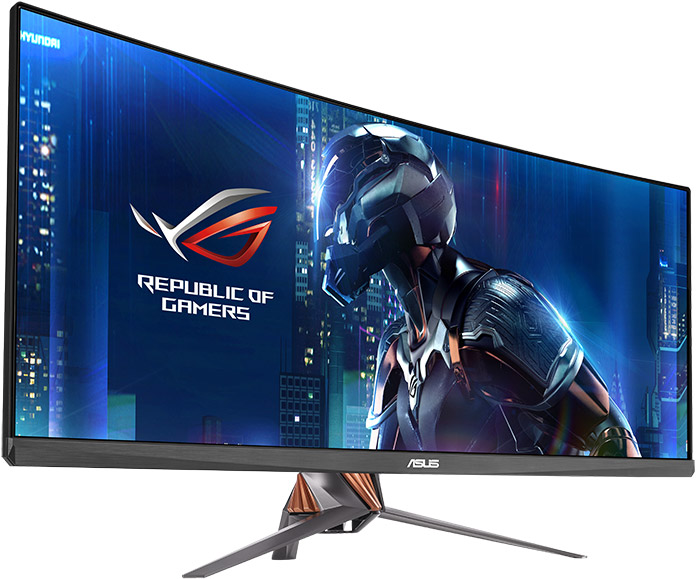 The PG348Q's balanced blend of resolution, speed, and picture quality truly elevates your gaming experience. Its 3440×1440 UWQHD resolution produces a detailed picture while still allowing you to maintain triple-digit frame rates with a single graphics card. You actually see those extra frames thanks to the 100Hz maximum refresh rate, which uses G-Sync to smooth out stuttering and eliminate tearing when paired with GeForce GPUs. And they look amazing on the IPS-type panel, whose vivid colors are visible across wide viewing angles. Add a frameless design that makes a striking impression even when the display and projected desk lighting are turned off, plus our usual Eye Care extras to help you binge-play through your haul from the Steam holiday sale.
A premium gaming monitor for those who have been extra nice this year, the ROG Swift PG348Q sells for $1299 USD and $1899.99 CAD. Make someone's morning at the retailers below, and see our hands-on look at the monitor for more.
ROG Sheath and Scabbard desk mats
Desk mats are rapidly replacing mouse pads for gamers and PC enthusiasts, and it's no wonder. With humongous footprints, they provide plenty of real estate for a keyboard, mouse, gamepad, and phone while still leaving room for enough snacks and beverages to sustain those marathon gaming sessions you've heard so much about. There's room for your cat to stretch out, though that won't necessarily keep them from chasing your mouse. At least you'll both be comfortable on the slightly cushioned surface.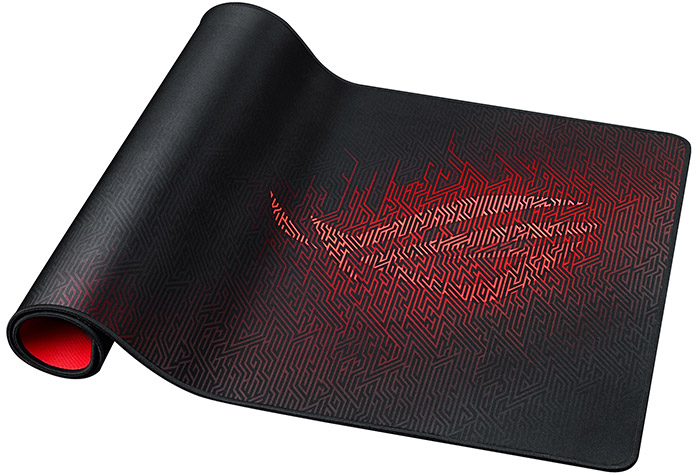 At an expansive 35.4" x 17.3", the ROG Sheath is our largest desk mat. It can easily handle two keyboards and mice or double as a child's yoga mat in a pinch. The new ROG Scabbard is slightly shorter, at 35.4" x 15.7", but it's made with splash-proof Cordura Lite fabric that can survive accidental spills. Also used in outdoor gear, this stain-resistant material makes the Scabbard especially durable.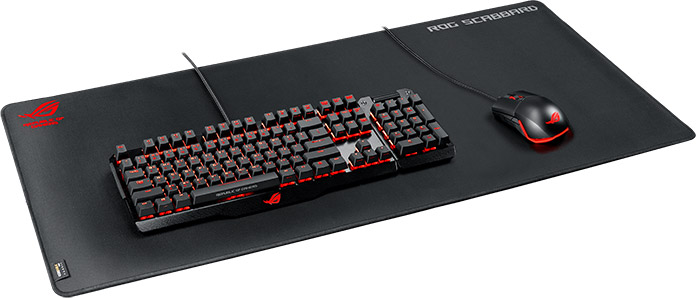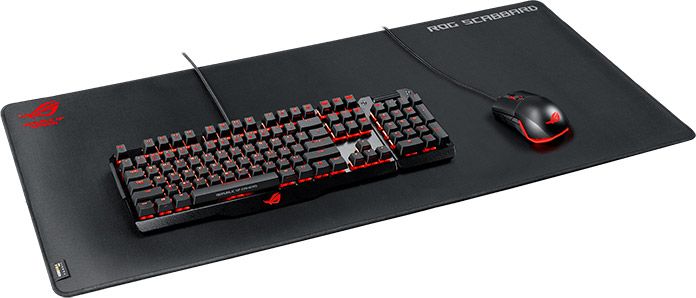 Despite their size, ROG desk mats roll up for transport, so you can easily stuff them into a stocking. The Sheath sells for $39.99 in the USA and $49.99 in Canada, while the Scabbard is available for $49.99 USD and $69.99 CAD.
New motherboards for Coffee Lake and Ryzen CPUs
Prime Z370-A and ROG Strix Z370-I Gaming
The latest Coffee Lake CPUs from Intel bring more cores to each price point while maintaining the high clock speeds vital for peak gaming performance. Our Z370 motherboard guide has the goods on the full family, from ROG through Prime and TUF Gaming, and we've selected a couple of favorites to suit different personalities: the Prime Z370-A and ROG Strix Z370-I.
Designed for black-and-white builds and prosumer desktops, the Prime Z370-A wraps cutting-edge overclocking and cooling controls in a refined exterior that departs from typical gamer styling. You still get Aura Sync illumination and support for LED strips, but the lighting is optional; the white accents and brushed metal look fantastic with or without an accompanying glow. The Prime Z370-A is all about the little details, like the heatsink that keeps your primary M.2 SSD cool, and sensor grouping that lets your cooling react to loads that heat up different components. You can get it for $179.99 USD and $230.99 CAD from the retailers listed in the table below.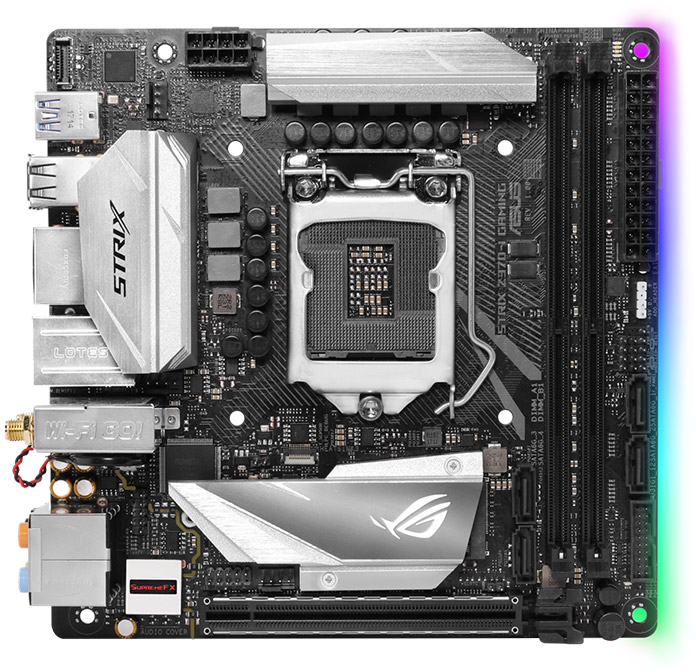 Small-form-factor systems need not compromise with the Strix Z370-I Gaming, which brings ROG extras to a Mini-ITX footprint that's perfect for compact builds. Despite diminutive proportions, the board has must-have upgrades like one-click auto tuning, SupremeFX audio, Aura Sync lighting, and support for addressable RGB devices like lighting strips and fans. Dual-band 802.11ac WiFi is standard equipment, and we even managed to squeeze in a heatsink for one of the two M.2 slots. The Strix Z370-I Gaming shows that good gifts really do come in small packages; find it at the retailers below for $189.99 USD and $250.99 CAD.
ROG Crosshair VI Hero and Strix B350-F Gaming
AMD's Ryzen CPUs offer phenomenal bang for your buck, with eight cores and easy overclocking at affordable prices. Pair them with one of our AM4 motherboards for the PC builder on your list. You can get the lowdown on the full lineup in our Ryzen motherboard guide, but there are a couple of standouts worth singling out: the Crosshair VI Hero and Strix B350-F Gaming.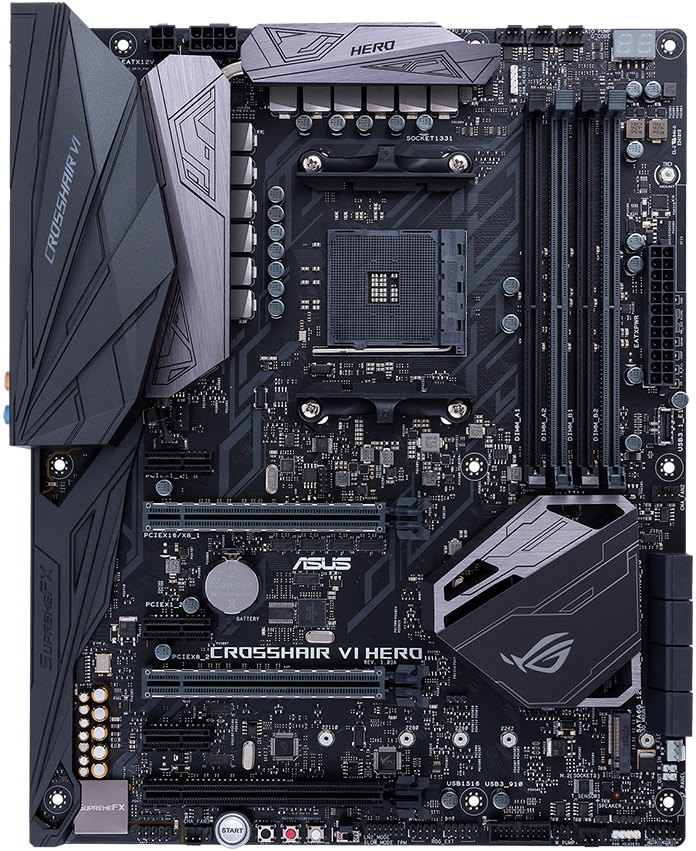 The Hero has all the right ingredients for tricked-out Ryzen builds. It's based on the high-end X370 chipset and can run dual graphics cards in tandem if you want to load up on GPU power. There are dedicated headers for powering and monitoring custom liquid cooling loops, plus dual RGB strip headers capable of illuminating an entire PC inside and out. And the port payload includes all the USB 3.1 Gen2 flavors—Type-C, Type-A, and front-panel—in addition to loads of extra USB ports for VR trackers and other peripherals. Asking price: $269.99 USD or $356.99 CAD with onboard WiFi and $254.99 USD or $328.99 CAD without.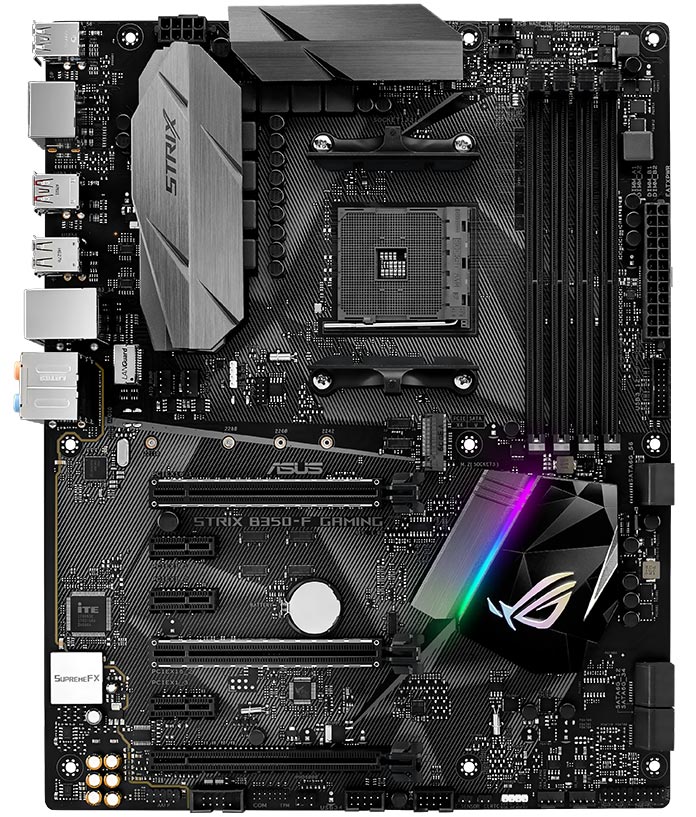 For builders on a budget, the Strix B350-F Gaming marries Ryzen and ROG essentials. It has loads of overclocking and cooling options, including one-click auto tuning for your CPU and fans, and the ability to detect GPU temperatures on select graphics cards to optimize airflow for gaming. Reinforced SafeSlots are ready for heavy GPU heatsinks, dual RGB strip headers can light up your entire machine, and SupremeFX audio improves recording quality for streaming. That's everything you need for only $124.99 USD and $164.99 CAD, freeing up more funds to invest in a faster processor and GPU.
Slim ultrabooks with quad-core horsepower
ZenBook 3 Deluxe with Kaby Lake-R
Wrapped in stunning blue aluminum with gleaming gold trim, the ZenBook 3 Deluxe is a luxury ultrabook that exudes elegance. But don't be fooled by its lean build. Already upgraded to Intel's eighth generation Kaby Lake-R CPU, this laptop packs a serious punch and is perfect for the photographer or video editor in your life who lugs around a bulky, old 'pro' laptop for work.
The newest Kaby Lake chips mark the first time Intel has squeezed four cores into a 15W thermal envelope, giving slimmer laptops the bump in performance necessary for more serious workloads. The Deluxe is based on a Core i7-8550U quad-core CPU backed by 16GB of RAM, making it tailor-made to tackle demanding tasks like image processing, video encoding, and 3D rendering.
Measuring half an inch thick with narrow bezels that maximize screen real-estate for work and play, the ZenBook packs a 14" Full HD display into the body of a 13" laptop. A 512GB M.2 SSD ensures a fast boot and quick load times for your favorite apps while still leaving plenty of space for files. Support for regular USB Type-A as well as reversible USB Type-C allows you to connect external drives without the need for dongles, but the Deluxe delivers on extras, too. It ships with a stylish sleeve as well as the ASUS Mini Dock, which adds a second USB Type-C, a third Type-A, and an HDMI port for connecting to a larger external display.
Priced at $1699 USD or $2229 CAD, the ZenBook 3 Deluxe is a performance ultrabook built for creatives and professionals thirsty for more power than a typical ultrabook but turned off by thicker, heavier laptops geared towards pros. Check the table below for retailers selling the ZenBook 3 Deluxe in your country. For more on how the quad-core Kaby Lake-R version of the ZenBook 3 Deluxe fares against the same laptop with a dual-core chip, check out our performance comparison here.
ZenBook UX330 with Kaby Lake-R
The ZenBook UX330 is the perfect balance of price, performance, and portability. And it doesn't sacrifice style to get there, either. If you're shopping for a high school senior or an undergrad student, this is the laptop they want.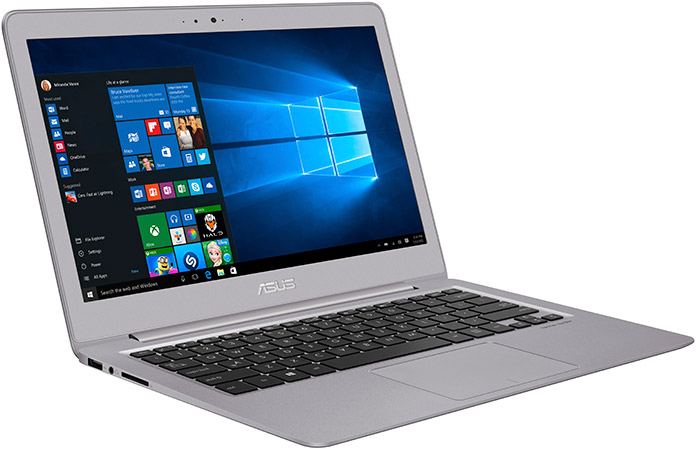 Like the premium ZenBook 3 Deluxe, the UX330 is powered by a quad-core CPU from Intel's eighth gen Kaby Lake-R series. The Core i5-8250U is matched with 8GB of RAM for seamlessly shifting between class assignments, browsing the web, and streaming music and movies, but there's enough power for some light photo and video editing on the side, too. The UX330's 13.3" Full HD display has a matte coating to cut glare from harsh fluorescent lights, and wide 178° viewing angles ensure everyone has a good view during group projects and Netflix binges alike.
Despite its slim 12.3-mm profile, the UX330 features a regular USB-A port for thumb drives, a Micro SD card reader for transferring photos, and a Micro HDMI port for hooking up to an external monitor. It's all wrapped up in a sleek Quartz Gray package that weighs just 2.6 lbs, and all-day battery life further lightens the load by eliminating the need to pack a power adapter each morning. Priced at $749 USD or $1299 CAD, the ZenBook UX330 with Kably Lake-R is found exclusively at Amazon in the US and Canada.
Regardless of the model of ZenBook you choose, from the ZenBook UX330 right up to the ZenBook Pro UX550, you'll be helping someone in need. As part of the ASUS Wave Makers Holiday Giving Program, for a limited time, every ZenBook purchased will help Water.org provide one person with 10 years of access to safe water.
ZenBook UX330UA-AH55
Price
$749 USD
$1299 CAD
Availability (USA)
Amazon
Availability (Canada)
Amazon
Affordable laptops that do it all
VivoBook S510
A lot of today's lightweight and slim laptops are in the 13.3" category. After all, one of the quickest ways to cut bulk and weight is to make the laptop itself smaller. But that isn't necessarily the best solution for folks who want more screen real estate, whether it's for work, play, or both. And it can be hard to find a bigger laptop that isn't bigger in every aspect, especially if your budget is on the smaller side.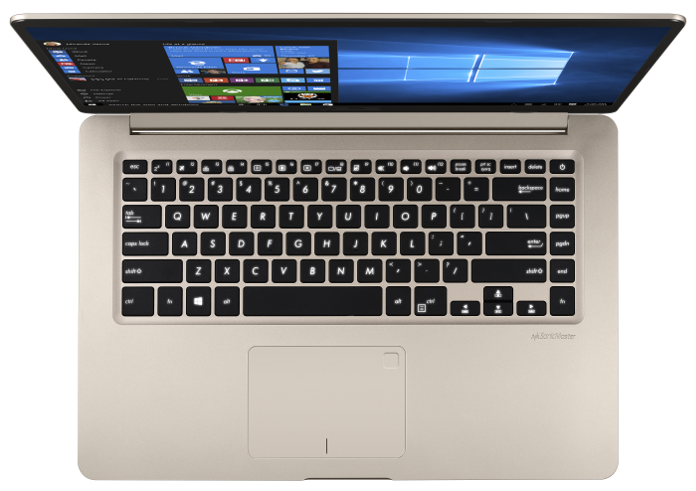 The VivoBook S510 kicks things up a notch in terms of size with a 15.6" display, but it maintains portability with a 0.7" chassis that weighs in at a neat 3.5 lbs. An aluminum lid in Champagne Gold is adorned with a hairline finish that glimmers in the light. This is a great laptop for the younger crowd, who use the same device for homework and Netflix but don't want something that's all boring, black plastic. Based on an Intel Core i5-7200U or Core i7-7500U processor and 8GB of RAM, the VivoBook S packs enough power for productivity apps like Powerpoint, Microsoft Word, and Excel, while the integrated Intel HD 620 graphics can handle a few rounds of CS:GO and Rocket League. The headline is the Full HD display, though. It's vivid and bright, with a matte coating that keeps pesky reflections from ruining movie night.
If streaming Netflix and Spotify aren't your bag, or you want to watch TV away from WiFi, the 1TB of onboard storage has plenty of room for media and homework assignments. The VivoBook S has all the usual connectivity suspects, including three traditional USB Type-A for thumb drives or your favourite mouse, as well as the more modern reversible USB Type-C, a MicroSD slot for transferring photos, and a full-sized HDMI port for connecting to monitors or even the TV.
The VivoBook S is priced at $699 USD and $949 CAD for the Core i5 model, but if you want to boost performance with a Core i7 CPU and a snappy M.2 SSD, you can pay just a hundred bucks more in the US or $200 more in Canada for the upgraded configuration. Read more about the VivoBook S and how it fares day-to-day here.
VivoBook Pro N580
If you're shopping for a budding gamer or video editor, the VivoBook Pro N580 offers more power than the S510 with the same subtle flair that keeps things stylish but professional. Swathed in matte metallic gold with an aluminum lid and keyboard deck, high-end touches like a hairline finish, backlit keyboard, and tapered profile add a lick of luxury to this mid-range laptop.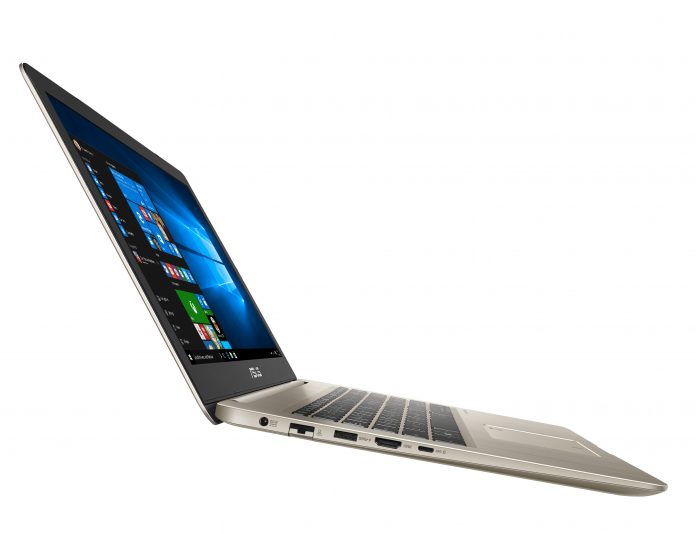 The VivoBook Pro's roomy 15.6″ Full HD display offers 100% sRGB coverage with great viewing angles and enough detail for photo editing. Inside the chassis is a Core i7-7700HQ quad-core CPU along with 16GB of RAM and a GeForce GTX 1050 GPU. Together, they make light work of more complicated editing jobs involving lots of layers and effects. Though discrete graphics aren't a must-have for content creation, GPU acceleration can offer a boost by speeding up rendering, enabling content creators to churn out new projects that much faster.
If the person you've got in mind is more interested in video games than video editing, the GTX 1050 is the same GPU you'll find in our entry-level ROG Strix GL503 and GL703 gaming laptops. Serious gamers will benefit from a faster chip, but the GPU is powerful enough for letting loose with classics like CS:GO and Rocket League after school or work, and it can even serve up 60 FPS in more demanding games like Overwatch and Doom.
The VivoBook Pro N580 goes for $1299 USD or $1699 CAD for our neighbors in the Great White North. Check the table below for retailers selling the Pro in your country.
Slick smartphones built for photography
ZenFone 3 Zoom
The ZenFone 3 Zoom is built for shutterbugs who spend their lives documenting the world around them. With a 5.5" AMOLED display and a lightweight Navy Blue aluminum body, this compact smartphone offers total freedom from hefty camera equipment. A dual-camera setup in the back boasts two 12MP sensors with different lenses to enable a wider range of photography. While most smartphones make do with digital zoom, the Zoom's combination of 25-mm and 56-mm lenses facilitates 2.3x zoom. A quick tap of the on-screen shortcut brings your subject closer without any of the lost quality that you get with digital zoom. A third camera up front features a 13MP sensor for amazing selfies, day or night.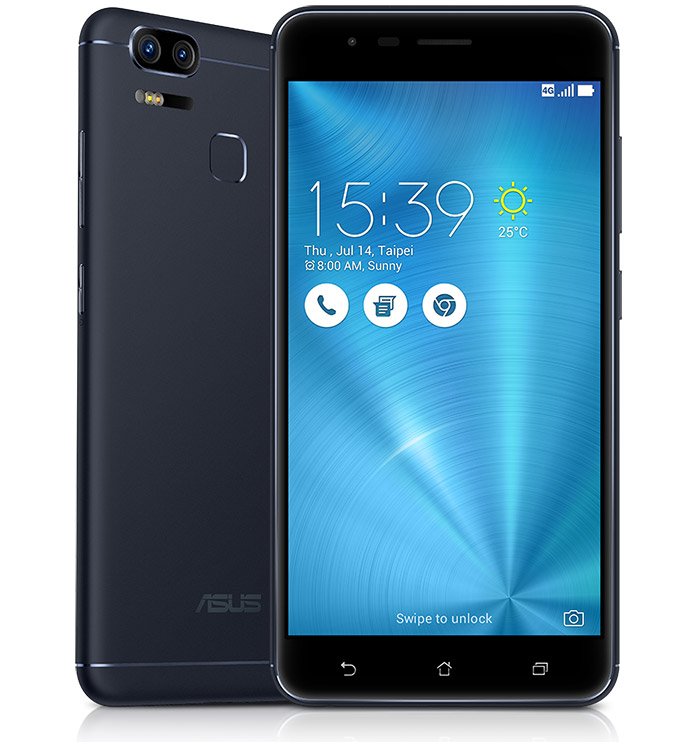 The ZenFone 3 Zoom's triple threat is complemented by 19 dedicated shooting modes to ensure you get the best shot possible no matter where you are. Manual mode offers control over shutter speed, exposure values, white balance, ISO, and focus for people ready to up their photography game with DSLR-like controls. If you prefer to point and shoot, there are 18 other modes on hand to capture specific scenes in the best possible light, whether that's a panoramic picture from atop a mountain, a slowmo video of a buddy diving into the pool, or a professional-looking portrait photo of man's best friend. It's all powered by a 5,000mAh battery that handily gets you through photo-heavy days with enough juice left over to back everything up to the cloud before bed. Priced at $329 USD and $479 CAD, the ZenFone 3 Zoom is available at the retailers listed in the table below.
ZenFone 4 Pro
While all of the phones of the ZenFone 4 lineup feature high-end finishes, including dual cameras and fingerprint sensors, none of them come close to matching the luxury of the ZenFone 4 Pro. Built for smartphone addicts whose lives revolve around their phones, this all-glass phone sports top-of-the-line components and is all smooth metal and satin glass.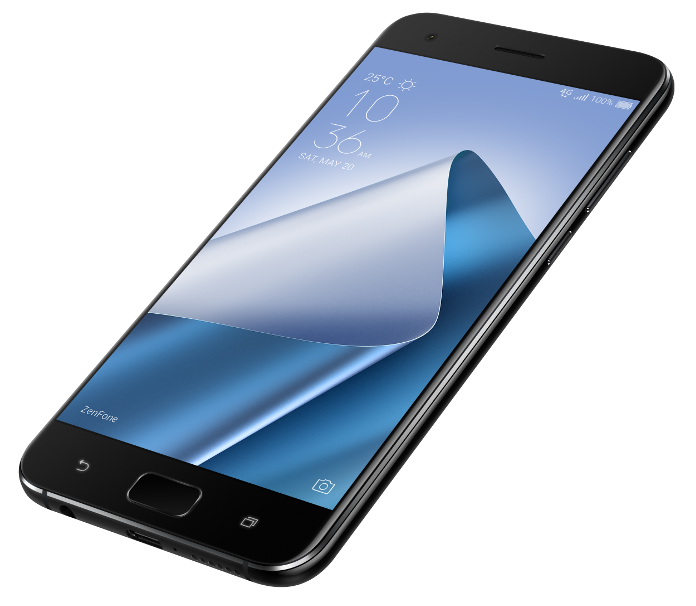 With a spacious 5.5" Full HD AMOLED display, the ZenFone 4 Pro calls upon a compact chassis to maintain comfort during one-handed use. Slim 2.1-mm bezels prevent this phone from entering phablet territory, and diamond-cut chamfered edges help prevent the shiny metal frame from slipping out out of your grip as you scroll through your social feeds. Like any flagship worth its salt, the Pro is powered by Qualcomm's Snapdragon 835 SoC. It pairs an octa-core Kryo 280 CPU with 6GB of RAM for buttery smooth multitasking, and Adreno 540 graphics deliver awesome fun in demanding games like Asphalt 8: Airborne.
Being able to take awesome photos with your phone probably ranks second only to being able to call 911. The ZenFone 4 Pro's main camera features a 12MP sensor with enhanced low-light performance and nine camera modes, including Pro mode, which lets you fiddle with shutter speed, ISO, and white balance among other settings (check out the ZenFone 3 Zoom camera guide to get to grips with these manual controls). That's complemented by a second camera with a 16MP sensor and a 50-mm lens for capturing awesome photos at 2x optical zoom. Finally, there's the all-important front-facing camera. This 8MP sensor captures high-resolution selfies with loads of detail, and it has a dedicated Beautification mode that can dial the detail right back down to where it belongs, softening your skin, and even adding rosy cheeks and bigger, brighter eyes.
Eking out more than a day on a single charge isn't difficult when you're dealing with mid-range parts, but the ZenFone 4 Pro's 3600mAh battery is good for at least a day even with its high-end internals. On lighter days, you could skip your nightly charge altogether.
Priced at $599 USD and $899 CAD, the ZenFone 4 Pro ships with a low-profile case so there's no need for stocking stuffer extras. You can find it at the retailers listed below.
The little things that make life easier
Lyra mesh networking
WiFi issues tend to be more pronounced over the holidays. There are too many guest devices competing for limited bandwidth in homes that often suffer from incomplete coverage at the best of times. Our new Lyra mesh networking system fixes the problem by replacing a centralized router with a collection of individual hubs that spread a strong connection throughout your home. Each hub offers dual-band 802.11ac WiFi, and they're connected by a separate 5GHz wireless backchannel. Gigabit Ethernet is also available for both client devices and the mesh backchannel.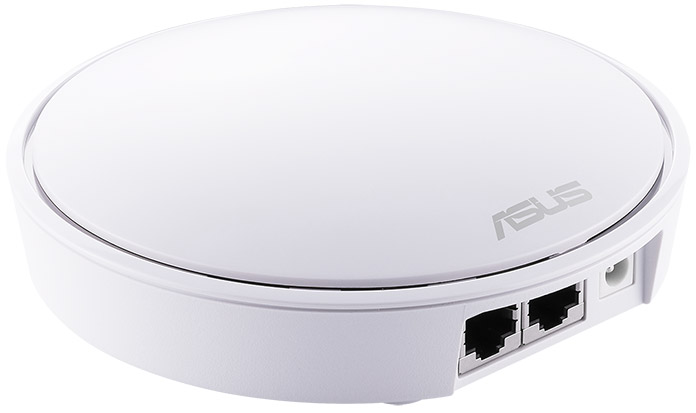 While distributing WiFi between multiple hubs sounds complicated, Lyra makes the experience simple. Devices see a single network, they're automatically connected to the hub with the best signal, and they're passed between hubs seamlessly as you move through the house. You can carry your streaming fire log from room to room without interruption. The setup process takes only minutes using an intuitive smartphone app that also lets you easily prioritize traffic, block objectionable content, and activate a separate wireless network for guests. AiProtection provides updated security by synchronizing with Trend Micro's database to prevent malicious sites from infecting your network.
Lyra's unobtrusive design and corner-to-corner coverage are a perfect fit for any home. You can read more about it this hands-on article. Three-hub packs are available for $399.99 USD and $499.99 CAD from the retailers listed below.
Chromebook C302
With the widespread adoption of cloud-based productivity suites, like Google's own G Suite and Microsoft's Office 365, Chromebooks have graduated from the classroom and are a great option for anyone who spends most of their time in a browser. The majority of options available are budget-oriented and lack the premium feel of luxury laptops geared towards professionals, but not the Chromebook Flip C302. It's a versatile 2-in-1 laptop that offers the speed, security, and convenience of ChromeOS in a sleek, lightweight package.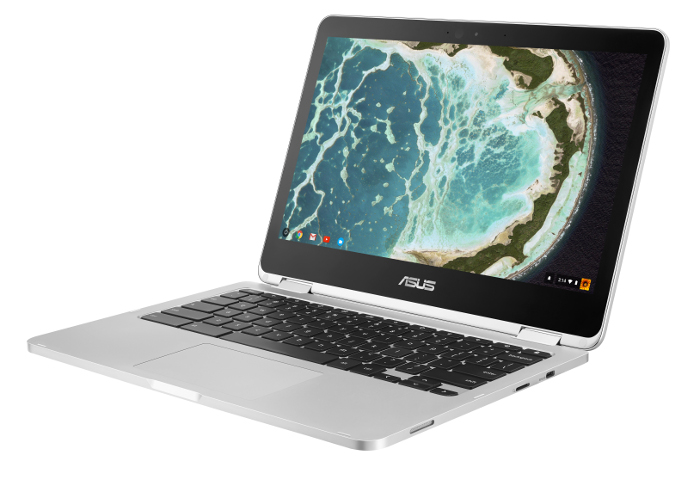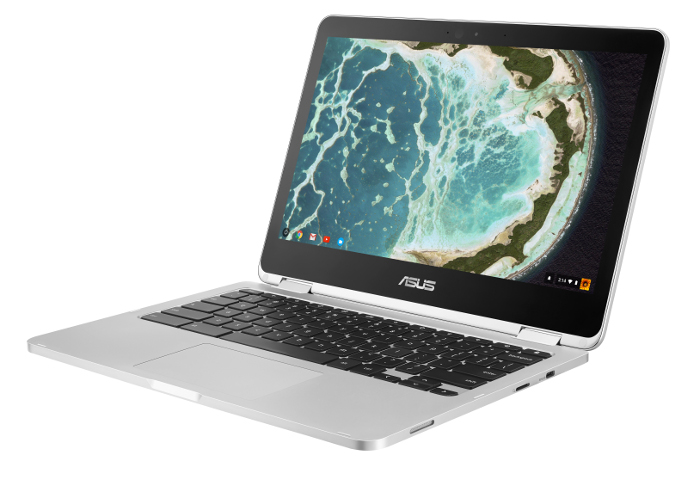 The Flip features an all-metal chassis coupled with a 12.5" Full HD display that flips 360° to convert to tablet, tent, and stand modes. While support for Android apps makes the C302 a prime candidate for movies and entertainment, this polished convertible packs enough raw power for proper work, too. Under the hood you'll find a Core M3-6Y30 dual-core CPU from Intel. It's paired with 4GB of RAM for seamless multitasking across multiple Chrome windows as well as your favorite Android apps, like the mobile versions of Word and Powerpoint. A full-size, backlit keyboard makes working into the night super comfortable, and though lots of Chromebooks make do with just a small amount of flash, a whopping 64GB of onboard storage makes working offline with the C302 an absolute breeze. Priced at $469 USD and $649 CAD, it's perfect for professionals and students. Check the table below for retailers carrying the Chromebook Flip C302 in the US and Canada.
MB16AC portable monitor
Once you've made the switch to dual monitors, it's hard to confine yourself to a single laptop display when away from the comforts of your desk setup. But there's no need, because our MB16AC portable monitor can go anywhere your notebook does, providing a handy second screen for managing multiple documents, presenting to groups, and catching up on Netflix while you finish the day's emails. The IPS panel's 1080p resolution and wide viewing angles are especially good for distracting yourself with videos, and the flicker-free backlight and blue light filter make late nights easier on the eyes.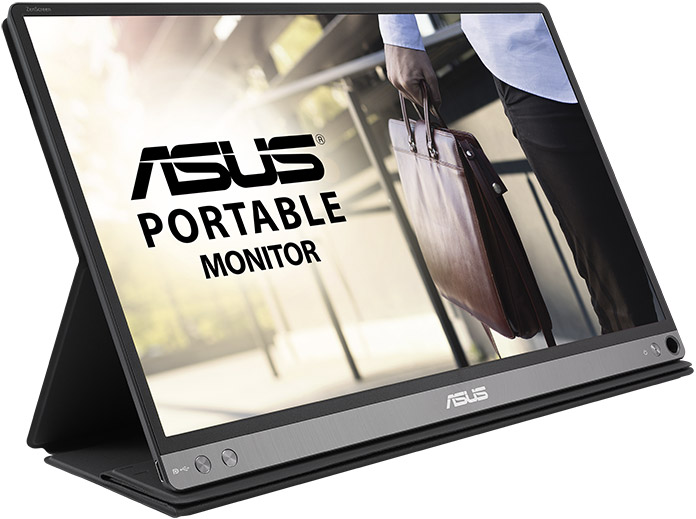 At only 8 mm thick and 1.7 lbs, the 15.6" display is easy to carry in a briefcase or backpack. Its smart case folds into a stand for landscape or portrait orientations, and with our DisplayWidget utility, Windows detects the screen's orientation automatically. Power and video are both supplied over a single Type-C USB connection that doesn't require any software, making setup a cinch. Software also allows the MB16AC to work with old-school Type-A ports for maximum compatibility.
A unique gift for professionals who are frequently on the road and students who don't want to be shackled to desktop displays in their dorms, the MB16AC sells for $249 USD and $329 CAD. Add it to someone's portable arsenal at the vendors below.