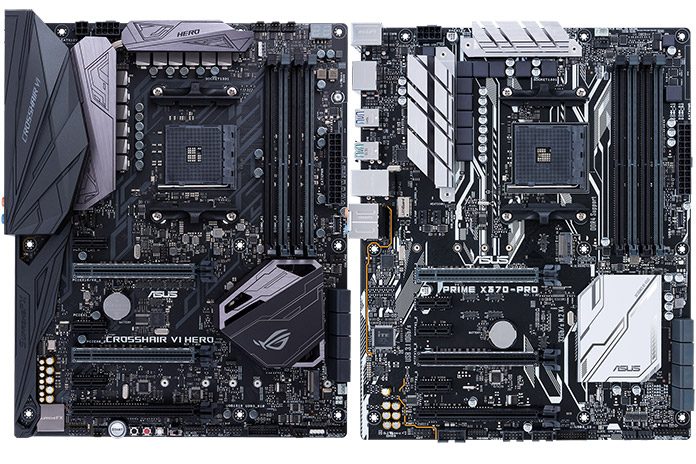 Years in the making, Ryzen is almost upon us. The next-generation AMD processor boasts a brand-new Zen microarchitecture that's faster and smarter than its predecessor. It's also going to be available with up to eight cores and 16 threads on a single chip, providing loads of cylinders for power-hungry gearheads, gamers, and people who want to do more with their PCs.
Ryzen rides a new AM4 socket with a few tricks up its sleeve, including native support for DDR4 memory and NVMe storage. You're going to need a new motherboard to match, and we've got a family of options to suit different systems, from the loaded ROG Crosshair VI Extreme to the microATX Prime B350M-A. This guide will help you pick the best AM4 motherboard for your Ryzen build.
Meet the AM4 motherboard platform
Ryzen has everything you'd expect: lots of powerful CPU cores, a dual-channel DDR4 memory controller, and 16 PCI Express 3.0 lanes for graphics. But it also boasts expanded I/O in the form of integrated USB and storage controllers, including a quad-lane interface for NVMe SSDs. Bringing this connectivity into the processor puts devices in the center of the action—and frees them from sharing interconnect bandwidth with everything tied to the chipset.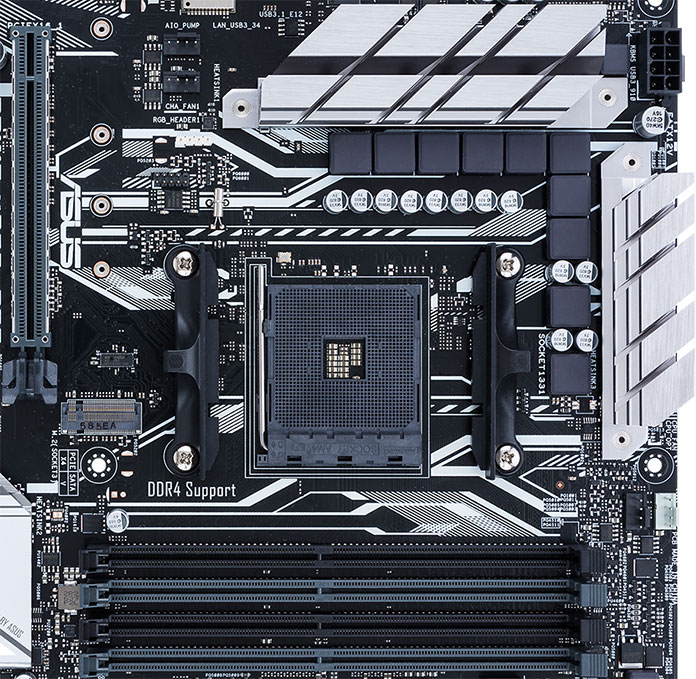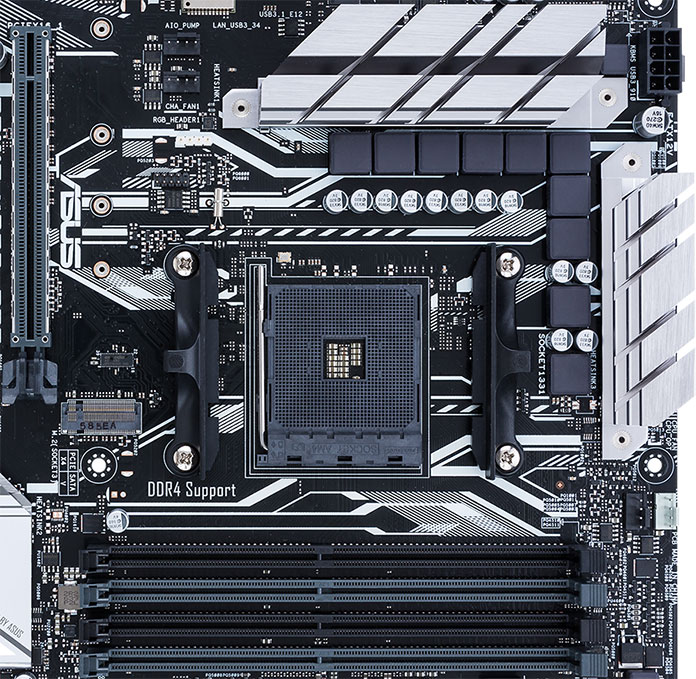 There's more to AM4 than just Ryzen. The socket will host upcoming 7th-generation A-series and Athlon processors. The A-series APUs incorporate Radeon integrated graphics, which is why most of our AM4 boards have display outputs. Like the Athlons, they're capped at four CPU cores, eight PCIe lanes for discrete graphics, and two lanes for NVMe SSDs. The last couple of cutbacks hamper the bandwidth we can deliver on the motherboard, so some of the details on the following pages apply to Ryzen only. See the complete specifications on our product pages for a full rundown of the caveats when using A-series and Athlon processors.
The AM4 family shares a selection of chipset sidekicks that act as I/O hubs. These "south-bridge" components all have native USB 3.1 connectivity capable of hitting speeds up to 10Gbps; SATA ports that can be configured in RAID for added performance, redundancy, or both; and PCIe 2.0 lanes for slots and devices with lower bandwidth requirements. Bandwidth to the processor is more important, so the chipsets are linked to the CPU with a speedy four-lane PCIe 3.0 interconnect.
| | X370 | B350 | A320 |
| --- | --- | --- | --- |
| Overclocking | Y | Y | N |
| PCIe 3.0 x8/x8 | Y | N | N |
| PCIe 2.0 | 8 | 6 | 4 |
| USB 3.1 | 2 | 2 | 1 |
| USB 3.0 | 6 | 2 | 2 |
| USB 2.0 | 6 | 6 | 6 |
| SATA | 6 | 4 | 4 |
| RAID | 0,1,10 | 0,1,10 | 0,1,10 |
The X370 is the full-fat Frappuccino of the bunch. It's the only one that unlocks Ryzen's ability to split PCIe lanes between a pair of x16 slots for double-barreled SLI or CrossFireX. Teaming GPUs is practically required for 4K gaming at 60 FPS and max settings, and it can help smooth out demanding VR experiences and saturate ultra-high-refresh gaming monitors. The X370 also has more PCIe for additional slots and devices, more SATA ports for bigger RAID arrays, and more USB for extra peripherals.
Overclocking is another high-profile feature, but it's not an exclusive. The X370 and its scaled-back B350 sibling can both exploit Ryzen's OC-friendly unlocked multiplier to push your CPU to its limits. They both have dual USB 3.1 ports, as well, but the B350 drops a handful of PCIe lanes and I/O ports, making it more appropriate for modest builds.
Dialing back to the A320 takes overclocking off the table and cuts the I/O even further. This chipset is meant for entry-level systems, and we're not sharing details about our associated motherboards just yet. We do, however, have lots to say about what's going into the new boards based on the other chipsets.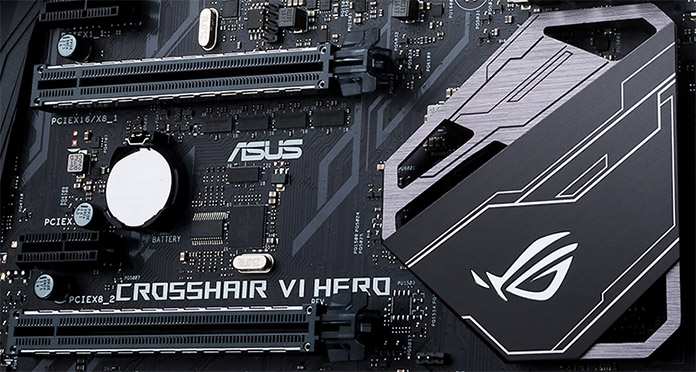 Built with the latest ASUS innovations
In addition to delivering AMD's latest platform, the members of our AM4 collection draw from a deep catalog of ASUS motherboard innovations. We're constantly looking for ways to improve performance, expand customization, and refine the overall experience of using, tweaking, and living with your PC.
Clock higher and stay cooler
Better performance isn't just about hitting higher speeds in pursuit of bragging rights or benchmark records. We make the whole overclocking process easier to help even new recruits get the best from their systems. Boards that come with our 5-Way Optimization package offer one-click auto-tuning that intelligently overclocks the processor based on the characteristics of your individual chip and cooling. The parameters can be adjusted to suit your preferences, and there's no shortage of manual tweaking options for seasoned enthusiasts who want to fine-tune every aspect of their machines.
Efficient cooling is essential to maintaining high performance and quiet acoustics, which is why we put so much effort into refining our Fan Xpert system. The fourth incarnation featured on higher-end Ryzen boards is smarter than ever before. It's capable of reading the GPU temperature on select graphics cards, letting fans react to gaming loads that typically heat up the graphics card more than other components. To hedge your bets, individual fans can respond to as many as three temperature sources, ensuring effective cooling for any workload. And that's on top of all the usual perks, like automated calibration, 3/4-pin fan detection, and the ability to adjust how rapidly fans wind up and down when temperatures spike.
For liquid cooling, we have dedicated headers for all-in-one kits and high-amperage ones for stand-alone pumps. Both are configured for plug-and-play compatibility out of the box, so you can get up and running with minimal fuss. ROG's Crosshair boards add a few special touches for monitoring your flow, including a special header on the Extreme that's designed specifically for monoblocks. More on that in a moment.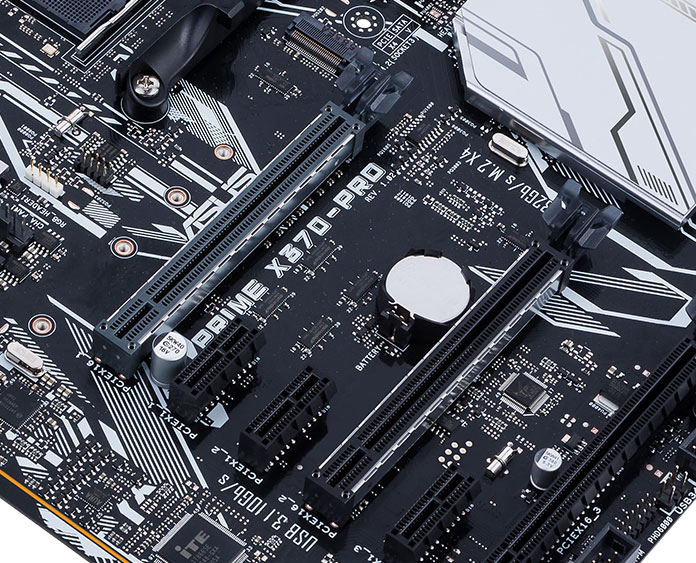 Reinforced for monster graphics cards
Our motherboards are designed to endure not just electrically, but also physically. The latest threat to structural integrity is the byproduct of our quest for better gaming performance. To let high-end GPUs run faster, modern graphics cards increasingly employ larger heatsinks with more metal and bigger fans. That adds weight, putting additional strain on the PCI Express slot connecting the card to the board. Clumsy or rough handling can fracture the slot or pull it away from the PCB, especially when shipping systems or traveling to LAN parties.
SafeSlot reinforces the walls of the slot with steel bracing applied using an insert-molding process. The slot is then anchored to the board using additional solder points, a feature that trickles down to SafeSlot Core implementations found on more affordable models that are less likely to be paired with beastly GPUs. Our full SafeSlot implementation provides the best protection not only in our own lineup, but also overall; it's stronger in every direction than the beefed-up slots on competing motherboards.
Let your personality shine through
While many PCs look unremarkable, others are beautiful enough to be considered art—or at the very least techno porn. Since beauty is in the eye of the beholder, we try to put you in control of how your PC looks. Our motherboard designers draw from largely monochrome palettes to avoid clashing with other system components. The neutral colors and subtler styling give you a more flexible foundation on which to build your masterpiece.
RGB lighting is an essential part of the equation because it's the simplest way to personalize the look of your PC. It's configurable, unlike traditional aesthetic flourishes, so you can easily adjust the colors and effects for your desired degree of subtlety or brashness. And having the full rainbow at your fingertips makes color-matching other components a breeze. There's more to Aura than just cosmetics, though. The effects can extend beyond cosmetics and react to audio output and CPU temperature.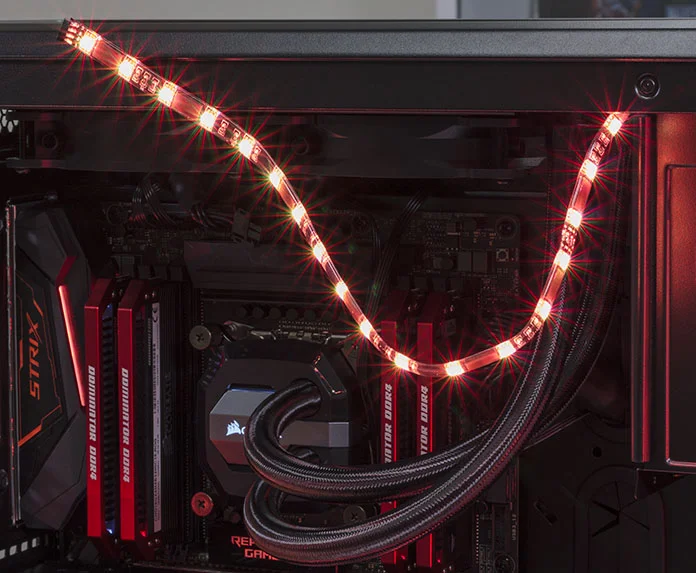 Our AM4 motherboards with Aura lighting feature four-pin headers compatible with off-the-shelf RGB strips that illuminate entire rigs. The Crosshair VI Extreme also raises the bar with a header for addressable strips that allow individual control over each LED in the chain. Most of the boards have embedded LEDs, plus independent control over each zone. Aura Sync extends RGB lighting control and synchronization to a growing family of compatible components, including graphics cards, keyboards, mice, memory modules, and cases. Instead of managing a mishmash of different interfaces, you can adjust and synchronize the lighting for a complete system through a single utility.
A desire to give builders and modders even more customization options led us to 3D printing. We've embraced the concept by giving some boards dedicated mounts for printed parts—and by making source files available for people who want to design their own. You don't need fancy modeling software or a 3D printer to take advantage, either. The ASUS storefront at Shapeways offers a selection of cosmetic and functional accessories, including customizable name plates and clever M.2 coolers, that you can order in a range of colors and materials.
Enter the matrix
The current ASUS AM4 lineup is split between Prime and ROG camps. Gamers and overclockers should look to ROG first. That family represents the best of the breed, and the boards within it include the most features and gamer-friendly extras. Prime distills core ASUS values to hit a wide range of affordable price points. Boards like the Prime X370-Pro are still potent enough to satisfy enthusiasts who crave performance and control, while lower-end options deliver essential features for builders on a budget.
The table below compares key specifications, and we take a detailed look at each board on the following pages. Click the model name to jump to the corresponding page for that board, and scroll horizontally to see all the boards.
It's difficult to summarize everything in table form, especially since raw specifications fail to fully capture a motherboard's character. The Crosshair VI Hero and Prime X370-Pro, for example, differ much more than their few disparate specs suggest. We dig deeper into each board starting on the next page, and beginning with the Crosshairs.