The Crosshair VI Extreme fulfills your Ryzen dreams
We tailored the ROG Crosshair VI Extreme for the high-end machines PC enthusiasts dream of building. Overclockers get what they need to not only unleash the CPU's raw potential, but also manage the liquid cooling required to run comfortably at top speed. And builders get provisions for the elaborate custom plumbing and personalized system lighting that are all but required to turn heads these days. The result is an X370 motherboard like no other.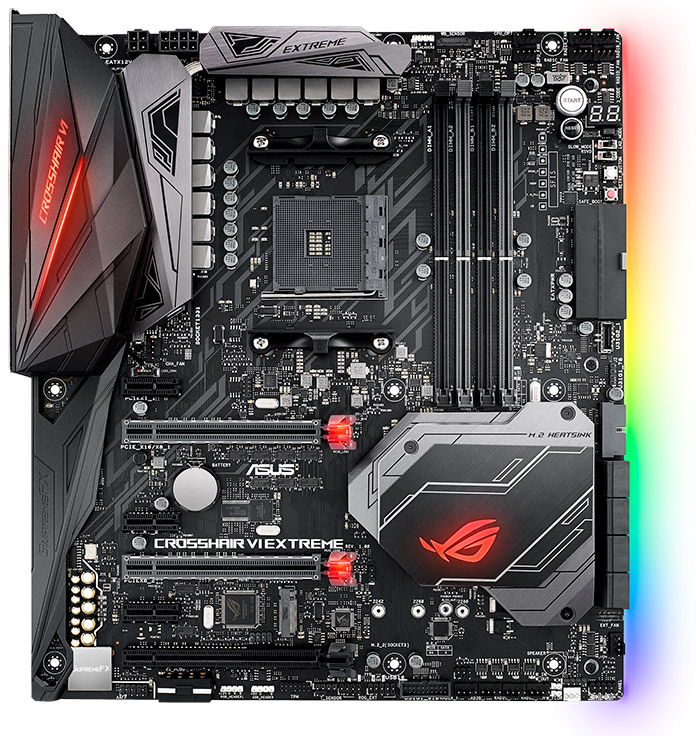 ROG engineers devote a lot of time to figuring out how to get the most out of each platform. On the Extreme, that effort manifests in enhancements for hardcore overclockers, like points for probing vital signs with a multimeter, and features for addressing quirks at sub-zero temperatures. You don't need experience huffing liquid nitrogen to push the limits of your hardware, though. With a single click, the intelligent auto-tuner optimizes your system based on the unique characteristics of your CPU and cooling.
Custom liquid loops are standard equipment for the Extreme's home turf in high-end builds, so we supply everything you need, starting with a special header for monitoring monoblock temperatures, flow rates, and leak detection circuits. We've already partnered with the experts at Bitspower to produce a monoblock specifically for the Extreme. It's sold separately, and other block makers can offer alternatives of their own.
In addition to the monoblock header, a separate set of connectors is available for tracking liquid temperatures and flow at another point in your loop. Those are joined by a staggering 13 fan headers, nearly double the number on the Crosshair VI Hero. If you need more, the board supports the ASUS Fan Extension Card, which brings the total number of headers up to a sweet 16.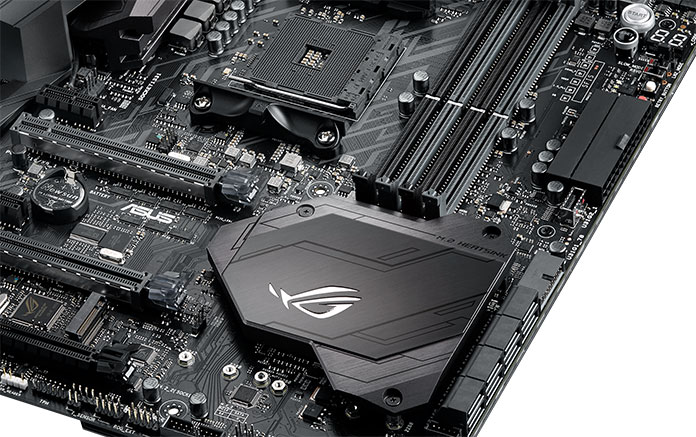 Separate from the fan-driven cooling, the Extreme's M.2 heatsink helps dissipate SSD thermals. NVMe drives installed in the primary M.2 slot are passively cooled by a removable portion of the chipset heatsink, which helps maintain consistent storage performance under sustained loads. This M.2 slot is linked to the dedicated lanes in the CPU, while the second shares bandwidth with graphics cards. The secondary M.2 lacks integrated cooling but supports longer drives up to 110 mm.
High-end builds won't get a second glance if they don't get the little details right. For us, that starts with a monochromatic palette that won't conflict with other components or your choice of accent lighting. We also take advantage of the larger Extended ATX form factor to mount the primary power connector flush with the PCB, so the associated wiring can run more cleanly around the edge and out of sight.
RGB lighting is expected at this point, but the Extreme doesn't just add some blinky bits and call it a day. It's one of the first motherboards with a header for addressable light strips and other devices, like fans and chassis. The addressable header is joined by two more reserved for conventional LED strips, and onboard lighting extends the glow to multiple zones on the motherboard itself.

Additional illumination emanates from the I/O cluster, where the audio jacks have color-coded backlighting to prevent you from fumbling around in the dark. The rear ports are surrounded by a fully integrated shield that simplifies motherboard installation and won't ever be lost.
You get all the other trappings of a premium design, including dual PCIe x16s with full SafeSlot reinforcement, plus a third for CrossFireX trios. A full slate of USB connectors stands ready for an army of devices, and networking spans both wired Gigabit and wireless 802.11ac. Our latest SupremeFX S1220 codec powers the onboard audio alongside a premium ESS Sabre DAC and an assortment of tweaks to improve the output and recording quality. We've also added HRTF-powered VR audio effects that can be applied directly into the native audio stream on Oculus Rift and HTC Vive headsets.
ROG Crosshair VI Extreme
Size
Extended ATX
Chipset
AMD X370
Memory
4 x DDR4 up to 3200 (OC)
Multi-GPU
CrossFireX, 2 x SLI
Expansion
PCIe 3.0 x16 (CPU): 2 (x16/x0, x8/x8)
PCIe 2.0 x16 (Chipset): 1 (up to x4)
PCIe 2.0 x1 (Chipset): 3
Storage
1 x M.2 (NVMe x4 or SATA 6Gbps)
1 x M.2 (NVMe x4)
8 x SATA 6Gbps
Networking
Intel Gigabit Ethernet
802.11ac Wi-Fi
Audio
SupremeFX S1220
USB
3.1: 1 x front, 1 x Type-C, 1 x Type-A
3.0: 4 x front, 6 x Type-A
2.0: 1 x front, 4 x Type-A
Aura
I/O shield, PCIe tabs, chipset, right edge, 2 x strip headers, 1 x addressable header
Price
$349.99 USD
$461.99 CAD
Availability (USA)
Newegg
Availability (Canada)
Canada Computers
A true heavyweight among Socket AM4 motherboards, the Crosshair VI Extreme is juiced to the gills for serious liquid cooling and show-worthy lighting, giving Ryzen the high-end foundation it deserves. Look for it at the retailers listed above for $349.99 USD and $461.99 CAD. And learn more on the official product page.
The Crosshair VI Hero reincarnates ROG's gaming roots
The PC gaming scene has been getting a lot of attention lately, but it's not new to us. Our ROG division has been focused on delivering the best gaming products for more than a decade. We started with the original Crosshair motherboard back in 2006, and the AM4 revival started with the Crosshair VI Hero. Behold its elegantly menacing glory: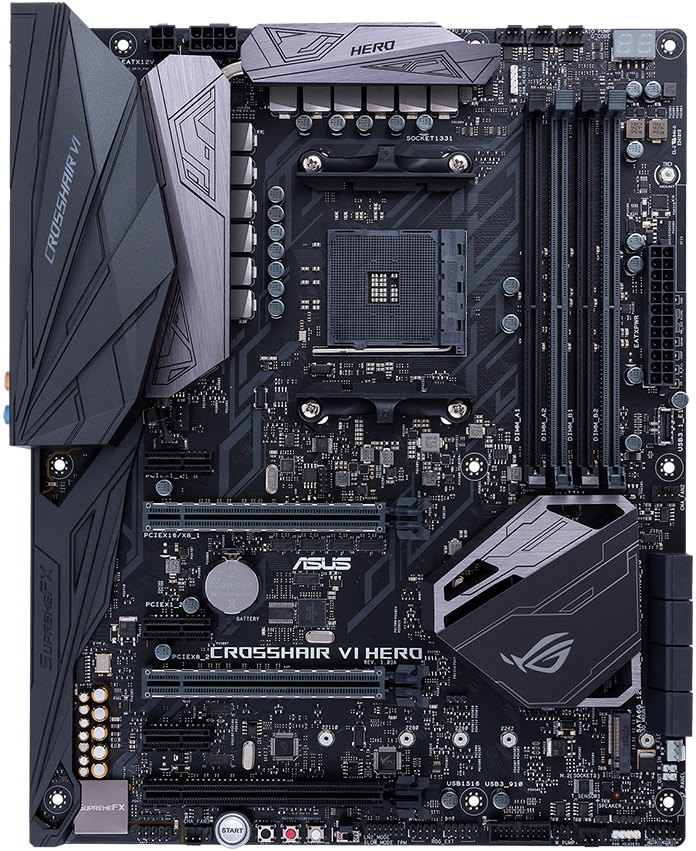 Based on the top-of-the-line X370 chipset, the Crosshair supports two-way SLI and CrossFireX configs split between its main PCI Express x16 slots. Both have full SafeSlot reinforcement to withstand the weight of high-end cards. They're also widely spaced to provide plenty of breathing room for air cooling. To complete the package, we include a high-bandwidth SLI bridge primed for a 3D-printed cover.
The board is designed for easy overclocking whether you're a novice or expert. It incorporates full auto-tuning for the CPU, plus all our Fan Xpert enhancements for cooling. Liquid cooling gets some extra love thanks to headers for a flow tachometer and temperature in/out sensors. Those additions build upon a stacked foundation that includes one 3A header for dedicated pumps or finger-munching industrial fans, one 1A header for AIO water coolers, and five more for traditional CPU and system fans.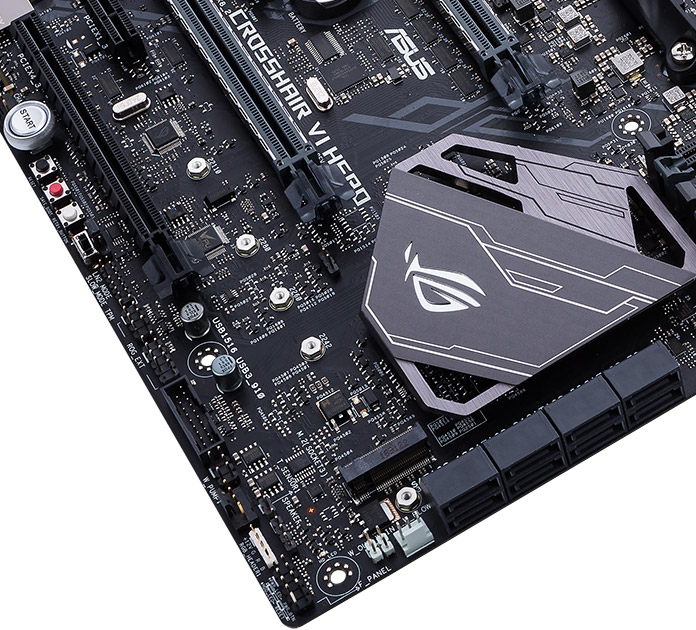 We've taken full advantage of Ryzen's expanded I/O by deploying an ultra-fast M.2 slot linked directly to the CPU. You can add the latest NVMe SSDs with up to four lanes of PCI Express 3.0. Some of those drives can run warm enough to induce throttling under extreme workloads, so the slot is located in the bottom corner of the motherboard, away from hot spots around the CPU and graphics card. The placement alone improves thermals, and even better cooling is possible with our 3D-printed fan mount.
3D printing support extends to a dedicated mount for 24-pin cable covers. Aura RGB lighting adds further aesthetic customization with a backlit I/O shield and chipset heatsink, plus dual 4-pin headers for LED strips. The headers can be controlled independently, and they're split between the top and bottom of the board for maximum flexibility.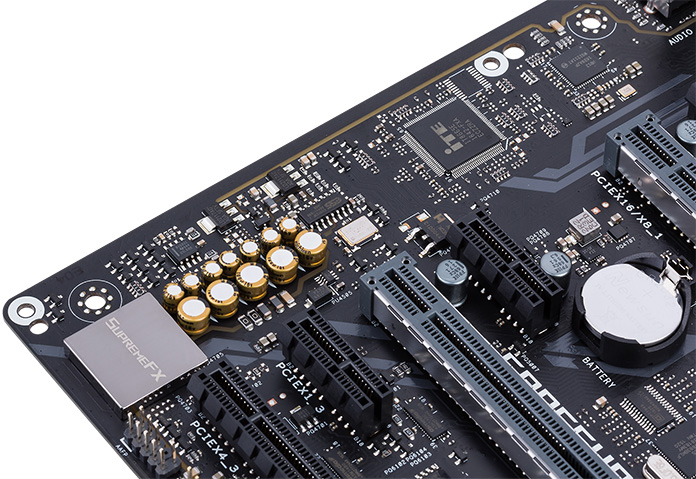 The Hero's SupremeFX audio features an S1220 codec that improves input quality for streamers with an industry-leading 113-dB SNR for the line-in. We've paired the chip with a premium ESS Sabre DAC and a collection of other enhancements along the audio chain to produce output good enough to make most people forgo a discrete sound card. On top of that, our Sonic Studio III software makes it easy to map audio streams to different outputs. You can route game audio through your headset, music through your speakers, and videos through a separate TV or monitor.
ROG Crosshair VI Hero
Size
ATX
Chipset
AMD X370
Memory
4 x DDR4 up to 3200 (OC)
Multi-GPU
CrossFireX, 2 x SLI
Expansion
PCIe 3.0 x16 (CPU): 2 (x16/x0, x8/x8)
PCIe 2.0 x16 (Chipset): 1 (up to x4)
PCIe 2.0 x1 (Chipset): 3
Storage
1 x M.2 (NVMe x4 or SATA 6Gbps)
8 x SATA 6Gbps
Networking
Intel Gigabit Ethernet
Optional 802.11ac Wi-Fi
Audio
SupremeFX S1220
USB
3.1: 1 x front, 1 x Type-C, 1 x Type-A
3.0: 2 x front, 8 x Type-A
2.0: 2 x front, 4 x Type-A
Aura
I/O shield, chipset + 2 x strip headers
Price
$254.99 USD, $269.99 w/ Wi-Fi
$328.99 CAD, $356.99 w/ Wi-Fi
Availability (USA)
Amazon
Newegg

Wi-Fi:
Amazon
Newegg
B&H
Micro Center
Availability (Canada)
Canada Computers
NCIX
Gigabit Ethernet is provided by an Intel controller backed by GameFirst software that intelligently manages packets to prevent streaming and downloads from lagging your gaming. Wi-Fi is optional, with versions of the Hero available with and without a dual-band 802.11ac M.2 module pre-installed. Both models have enough USB ports for a collection of game controllers and VR hardware, including 10Gbps USB 3.1 in Type-A and reversible Type-C flavors, plus an internal header for front-panel connectivity.
A selection of ROG software adds the finishing touch: RAMCache II transforms system RAM into an ultra-fast SSD, while Sonic Radar III maps 3D game audio to a visible HUD. These extras complete a comprehensive package that sets the tone for Ryzen rigs that aren't quite at the Extreme's level. Order the standard version for $254.99 USD and $328.99 CAD, and the Wi-Fi variant for $269.99 USD and $356.99 CAD, at the retailers listed in the table above. Find more details on the full product page.