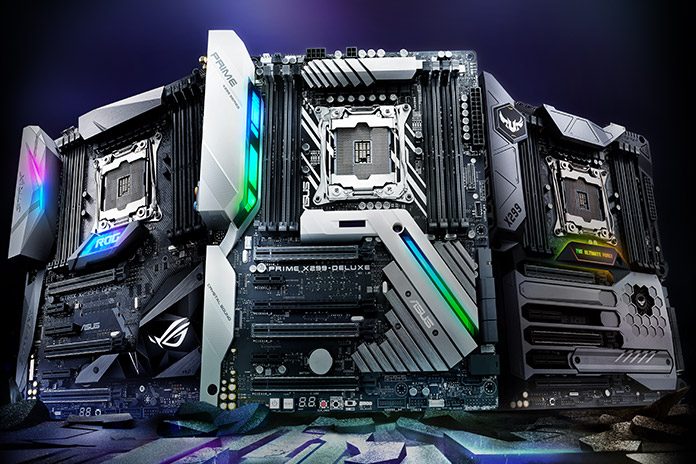 Intel's high-end desktop platform is refreshed at a slower cadence than the rest of its consumer lineup. Every update is more of an event as a result, but they really pulled out all the stops this time. The new X299 chipset and its accompanying Skylake-X and Kaby Lake-X processors bring oodles of bandwidth and up to 18 CPU cores in a single socket. In the process, they make possible a whole 'nother level of potent workstations, extreme enthusiast rigs, and top-of-the-line gaming machines.
Core X-Series processors come with a new socket, so it's time for a new motherboard. But which one should you buy? Here at ASUS, we have seven desktop models distributed between our ROG, Prime, and TUF families. This guide will help you pick the best X299 motherboard for your build.
Looking for something more workstation-oriented? We also have a family of WS X299 motherboards specifically designed for the job. If you're curious about other platforms, check out our guides for AMD's equivalent X399 along with standard desktop motherboards based on Intel Z370 and AMD AM4.
Meet the beasts
The latest Intel processors fit into a new LGA 2066 pincushion otherwise known as Socket R4. They're split between Skylake-X and Kaby Lake-X chips with very different priorities. The former follows a more conventional approach to high-end desktop CPUs, while the latter pushes standard desktop silicon to its limits on the new platform.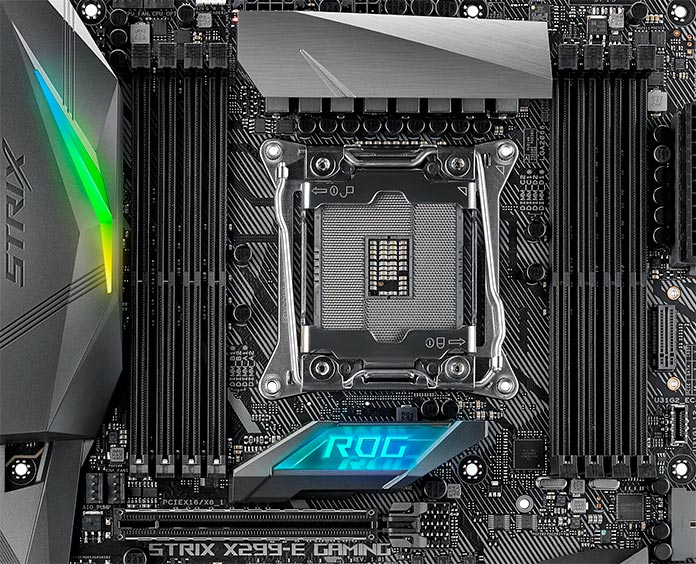 If you crave more bandwidth and cores, Skylake-X is the way to go. These processors will initially be available with up to ten cores, and that initial wave will be followed by models with 12, 14, 16, and 18 cores. All of these CPUs support Hyper-Threading, which can execute two threads per core, resulting in double the number of logical processor cores visible to the operating system. I can't wait to see the Windows Task Manager filled with 36 individual CPU utilization graphs for the range-topping Core i9-7980XE.
Skylake-X CPUs have quad-channel memory controllers that effectively double the bandwidth available in standard desktop processors. Our X299 motherboards support up to two DIMMs per channel for a whopping 128GB of total system memory. They also use our exclusive T-Topology trace layout, which is optimized to maintain signal timing when all the memory slots are populated. Platforms like this are often fully loaded, and we don't want you to have to sacrifice frequency to max out the memory capacity.
An integrated PCI Express controller opens the floodgates to the CPU cores with up to 44 Gen3 lanes. That's nearly triple what's available in standard desktop hardware, though it's not universal. While the 10-core Skylake-X variant has the full 44 lanes, 8- and 6-core models are limited to 28. The specs in this guide are based on 44-lane CPUs, but you can check the individual product pages for details on how the configurations change for 28-lane chips. With so much of everything onboard, the 140W TDP for currently announced processors is considerably higher than the 91W rating for standard desktop CPUs like the Kaby Lake-based Core i7-7700K.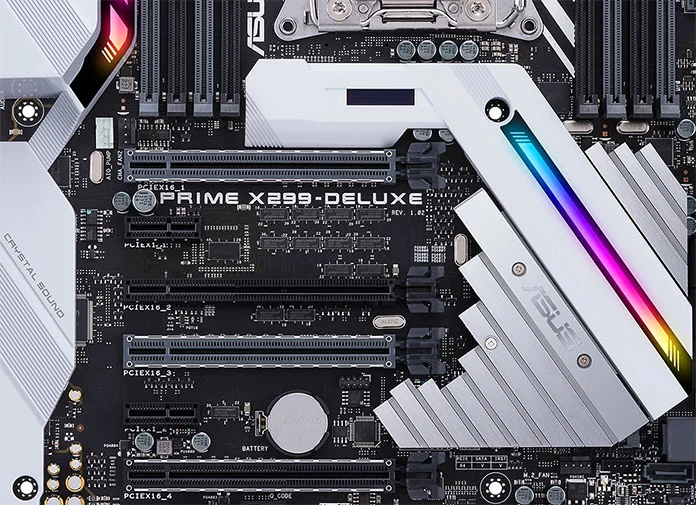 The X299 platform can host a version of that silicon dubbed Kaby Lake-X. These CPUs are limited to two memory channels and 16 PCIe lanes, so they don't take full advantage of all the bandwidth and connectivity on the motherboard. However, the LGA 2066 socket can deliver more power to the CPU, and the 112W TDP is higher to account for that. Kaby Lake-X gives extreme overclockers and competitive benchmarkers a new way to push the limits with quad cores. It also serves as an affordable way to get started with an X299 motherboard now and upgrade to something more powerful when your budget allows.
Both classes of CPU have a four-lane DMI 3.0 interconnect to the new X299 chipset. That link is based on PCIe Gen 3, as is the chipset as a whole. The X299 brings 30 high-speed I/O lanes that can be tasked with PCIe, SATA, or USB connectivity, allowing us to mix and match depending on the priorities for each model and what's plugged in at the time. We're restricted to a maximum of 24 PCIe lanes, 8 SATA ports, and 10 USB ports, with some of those hard-wired. But that's still enough for loads of high-speed storage and a stack of peripherals without even touching the CPU.
Shared ASUS innovations lay the foundation
All our X299 boards share core DNA—essential features that gamers and PC enthusiasts crave. Between overclocking the silicon, tuning the cooling, customizing the looks, and living with the results day to day, these enhancements make PC builds better for new recruits and savvy veterans alike.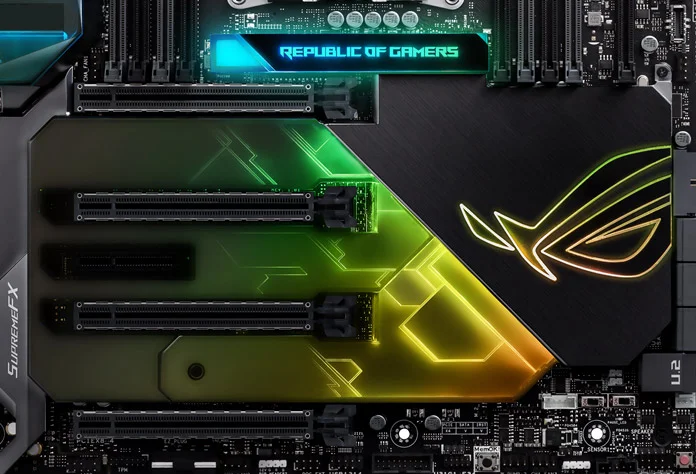 Advanced tweaking that's accessible for everyone
Our performance optimizations start with critically acclaimed overclocking and cooling controls for liquid and air. Water cooling is especially important given the platform's high core counts and TDP ratings, so all our X299 boards feature dedicated pump headers for powering custom loops and all-in-one setups. They're also loaded with intelligent fan controls for optimal efficiency and quiet acoustics. Sensor grouping improves responsiveness to a diverse mix of workloads by triggering individual fans based on data from multiple sensors. Our boards can even monitor GPU temperatures directly on select graphics cards to provide optimal airflow for gaming loads that heat up that component more than anything else.
Our extensive and intuitive manual tuning options make it easy to perfect your setup. You don't have to do all the work yourself, though. The 5-Way Optimization utility included with Prime and ROG motherboards automatically calibrates your cooling and overclocks your rig with a single click. Unlike profile-based auto tuners, it iteratively increases clock speeds and tests stability to get the most out of your individual chip and cooling setup. Even seasoned overclockers can benefit from letting our routines quickly suss out a system and establish stable baseline from which to proceed with fine tuning.
Bring on the bandwidth
The X299 platform's copious bandwidth is made for multiple NVMe SSDs and graphics cards. Intel's VROC technology combines with our optional add-in card to enable insane M.2 RAID arrays made up of a stack of parallel drives with a direct line to the CPU. You can hit ludicrous speeds with enough capacity for overflowing game libraries. You can also put multiple onboard M.2 drives in RAID through the X299 chipset using slots placed carefully to maximize airflow and prevent thermally induced slowdowns. Support for high-speed caching via Intel's Optane Memory is included, as well.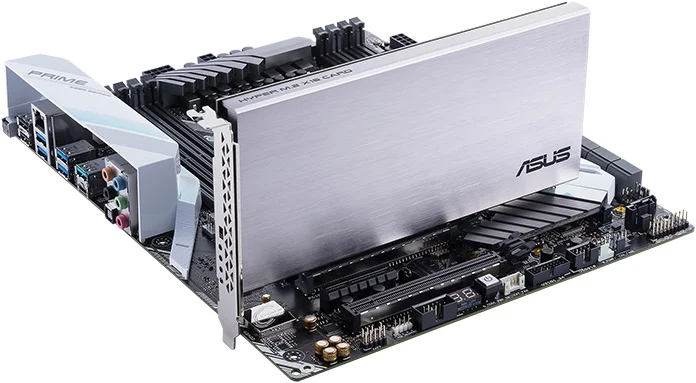 Graphics cards plug into reinforced SafeSlots that protect against damage from heavy GPU coolers and rough handling. Metal bolsters the walls of the slots, while additional solder anchors them more securely to the PCB. We space the x16 slots to leave enough breathing room to SLI a couple of monster ROG Strix GTX 1080 Tis, and you can squeeze up to four dual-slot cards into the Rampage VI Extreme and Apex to achieve peak graphics and compute performance.
RGB lighting done the right way
DIY PCs provide unprecedented options to express your style, including through personalized lighting. While some simply add more LEDs with each generation, we carefully consider their placement for maximum visibility. We've also softened the harshness of individual LEDs through backlighting and diffusing through translucent materials that make the glow more tasteful and even.
On most of our X299 models, the onboard illumination is augmented by headers for RGB LED strips to light up your entire chassis. Everything is part our Aura Sync ecosystem, which synchronizes harmoniously across compatible ASUS graphics cards, peripherals, and monitors, along with other components from our partners.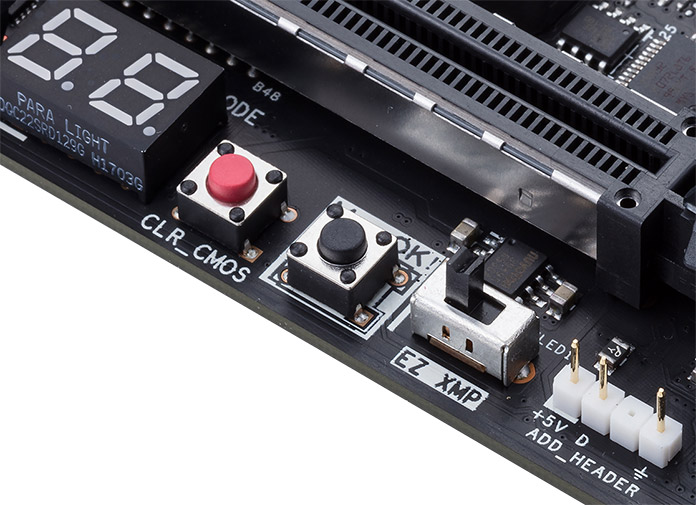 Our drive to do more for modders and builders led to the addition of headers for addressable RGB strips on the Rampage VI Extreme, Strix X299-E, and Prime X299-Deluxe. Addressable strips offer control of individual LEDs along the line, which will allow developers to create complex effects for next-level lighting. Be careful, though, because the header for those is different than for the standard strips that plug into all ROG and Prime X299 boards. We're already working with Bitfenix, Cooler Master, Thermaltake, In Win, Phanteks, and CableMod to integrate addressable LEDs into their products, including strips and fans you can daisy chain around your rig.
With our new SDK, Aura Sync is opening up to game developers, programmers, and anyone who wants to use RGB LEDs for enhanced functionality or aesthetics. Learn more about the continued evolution of Aura lighting in this ROG article.
Cutting-edge I/O befitting the platform
Equipped with the latest generation of integrated audio, our new X299 motherboards boast enhanced recording quality for streamers who want their voice to come through clearly. You get all the latest I/O, including 10Gbps USB 3.1 Gen2 that most of the boards deploy through Type-C, Type-A, and front-panel connectors.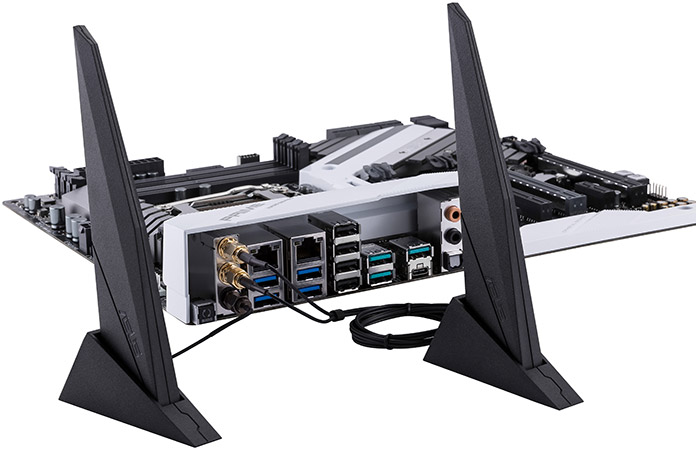 Reliable Intel Gigabit networking is available across the lineup. Want more bandwidth? The Rampage VI Extreme is our first desktop model with a 10G NIC onboard, allowing you to push throughput an order of magnitude higher than conventional Gigabit. The higher-end models add onboard Wi-Fi that spares you an add-in card or external dongle, and we've raised the bar there, too. The Rampage VI Extreme and Prime X299-Deluxe offer 802.11ad wireless capable of hitting higher speeds than 802.11ac.
All the boards, all lined up
Our ROG, Prime, and TUF families all include multiple options to sate your X299 appetite. The ROG series targets hardcore gamers who want to make a statement, the Prime boards combine enthusiast and prosumer sensibilities, and the TUF duo focuses on reliability and durability. The key specifications for each board are listed in the table below, and we take a closer look on the following pages. Click the model name to go to the corresponding page for that board.
Rampage VI Extreme
Rampage VI Apex
Prime X299-Deluxe
Strix X299-E Gaming
TUF X299 Mark 1
Prime X299-A
TUF X299 Mark 2
Size
EATX
EATX
ATX
ATX
ATX
ATX
ATX
Memory
8 x DDR4 up to 4000 (OC)
4 x DDR4 up to 4133 (OC)
8 x DDR4 up to 3600 (OC)
8 x DDR4 up to 3600 (OC)
8 x DDR4 up to 3600 (OC)
8 x DDR4 up to 3600 (OC)
8 x DDR4 up to 3600 (OC)
Multi-GPU
4 x SLI, CrossFireX
4 x SLI, CrossFireX
3 x SLI, CrossFireX
3 x SLI, CrossFireX
3 x SLI, CrossFireX
3 x SLI, CrossFireX
3 x SLI, CrossFireX
PCIe
4 x16
1 x4
4 x16
1 x4
3 x16
1 x16 (x4)
2 x1
3 x16
1 x4
1 x4 (x1)
1 x1
3 x16
1 x4
1 x4 (x1)
3 x16
1 x4
1 x4 (x1)
1 x1
3 x16
1 x4 (x2)
2 x1
M.2
1 PCIe x4/SATA
2 PCIe x4
2 PCIe x4/SATA
2 PCIe x4
1 PCIe x4/SATA
1 PCIe x4
1 PCIe x4/SATA
1 PCIe x4
1 PCIe x4/SATA
1 PCIe x4
1 PCIe x4/SATA
1 PCIe x4
1 PCIe x4/SATA
1 PCIe x4
U.2
1
NA
1
NA
NA
NA
NA
SATA
6
6
7
8
8
8
6
Ethernet
Aquantia 10G
Intel 1G
Intel 1G
2 Intel 1G
Intel 1G
2 Intel 1G
Intel 1G
Intel 1G
Wi-Fi
802.11ad
802.11ac
802.11ad
802.11ac
NA
NA
NA
Audio
SupremeFX S1220
SupremeFX S1220A
Realtek S1220A
SupremeFX S1220A
Realtek S1220A
Realtek S1220A
Realtek S1220A
USB 3.1 Gen2
1 front
1 Type-C
1 Type-A
1 front
1 Type-C
1 Type-A
1 front
1 Type-C
3 Type-A
1 front
1 Type-C
1 Type-A
1 front
1 Type-C
3 Type-A
1 front
1 Type-C
1 Type-A
2 Type-A
Aura headers
2 strip
1 address
2 strip
1 strip
1 address
2 strip
1 address
NA
2 strip
NA
Price USD
$649.99
$429.99
$489.99
$349.99
$339.99
$309.99
$259.99
Availability (USA)
Amazon
Amazon
Newegg
Amazon
Newegg
Amazon
Newegg
Amazon
Newegg
Amazon
Newegg
Amazon
Newegg
Price CAD
$857.99
$567.99
$649.99
$464.99
$449.99
$419.99
$349.99
Availability (Canada)
Soon
NCIX
Memory Express
Memory Express
Memory Express
Memory Express
Memory Express
The shared X299 platform results in a lot of similarities, but don't let those fool you. These boards and families are more different than their specifications suggest. Let's delve into their personalities, starting with the Republic of Gamers.