ROG defines gaming and a whole lot more
At ASUS, gaming isn't just a word we add to capitalize on what's trendy. Our Republic of Gamers division started more than a decade ago with a mandate to build the best components for gamers and enthusiasts. ROG began with motherboards, and its legacy continues with three new models based on X299. The Rampage VI Extreme raises the bar for dream builds designed to make a statement, while the Rampage VI Apex brings record-setting pedigree for competitive overclocking, and the Strix X299-E Gaming makes ROG style and extras more accessible for everyone.
Imagine your dream machine with the Rampage VI Extreme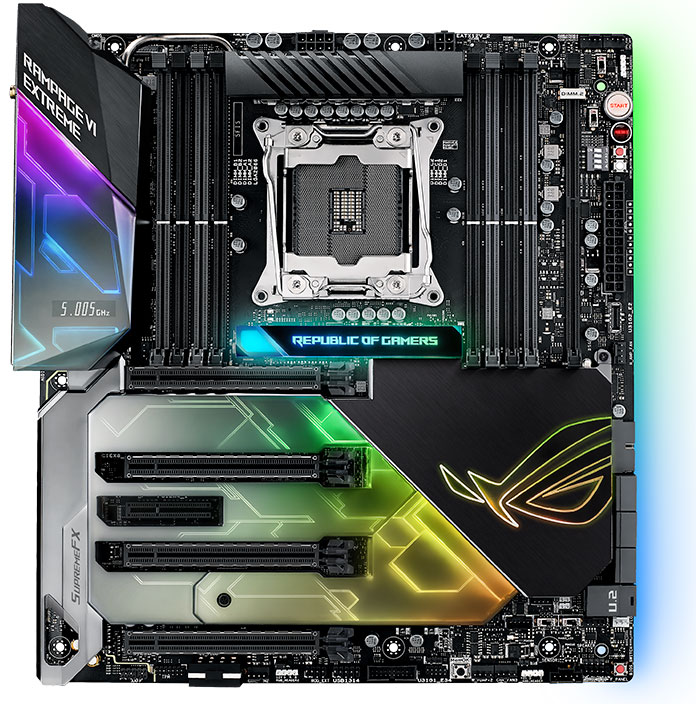 The flagship of this new family is the Rampage VI Extreme, which balances power and design to elevate showcase PCs. It's made specifically for machines with custom liquid cooling and carefully bent tubing. Along with all of the usual fan and pump headers, we've added dual flow headers that let you monitor the coolant coursing through your loop. On top of that, there's a special connector that lets water blocks designed for the Extreme provide flow, temperature, and leakage data.
Almost every aspect of the Rampage VI Extreme has been enhanced to give you more. The usual Intel Gigabit Ethernet controller is bolstered by an onboard 10G chip capable of increasing networking throughput by an order of magnitude. If you're not ready to take that big of a step, the networking controller can scale down to intermediate 5G and 2.5G speeds that still leave Gigabit in the dust. We've also upgraded the Wi-Fi to the latest 802.11ad standard, increasing peak wireless bandwidth to 4.6Gbps.
To help avoid unsightly wiring, three M.2 SSDs can be added to the board without using the VROC card. One slots under the Extreme's outer skin, while the other two ride our DIMM.2 module next to the memory slots. A U.2 connector adds compatibility with enterprise-grade PCIe SSDs like the Intel 750 series. The onboard Thunderbolt header lets you extend high-speed connectivity to external devices with our optional add-in card.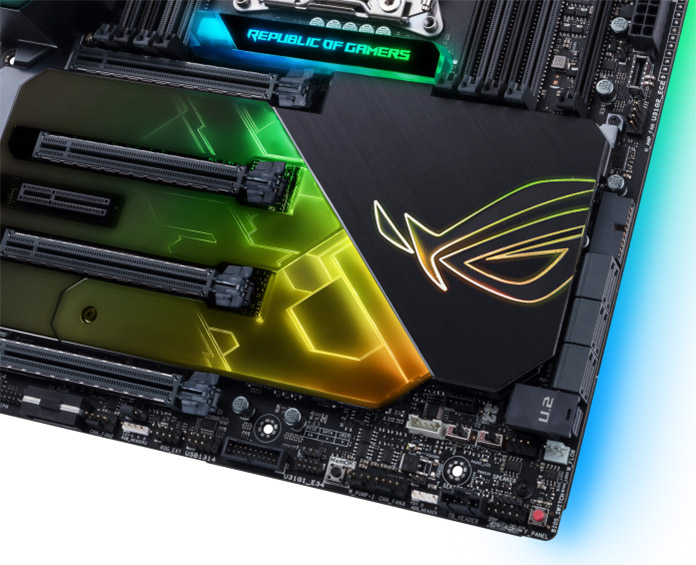 A reinforcing backplate helps the Rampage VI Extreme support heavily loaded rigs. The metal bracing also includes a separate GPU Holder that shoulders the weight of sagging graphics cards. The low-profile bracket leaves enough clearance for SLI bridges. Rated to support over 60 lbs, it's easily strong enough to handle the beefiest cards.
In a new twist for X299, the Rampage VI Extreme integrates a LiveDash OLED screen that lets you monitor system temperatures, frequencies, and fan speeds right on the board. The ability to display custom messages and graphics gives you options for an extra piece of flair. LiveDash is complemented by extensive onboard lighting applied with its own artistic flourish. One header for addressable strips and two for standard strings give you enough illumination power to put on a show.
Even the audio goes the extra mile. Backlit audio jacks save you from fumbling around in the dark, and they're set into an integrated I/O shield that simplifies motherboard installation. Our Sonic Studio III software completes the package across the ROG family. In the Extreme, it's enhanced with new VR functionality that extends its HRTF effects to headsets like the Oculus Rift and HTC Vive. Simply put, no other motherboard matches what the Rampage VI Extreme can do.
Rampage VI Extreme
Size
Extended ATX
Memory
8 x DDR4 up to 4000 (OC)
Multi-GPU
4 x SLI, CrossFireX
PCIe
4 x16 (CPU): up to x16/x8/x8/x8
1 x4 (Chipset)
Storage
1 x M.2 (NVMe x4 or SATA 6Gbps)
2 x M.2 (NVMe x4)
1 x U.2 (NVMe x4)
6 x SATA 6Gbps
Networking
1 x Aquantia 10/5/2.5G Ethernet
1 x Intel Gigabit Ethernet
3x3 802.11ac Wi-Fi
Bluetooth 4.2
Audio
SupremeFX S1220A
USB
3.1 Gen 2: 1 x front, 1 x Type-C, 1 x Type-A
3.1 Gen 1: 4 x front, 8 x Type-A
2.0: 4 x front
Aura
I/O shield, armor, badge, right edge, 2 x strip headers, 1 x addressable header
Price
$649.99 USD
$857.99 CAD
Availability (USA)
Amazon
Availability (Canada)
Soon
Gamers and enthusiasts looking to build the ultimate X299 PC will be able to get the Rampage VI Extreme in July. It's priced at $649.99 USD and $857.99 CAD. Look for it at the retailers listed above and check the product page for more.
Claim overclocking records with the Rampage VI Apex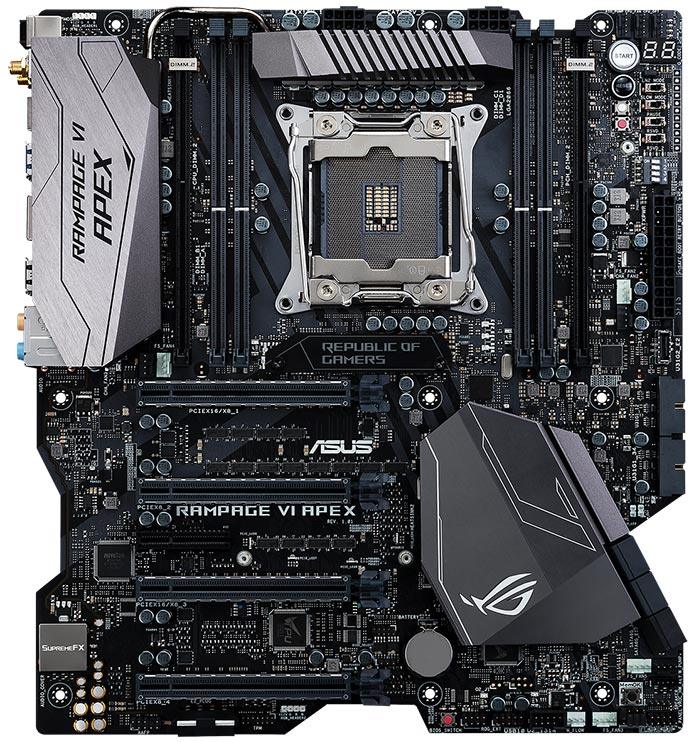 ROG's commitment to pursuing the highest overclocks and top performance manifests in the Rampage VI Apex. This model is purpose-built for setting records at sub-zero temperatures—not just with LN2, but also with more exotic liquid helium. We'll do whatever it takes to eke out a few more MHz.
In the Apex's first outing, our overclocking experts set a new world record with the Core i7-7740K at a staggering 7.56GHz on all four cores and eight threads. Their initial efforts produced a total of eight world records and 18 global first place scores in popular competitive benchmarks, and that's just the beginning. Expect more records to fall as we cement ROG's legacy as the absolute performance leader.
Less is more on the ragged edge. Unlike our other X299 boards, the Apex has only one DIMM slot per channel. Limiting the number of slots allows more direct trace routing that can improve stability with the fastest memory kits. You can load the board with up to 64GB of DDR4 memory running at blistering speeds and extremely low latencies that would be more difficult to attain with an eight-slot setup.
Memory is flanked by dual DIMM.2 slots that take up to four M.2 SSDs between them. The left DIMM.2 is connected directly to the CPU and capable of taking advantage of Intel's VROC technology, while the other runs through the X299 chipset. Both are positioned to exploit airflow from off-the-shelf memory coolers, preventing thermal throttling from slowing your storage during record attempts.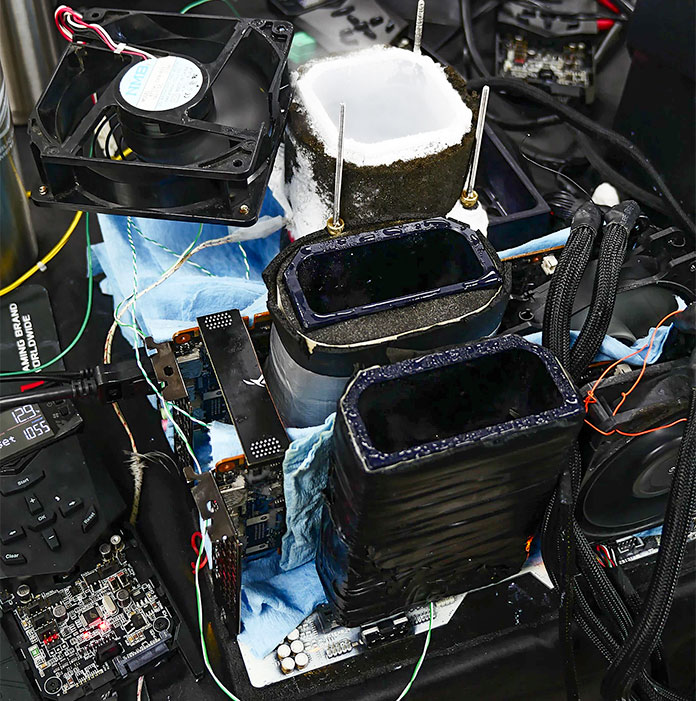 Like the Extreme, the Apex has quad PCIe x16 SafeSlots for four-way graphics configurations. SLI setups with more than two cards may be falling out of favor for gaming, but adding more still has benefits when you're pushing for peak graphics performance in benchmarks and GPU computing applications. You can run four dual-slot cards side by side to maximize your horsepower.
The Rampage VI Apex proudly wears its attitude on its sleeve—or rather PCB. It thinks outside the conventions of its Extended ATX form factor by cutting out sections of the board to facilitate cleaner cable routing around your pristine test bench. The distinctive shape visually sets the Apex apart from the competition and accentuates the glow of the RGB LEDs mounted on the back of the PCB. Aura Sync lighting illuminates multiple points topside, and there are dual strip headers for off-the-shelf RGB strips. Since the Apex is optimized for speed rather than lighting, it lacks a header for addressable LED strips. Instead, you can add a personal touch via the customizable name plate.
While we designed the Apex for maximum performance, the reality is that some people gravitate toward this model for its looks. With that in mind, we made this latest version more versatile by adding 802.11ac Wi-Fi that doesn't hinder its overclocking prowess.
Rampage VI Apex
Size
Extended ATX
Memory
4 x DDR4 up to 4133 (OC)
Multi-GPU
4 x SLI, CrossFireX
PCIe
4 x16 (CPU): up to x16/x8/x8/x8
1 x4 (Chipset)
Storage
2 x M.2 (NVMe x4 or SATA 6Gbps)
2 x M.2 (NVMe x4)
6 x SATA 6Gbps
Networking
1 x Intel Gigabit Ethernet
2x2 802.11ac Wi-Fi
Bluetooth 4.2
Audio
Realtek S1220A
USB
3.1 Gen 2: 1 x front, 1 x Type-C, 1 x Type-A
3.1 Gen 1: 2 x front, 6 x Type-A
2.0: 6 x front
Aura
Board backlight, 2 x badges, chipset heatsink, 2 x strip headers
Price
$429.99 USD
$567.99 CAD
Availability (USA)
Amazon
Newegg
Availability (Canada)
NCIX
The Rampage VI Apex is priced at $429.99 USD and $567.99 CAD. You can find it at the retailers listed above and learn more on the official product page.
Game in style with the Strix X299-E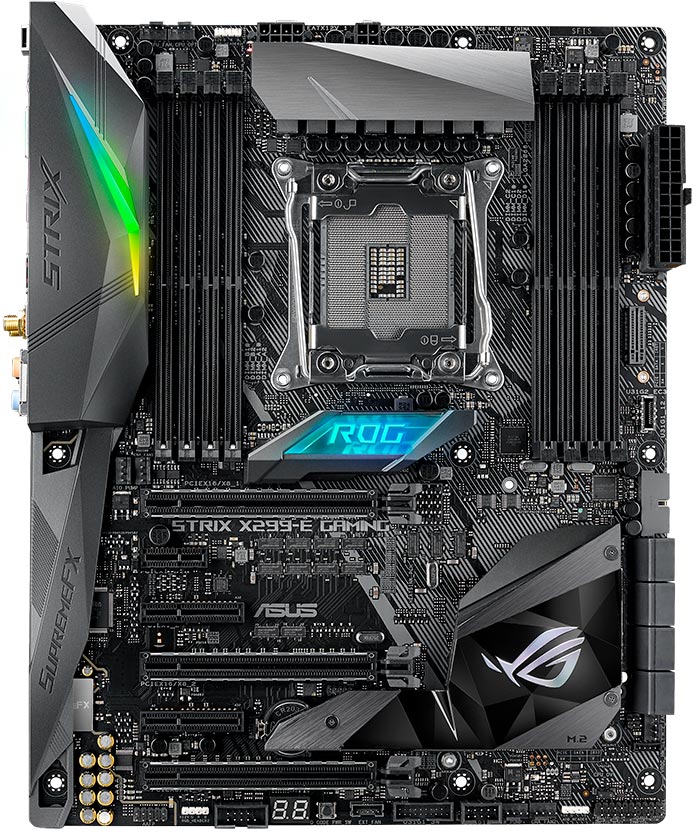 Where the Rampage VI Extreme and Apex are highly specialized, the ROG Strix X299-E takes a more straightforward approach. It represents a more affordable entry point into the Republic of Gamers without sacrificing the looks and features that define the brand. Like its Rampage siblings, the Strix wears a monochrome motif that won't clash with other components or your lighting choices. But unlike those larger EATX beasts, it conforms to standard ATX dimensions to fit into compact mid-towers. Despite more limited real-estate, the Strix still comes with enough slots, ports, and headers for a monster machine.
Although there's no room on the board for a DIMM.2 module, the Strix X299-E offers dual M.2 slots for NVMe SSDs. The first is tucked under the angular chipset heatsink, which helps dissipate the drive's thermal energy. The second mounts drives on a bracket that sticks out from the board near the 24-pin power connector, allowing for greater airflow compared to conventional slots that lay drives flush with the PCB.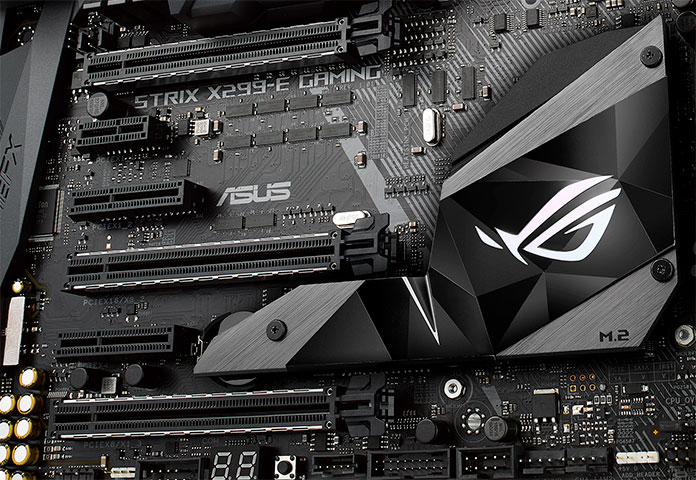 Gamers usually run two graphics cards at most, so the Strix's three-way setup is more than sufficient for typical rigs. The primary and secondary slots are widely spaced to facilitate maximum airflow for graphics coolers, and you can always add a third card if you want a dedicated GPU for physics or to boost your mining output.
The onboard lighting is tastefully confined to a diffused strip on the I/O shroud and a unique logo that looks like it's floating in the middle of the board. There's no shortage of options for lighting up the rest of your build, though. In addition to providing dual headers for conventional RGB LED strips, the board serves up one more for addressable LED gear. (Be careful not to confuse them, because the pinouts are different.) We also bundle extension cables for both types of headers, which makes it much easier to get the look you want inside a wide range of chassis. It's little details like this that smooth out the process of building a PC distinctly your own.
Strix X299-E Gaming
Size
ATX
Memory
8 x DDR4 up to 3600 (OC)
Multi-GPU
3 x SLI, CrossFireX
PCIe
3 x16 (CPU): x16/x16/x8
2 x4 (Chipset): x1/x4
1 x1 (Chipset)
Storage
1 x M.2 (NVMe x4 or SATA 6Gbps)
1 x M.2 (NVMe x4)
8 x SATA 6Gbps
Networking
1 x Intel Gigabit Ethernet
2x2 802.11ac Wi-Fi
Bluetooth 4.2
Audio
Realtek S1220A
USB
3.1 Gen 2: 1 x front, 1 x Type-C, 1 x Type-A
3.1 Gen 1: 4 x front, 4 x Type-A
2.0: 2 x front, 2 x Type-A
Aura
I/O shield, chipset heatsink, 2 x strip headers, 1 x addressable header
Price
$349.99 USD
$464.99 CAD
Availability (USA)
Amazon
Newegg
Availability (Canada)
Memory Express
The ROG Strix X299-E Gaming is priced at $349.99 USD. You can pre-order it at the retailers listed in the table above and learn more on the product page.