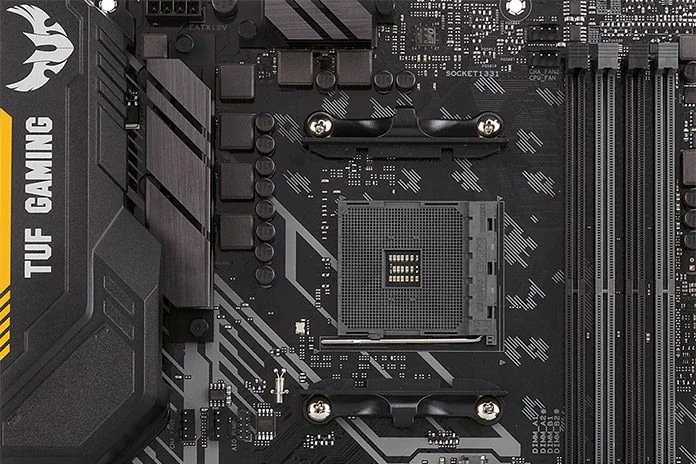 Socket AM4 offers an incredibly versatile platform for PC builders. It supports the latest AMD Ryzen CPUs otherwise known as Pinnacle Ridge, which boast up to eight cores with monstrous multithreaded muscle. You can also use recent Raven Ridge chips with integrated Radeon Vega graphics that deliver smooth 1080p gaming and 4K HDR video. Both are unlocked for easy overclocking, providing PC builders a wealth of options for everything from ultra-compact systems with credible gaming chops to powerful towers capable of challenging workstations.
AMD's new B450 chipset deploys Socket AM4 on a new generation of affordable motherboards. It's streamlined for straightforward builds and smaller form factors, and we have a complete collection: the ROG Strix B450-I, B450-F, and B450-E Gaming elevate the platform with signature features for serious gamers; the TUF B450-Pro, B450M-Pro, B450-Plus, and B450M-Plus Gaming focus on essentials and durability; and the Prime B450-Plus, B450M-A, and B450M-K put a more professional face on the platform.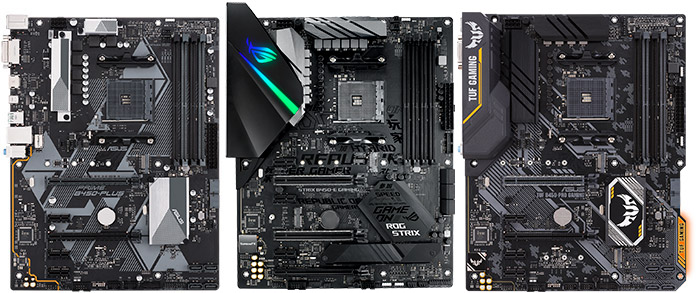 Embracing the essence of DIY PCs
After nearly 30 years of making motherboards, we've gained an intimate understanding of what it takes to get the most out of PC hardware. The intuitive tweaking options in our renowned UEFI and utility software pair perfectly with Ryzen's overclocking-friendly unlocked multipliers, giving beginners and experts everything needed to fine-tune their rigs. Our B450 motherboard firmware features a new search function that instantly seeks out specific settings, which makes quick adjustments a breeze even if you're unfamiliar with the interface. Once everything is dialed in, you can save and share the configuration, and even update the firmware without losing your settings. With a few simple clicks, the UEFI's integrated flashing tool automatically downloads and installs the latest firmware without even entering the operating system.
The intelligent cooling control built into our motherboards delivers extra airflow when you need it and quieter acoustics when you don't. It's smart enough to automatically adapt to three-pin DC and four-pin PWM fans, and some models even have headers tailored for AIO liquid coolers like the new ROG Ryujin and Ryuo. System cooling usually responds to changes in CPU or chassis temperatures, but gaming heats up the GPU more than other components, so our B450 motherboards also take that into account. They're capable of adjusting system fan speeds based on the temperature of select ASUS and ROG graphics cards.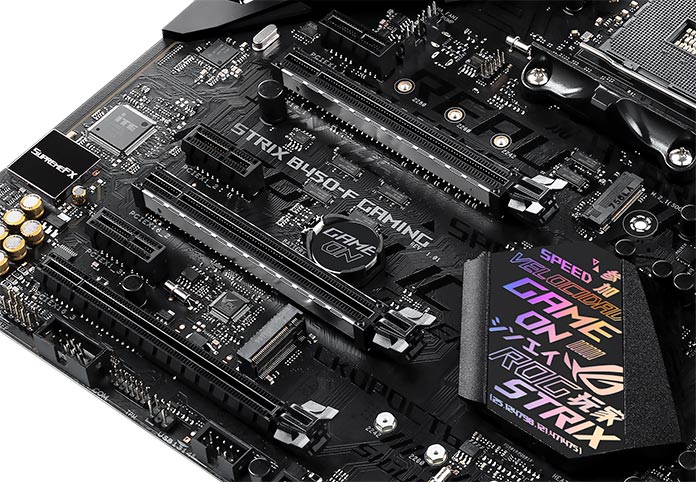 Ample storage options are available across the lineup, including at least one M.2 slot that connects NVMe SSDs directly to the CPU to avoid sharing limited chipset interconnect bandwidth. New for 400-series chipsets, AMD's StoreMI technology combines solid-state and mechanical drives to maximize speed and storage. This flexible solution seamlessly moves frequently used data to the fastest available drive and shifts rarely accessed files to the slowest, which accelerates boot times and ensures your favorite games, applications, and files load as fast as possible. More than just simple caching, StoreMI enables a multi-tiered approach that can include multiple SSDs and even a portion of DDR4 system memory.
Setting up a system exactly how you want is a key tenet of the DIY PC scene, and RGB lighting has ignited a revolution for personalized aesthetics. Our ROG Strix, TUF Gaming, and Prime B450-Plus all feature at least one header for off-the-shelf RGB strips that can light up your entire machine with customizable colors and effects. They support Aura Sync, which coordinates RGB illumination across a diverse ecosystem of products that can cover your entire system. Synchronized lighting can even extend into your environment through Philips Hue integration and accessories like the ROG Terminal and Spotlight.
Raise your game with ROG Strix
ROG is the original gaming motherboard brand, with roots that go back more than a decade to the very first Crosshair, which was also built for AMD processors. For our latest generation, the ROG Strix B450-I Gaming, Strix B450-F Gaming, and Strix B450-E Gaming bring the enhanced features and functionality you'd expect to both Mini-ITX and full-size ATX form factors. They wear predominantly blacked-out designs inscribed with cyber-text patterns that match other recent ROG hardware. The subtle motif sets the stage for stealthy builds and also provides a neutral foundation for personalized lighting.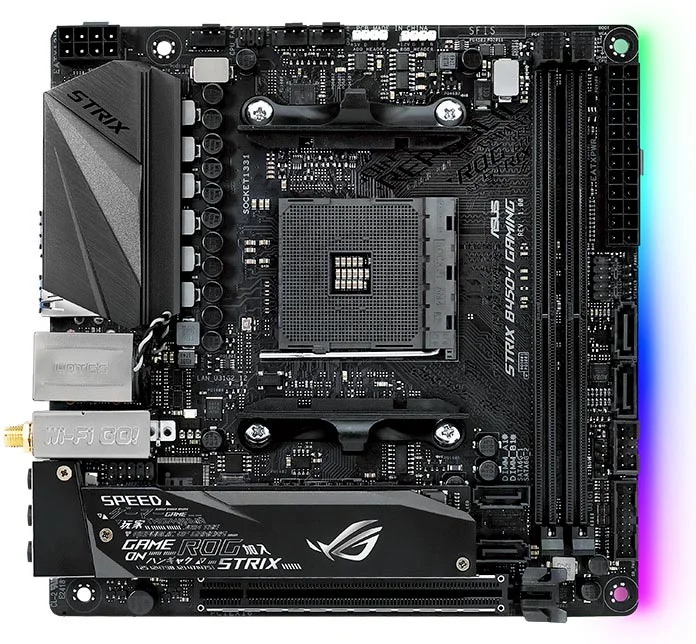 Effective cooling is especially important for gamers and enthusiasts, so ROG Strix B450 motherboards make it smarter with Fan Xpert 4. Its highly configurable fan profiles can react to a multitude of temperature sensors, including external probes plugged into an onboard header, which is handy for graphics cards that aren't compatible with the integrated GPU temperature sensing. If silence is your main concern, the Extreme Quiet mode quickly lowers acoustics.
SupremeFX amps up the onboard audio with dual amplifiers for headsets, plus the ability to add virtual surround sound to stereo cans. We've added a low-dropout regulator to clean up power for the S1220A codec, which achieves a pristine output SNR of 120dB. The onboard storage options are also more robust, with dual M.2 slots connected directly to the CPU, complete with support for super-fast RAID configs.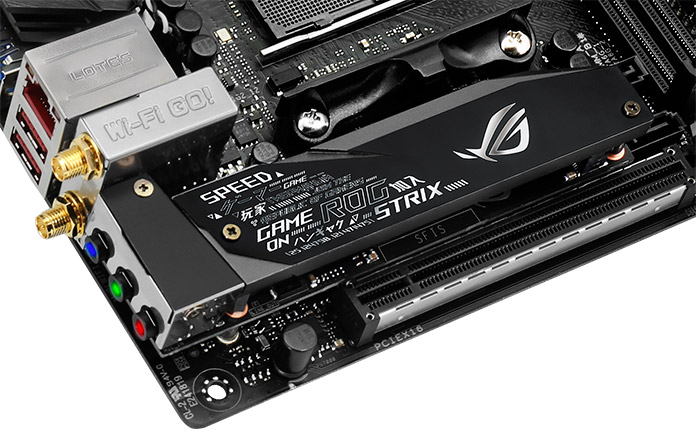 Storage and sound share the stage in the ROG Strix B450-I Gaming, whose M.2 Audio Combo card stacks components vertically to compensate for the compact Mini-ITX footprint. The riser moves sensitive audio circuitry away from board-level noise and also includes backlit jacks that clearly differentiate between inputs and outputs. An M.2 drive goes on top, covered by a heatsink that helps SSDs maintain top speed under sustained loads that could otherwise induce throttling.
Integration is key for this form factor, which is why the B450-I adds 802.11ac WiFi that provides cable-free connectivity right out of the box. The dual-band implementation has a 2×2 antenna and supports MU-MIMO; under the right conditions, it's capable of reaching speeds up to 867Mbps. The HDMI 2.0b output pushes 4K displays up to 60Hz and supports additional features available with AMD's latest integrated Radeons.
While the ROG Strix B450-I Gaming has the right ingredients for small integrated graphics builds, it can also run with the big dogs—and even surpass them in some areas. The two-DIMM setup allows more direct traces than the four-slot config on most boards, which combines with exclusive ASUS DRAM OC Profiles to drive memory up to DDR4-3600, a 400MHz bump over most of our other B450 boards. The onboard lighting also goes further with a fully backlit edge, plus a second RGB header compatible with addressable gear that offers control over each individual LED.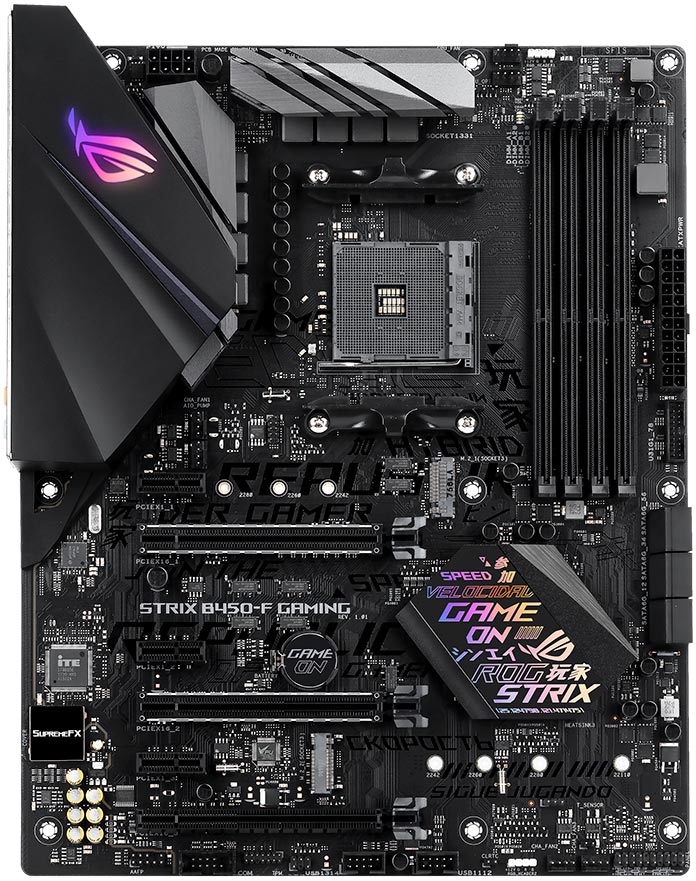 The Strix B450-F Gaming stretches across a larger area with more expansion capacity for beefier builds. There's enough room for two SafeSlots reinforced to hold heavier graphics cards, plus a third physical x16 slot that provides maximum flexibility for other devices. To accommodate the additional cooling required for a fully loaded rig, the number of onboard fan headers climbs to six, with one defaulting to an AIO-friendly full-speed config. You can easily power all the cooling for a complete ATX machine.
Integrating the I/O shield means you'll never forget to attach it, neatly avoiding one of the most common mistakes people make when building a PC. Nestled into the I/O shroud, it gives the board a much cleaner look. The nameplate on the PCH heatsink is swappable, so you can opt for a subtler alternative included in the box. Both use a reflective material to create a unique look that's accentuated by ambient lighting. With two Aura Sync headers for RGB strips and an illuminated shroud, the Strix B450-F Gaming is equipped to turn heads.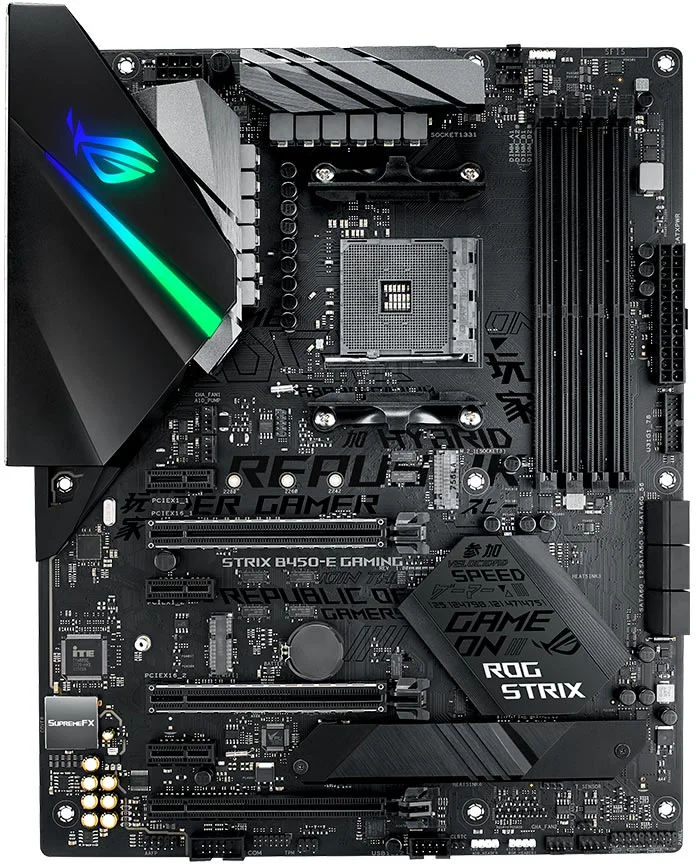 For more serious overclocking, the Strix B450-E Gaming beefs up the VRM with new alloy chokes that boast better power efficiency. A reinforcing backplate balances temperatures across the phase array, while high-quality thermal pads improve heat transfer to the main heatsinks. Extra cooling extends to the lower M.2 slot, which mounts SSDs under a dedicated heatsink. The focus on performance also affects the memory; with the right modules, the board supports frequencies up to DDR4-3533 with all four slots populated, nearly matching the dual-slot B450-I.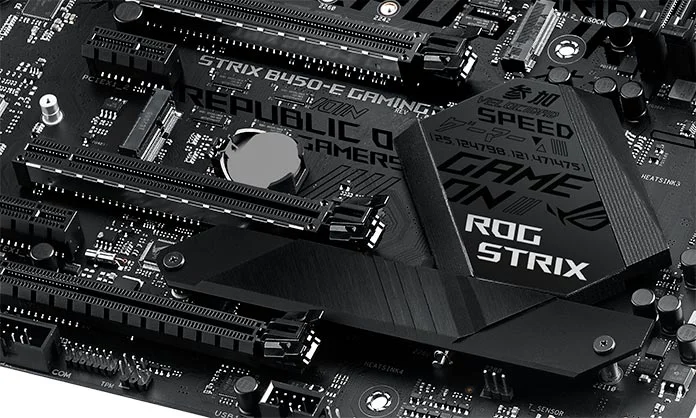 Like its Mini-ITX sibling, the Strix B450-E Gaming comes with WiFi, but it uses a faster Intel solution that plugs into an extra onboard M.2 slot. The 802.11ac Wave 2 wireless card supports 2×2 MU-MIMO and is capable of sustaining greater than gigabit speeds when paired with a compatible router like the ROG Rapture GT-AC5300. It also offers Bluetooth 5.0 connectivity for wireless peripherals.
Although the predominantly black design can easily blend into the shadows, headers for both standard RGB strips and addressable LED hardware make it easy to light up your entire system. The auxiliary lighting support is more extensive than on any of our other B450 motherboards, and the software is newer as well. The Strix B450-E comes with our unified Armoury Crate system utility along with newer versions of ROG GameFirst, RamCache, and Sonic Studio Link shared with our latest Z390 motherboards.
TUF Gaming's new Ryzen recruits
More than just motherboards, TUF has grown into family of gaming components that includes ASUS products alongside hardware from industry partners in the TUF Gaming Alliance. Battle-hardened styling permeates the lineup, letting you easily put together a distinctive system that matches inside and out.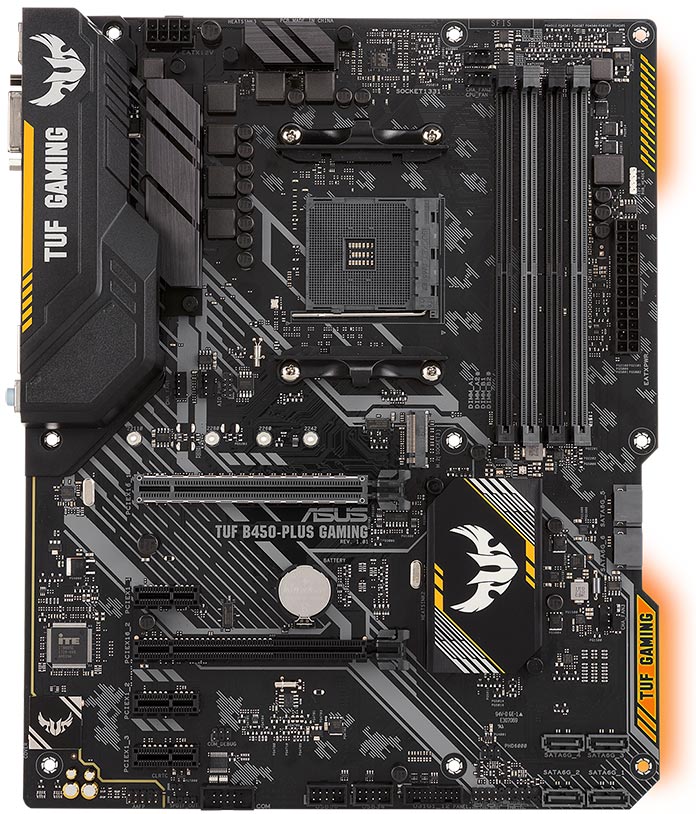 While styling sets TUF Gaming apart aesthetically, it also matches the military-grade components populating the PCB. High quality TUF Components comprising MOSFETs, chokes, and capacitors help to ensure long-term stability. They're joined by TUF Protection measures that include electrostatic discharge guards for the rear ports, special circuitry to project the Gigabit Ethernet jack, and SafeSlot reinforcement that all play a role in improving overall durability.
The other side of TUF is a commitment to gaming essentials like audio. DTS Custom profiles offer virtual surround sound in three flavors: Aerial lifts you above the game world for MOBA, strategy, and sports titles with airborne perspectives; Soundscape puts you in the center for MMOs, RPGs, and action-oriented gameplay; and Tactical makes it easier to detect your enemies in first-person shooters and stealthy sneakers.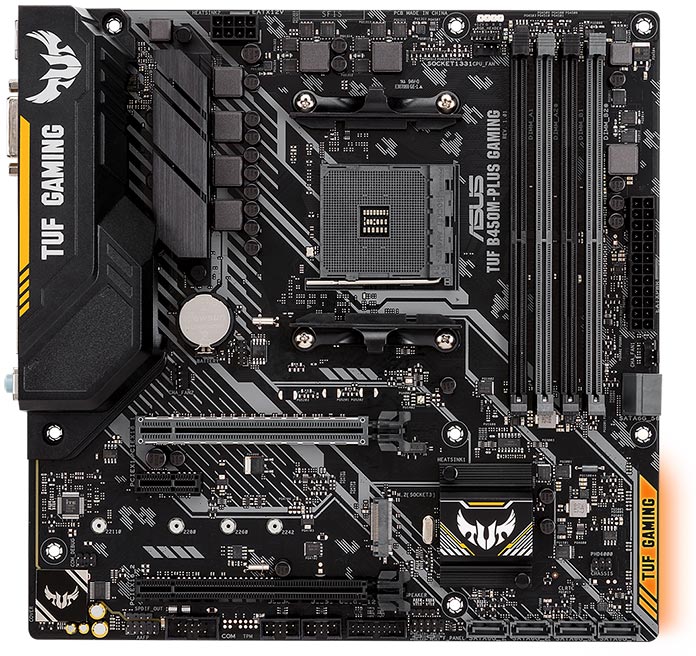 For B450, deployment began with TUF B450-Plus Gaming and TUF B450M-Plus Gaming motherboards based on ATX and microATX form factors. They share the same basic specs, with support for up to 64GB of DDR4-3466 memory, dual graphics cards in CrossFireX, and one chain of RGB lighting strips as long as three meters. The ATX version has additional PCIe slots and one more USB 3.1 Gen 2 port at the back, and its Fan Xpert 4 Core implementation is more complete, but both stay true to the themes that make TUF Gaming unique.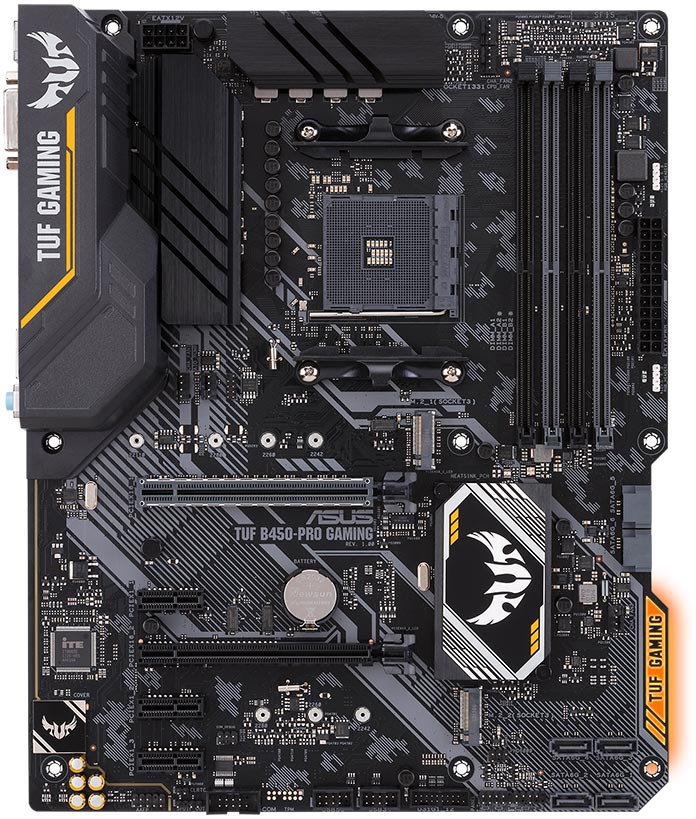 The TUF B450-Pro Gaming and B450M-Pro Gaming amp up the power delivery with more efficient chokes and better cooling. The heatsinks now extend to the inductors, and they're affixed to high-quality pads to aid thermal transfer. In internal testing with a Ryzen 5 2600X processor, these measures contributed to VRM temperature up to 20°C cooler than competing boards.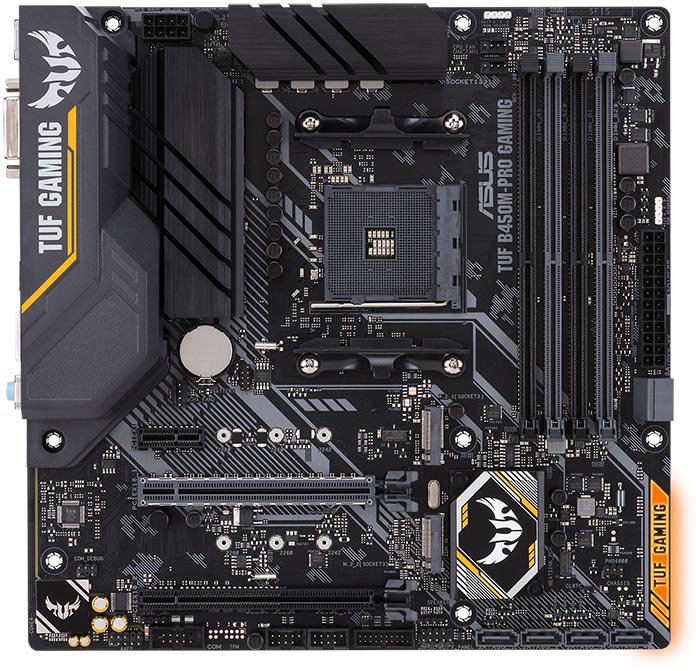 In addition to enhancing the VRM, we upgraded the memory to support speeds up to DDR4-3533 with compatible kits. Both Pro boards also feature a second M.2 slot, so you can run dual NVMe SSDs, and a second RGB strip header, so you can light up even more of your PC. They even have superior integrated audio thanks to Realtek S1200A codecs shared with TUF Gaming motherboards based on the Z390 chipset for Intel CPUs.
It's Prime time for a Ryzen upgrade
Prime stands apart from gaming-oriented designs with more understated styling suitable for those seeking to apply Ryzen's considerable horsepower to content creation and everyday productivity. The geometric aesthetic channels architectural inspirations to create a retro-modern look that invites closer inspection without calling undue attention.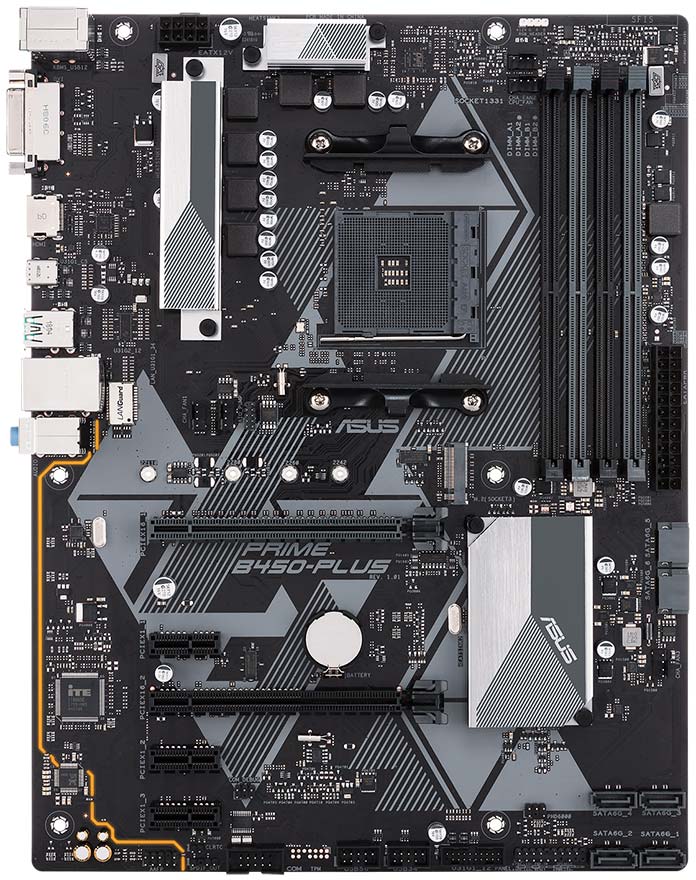 The Prime B450-Plus marries a businesslike demeanor with enthusiast sensibilities. It's well-equipped for complete system cooling with four headers for fans and one more for AIO liquid coolers. Aura Sync lighting is available through an onboard header for RGB strips, leaving the option to highlight the patterned PCB with your own ambient glow.
A full complement of ports makes the board compatible with pretty much everything, from USB 3.1 Gen 2 devices with 10Gbps of peak interface bandwidth to Type-C hardware with reversible plugs that are always right side up.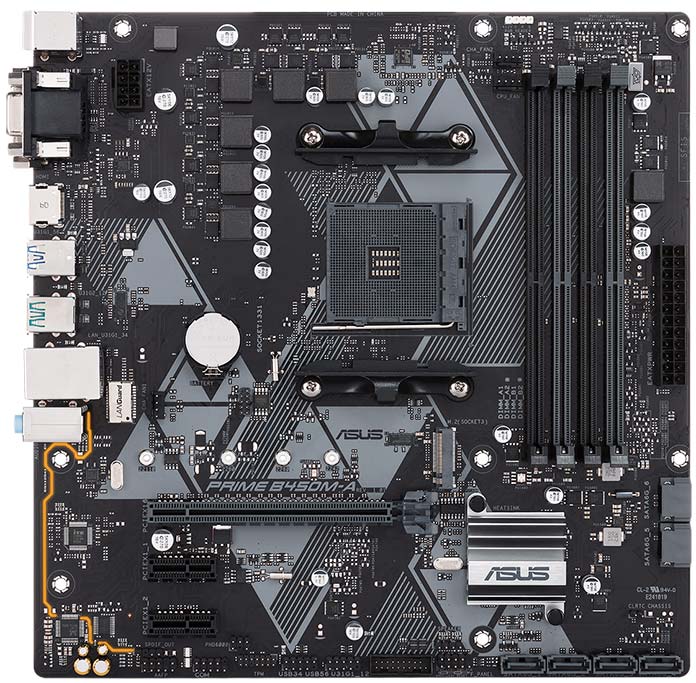 With less real estate and lower prices, the microATX Prime B450M-A and Prime B450M-K are more minimalist. They scale back the onboard cooling options and drop Type-C USB connectivity. The B450M-K also cuts HDMI 2.0b, two memory slots, and the Aura Sync header but still retains core ASUS features like DIGI+ VRM circuitry that delivers reliable power, and overvoltage protection that guards against damage from spikes.
Choose your own Socket AM4 adventure
ROG Strix, TUF Gaming, and Prime B450 motherboards join our lineup of higher-end boards based on AMD's X470 chipset. They're available starting today from the North American retailers listed in the table above. Check with your local ASUS rep for details on pricing and availability in other regions.