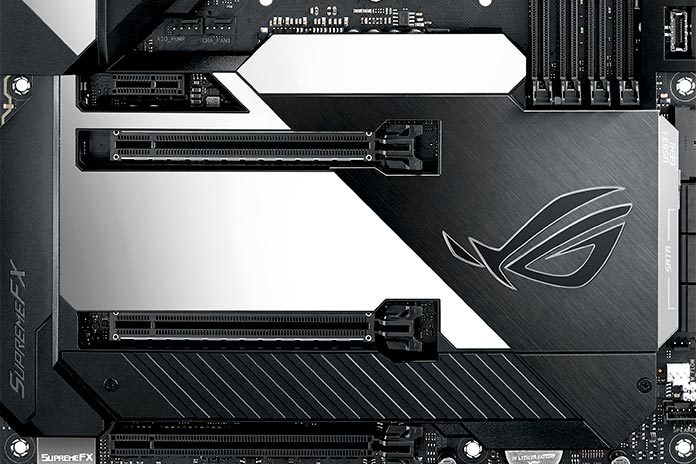 Almost exactly one year after introducing six-core Coffee Lake processors alongside Z370 motherboards, Intel is back with more cores and higher clocks. The new 9th Generation Core family offers up to eight cores and 16 threads of parallel processing horsepower that's perfect for content creation, heavy multitasking, and other demanding workloads. With clock speeds as high as 5GHz on the flagship Core i9-9900K, these new models also raise the bar for gaming performance, especially if you're streaming, recording, and chatting simultaneously. The accompanying power requirements necessitate new motherboards for an optimal experience, and we've developed a complete lineup across five families. This guide is designed to help you pick the best Z390 motherboard for your next desktop PC.
The new collection is led by a diverse cast from the Republic of Gamers that elevates gaming and overclocking to new heights. ROG Strix offers more streamlined alternatives that include a mighty Mini-ITX model, while TUF Gaming focuses on the essentials to hit more affordable price points. Outside the gaming sphere, the Prime family serves up signature ASUS features in a more mature package, and the WS sets the stage for serious workstations and prosumer builds. There's something for everyone, whether you're a seasoned veteran who tunes to perfection, a hardcore gamer obsessed with performance, or a first-time builder seeking a seamless experience. Read on to see which Z390 motherboard you should buy.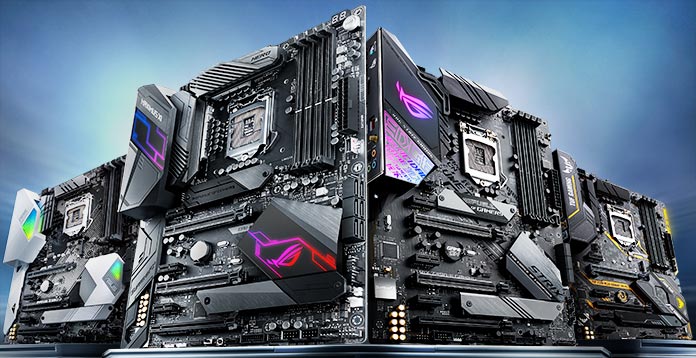 Automated intelligence optimizes performance
The latest generation starts with a trio of unlocked processors ripe for overclocking, and our motherboards have learned new tricks for tapping into their potential. AI Overclocking makes automatic tuning faster and smarter than ever before. Available in Windows or directly through the UEFI, it profiles the CPU and cooling to predict the optimal configuration for each individual system. We created a proprietary algorithm that rates the quality of the silicon to see where your chip lands on the spectrum. The onboard intelligence also watches system vitals like temperatures, fan speeds, and power draw to evaluate cooling performance. Dedicated hardware makes the monitoring seamless, and you can allow continuous training that adapts to upgrades, dust buildup over time, and seasonal changes in ambient temperature. There's even an adjustable optimism scale that helps to compensate for small variations between chips with the same silicon quality.
AI Overclocking is available on the Prime Z390-A, WS Z390-PRO, and all ROG models except for the Strix Z390-H Gaming. It's not the only automated solution, either. Our newest 5-Way Optimization software offers an alternate approach to one-click tuning that simulates a human overclocker by increasing clock speeds, tweaking voltages, and testing stability before pursuing higher frequencies. This technique gets the CPU extremely close to the maximum speed that can be attained with manual tuning, and connected fans can also be calibrated as part of the process. TUF Gaming and lower-end ROG Strix and Prime models that lack 5-Way still have OC Tuner, which uses predefined profiles to hit higher speeds at the touch of a button. Auto-tuners are perfect for fresh recruits who are new to overclocking, and they provide experts an easy way to quickly assess a system before proceeding with manual tuning.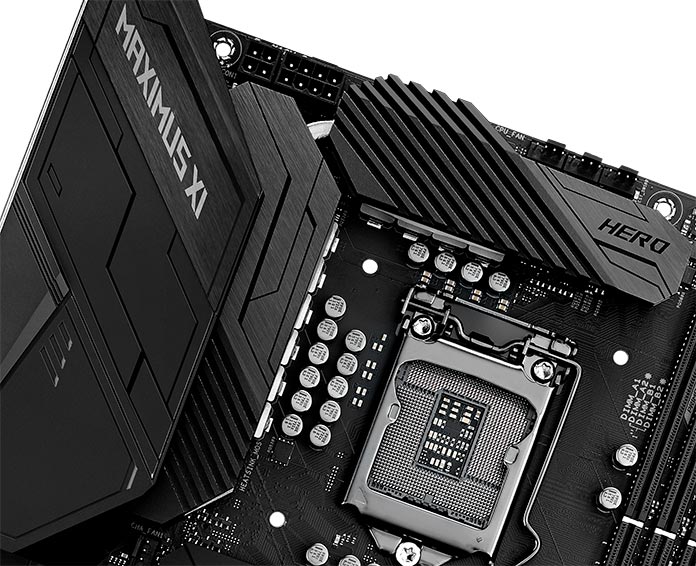 Eight cores require more power, especially when pushed beyond stock speeds, so our full-sized Z390 boards are beefed up with at least eight power stages for the CPU and one more for the integrated graphics. The heatsinks on higher-end models have the right mix of mass and surface area to effectively absorb and dissipate heat from aggressive overclocks. On most boards, they extend beyond the MOSFETs and onto the chokes to further improve cooling, and are accompanied by enhanced 8-pin power connectors that use solid pins capable of handling more current than conventional hollow designs. More premium boards use additional phases, larger heatsinks, and more sophisticated circuitry to cope with the power required to push top-of-the-line chips like the Core i9-9900K to their limits.
Memory tweaks increase speed and improve stability
Memory frequencies continue to climb, and our Z390 motherboards have evolved to keep pace. They feature Optimem II, which reimagines memory traces from the ground up—literally. Optimem II adds a dedicated ground plane and surrounding ground trace with via stitching to reduce interference for the traces connecting the CPU and memory slots. It also routes traces through different PCB layers to cut down on crosstalk. These changes combine with our T-Topology trace layout to enable DDR4 speeds in excess of 4266MHz with all slots populated, even if you're using RGB-infused RAM.
Memory is often to blame if systems fail to boot, so years ago we developed a MemOK! feature that rolls back to safe defaults and adjusts memory parameters to get the system to POST. This failsafe usually has to be activated by pressing a button on the board, but MemOK! II adopts a toggle-based switch that lets you turn it on once. When a memory-related POST problem is detected, MemOK! II automatically applies multiple profiles to bring your system to life.
Smarter cooling for both liquid and air
Our focus on maximizing performance would be futile without similar dedication to improving the cooling that allows systems to sustain faster speeds. The higher power consumption and heat output that comes with additional CPU cores makes liquid cooling a requirement for serious overclocking, so all of our Z390 motherboards have one AIO pump header preconfigured for the all-in-one liquid coolers seen in most custom builds. Models in the middle of the range and up include another header for the stand-alone pumps used in custom loops, and ROG goes even further with dedicated sensors for monitoring coolant temperatures and flow rate. The Maximus XI Extreme has a header for custom water blocks, as well, and the Formula features a VRM cooler that can be added to liquid loops.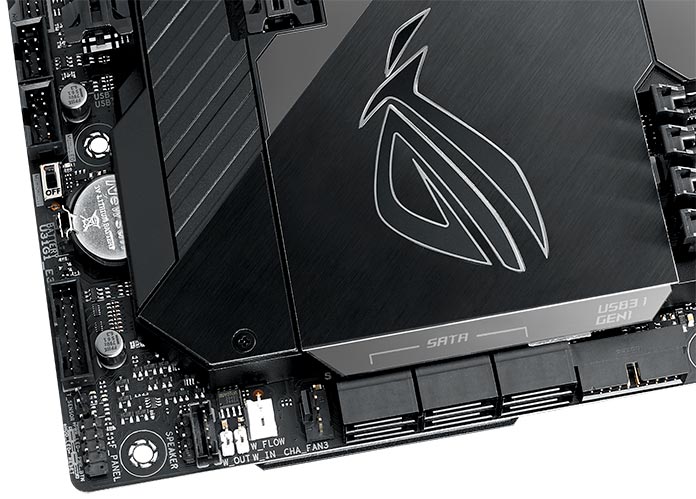 Fan Xpert 4 manages complete system cooling capable of adapting to any workload. System fans plugged into the motherboard are typically limited to reacting to changes in the CPU or motherboard temperature, which isn't ideal for gaming and other workloads that heat up the graphics card more than other components. With Fan Xpert 4, the motherboard can react to changes in the GPU temperature on select graphics cards to provide smarter system cooling for a broader range of scenarios.
Configuring the cooling is easy even for first-time builders. Each cooling header adapts automatically to 3-pin DC and 4-pin PWM fans, and the ones reserved for liquid cooling can be retasked for fans. Once everything is plugged in, activating our automated calibration routine profiles the response curve of each connected fan to ensure optimal operation.
Let your Aura Sync shine
RGB lighting has revolutionized how people personalize their PCs, and Aura Sync is the most complete implementation on the market. It synchronizes colors and effects across a diverse cast of system components and peripherals from ASUS and our partners, enabling cohesive illumination for your entire battlestation with just a few clicks. Developers can also use the Aura SDK to harness the lighting with their own software; for example, Call of Duty: Black Ops 4 has special Aura effects that enhance immersion by reacting to in-game events and environments.
LED strips are the most efficient way to light up your PC, so all our Z390 motherboards have at least one header with support for up to two meters of lighting. That's easily enough to illuminate a full-sized chassis, and additional headers on ROG, Strix, and TUF Gaming boards provide even more capacity. Most of the ROG models also have addressable headers compatible with strips and other devices capable of displaying more advanced effects via independent control over individual LEDs. Meanwhile, the entry-level Prime Z390-P and Z390M-PLUS support standard RGB strips but have more basic lighting control that lacks Aura Sync.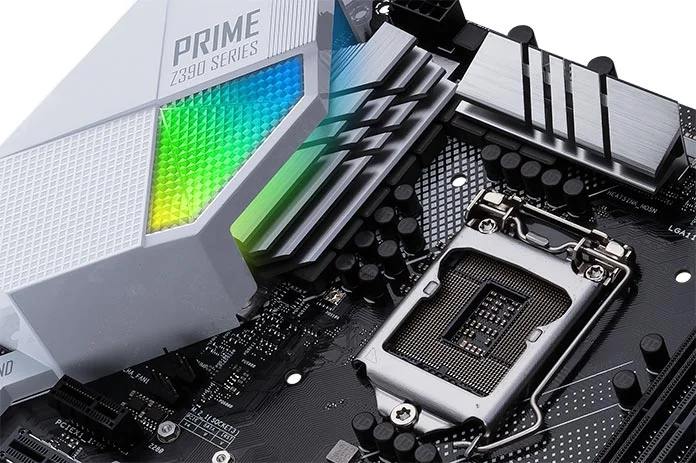 A little restraint goes a long way, so we diffuse and reflect the harsh brightness of the onboard LEDs to create a softer and more even glow that blends naturally into each design without being overbearing. Cyber-text patterns on select Strix boards reflect their surroundings to add subtle highlights, and we mostly stick to monochromatic palettes to match with a wide range of components and colors. If you've had enough of RGBing All The Things, stealth mode disables the lighting completely for a different look. It also turns off secondary diagnostic LEDs for a complete blackout.
Extensive connectivity inside and out
At least two M.2 slots are available across our Z390 lineup, which gives you the flexibility to run dual NVMe SSDs without connecting any cables. Alternatively, you can install a primary SSD and use the second slot for Intel Optane Memory that accelerates access to a much larger hard drive. More of our boards are equipped with accompanying M.2 heatsinks to reduce SSD temperatures and ward off thermal throttling with sustained transfers. The ROG Maximus XI Extreme and Gene support up to four M.2 drives, half of which are sandwiched between new heatsinks on our latest DIMM.2 module. At the other end of the spectrum, the workstation-oriented WS Z390 PRO has dual U.2 ports waiting for enterprise-grade 2.5" drives like the Intel Optane SSD 900P.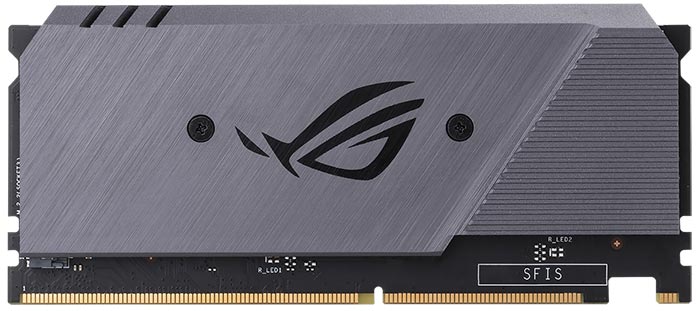 DIMM.2 takes advantage of the Z390 platform's support for SSD RAID arrays attached to the CPU, which avoids the DMI bottleneck between the processor and chipset. You can also tap into CPU-connected RAID with the ASUS Hyper M.2 X16 Card V2. Up to three SSDs can combine to deliver ludicrous throughput. Arrays are bootable through Intel's RST framework, making them viable for system drives as well.
Intel Gigabit WiFi is available on select of ROG, Strix, and TUF Gaming models. The 802.11ac Wave 2 solution connects directly to the chipset via Intel's CNVi interface. It supports 2×2 MU-MIMO and can push throughput well past 1Gbps on compatible routers like the ROG Rapture GT-AC5300. We use reliable Intel Gigabit Ethernet controllers on virtually every board in the Z390 series, and the ROG Maximus XI Extreme and Formula take networking to the next level by adding Aquantia controllers capable of reaching 5Gbps.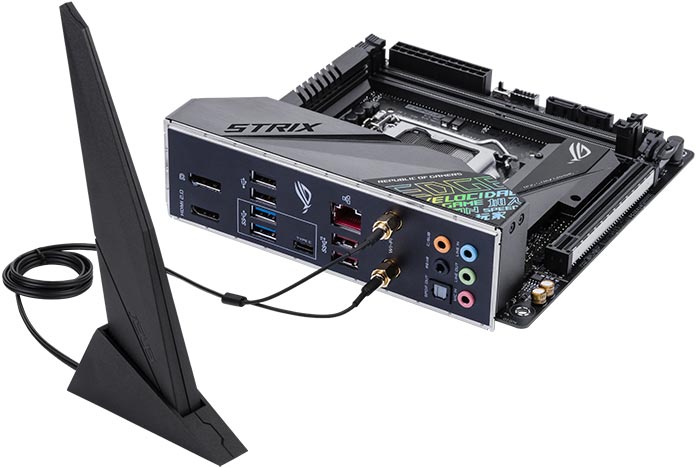 With more USB 3.1 Gen 2 ports available in the Z390 chipset, we can offer additional connectivity for faster devices. The WS Z390 PRO, all ROG, and higher-end Strix models have front-panel, Type-C, and multiple Type-A ports with double the peak theoretical throughput of their Gen 1 predecessors. The ROG Maximus XI Extreme, Prime Z390-A, and WS Z390 PRO unlock even more bandwidth for external devices with a header for the ASUS ThunderboltEX 3 add-in card.
All-new for this generation, the ASUS Node header allows monitoring and control via other devices connected to ROG, Strix Z390-E, Strix Z390-F, and Prime-A boards. Multiple devices can connect simultaneously, opening up interesting possibilities for DIY gear. We worked with In Win to create a prototype case with an integrated OLED panel that connects via Node and offers both LiveDash functionality and the ability to boot directly to the UEFI, while FSP has created a HydroDPM 1000W PSU that shares power stats, temperatures, and control over the CPU fan.
Supreme sound and subtle details
Although the integrated audio differs between families, each one is enhanced in different ways. The ROG and Strix series have SupremeFX sound augmented by intelligent amplification that detects the impedance of connected headphones and adjusts automatically to produce the best output. It's backed by Sonic Studio III software that can inject virtual surround sound and other effects into any device, from analog headphones and USB DACs to VR headsets and even Bluetooth gear. TUF Gaming motherboards use an exclusive S1200A codec and offer virtual surround sound via DTS Custom effects tuned for different genres, like shooters, MOBAs, and RPGs, while the Prime Z390-A and WS Z390 PRO use DTS Headphone:X.
Recording quality receives extra attention on the ROG, Strix, Prime Z390-A, and WS Z390 PRO. They all have a high 113-dB input SNR that captures crisp communication with squadmates and clear vocals for live-streaming. Those boards also share an impressive 120-dB output SNR along with circuitry to reduce popping and cut power-input noise.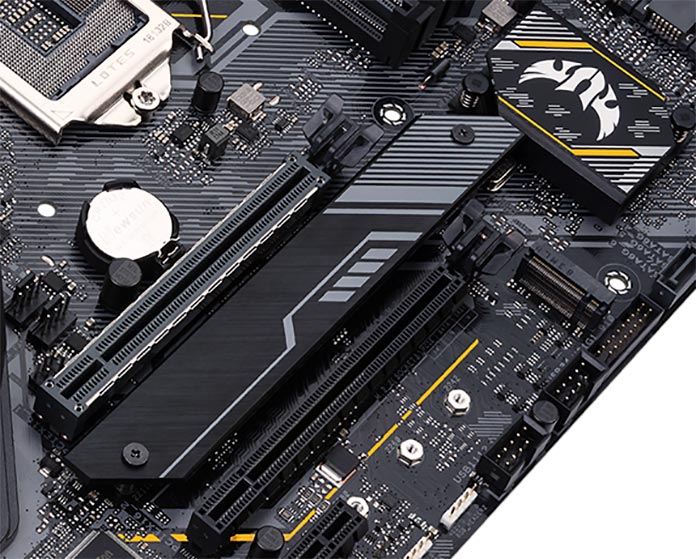 Subtler enhancements extend across the lineup, like overvoltage and ESD protection that help protect the boards from electrical damage. The VRMs are all digital, right down to the entry-level Prime models, and the PCIe slots are secured with extra solder to hold tightly under the strain of heavy graphics cards. Further SafeSlot reinforcement strengthens the walls and anchoring hook starting in the TUF Gaming series, where there's a greater chance of running a monster GPU cooler, and pre-mounted I/O shields simplify installation on ROG and Strix motherboards.
More refinement is found inside the UEFI, which offers a streamlined interface for beginners and an advanced mode with more options for experts. Integrated search functionality makes it easy to find the setting you're seeking within seconds, and any changes are summarized before you exit or save, so you can quickly double-check before pulling the trigger. Anyone can update the latest UEFI with the firmware's integrated EZ Flash 3 tool, which automatically downloads and installs the right BIOS for your board.
Driver discs are rarely used, so our Q-Installer software lets you download all of the latest drivers and utilities for your board with a single click, or select only the ones you want. Our new Armoury Crate utility combines useful functions for multiple ASUS products in a single UWP app. Introduced this summer with new ROG laptops, Armoury Crate is expanding into Z390 motherboards and other components, and it continues to add features to its arsenal.
Summarizing all the specifications
The ASUS Z390 family spans five distinct families. ROG Maximus is the pinnacle for gamers and enthusiasts who want the most from their hardware. Strix concentrates on ROG's essence to make the Republic of Gamers accessible to more builders, while TUF Gaming brings military styling and durable designs to entry-level price points. Prime adopts a different tone targeting prosumers and PC enthusiasts with other priorities, and it's joined by a WS board configured and tested for desktop workstations.
Everything you need to know about each model is summarized in the table below and detailed in the pages that follow. Scroll horizontally to see the full lineup, use the search bar to filter the results, and click model names to jump to that section of the guide.
Maximus XI Extreme
Maximus XI Formula
Maximus XI Code
Maximus XI Hero (Wi-Fi)
Maximus XI Gene
Strix Z390-E Gaming
Strix Z390-F Gaming
Strix Z390-I Gaming
Strix Z390-H Gaming
TUF Z390-PRO Gaming
TUF Z390M-PRO Gaming (Wi-Fi)
TUF Z390-PLUS Gaming (Wi-Fi)
Prime Z390-A
Prime Z390-P
Prime Z390M-PLUS
WS Z390 PRO
Size
EATX
ATX
ATX
ATX
microATX
ATX
ATX
Mini-ITX
ATX
ATX
microATX
ATX
ATX
ATX
microATX
ATX
Memory
4 x DDR4 up to 4400+ (OC)
4 x DDR4 up to 4400+ (OC)
4 x DDR4 up to 4400+ (OC)
4 x DDR4 up to 4400+ (OC)
2 x DDR4 up to 4600+ (OC)
4 x DDR4 up to 4266+ (OC)
4 x DDR4 up to 4266+ (OC)
2 x DDR4 up to 4600+ (OC)
4 x DDR4 up to 4266+ (OC)
4 x DDR4 up to 4266+ (OC)
4 x DDR4 up to 4266+ (OC)
4 x DDR4 up to 4266+ (OC)
4 x DDR4 up to 4266+ (OC)
4 x DDR4 up to 4266+ (OC)
4 x DDR4 up to 4266+ (OC)
4 x DDR4 up to 4266+ (OC)
Multi-GPU
2 SLI, 3 CrossFireX
2 SLI, 3 CrossFireX
2 SLI, 3 CrossFireX
2 SLI, 3 CrossFireX
NA
2 SLI, 3 CrossFireX
2 SLI, 3 CrossFireX
NA
2 SLI, 3 CrossFireX
2 SLI, 2 CrossFireX
2 SLI, 2 CrossFireX
2 CrossFireX
2 SLI, 3 CrossFireX
2 CrossFireX
2 CrossFireX
4 SLI, 3 CrossFireX
PCIe
3 x16
1 x1
3 x16
1 x1
3 x16
1 x1
3 x16
3 x1
1 x16
3 x16
3 x1
3 x16
3 x1
1 x16
3 x16
3 x1
3 x16
3 x1
2 x16
1 x1
2 x16
4 x1
3 x16
3 x1
2 x16
4 x1
2 x16
2 x1
4 x16
1 x4
M.2
4 x4
2 x4
2 x4
2 x4
4 x4
2 x4
2 x4
2 x4
2 x4
2 x4
2 x4
2 x4
2 x4
2 x4
2 x4
2 x4
SATA
6
6
6
6
4
6
6
4
6
6
6
6
6
4
4
6
Ethernet
Aquantia 5G
Intel 1G
Aquantia 5G
Intel 1G
Intel 1G
Intel 1G
Intel 1G
Intel 1G
Intel 1G
Intel 1G
Intel 1G
Intel 1G
Intel 1G
Intel 1G
Intel 1G
Realtek 1G
Intel 1G
2 Intel 1G
WiFi
802.11ac
802.11ac
802.11ac
Optional
802.11ac
802.11ac
NA
802.11ac
NA
NA
Optional
Optional
NA
NA
NA
NA
Audio
SupremeFX S1220
SupremeFX S1220
SupremeFX S1220
SupremeFX S1220
SupremeFX S1220
SupremeFX S1220
SupremeFX S1220
SupremeFX S1220
SupremeFX S1220
Realtek S1200A
Realtek S1200A
Realtek S1200A
Realtek S1220A
Realtek ALC887
Realtek ALC887
Realtek S1220A
USB 3.1 Gen2
1 front
1 Type-C
3 Type-A
1 front
1 Type-C
3 Type-A
1 front
1 Type-C
3 Type-A
1 front
1 Type-C
3 Type-A
1 front
1 Type-C
3 Type-A
1 front
1 Type-C
3 Type-A
1 Type-C
3 Type-A
1 front
2 Type-A
4 Type-A
2 Type-A
1 front
1 Type-A
2 Type-A
1 Type-C
3 Type-A
2 Type-A
2 Type-A
1 front
1 Type-C
2 Type-A
RGB headers
2 strip
2 address
2 strip
2 address
2 strip
2 address
2 strip
2 address
2 strip
2 strip
1 address
2 strip
1 address
1 strip
1 address
1 strip
2 strip
2 strip
2 strip
2 strip
1 strip
1 strip
1 strip
Price
$599.99 USD
$779.99 CAD
$449.99 USD
$584.99 CAD
$349.99 USD
$454.99 CAD
$289.99 USD
$376.99 CAD
NA
$244.99 USD
$318.99 CAD
NA
$209.99 USD
$272.99 CAD
$189.99 USD
$246.99 CAD
$169.99 USD
$220.99 CAD
$179.99 USD
$233.99 CAD
$169.99 USD
$220.99 CAD
$189.99 USD
$246.99 CAD
$149.99 USD
$194.99 CAD
NA
$399.99 USD
Availability (USA)

US Vendors

US Vendors

US Vendors

US Vendors

NA

US Vendors

NA

US Vendors

US Vendors

US Vendors

US Vendors

US Vendors

US Vendors

US Vendors

NA

US Vendors

Availability (Canada)

Canada Vendors

Canada Vendors

Canada Vendors

Canada Vendors

NA

Canada Vendors

NA

Canada Vendors

Canada Vendors

Canada Vendors

Canada Vendors

Canada Vendors

Canada Vendors

Canada Vendors

NA
NA
A full breakdown of each board starts on the next page with the Maximus XI Extreme. Be sure to check out our motherboard picker to whittle down the options by specifications.