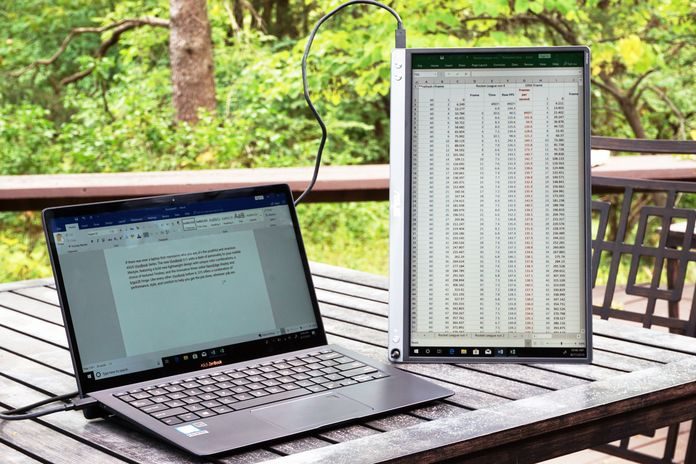 I can't tell you how many times I've been travelling for work and found myself logging hours on my laptop in a hotel, wishing I had a second monitor like I do at my office. I've done the trick of bringing an HDMI cable and using the TV in my room as a second display, but it's always too big and positioned at a terrible angle. Other times I've been working from home, perhaps outside on my back deck, but the lack of a second display inevitably forces me back inside to my desk. The perfect solution is a portable monitor that folds up neatly so it fits in my luggage but is also large enough to actually be useful. Enter the ASUS ZenScreen MB16AC.
Flexibility, literally and figuratively
When you picture a second monitor, you usually think of a big, desk-hogging thing that requires a stand, which is of course not exactly portable. But at 1.72lbs, the ZenScreen MB16AC weighs less than half what the average 15.6" ultrabook does, and at 8mm, it's just a hair thicker than the ZenFone 5Z.  Sleek and classy-looking, its design mirrors our high-end ZenBook laptops. The smoky grey aluminum back is decorated with the Zen line's signature concentric circle design, and a glossy silver ASUS logo shines out from the middle when the light catches it at just the right angle. 
The ZenScreen may be incredibly compact, but that's not to say it's a small screen. The bezel is just 7mm thick on three sides, allowing us to squeeze a 15.6" Full HD display into a package that measures 14.16″ x 8.91″. When paired with a laptop, you can double your screen real estate.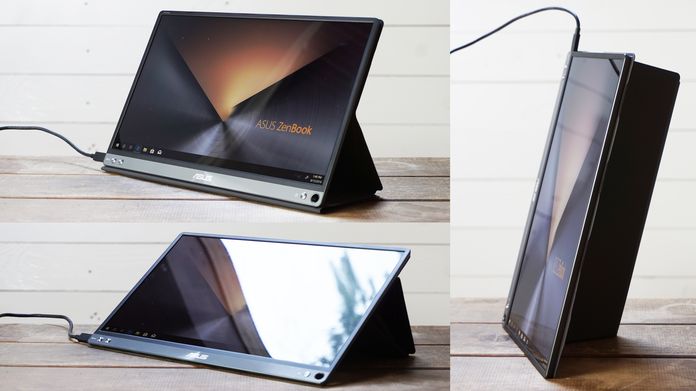 A durable magnetic Smart Cover keeps the ZenScreen safe during travel, and it doubles as a stand to save space. The Smart Cover allows you to position the monitor at different angles in both landscape and portrait orientations. When you rotate the ZenScreen MB16AC, Windows automatically adjusts the orientation of the screen to match.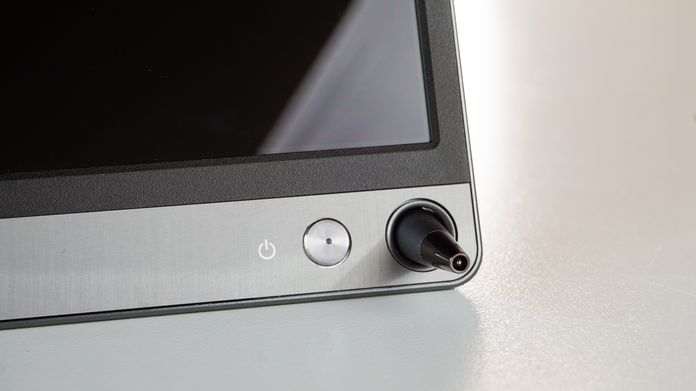 You can also prop up the ZenScreen with a pen using the strategically placed cut out in one edge. The monitor comes with a ballpoint pen in the box for just that purpose, and I found that unless I needed to position the MB16AC at a specific angle, I preferred the ease and simplicity of just sticking a pen in the hole. You can use any old pen that fits the cut out, so you're pretty much guaranteed to have a de facto stand for the ZenScreen MB16AC on your person at any given time, whether you use the case or not. 
Room to work it out
Certain types of work just aren't as comfortable sans second screen. If you're an accountant, trying to juggle spreadsheets on just your laptop's display can feel really cramped. The MB16AC offers a wider desktop, so you can see more of your work with less scrolling around. With the ZenScreen MB16AC in portrait mode, you get a display that's nearly legal paper size, which is perfect for attorneys and anyone else who handles contracts and other legal documents. It's also ideal for coders and those of us who benchmark PCs and handle loads of data. The added real estate also comes in handy for editing photos. You can arrange your tools and chat windows on the MB16AC and use all of your primary display for editing. 
If you're a frequent work traveler like I am, you may already be silently weeping with joy at the prospect of never again having to spend half your productivity time on the road Alt + Tabbing between your spreadsheet and Word documents or emails. But there's more to it than flying solo in style. The ZenScreen MB16AC is ideal for presentations, too. You can turn it around to clients or colleagues seated at the conference table and show your PowerPoint, drawings, images, or video without forcing everyone to crowd around your laptop.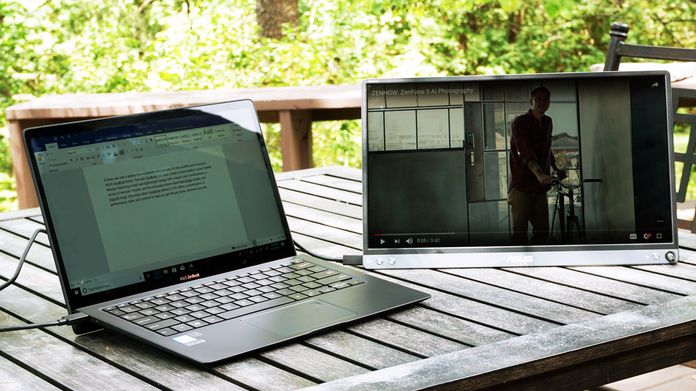 When you need to unwind, the second display makes for a lovely portable home theater. Movies and TV shows look great in Full HD glory. When I want to keep an eye on the sports contest du jour while I work (uh, don't tell anyone I do that), I can be doing something productive on my laptop while simultaneously enjoying the game. 
The cleverness of that USB Type-C port
The ZenScreen MB16AC has just one port, but it's an incredibly powerful and flexible USB Type-C port. USB Type-C is becoming increasing popular across the industry because it can deliver both both power and video over one cable.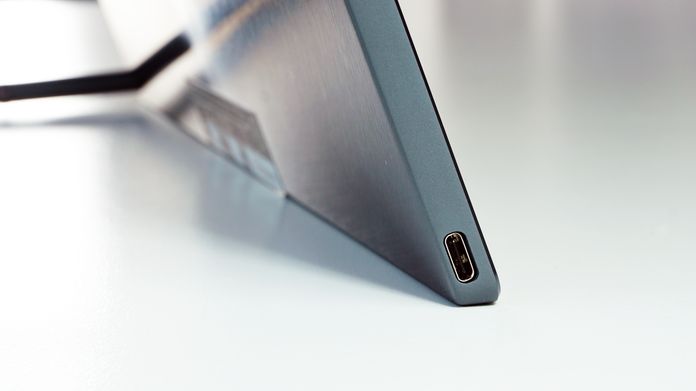 The USB Type-C port on the ZenScreen has Power Delivery, which means it gets juice from the port on your PC and therefore doesn't need its own AC adapter. You don't even have to have your laptop plugged in to power it, which means you can enjoy this dual-screen goodness almost anywhere, even when there's no outlet readily available. All you need is the one cable that comes with the ZenScreen.
If you don't have a USB Type-C port on your computer, you can use the included dongle to convert one end of the cable to USB Type-A. That's the standard USB port that's been on every computer you've owned in the last 15 years.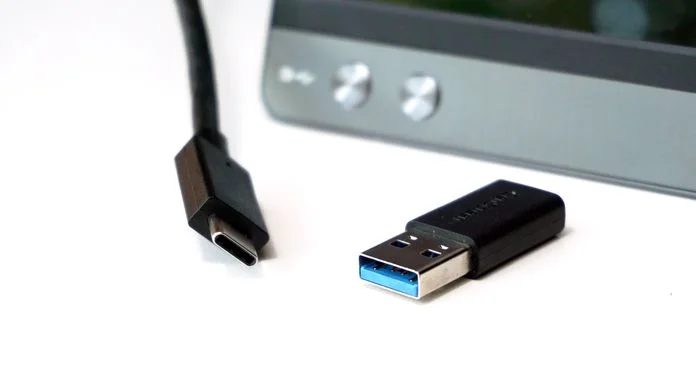 Portable prettiness
You're not sacrificing display quality for portability and convenience with the ZenScreen. The 1920 x 1080 resolution offers plenty of detail for a screen this size, and the IPS panel features wide viewing angles that ensure colors stay vivid and bright, even if you're sharing the screen and sitting off to one side. 
ASUS Eye Care reduces eye strain by tackling two of the most common causes of eye fatigue during long work sessions or movie marathons. Backlight flicker is known to cause headaches and eye fatigue, and prolonged exposure to blue light can damage your eyesight and disrupt your sleep. The ZenScreen features flicker-free technology and blue light filters, so you can stay comfortable even when you're burning the midnight oil.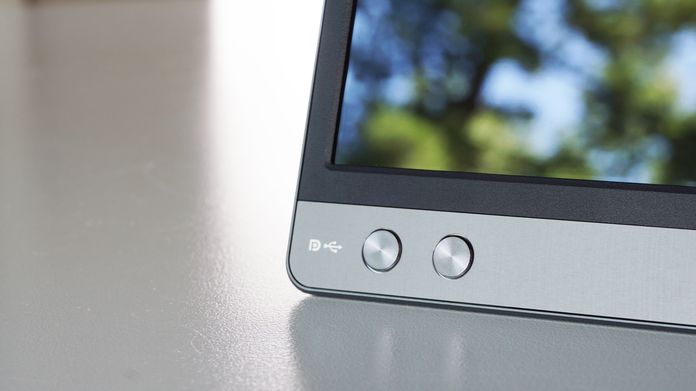 With a bevy of preset modes on board, including Theater Mode, Game Mode, and Night View Mode, you can adjust the ZenScreen to best suit the content you're presently viewing. Brightness and color are fully adjustable, too. You can even customize settings precisely to your liking and save up to four different profiles. In the OSD, enter the MyFavorite area, select Setting 1, and press Save to store whatever current settings you've created. Any time you want to revert the display to those settings, simply enter that area again and select Load.
Get set, go
Setting up the ZenScreen MB16AC with your laptop for the first time is easy. With some newer laptops, it's simply plug-and-play, but even older laptops are compatible provided you install the right drivers.
The ZenScreen automatically rotates when you flip it between the horizontal and vertical orientations, but you may need a driver to ensure that your PC supports this action. You can find it here. It's a small download and can be installed and running on your computer in just a couple of minutes. You don't even have to restart. Just make sure that Auto Rotation is switched to "On" in the monitor's onboard DisplayWidget.
If you have a laptop that has USB Type-A ports only, you may also need to install a DisplayLink driver to ensure that the USB Type-C to USB Type-A dongle works. You can check to see if your PC is compatible here, and if not, you can download the necessary driver here.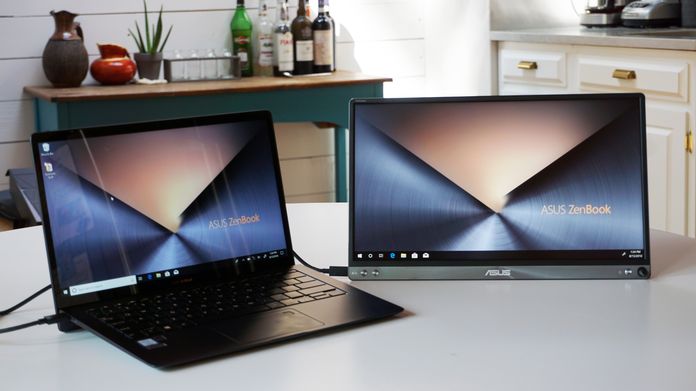 Once you have the necessary drivers in place and have connected the ZenScreen to your PC for the first time, you'll want to configure the Display Settings to your liking. Right-click on your Windows 10 desktop and click Display Settings. When the window appears, scroll down to Multiple Displays, click the drop-down arrow, and select Extend These Displays or whatever other option you prefer. Then back up at the top of the page, click and drag the images in the window to arrange the monitor placement and click Apply.
Perfect for portable work
ZenScreen MB16AC
Panel
15.6" IPS
Resolution
Full HD, 1920x1080
Color gamut
46% NTSC
Brightness
220 cd/㎡
Picture modes
sRGB Mode
Scenery Mode
Theater Mode
Night View Mode
Game Mode
Reading Mode
Darkroom Mode
QuickFit
GamePlus
Inputs
USB Type-C
Power consumption
<8W
Dimensions
14.61" x 9.91" x 0.31"
Weight
1.72lbs
Accessories
Smart Cover Case
ASUS ballpoint pen
Price
$249 USD
$325 CAD
Availability (USA)

US Vendors

Availability (Canada)

Canada Vendors
The ZenScreen MB16AC offers so much and compromises on so little. A Full HD 15.6" display in a physical package so slim and compact is a downright treasure for working travelers and anyone who wants a little more flexibility while working from home. The Smart Cover protects it from scratches while also offering you a built-in stand. Best of all, you only need to carry one cable for both power and display. The ASUS ZenScreen MB16AC is priced at $249 USD and $325 CAD and is available from the retailers listed in the table above.