As anyone who's ever shouted to the wireless gods in anguish and frustration can attest, not all routers are created equal. A good router is reliable, fast, and easy to set up, which requires strong engineering. The ASUS Blue Cave router embodies all of that and more. It's crafted to be an artistic presence in your home, and it's also ready for the growing wireless demands of the modern connected family.
Guts and glory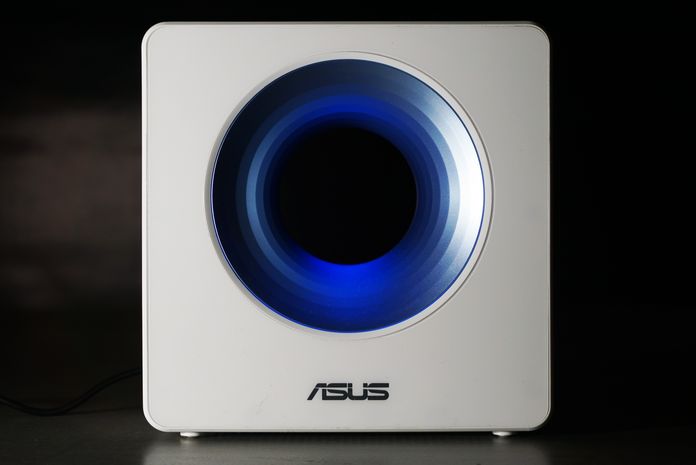 Notably, the Blue Cave doesn't look like a router. Instead of a small box with spears jutting out to and fro, it's just a white square with a metallic blue hole in the middle. An attractive design was one of our goals from the outset, and the engineering demands of the final design were significant. It's tricky to find the right number, type, and orientation of antennas, and then you have to be sure to avoid interference with the PCB and ensure proper cooling. Putting all of that inside a router instead of outside is even more difficult, but our designers were adamant; the Blue Cave needed a design that wasn't just devoid of pointy antennas, but also light and airy. It shouldn't dominate any space that it's in.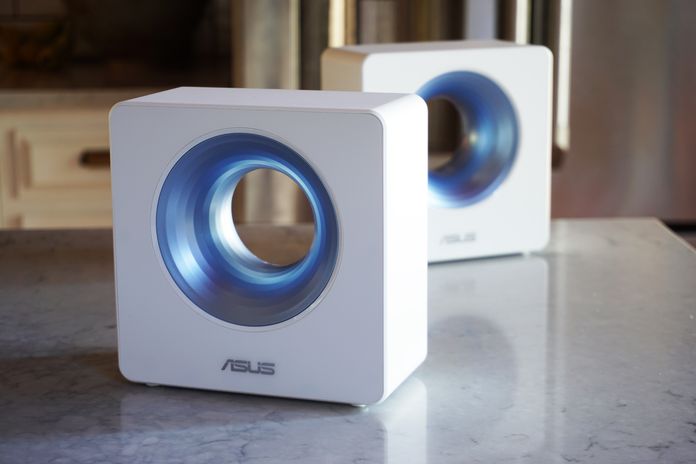 From that challenge is where the idea for the hole in the middle emerged. You can literally see through the middle of the router, and the white chassis all but disappears when it's sitting on a desk or shelf. It's a sort of optical illusion. For a bit of panache, the hole is ringed with a metallic-looking blue finish that's meant to evoke the tranquility of a calm ocean.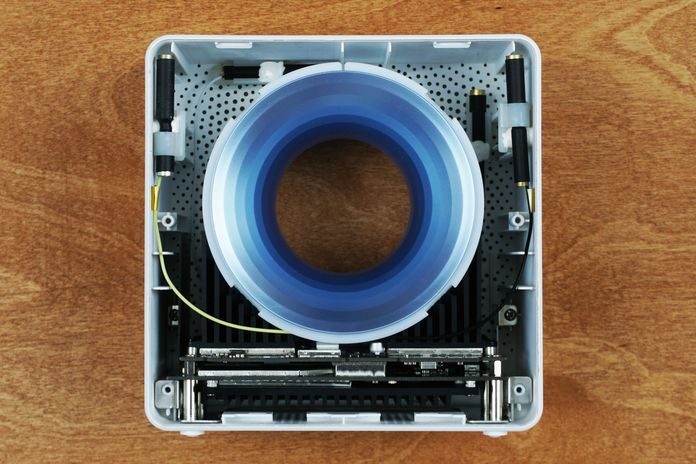 Inside the Blue Cave router is where the real beauty lies, though. Our engineers found that they could deliver 4×4 MIMO capabilities to handle multiple user streams at once by shrinking the PCB's footprint to half the normal expected size and using two overlapping pieces to avoid interference. Because of the reduced internal space, we also needed a more efficient cooling solution, so the heat sink is made of graphene instead of the more typical copper.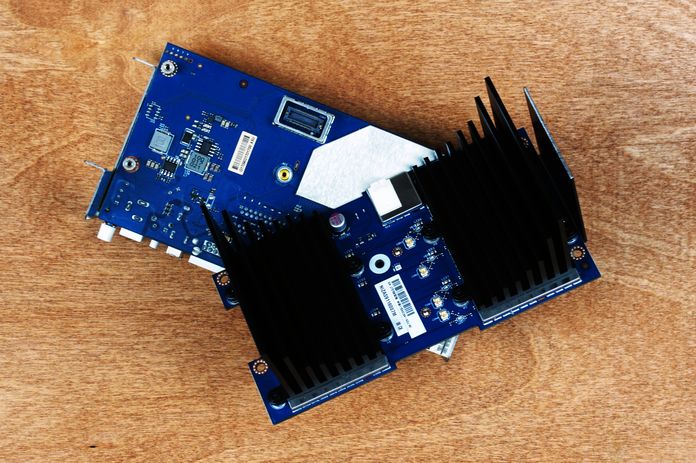 The masterstroke, though, is the antennas. Much experimentation revealed that the ideal configuration to maximize performance while minimizing interference is three vertical antennas and a horizontal one.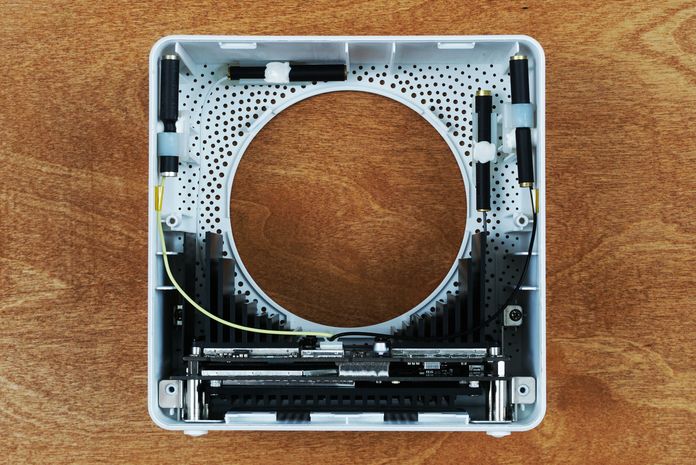 The end result is an AC2600 router that delivers 802.11ac WiFi and combined peak bandwidth of 2,600Mbps, which far exceeds even wired gigabit speeds.
Set it but don't forget it
In contrast to the complexity of its internals, the Blue Cave is really easy to set up. You can configure it from your phone with the ASUS Router app or via the web UI over a wired or wireless connection.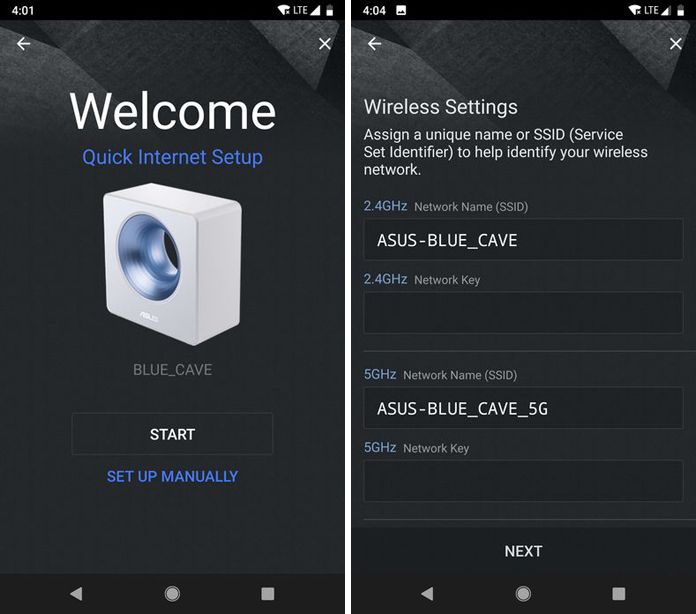 The app is available and free for both Android and iOS, and it takes just a minute to download and install. From there, you just have to follow the onscreen instructions when you launch the app.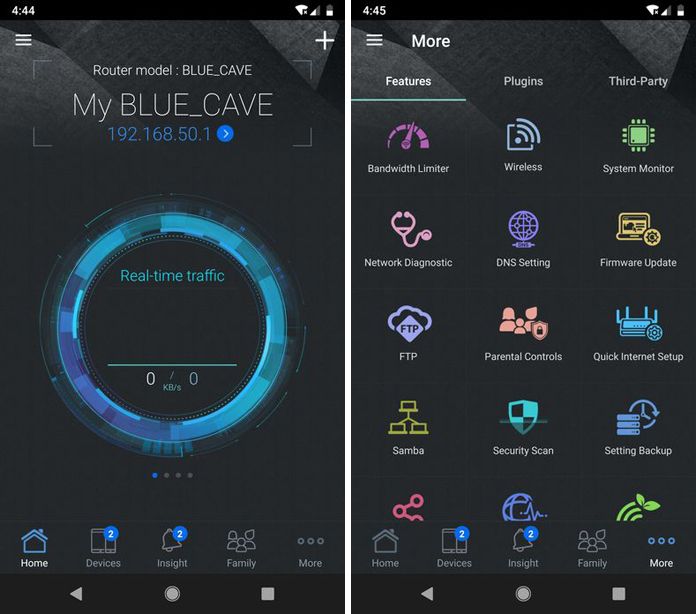 After you connect the Blue Cave to your modem with a networking cable and plug in the router's power cable, go into your phone's settings and join the default ASUS network. Back in the app, tap that same router whose network you just selected. Magic will happen behind the scenes for a moment, and then you'll be greeted by a welcome screen. If you're a pro user who knows all the minute details of your network, you can tap Set Up Manually; for the rest of us, just tap Start. You'll be asked to rename the SSID and enter a network key, and then on the next screen you can change the router's login name and password. That's about all you have to do to get the router configured and online.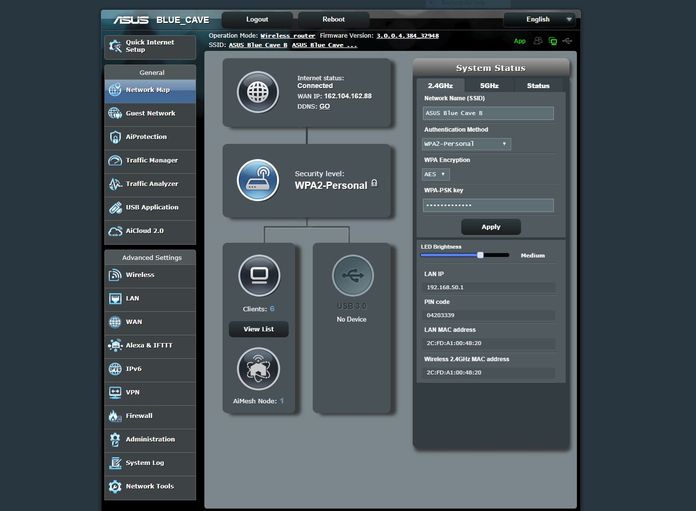 I'm a bit of a sucker for being able to set up a router with only my phone, but it's just as easy to use the web-based UI. It has a convenient layout that shows you a ton of insights into what's happening on your network at a glance. And when it was time to really start messing with additional settings, I found that I preferred the web UI on my large monitor. It makes it easy to set up a guest network, keep all your connected devices secure with Trend Micro-backed AiProtection, track and adjudicate the internet activity of family members, and employ all manner of advanced administrative tools.
The Blue Cave was designed with IFTTT integration to help you control your smart home devices now and in the future, and you can automate some of the actions above using Amazon Alexa without having to first log in to the router. From the web GUI, follow the simple onscreen instructions to pair with your Amazon account and Alexa device. Once synced up, try to resist pausing the Blue Cave's internet access in the middle of someone's intense game just by speaking the instruction aloud. Or you could ask Alexa to turn on the guest WiFi network so you can wrap up dinner prep as party guests begin to arrive.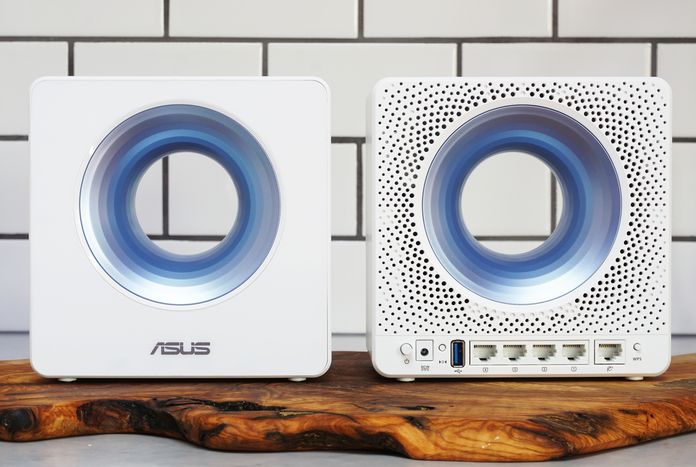 There are four open Ethernet ports on the back of the Blue Cave for other networked devices you might want to add. Its USB port makes it really easy to connect a thumb drive or external hard drive to configure as networked storage, too.
Setting up for success
We often try and hide routers so they aren't seen, but the Blue Cave is so attractive that it won't be an eyesore no matter where you put it. It can perch on your desk, rest on a living room shelf, or even demurely sit next to the coffeemaker in your kitchen. That visibility also makes it easier to optimize placement to get the best performance, because line-of-sight can help goose connection stability and performance between router and device.
When you're choosing a spot for a router, you generally want it to be centrally located in your home so the signal remains as strong as possible for all the devices that are flung to the corners of your home. There are occasions when this either isn't feasible because of the location of your modem or is all for naught because the router can't cover your entire house no matter where it's located.
Both of those scenarios have cursed me before, and at the same time no less. My ISP placed my modem in one corner of the house, on a lower level. Because I live in a split level home, it's especially tricky to try and run a wired Ethernet connection up through the walls to secure a more ideal place for the wireless router. Even if I could, most routers I've tried can't reach the entire house anyway. My living room usually ends up as a dead spot, which makes streaming TV while one or more family members work on laptops or tablets on the couch untenable.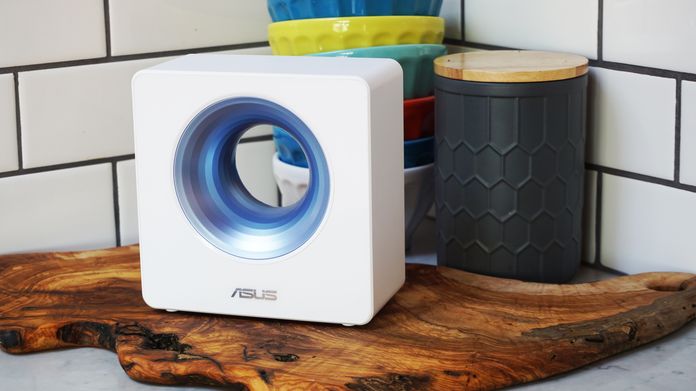 I set up a single Blue Cave router to see how it would fare. The performance is extraordinary. Even in the farthest corners of my house where the connection is often spotty, I still had no issue streaming a variety of content or playing games. To test the network's limit, I streamed a 4K video and walked all over the house, trying to find a dead-ish spot where the wireless signal lagged. I had to walk halfway down my driveway before I detected any glitch in the 4K video stream whatsoever. Back at my desk, I could stream three simultaneous FHD videos on separate devices without any noticeable performance impact.
The upload speeds are impressive, too. For most, download performance is much more important than upload performance, but slow uploads can be frustrating if you frequently back up large files to the cloud. With the Blue Cave, my upload speed is almost 600Mbps when I'm near the router and is still around 200Mbps when I wedge myself into an opposite corner of the house where connections are iffy at best. Don't tell anyone at ASUS HQ, but there's no way I'm sending this Blue Cave router back.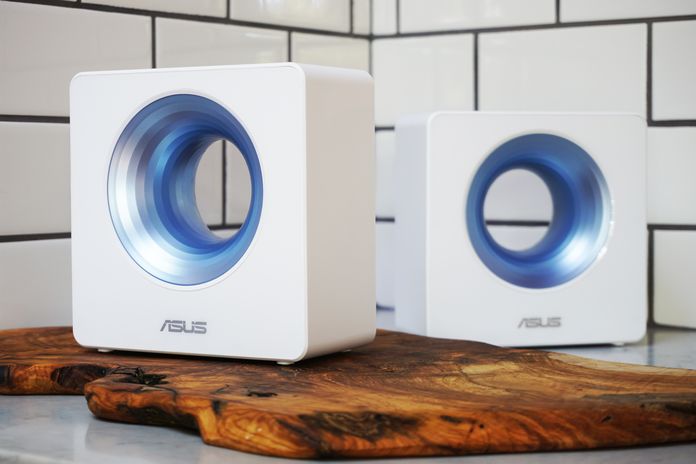 I previously found a great solution to my wireless coverage problem in the ASUS Lyra Trio, which lets you create a mesh network that significantly increases wireless coverage and stability across large areas. The Blue Cave router has the same AiMesh feature, so I set up a pair of them, and it worked like gangbusters. Not everyone will want or need a mesh network, but every house is different. An AiMesh network with multiple Blue Cave routers is an excellent way to ensure corner-to-corner, top-to-bottom WiFi coverage in a home of any size.
Model
Blue Cave
Chipset
Dual-core Intel CPU
Networking standards
IEEE 802.11a/b/g/n/ac,
IPv4 and IPv6, MU-MIMO support

Wireless throughput
AC2600 (800 + 1,734 Mbps)
Tx/Rx
2.4GHz: 4T4R
5GHz: 4T4R
Antennas
4 x internal
Operating frequency
2.4GHz
5GHz
Ethernet
4 x LAN, 1 x LAN/WAN
Price
$179 USD
$239.99 CAD
Availability (USA)

US Vendors

Availability (Canada)

Canada Vendors
Form and function
The easy selling point of the Blue Cave router is that it's stylish yet subdued, with a decidedly unrouter-like, antenna-less appearance and a classy white-and-blue color scheme that won't be out of place anywhere in your home. But more impressive is the performance that it offers. You can pick up a Blue Cave router for $179 USD or $239.99 CAD from the retailers in the table above.