Report for basic training with the TUF X470-PLUS Gaming
TUF represents a new approach to gaming that takes the term battlestation to heart. The distinctive design exudes a futuristic military vibe that stands apart from the sea of copycats pervading the market, and it's not limited to our motherboards. We've partnered with industry heavyweights to create a TUF Gaming Alliance dedicated to delivering consistent styling across enough components to fill a complete system. G.Skill already has matching memory, and Cooler Master is releasing a chassis, PSU, and coolers that all fit together. We're also working on additional hardware with other partners, and on functional integration that goes beyond cosmetic matching.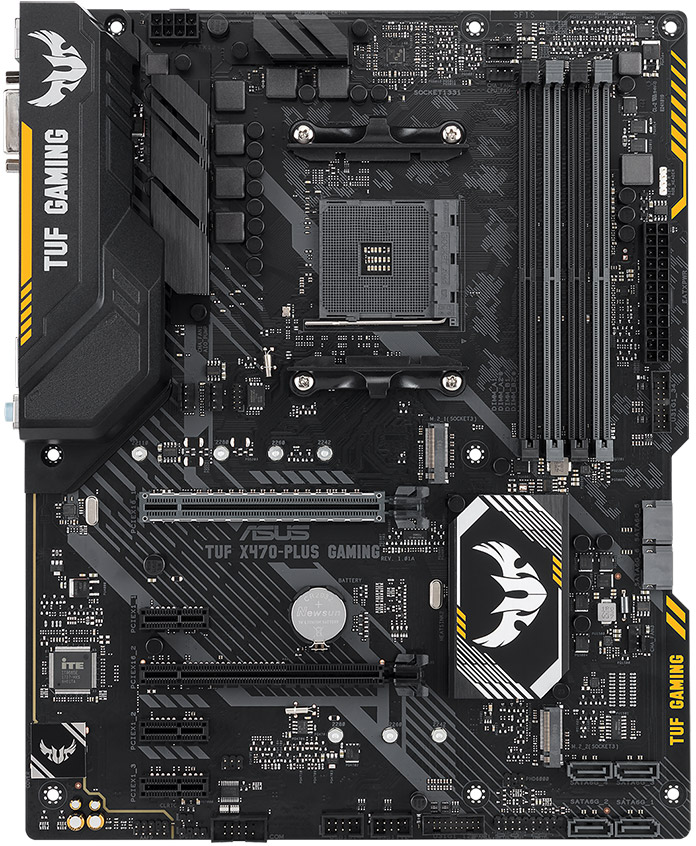 While the military motif is an important part of TUF Gaming's identity, the family is also focused on helping new recruits build affordable rigs that run reliably from the first boot. Streamlining the setup is crucial to ensuring a good first-time DIY experience, so the TUF X470-PLUS Gaming simplifies cooling on multiple fronts. The dedicated AIO connector requires no additional configuration, the built-in calibration tool profiles all your fans, and each header automatically adapts to DC and PWM hardware. Although the board lacks support for external temperature probes and linking individual fans to groups of sensors, system cooling can still be tuned for gaming by linking chassis fans to the GPU temperature of compatible ASUS and ROG graphics cards.
Gaming audio is enhanced by DTS effects that envelope you in surround sound with only a standard stereo headset. Three modes offer acoustic profiles optimized for different genres: Aerial lifts you above the game world for MOBA, strategy, and sports titles with airborne perspectives; Soundscape puts you in the center for MMOs, RPGs, and action-oriented gameplay; and Tactical makes it easier to detect your enemies in first-person shooters and stealthy sneakers.
TUF Gaming's commitment to durability manifests in the military-grade electrical components populating the PCB. The rear ports have protection against electrostatic discharge, the DRAM is shielded from short circuits and current spikes, and the SafeSlot is armored to withstand physical damage. With precise Digi+ power delivery for the CPU and effective cooling management for your entire system, the TUF X470-PLUS Gaming is designed to sustain stable operation over the long run.
TUF X470-PLUS Gaming
Size
ATX
Memory
4 x DDR4 up to 3200+ (OC)
Multi-GPU
2 x CrossFireX
PCIe
1 x16 (CPU): x16, x8, x4
1 x16 (Chipset): x4
3 x1 (Chipset)
Storage
1 x M.2 22110 (NVMe x4 or SATA 6Gbps)
1 x M.2 2280 (NVMe x2 or SATA 6Gbps)
6 x SATA 6Gbps
Networking
Realtek 8111H Gigabit Ethernet
Audio
Realtek ALC887 codec
Display
DVI-D
HDMI 1.4b
USB
3.1 Gen 2: 2 x Type-A
3.1 Gen 1: 4 x front, 1 x Type-C, 2 x Type-A
2.0: 4 x front, 2 x Type-A
Aura
1 x strip headers
Cooling
1 x AIO pump header
4 x fan headers
Price
$159.99 USD
$201.59 CAD
Availability (USA)
Newegg
Amazon
Availability (Canada)
Memory Express
Even with entry-level pricing, the TUF X470-PLUS Gaming equips essentials like dual M.2 slots with RAID support, Aura Sync system lighting via RGB strips, and all the other core ASUS features shared with the rest of our X470 series. You can find the board listed at the retailers above for $159.99 USD and $201.59 CAD.
Spec a stylish sleeper based on the Prime X470-PRO
Gaming deserves a lot of credit for driving the market for desktops in recent years, but there are many more applications for Ryzen's prodigious power. Droves of professionals, privateers, and prosumers can use the multicore monster to slay demanding workloads like editing 4K videos, rendering 3D scenes, and compiling mountains of code. They need a motherboard matching their more mature ambitions, so the Prime X470-PRO puts our enthusiast mindset in a more straightforward package.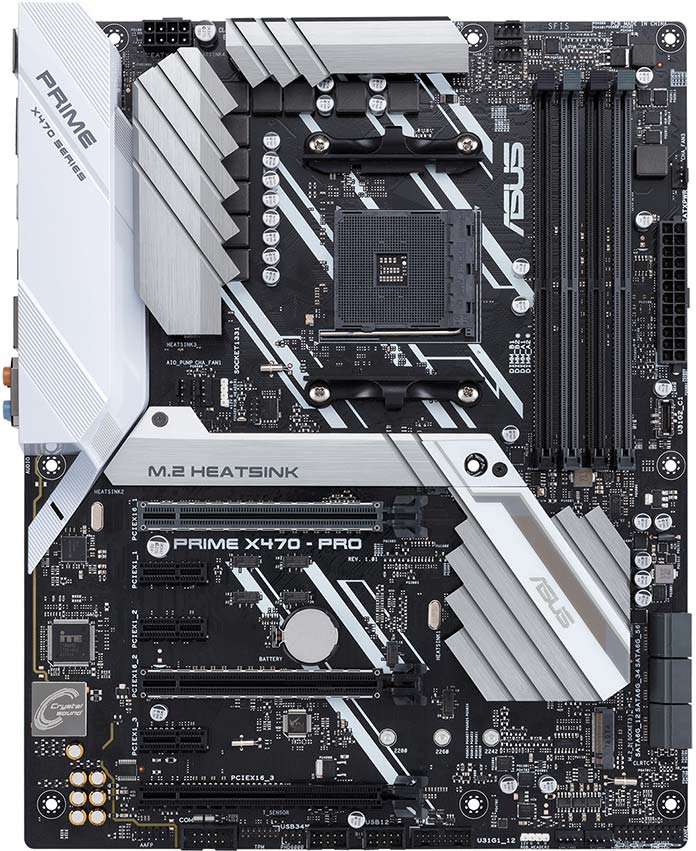 The chiseled features, stark white accents, and raw metal highlights impart artistic flourish with architectural inspiration, a fitting combination for a board that's so well suited to designers and content creators. The softened onboard lighting and support for two strings of RGB strips give you the option of maintaining the subtle aesthetic or using it as a bright backdrop to reflect other colors.
Beneath the clean exterior lies the same 5-Way Optimization algorithm that ROG boards use to automatically tune the cooling and overclock the CPU. The one-touch auto tuner ensures that even inexperienced newbies can extract extra performance from their CPU and cooling. Perhaps more importantly, the frequency boost possible with unlocked chips can accelerate performance enough to save valuable time and money for professionals bottlenecked by processor-intensive tasks.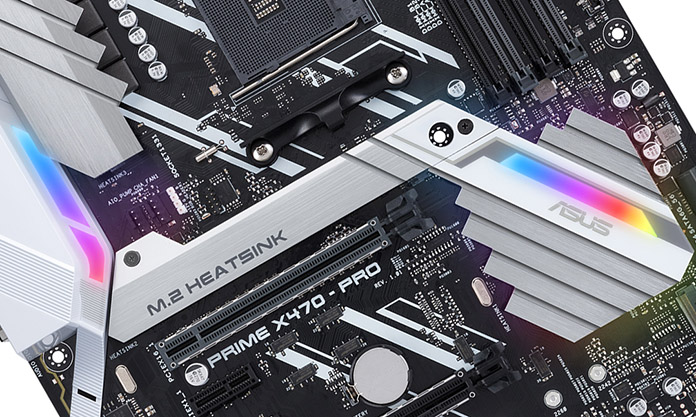 Even at stock speeds, the Prime X470-PRO is stacked. It has the same internal expansion capacity as the Strix X470-F Gaming, complete with support for multiple graphics cards to accelerate gaming and other GPU-intensive loads, like machine learning and related AI processing. The primary M.2 slot keeps four-lane NVMe SSDs cool with an integrated heatsink, while the secondary slot has a slower dual-Gen2 config. And there are myriad options for system cooling, including six onboard headers, two of which are pre-configured for liquid pumps.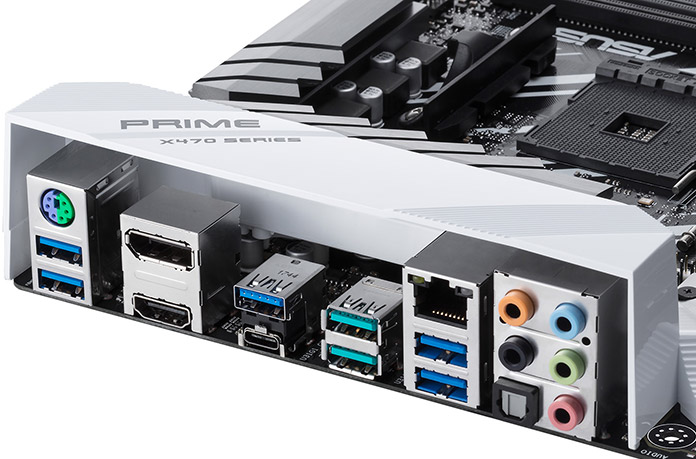 It's hard to single out anything that's truly missing from the Prime X470-PRO. Although the Crystal Sound audio lacks the SupremeFX branding emblazoned on ROG boards, it's based on a similar S1220A codec and features many of the same hardware upgrades. Dual display outputs support Raven Ridge graphics, and USB connectivity covers all the relevant flavors, from a hopped-up USB 3.1 Gen2 connector up front to a reversible Type-C jack around back.
Prime X470-PRO
Size
ATX
Memory
4 x DDR4 up to 3466+ (OC)
Multi-GPU
2 x SLI, 3 x CrossFireX
PCIe
2 x16 (CPU): x16, x8/x8
1 x16 (Chipset): x4
3 x1 (Chipset)
Storage
1 x M.2 22110 (NVMe x4 or SATA 6Gbps)
1 x M.2 2280 (NVMe x2 or SATA 6Gbps)
6 x SATA 6Gbps
Networking
Intel I219-V Gigabit Ethernet
Audio
Realtek S1220A codec
Display
DisplayPort 1.2
HDMI 1.4b
USB
3.1 Gen 2: 1 x front, 2 x Type-A
3.1 Gen 1: 2 x front, 1 x Type-C, 5 x Type-A
2.0: 2 x front, 2 x Type-A
Aura
IO shield, chipset heatsink
2 x strip headers
Cooling
2 x pump headers (AIO, pump+)
4 x fan headers
1 x thermal sensor header
Price
$184.99 USD
$233.09 CAD
Availability (USA)
Newegg
Amazon
Availability (Canada)
Canada Computers
Memory Express
Thanks to refined styling that appeals to enthusiasts and professionals alike, the Prime X470-PRO brings signature ASUS features to everything from overclocked gaming rigs to buttoned-down business workstations. It's selling for $184.99 USD and $233.09 CAD at the etailers listed above.