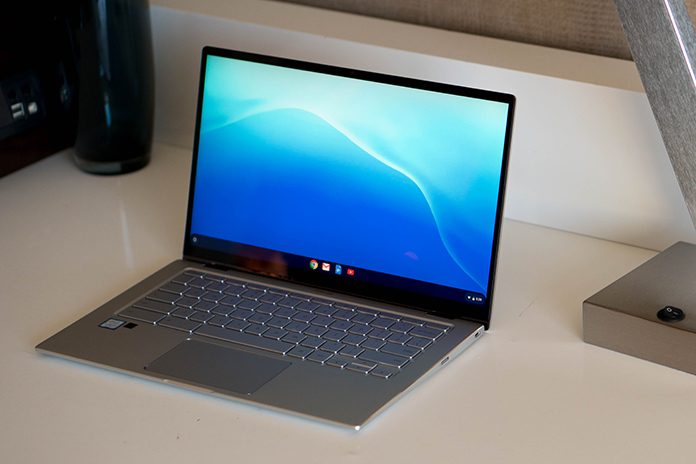 Since their debut back in 2011 Chromebooks have continued to evolve from their humble beginnings. At launch, their low cost and heavy cloud integration made them ideal for educational environments, but their dependency on the internet and a lack of support for commonly used applications made them unappealing to everyday users, especially people shopping for a work laptop. Those days are long gone, though. Google has turned Chrome OS into a full-featured operating system with a complete range of extensions that can replicate much of the functionality of popular desktop applications, and many of them work offline, too.
One of the biggest advancements to the platform came last year in the form of support for the Google Play Store. Suddenly, any compatible Chromebook could access the Play Store's two million Android apps. This opens up countless new uses for Chromebooks, and with many of the latest models packing premium components, like powerful Intel processors and additional onboard storage, they have begun to rival traditional Windows-based laptops in terms of both form and functionality. These new Chromebooks are a compelling fit for professionals in need of a lightweight laptop to take their work on the road, and students who want a stylish device to take between class and home. But too often, if you want a Chromebook that can do more, you have to pay more. Our new Chromebook Flip C434 is designed to turn heads and tackle your toughest tasks without breaking the bank.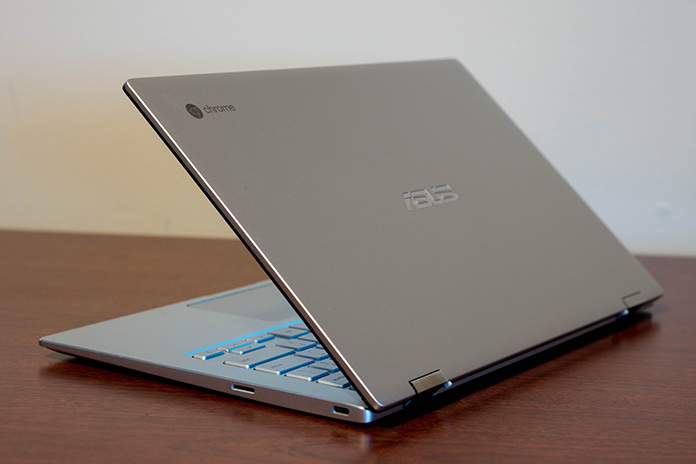 Aluminum and Chrome
At first glance, you might mistake the Chromebook Flip C434 for a high-end Windows laptop with a hefty price tag, and with its lightweight aluminum body and elegant aesthetic, one could hardly blame you. Built on the success of its predecessor, we took the best parts of the Chromebook Flip C302 and made some thoughtful tweaks to improve on an already great design. This includes a thinner all-metal body composed of lightweight aluminum that looks as solid as it feels in your hands. You also don't need to worry about touching it too much or wrapping it in a sleeve between meetings, because the brushed silver metal is an ace at hiding unsightly fingerprints. Our ErgoLift hinge is new to the Chromebook Flip line and comes straight from our luxury line of ZenBook laptops. The C434's 360° hinge lets you flip the screen and transition to a range of form factors, just like the C302. However, now when you open the laptop and tilt the screen back, it gently raises the back of the device. This adds a slight tilt to the keyboard, resulting in an even more comfortable typing experience.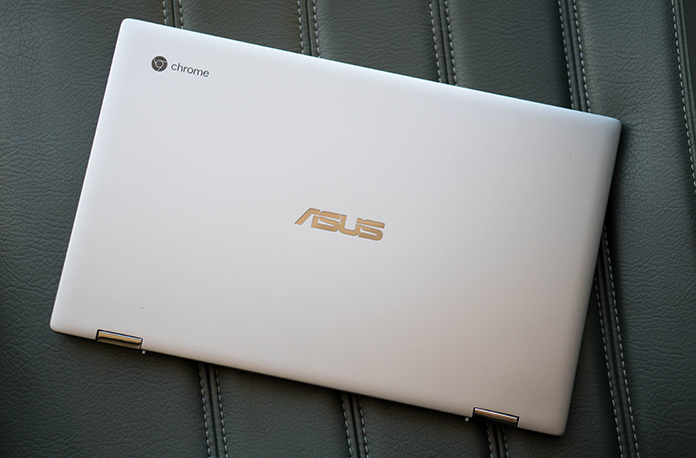 A perfect marriage of form and function
I recently got married, and while prepping for my honeymoon, I decided to leave my Windows laptop at home in favor of bringing the C434. I had no plans to do any work, but I still wanted to bring a laptop along for entertainment. Plus, I like taking a lot of photos when I'm traveling, and I need some way to manage and edit them. A few years ago I would have balked at the idea of using a Chromebook to manage and edit photos. Sorting and editing hundreds of photos shot in RAW is not something I'd care to do without dedicated software, and the last Chromebook I used was essentially limited to the functionality of a browser. However, thanks to advancements in the Chrome operating system and the extra power of the C434, it's actually a perfect fit today.
There are a few requirements that I needed to have met in order to use a laptop as my companion device for photography: It needs to be able to handle the transfer and storage of my photos, and it needs to be able to run editing software that's comparable to what I use at home on my Windows machine. The Chromebook C434 handily checked all the boxes.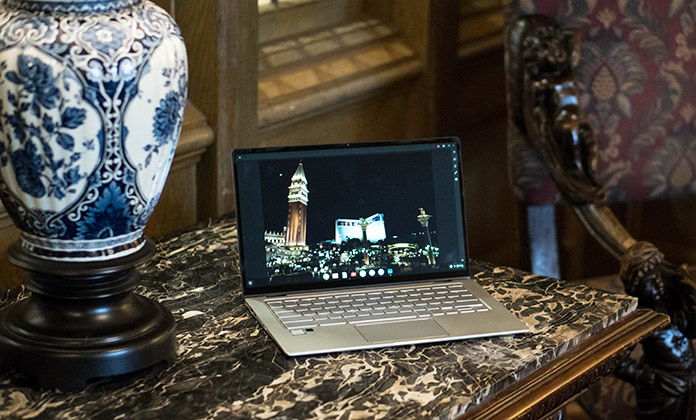 Seamless integration with Google's cloud storage meant that my first two requirements were fulfilled with no problem. The photos from my phone are automatically backed up to Google Photos, so they were accessible with just a few clicks. To access the photos from my camera, I needed only to connect my memory card using the same dongle I use for my regular laptop. From there I could stash them on the 64GB SSD to edit, then upload them to Google Photos for safekeeping and retrieval later on. Since I already use Google's cloud services in my workflow, the entire process was a breeze, and the fruits of my labor were waiting for me when I logged back into my desktop at home.
The last requirement seemed like it would be a bit of a challenge, and I was prepared to have to switch to a new application for editing. However, since the C434 can install any Android app via the Play Store, I was able to download the same application I use at home. Adobe Lightroom lets me quickly analyze and edit large batches of photos, and I'm intimately familiar with its functions. Being able to run it on the Chromebook meant I could edit on-the-go without missing a beat. The C434's screen is a beautiful 14" Full HD touchscreen that is deceptively large, considering the small package its housed in, so editing didn't feel cramped. For comparison, the C302 had similar dimensions but only packed a 12.5″ screen. The reduced footprint is thanks in part to the 5-mm bezels on each side, which makes the entire laptop more compact, but also gives content on the screen a bit more breathing room.
Having the right software is one part of the equation, but being able to run it smoothly is crucial, too. Chrome OS is fairly lightweight, so it doesn't need a lot of power, but Android apps introduce a variability in the requirement for more muscle. The C434 packs a dual-core Intel Core m3-8100Y and 4GB of RAM, which was able to keep pace with my photo editing needs. I'm not one to focus on a single task at a time, so I was never just tweaking photos. But even as I was moving between social platforms to post pictures and listening to music, I was able to switch back to Lightroom and continue sorting and editing the hundreds of pictures I took on the trip without any slow-down.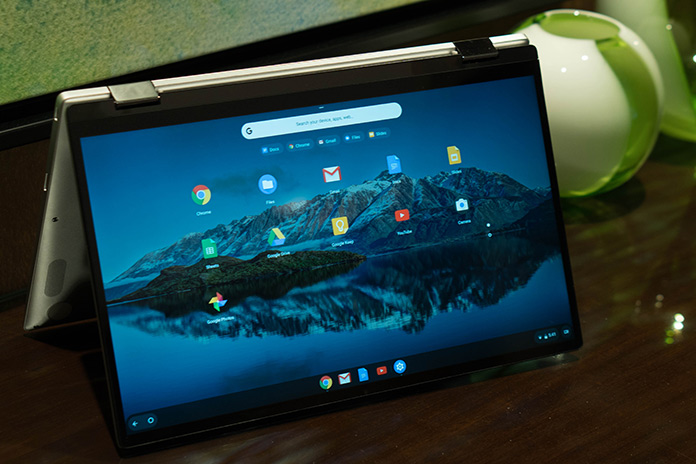 While I was purposely avoiding work on this trip, I quickly realized that most of the daily tasks I perform would be just as easy to accomplish as my photo editing. I typically use Google Docs for writing, so that's a no-brainer, but Microsoft's Office suite is also available for download for Android. This is invaluable for those times when I need to open and edit existing documents without worrying about compatibility or formatting issues that can crop up when opening Office documents with other software. With more than two million apps currently available in the Play Store, there's almost certainly an app out there to accomplish virtually any task I encounter day-to-day.
Perhaps one of my favorite things about this laptop is how quickly it turns on when you open the lid. I hate waiting around for a device to turn on or wake up, and both my Windows desktop and laptop make me wait at least a moment or two before coming alive and letting me get to work. I can safely say that I've never been happier in that department. As soon as I start to lift the lid, the keyboard lights up, the screen kicks on, and the laptop is awake and ready for use before I've even properly positioned the display. It's a very satisfying feeling to see a laptop wake up instantly in a way that's more akin to a smartphone than a PC.
When it comes to software and functionality, I was happy to see that the C434 was able to perform all of the tasks I threw at it, but in some specific areas, it actually outperformed my trusty Windows computer. One advantage that Chromebooks enjoy due to their lightweight OS and low power draw is incredible battery life. In the week I was gone, I only needed to charge the C434 once. Since it charges via USB Type-C, I could use the same charger for my phone, which is really nice when your hotel room only has a few outlets that are available to use and in a convenient location. And even though the laptop's battery lasted so long that I didn't need to worry about charging it, I was pleased to find that the USB-C backup battery pack I carry for my phone could juice up the C434 in a pinch.
I spend most of my days in front of a keyboard, so comfort is a key selling point on any device I use. When you have large hands, a cramped keyboard just won't do. The C434's full-size chicklet keyboard is large enough to comfortably type on, and it features a deep 1.4 mm of travel, which is pretty unusual for a laptop so thin. I typically flip up the feet on my keyboards to get a bit of an angle when I type, but the ErgoLift hinge actually did this for me automatically when opening the lid. The hinges fold downward, subtly lifting the back and adding a slight tilt to the keyboard. It also pulls double-duty by allowing for some airflow underneath the laptop to keep everything nice and cool.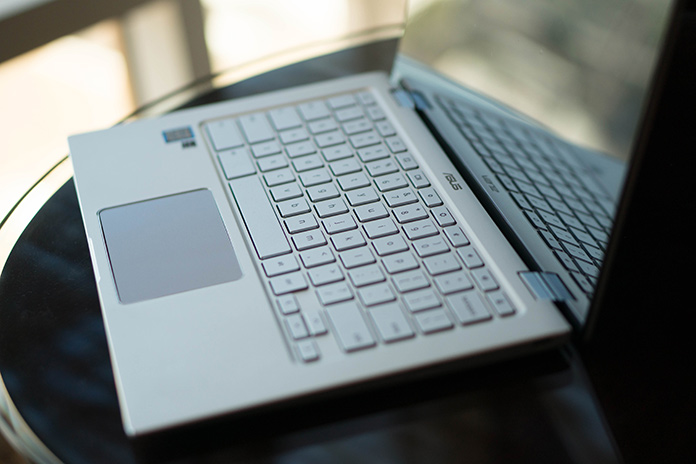 The keys themselves have a multistage backlight that is a must-have for me because I tend to enjoy writing late at night with the lights turned down. While I spend most of my time looking at the screen, I like to adjust the glow of the keys based on the overall lighting in the room. That usually means I have it cranked up all the way in a bright room, and at its lowest setting while typing away in bed. The touchpad was large and pleasant to use, although for my editing I was happy to plug in my favorite mouse so I could feel more at home and make finer adjustments.
As great as the keyboard is, there are some situations where I'd prefer it not be cluttering up my already tight workspace, and that's where the 360° hinge saves the day, because it allows you to position the screen at any angle. When I wanted to watch a movie on my flight, I could tuck the keyboard back like a kickstand and have it actually fit on my tiny tray table. When sorting through countless pictures, I flipped the screen backwards and transitioned to tablet mode, where the narrow bezels made it feel like a real tablet as opposed to a disembodied laptop screen. It's definitely nice to have a laptop that can transform to accommodate whatever space I happen to need it on the road, regardless of how cramped that space may be.
Staying connected
Part of the charm of a small, lightweight laptop is the minimalist design. When it comes to the number and selection of ports there's a fine line between "minimalist" and "not enough." I would venture to say that the C434 has everything that's necessary and nothing that isn't. On the left side, you'll find a single USB Type-C port for charging, data transfer, or hooking up an external display, as well as one USB Type-A port for peripherals and legacy devices like a flash drive, and an audio combo jack. The other side has another single USB Type-C port for newer external drives that require fast transfer speeds, and a microSD card slot that's handy for pulling photos right off your phone.

I found the Type-C ports and placement particularly useful. You can actually charge the laptop from either port, meaning that you'll never have to worry about the only available power outlet being on the wrong side of you. Since there's a pair of them, I was able to juice up my phone while the laptop charged instead of hunting down another outlet. Uploading hundreds of files to Google Photos was made quick and possible thanks to the dual-band 802.11ac WiFi, and Bluetooth 4.0 allows for connecting devices like headphones or even transferring files wirelessly.

Happily ever after
The Chromebook Flip C434 fills the role of a premium laptop, thanks to its sleek aluminum construction, stunning 14" NanoEdge display, and powerful Intel processor, but it still manages to come in at an affordable price. Thanks to the advancements made in Chrome OS, you've got access to more than two million Android apps in the Google Play Store, giving you endless options for both work and play. When you add that to the incredible battery life, it becomes a productivity machine. Priced at $569 USD and $699 CAD the Chromebook Flip C434 is currently available at the retailers found below.
Chromebook C434TA-DSM3
CPU
Intel Core m3-8100Y, 2C/4T, 1.1GHz (4MB cache, up to 3.4GHz)
GPU
Intel UHD Graphics 615
Display
14" LED-backlit NanoEdge
Resolution
Full HD (1920 x 1080)
Memory
4GB 1867MHz LPDDR3
Storage
64GB eMMC
Networking
802.11ac WiFi
Connectivity
2 x USB 3.1 Gen 1 Type-C
1 x USB 3.1 Type-A
1 x Audio combo jack
1 x MicroSD slot
Bluetooth 4.0
Battery
48 Wh
Dimensions
12.6" x 8" x 0.62"
Weight
3.19 lbs
Price
$569 USD
$699 CAD
Availability (USA)
ASUS Store
Newegg
Amazon
B&H
Best Buy
Staples
Availability (Canada)
Amazon
Best Buy
Canada Computers
The Source