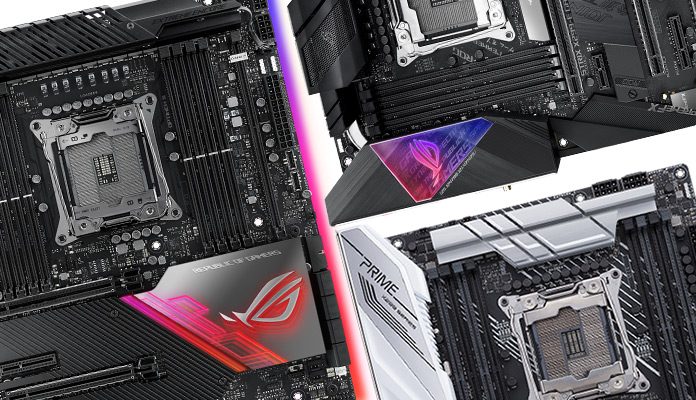 Upcoming Intel® Core™ X-series CPUs and the X299 platform refresh are about to make a big splash. Many computing itches can only be scratched by processors with that magical combination of plenty of cores, high clock speeds, and sizable amounts of cache and memory bandwidth, and that's just what the X299 platform is for.
The latest refresh of Intel's high-end desktop platform upgrades maximum RAM capacities to 256GB and adds support for more PCIe connectivity directly from the CPU—just the ticket for multi-GPU rigs and massive NVMe solid-state drive arrays.
All the high-end horsepower of a Core X-series chip needs equally upmarket motherboards to go with it. After designing the Prime X299 Edition 30, our engineers went back to the lab and came back with a trio of new X299 motherboards, each of a distinct flavor. They're compatible with all LGA 2066 processors, but they pair best with upcoming Core X-series CPUs.
Baseline features for our upgraded boards include improved power circuitry with additional power stages, faster RAM support, Intel Virtual RAID on CPU (VROC) support, and better networking and USB connectivity. All three models also include our AI Overclocking intelligence to automatically tune frequency and voltage settings for your particular chip, making the most of its overclocking headroom. There's much more to talk about for each specific model, so let's get going.
The ROG Rampage VI Extreme Encore redefines the high-end desktop
It's possible that you may have oohed and aahed at server motherboards and their endless rows of DIMMs. The problem is that server mobos, while awesome in many regards, just aren't really any fun. After all, they don't have any overclocking capabilities, lighting, or customizability. "Aesthetically-pleasing" and "rack-mounted" don't belong in the same sentence, either. If you want server-grade features in a top-notch enthusiast motherboard, then the ROG Rampage VI Extreme Encore is right up your alley.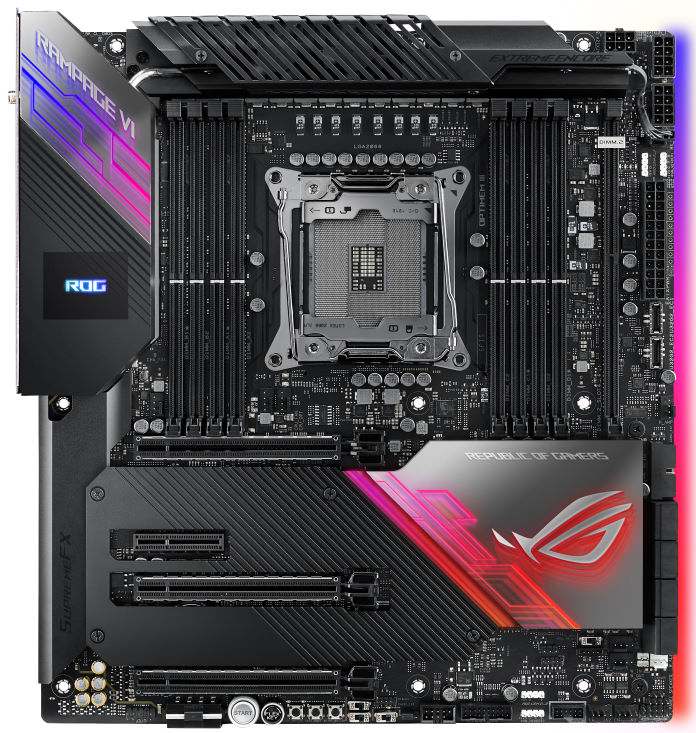 The Extreme Encore comes sharply dressed in the EATX form factor. This board catches your eye immediately with Infinity Lighting holographic accents that blaze forth from stylish aluminum ROG Armor. This shroud covers the primary M.2 slots, I/O shield, and SupremeFX audio hardware.
A 1.77″ LiveDash OLED display can present POST codes, system information, or your own custom graphics. Should you prefer a stealthy look, the display and onboard lighting can be shut off entirely. Around the back, a single-piece backplate covering most of the board allows for extra heat dissipation and structural reinforcement. All the main PCIe slots are clad in SafeSlot metal reinforcements, so you can plug in heavier graphics cards and not worry about damaging your system if you need to move it with those expansion cards installed.
Once your first impressions are behind you, your attention will likely turn towards the Extreme Encore's ability to handle and overclock the most powerful chips in the Core X-series family. That's where the 16-phase VRM comes in. The power delivery circuitry on this board can push an absurd amount of watts to satisfy the demands of CPUs overclocked to the limit. Since a lot of juice can flow into the Extreme Encore, we used ProCool II auxiliary power connectors with solid pins to maximize current capacity and heat transfer.
Dissipating lots of watts from many-core CPUs requires robust power delivery and cooling, and the Extreme Encore dons a +5 Armor of Protection Against VRM Thermal Throttling. The VRM sits underneath a massive heatsink cooled by two compact fans that will only spin up when needed. Our space-saving DIMM.2 module employs a heatsink to chill NVMe devices installed there, as well.
A total of six fan headers plus two water pump headers stand ready to power a bevy of fans, while the Water Cooling Zone includes connectors for keeping tabs on coolant temperature and flow rate. As an added bonus, one of the fan headers aboard the Extreme Encore supports high-amperage spinners. If all that still isn't enough for your rig, the included Fan Extension Card II has headers for another six fans. The Fan Extension Card can hide away inside your case for cleaner cabling and better airflow.
One of the reasons to acquire a high-end desktop chip is the copious amount of memory bandwidth it can tap. The Extreme Encore lets you take advantage of 256GB of RAM blasting data across the quad-channel controller, clocked at blistering speeds as high as 4266MT/s. Our OptiMem III enhancements are ready to help extreme overclockers find the limits of their RAM.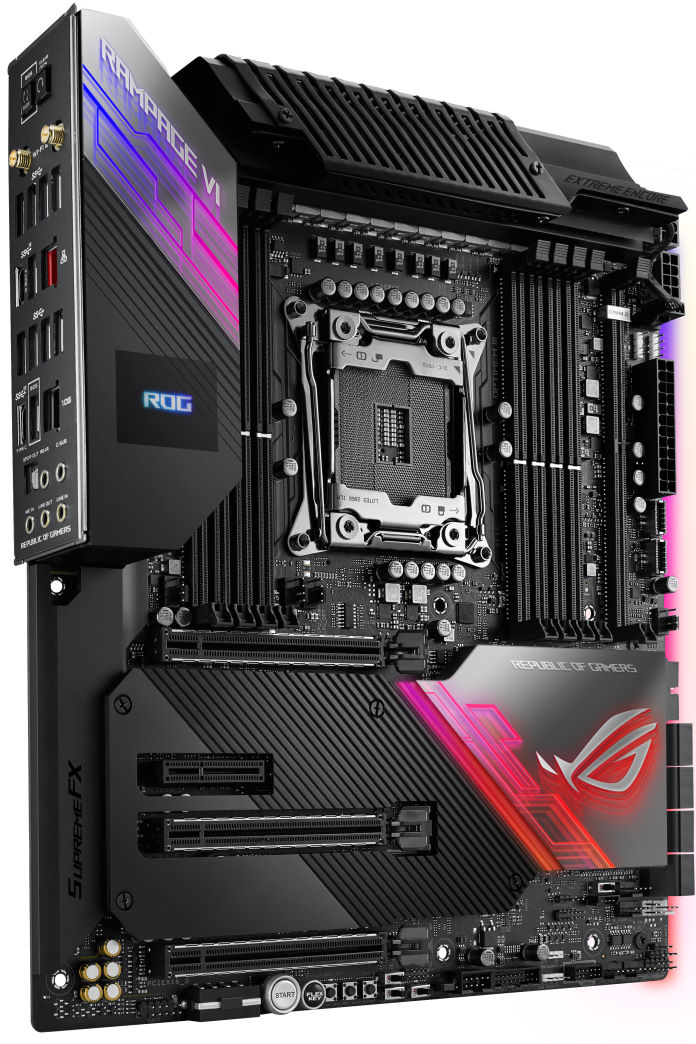 Meanwhile, upcoming Core X-series CPUs gave our designers plenty of PCIe lanes to route for bandwidth-hungry expansion cards. With compatible chips, the three x16 PCIe slots can be run in a x16/x16/x8 configuration for high-speed multi-GPU action, massive deep-learning tasks, and heavy-duty 3D rendering.
The extra connectivity from those CPUs also bumps the NVMe device total on the Extreme Encore to four. The extra PCIe lanes mean you can run massive NVMe RAID arrays with optional Intel VROC technology and push tens of gigabytes per second of storage throughput.
Two M.2 slots rest underneath the main heatsink, while the DIMM.2 slot can take in two drives up to 110mm long on a riser card. Plain SATA drives can hook up to eight available ports. Future super-fast peripherals can make good use of the latest connectivity thanks to a USB 3.2 Gen2 2×2 connector that provides 20Gbps of bandwidth to compatible devices.
Lightning-fast NVMe drives are all well and good, but their massive bandwidth isn't of much use if you're forced to talk to your local network at plodding Gigabit Ethernet speeds. 120MB/s may have sounded impressive ten years ago, but these days you'll be taking a long nap waiting for large transfers at that rate.
To ensure you can easily deal with multi-terabyte data sets over the network, the Extreme Encore comes with an Aquantia 10G Ethernet controller humming alongside a tried-and-true Intel Gigabit Ethernet chip. When you want to let go of wires and send bits through the atmosphere, the Intel AX200 Wi-Fi 6 adapter can push up to 2.4Gbps across the radio waves.
There's nothing quite like customizing your build to make it truly yours, and the Extreme Encore is a catwalk model eager to dress in the finest haute couture. You can plug in a total of four RGB LED strips: two on standard headers, and another two on addressable Gen 2 RGB headers that can detect how many LEDs are present in an attached device to preconfigure effects accordingly and make for easier customization.
The Fan Extension Card II has three extra RGB LED strip headers, as well as NODE input and output ports for further expansion. The extra RGB LED headers on this card naturally support RGB LED fans with the proper cabling, as well. Our proprietary NODE connector lets you plug in compatible hardware for control and monitoring.
For your aural pleasure, the Extreme Encore's SupremeFX S1220 audio circuitry includes a dedicated headphone amplifier, Japanese-made capacitors, and its own PCB layers for improved signal integrity. We've also included support for DTS Sound Unbound audio enhancements in our Sonic Studio software suite so that when you use compatible applications, you can dive deep into a soundscape where every object has a pinpoint-accurate aural location, even if it's above or below you.
ROG Rampage VI Extreme Encore
Size
EATX
Memory
8x DDR4 up to 4266MT/s (OC)
Multi-GPU
3x SLI, 3x CrossFireX
PCIe
3x x16: x16/x16/x8
2x x1

Storage
4x M.2 (all PCIe x4, 1 supports SATA)
8x SATA 6Gbps
Networking
Aquantia AQC-107 10G Ethernet
Intel I219-V Gigabit Ethernet
2x2 802.11ax (Wi-Fi 6) MU-MIMO; Bluetooth 5
Audio
SupremeFX S1220 codec
DTS Sound Unbound
USB
3.2 Gen 2 2x2 (20 Gbps): 1x back
3.2 Gen 2 (10 Gbps): 1x Type-C, 1x Type-A, 2x front
3.2 Gen 1: 8x back, 4x front
2.0: 1x back, 2x front
Aura
2x strip headers + 3x on Fan Extension Card II
2x Gen2 addressable headers
Cooling
2x pump headers
5x fan headers + 6x on Fan Extension Card II
1x high-amperage fan header
2x coolant temperature sensor
1x coolant flow rate sensor
The ROG Strix X299-E Gaming II bolsters enthusiast rigs that can do it all
The majority of enthusiasts and gamers in particular often have a specific set of requirements for a motherboard: solid performance, ease of overclocking, good looks, and a set of features that's still upmarket but doesn't delve into extravagant excess. The ROG Strix X299-E Gaming II fits that bill to a T.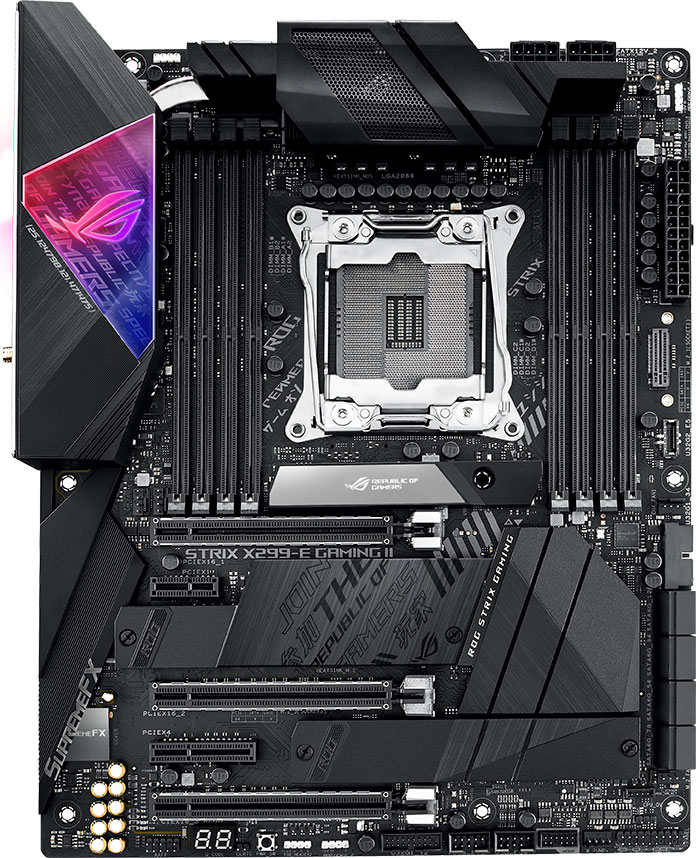 This board's cyber-text motif, sleek angular lines, and smooth finishes all meld together to create a distinctive style that looks fantastic whether on its own or under RGB LED lighting. A translucent ROG logo on the I/O shield can light up to reveal more cyber text embedded in the acrylic nameplate. A 1.3" LiveDash OLED display sits just underneath the CPU socket for an at-a-glance view of system information or for showing off custom graphics and text.
To feed and overclock the CPU, the X299-E Gaming II uses a 12-phase VRM. The power-delivery cooling system has a two-piece heatsink with a heat pipe running through it, and it's further chilled by a 40-mm fan that'll only kick in under high power draw. If you choose to overclock your chip, the AI Overclocking function will happily turn the knobs for you.
Power plugs may get a little toasty when the CPU is overclocked to its limit, so the auxiliary 12V ProCool II connectors have solid pins to deliver more current and help cool the plug itself. Two columns of four DIMMs can take in a total of 256GB of RAM. Sticks clocked at 4266MT/s and beyond will slot in with ease.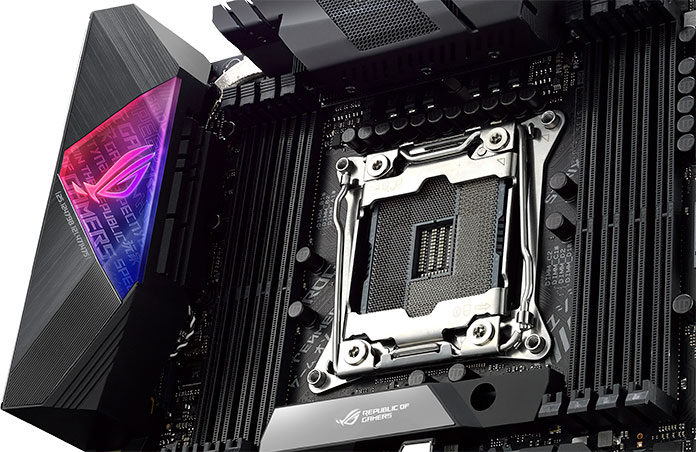 The X299-E Gaming II's PCIe x16 SafeSlots can take in three graphics cards in a multi-GPU setup. Whether you're building a 3D rendering server, a deep-learning incubator, or a weapons-grade gaming rig, you can run the main slots in a x16/x16/x8 configuration with the right Core X-series CPU. Nvidia SLI and AMD CrossFireX support let you chase the highest frame rates in supported titles.
Over in the X299-E Gaming II's storage aisle, three M.2 slots are ready to take in fast NVMe devices as long as 110mm, all using PCIe x4 connectivity. Intel VROC support enables multi-drive NVMe action for the fastest storage transfer rates this side of a server. Good ol' SATA hard drives and SSDs can use one of eight available ports. USB 3.2 Gen2 ports in both Type-C and Type-A flavors grace the back panel, and there's a header available for an extra front-panel port.
While the X299-E Gaming II doesn't have the Extreme Encore's hyperspace-capable 10G network adapter, its networking division can still march with the best. A Realtek 2.5G chip leads the frontal assault, while an Intel Gigabit Ethernet adapter handles communications in the rear guard. Need radio comms? Intel's Wi-Fi 6 AX200 adapter delivers 2.4Gbps of bandwidth plus Bluetooth 5.0 support.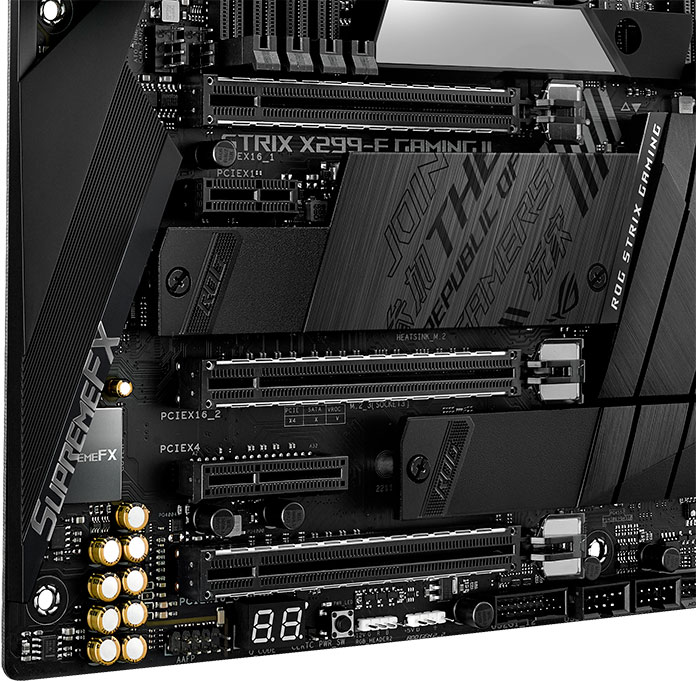 Making a cool-looking system is one thing, but creating a build that actually keeps cool is another. For that end, the ROG Strix X299-E Gaming II has a full complement of seven fan headers, including dedicated AIO cooler and water pump headers. Any NVMe devices installed in the M.2 slots will be happily chilling underneath their own dedicated heatsinks, too.
In a gaming rig, customization is key. To power the light show, the X299-E Gaming II comes with two standard RGB LED strip headers, plus another pair of connectors for Gen2 addressable LED strips. We also throw in a NODE port, letting the board monitor and control compatible components. Look to a bright future where you can keep tabs and act on a dazzling array of system metrics.
Past all of the above, the X299E-Gaming II has even more handy niceties. FlexKey allows the reset button to toggle the board's lighting on or off or boot the system directly into the firmware interface. The SupremeFX S1220A audio includes its own shielding alongside the usual niceties like Japanese caps, and it comes with DTS Sound Unbound enabled.
ROG Strix X299-E Gaming II
Size
ATX
Memory
8x DDR4 up to 4266MT/s (OC)
Multi-GPU
3x SLI, 3x CrossFireX
PCIe
3x x16: x16/x16/x8
1x x4
1x x1
Storage
3x M.2 (all PCIe x4, 1 supports SATA)
8x SATA 6Gbps
Networking
Realtek 2.5G Ethernet
Intel I219-V Gigabit Ethernet
2x2 802.11ax (Wi-Fi 6) MU-MIMO; Bluetooth 5
Audio
SupremeFX S1220A codec
DTS Sound Unbound
USB
3.2 Gen 2 (10 Gbps): 1x Type-C, 3x Type-A, 1x front
3.2 Gen 1: 2x back, 4x front
2.0: 4x back, 4x front
Aura
2x strip headers
2x Gen2 addressable headers
Cooling
5x fan headers
1x pump header
1x AIO cooler header
The Prime X299-A II delivers a productive, professional high-end platform
Our Rampage and Strix boards have the looks and over-the-top luxury to match their performance, but some users care more about straightforward results over a flashy appearance and a mile-long feature list. Not every PC has to be an over-the-top affair, even if it's using a high-end Core X-series chip. There are plenty of times when the most important aspects are stability, horsepower, and subtlety. For those looking for a simple and solid X299 motherboard, we have the Prime X299-A II.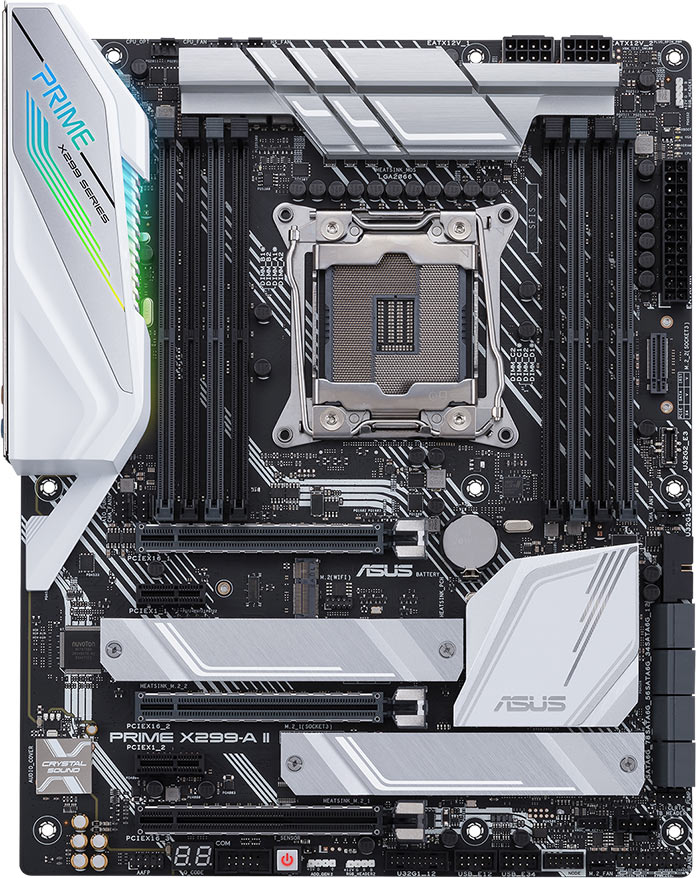 While the X299-A II is the most affordable model in our refreshed trio, it's not bare-bones by any stretch of the imagination. After all, it's got a 12-phase all-digital VRM ready to juice up even top-end Core X-series chips, along with ProCool II auxiliary power connectors.
Much like on our higher-end boards, three PCIe x16 SafeSlots can deal with multiple graphics cards in SLI or CrossFireX arrays. Likewise, eight RAM slots in a quad-channel topology can take in as much as 256GB clocked at 4266 MT/s, and there are three PCIe x.4 M.2 slots. This model supports Intel VROC arrays with the necessary hardware key, as well.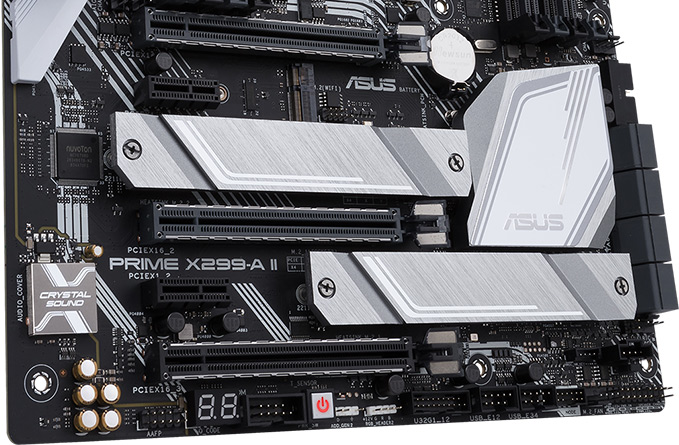 White-and-silver accents and heatsinks lend the X299-A II a subdued look that'll blend with any build. Should you choose to add RGB LED flair, the board's neutral shades will look fantastic under colored light. You can hook up standard LED strips to a pair of available headers, and you can even go for an extra-fancy look thanks to a Gen2 header for addressable strips. The onboard lighting can complement whatever rainbow motif takes your fancy, too.
The Prime X299-A II does upstage its fancier brethren in one way, though. Since professional users are more likely to pick out this model, we fitted it with a Thunderbolt™ 3 header so you can plug in next-gen peripherals with the optional ThunderboltEX3 card.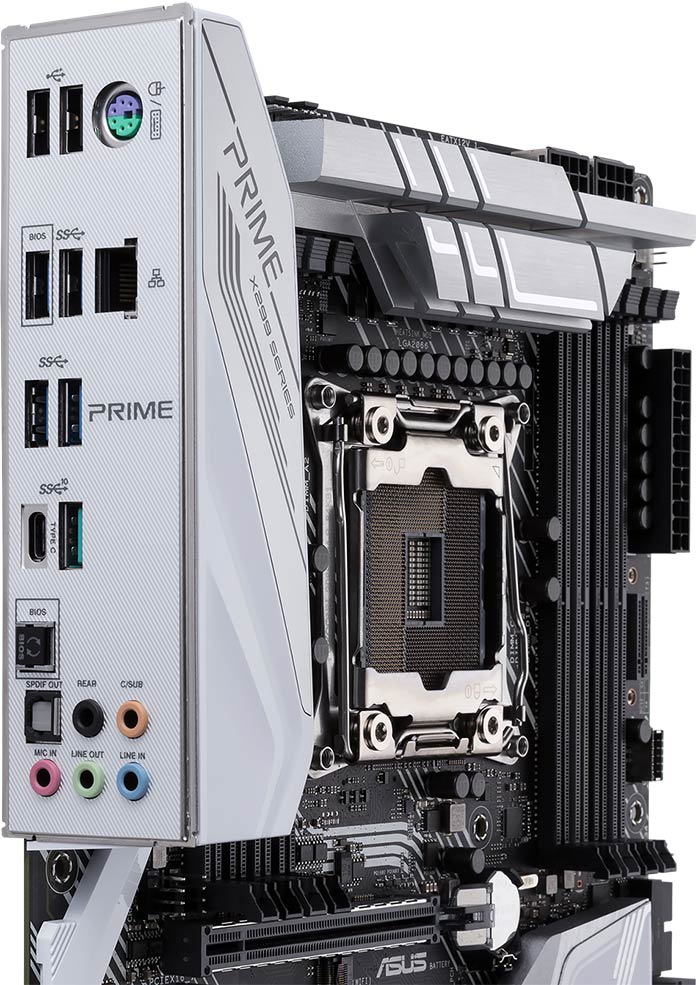 Audio and video gear in particular make great use of Thunderbolt 3's low latency and massive bandwidth, and the X299-A II will happily become the centerpiece of any AV studio. Naturally, USB 3.2 Gen2 and USB 2.0 peripherals can go into any of the several ports in those formats. Sonic delectation emanates from the Realtek S1220A codec enhanced by DTS:Ultra X 3D audio positioning.
Prime X299-A II
Size
ATX
Memory
8x DDR4 up to 4266MT/s (OC)
Multi-GPU
3x SLI, 3x CrossFireX
PCIe
3x x16: x16/x16/x8
2x x1
Storage
3x M.2 (all PCIe x4, 1 supports SATA)
8x SATA 6Gbps
Networking
Intel I219-V Gigabit Ethernet
Audio
Realtek ALC S1220A
DTS X:Ultra
USB
3.2 Gen 2 (10 Gbps): 1x Type-C, 1x Type-A, 1x front
3.2 Gen 1: 4x back, 4x front
2.0: 2x back, 4x front
Aura
2x strip headers
1x Gen2 addressable headers
Cooling
5x fan headers
1x pump header
1x AIO cooler header
Whether you're building a deep-learning hub, an AV editing system, or a 3D rendering powerhouse, the Prime X299-A II is a solid foundation for productivity.
For more information regarding pricing and availability of the ROG Rampage VI Extreme Encore, ROG Strix X299-E Gaming II, and Prime X299-A II, please contact your local ASUS representative.