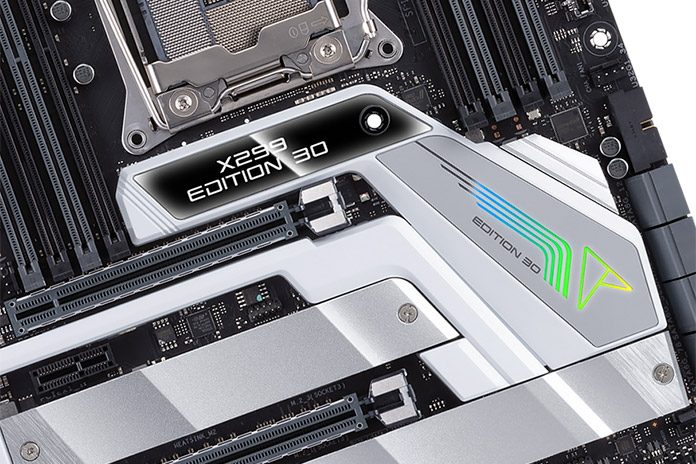 This year marks the 30th anniversary of ASUS. The company was founded way back in 1989 by a handful of engineers working out of a small Taiwan apartment. Today, we're the biggest motherboard maker in the world and also produce a diverse collection of products that covers every corner of the PC industry, from hardcore gaming year to ultraportable laptops to massive monitors.
With thousands of employees and billions in yearly revenue, ASUS has come a long way since those humble beginnings. But we haven't forgotten what started it all, so we created the new Prime X299 Edition 30 to celebrate three decades making motherboards. This exquisite high-end desktop board has the cutting-edge performance and signature features you'd expect from us, including a powerful VRM tailored for overclocking, intuitive cooling control for your entire system, next-gen connectivity at every turn, and extensive customization through lighting and more. It also includes innovations you might not expect, like an all-new Smart Control Console that adds an external OLED with gesture tracking and voice input.
A reflection of our storied past that remains focused intently on the future, the Prime X299 Edition 30 reinforces our position as the world's leading motherboard maker.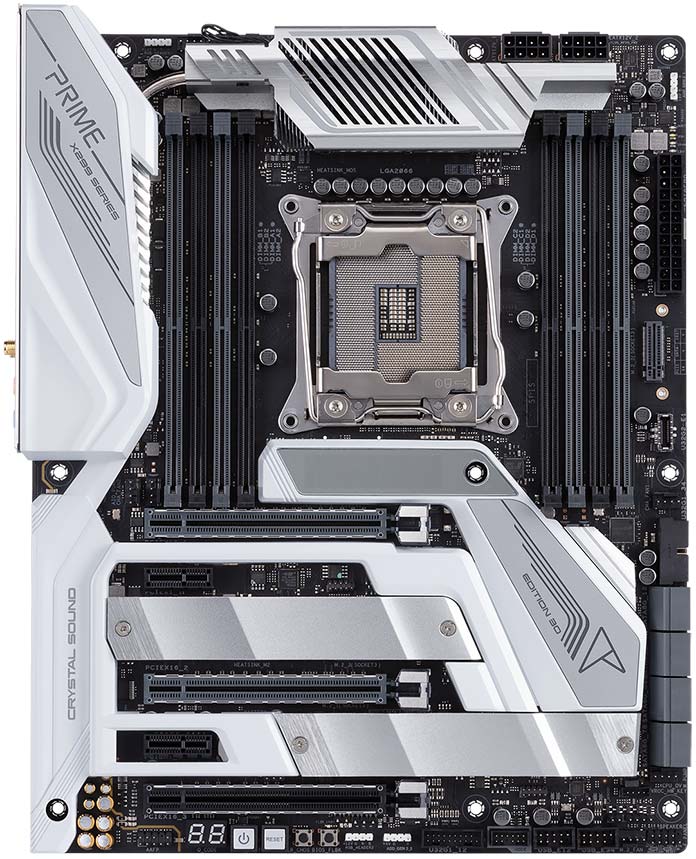 The history of motherboards leads to Prime
ASUS pursued the incredible from the very beginning. After just one year, we became the first to develop a 486 board without direct support from Intel, leading to a partnership that continues to this day. Our pursuit of performance drove the development of overclocking capabilities that really came into their own in 1998 with the P2B, whose FSB flexibility let enthusiasts wring more frequency from the Pentium II processor.
We led the transition to the UEFI era with the Intel P67 platform, whose graphical BIOS interface was intuitive enough to encourage beginners to explore but still powerful enough for advanced experts to exploit. We also brought onboard intelligence to overclocking with 5-Way Optimization, a smart auto-tuner that finds the limits of individual CPUs using custom microcontrollers and smart algorithms that emulate the behavior of human overclockers.
These core elements form the roots of the ASUS Prime series, which delivers the high performance everyone craves with approachable tuning they can actually use. With greater focus on high-end desktops with lots of cores and loads of bandwidth, it's only fitting that the motherboard marking our 30th anniversary is the Prime X299 Edition 30.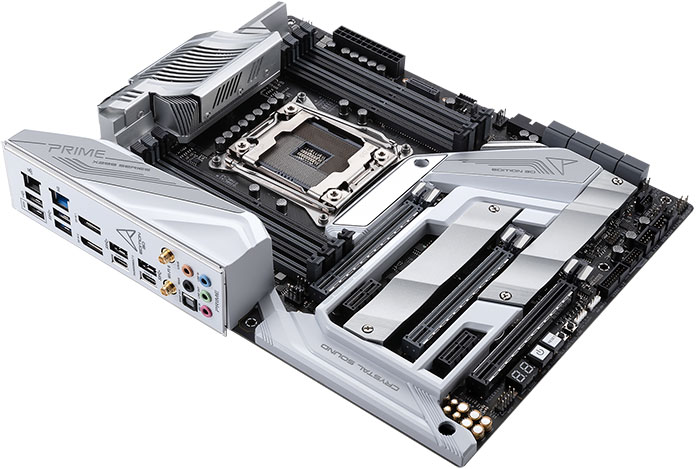 Setting the stage for serious overclocking
Opening the pristine white box housing the Prime X299 Edition 30 reveals a beautiful board that flows from gleaming white accents to hard metal edges. The black PCB and subtle onboard lighting are faithful to the more refined, professional motif that defines the Prime series.
The LGA2066 socket is compatible with Core X-Series processors with up to 18 cores, 44 PCI Express lanes, and a 165W TDP. Those specs require serious power, especially if you're overclocking, so the Edition 30 is equipped with a premium power solution. A sweet 16 power stages line up neatly along the top edge of the PCB; they're cooled well enough to sustain a staggering 544W output, which is more than enough to overclock 18-core CPUs into truly extreme territory. There's so much juice on tap that the board uses ProCool 12V power connectors with thicker pins capable of carrying more current, plus metal covers for structural reinforcement.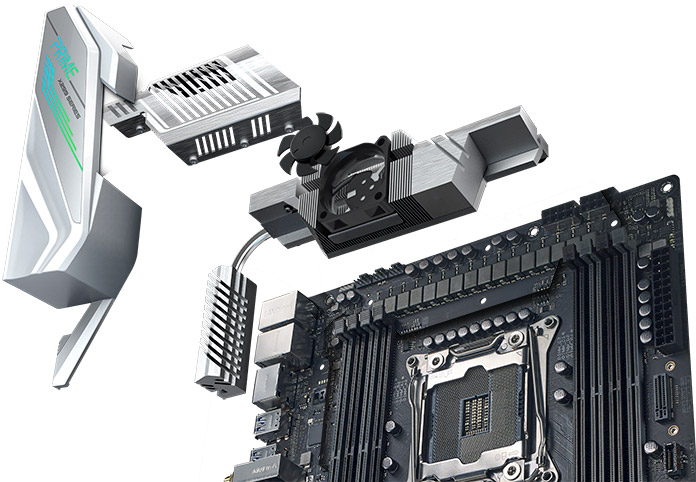 Managing VRM thermals is crucial to maintaining top performance, and it's not just a question of having enough surface area. Mass and airflow are critically important, so the cooler stretching across the power circuitry balances thin fins with chunky heatsinks and a hidden 40-mm fan that only turns on when necessary. Headers for seven additional fans populate the board, including two that are preconfigured for an all-in-one liquid cooler and stand-alone pump. The Prime X299 Edition 30 also ships with our Fan Extension Card II, which has headers for additional fans and temperature sensors, allowing consolidated control of complete system cooling for even the most hardcore rigs.
Bandwidth in every direction
This platform delivers copious bandwidth on multiple fronts. Its quad-channel memory controller supports up to 256GB of DDR4 memory spread over eight slots. With the right DIMMs and one module per channel, the Edition 30 can hit memory speeds up to DDR4-4266 and beyond.
When linked to a 44-lane CPU, the three PCIe x16 slots are capable of running a trio of graphics cards in an x16/x16/x8 config. Multi-GPU configurations rose to fame by increasing gaming performance, but these days their appeal has largely shifted to accelerating more productive pursuits like content creation, 3D rendering, and deep learning.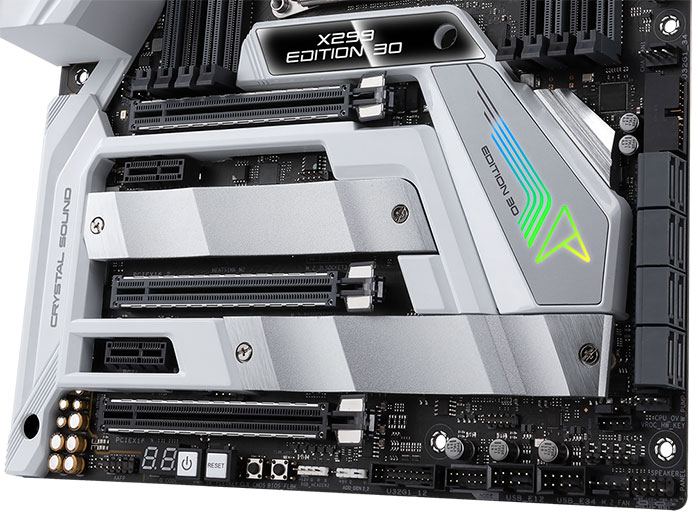 Professional applications require lots of fast solid-state storage, which is why the Prime X299 Edition 30 is equipped with three M.2 slots compatible with the latest NVMe SSDs. Two slots are covered by heatsinks to combat temperature-induced throttling that can slow performance during heavy sustained storage loads, while the third orients drives vertically, so they can benefit from normal airflow inside the chassis. All the slots support longer 110-mm drives, and they can be configured in bootable RAID arrays connected directly to the CPU via Intel VROC technology.
Stay connected to the latest standards
A premium design through and through, the Edition 30 features upgraded networking for both wired and wireless networks. Its reliable Intel Gigabit Ethernet controller is paired with a faster Aquantia 5G chip capable of much higher throughput on compatible networks. The onboard Wi-Fi module is also the latest Intel Wi-Fi 6 AX200, which is compatible with 802.11ax. Otherwise known as Wi-Fi 6, the new networking protocol pushes peak theoretical bandwidth to an incredible 2.4Gbps. Perhaps more importantly for power users, it's optimized for more efficient operation on crowded networks with lots of competing traffic.
Dual Thunderbolt 3 ports and accompanying DisplayPort inputs give content creators an easy way to connect chains of external storage and displays. There are plenty of USB ports for high-end rigs loaded with peripherals, including a front-panel header with faster USB 3.2 Gen 2 connectivity for compatible cases. An onboard audio codec with integrated headphone amplification delivers clear sound for both input and output, while DTS:X Ultra adds spatial audio to enhance games, VR, and extended reality. DTS:X Ultra supports sound based on channels, scenes, and objects to enable deeper sonic immersion in content that takes advantage.
Little things make a big difference
The audio ports poke through a pre-mounted I/O shield that looks sleeker than traditional designs while also making installation much easier. We pay careful attention to all the little details that improve your overall experience, from using hybrid fan headers that automatically adjust to the presence of 3- or 4-pin fans, to integrating a flashing utility directly into the UEFI to simplify firmware updates. The Prime X299 Edition 30 also supports USB BIOS Flashback, which is capable of performing low-level firmware updates using only a power supply and USB stick with the required file.
New for this generation is reset retasking, which maps the seldom-used reset button to different functions. Instead of leaving the button bound to a dated function, you can reassign it to change performance profiles, boot directly into the UEFI, and toggle Aura Sync lighting, among other actions.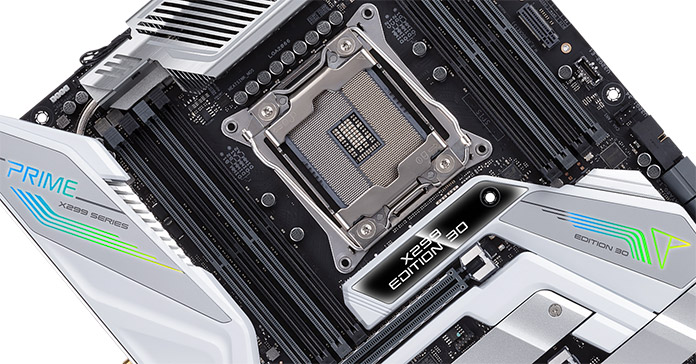 In addition to onboard Aura Sync lighting, the board has dual headers for standard RGB strips, plus two more for next-gen addressable strips and devices. The Gen 2 addressable headers can detect the number of LEDs in connected hardware, allowing software to automatically adjust effects to fit. Additional RGB strips are supported via the Fan Extension II Card.
The expansion card plugs in via the ASUS Node connector, which provides a path for bidirectional communication between the motherboard and compatible devices. Node debuted less than a year ago with the Z390 platform, so the ecosystem is still in its infancy, but already FSP makes a compatible HydroDPM 1000W PSU that shares power stats, temperatures, control over its fan. ROG and In Win have also developed a prototype chassis with integrated OLEDs that monitor vital system stats via Node.
The Prime X299 Edition 30 doesn't need an external OLED because it has one of its own. Just below the socket sits a 2" LiveDash display capable of showing system stats, custom messages, static images, and even animated GIFs. This monochrome display is designed for function first, but you can still have a little fun with it.
Smile and wave at the Smart Control Console
Another LiveDash display can be found in the new Smart Control Console. This external module connects via USB and comes with a stand that sits neatly on top of typical monitors. Its integrated OLED can be controlled separately from the onboard LiveDash, and that's just a taste of what this little device can do.
A 720p IR webcam allows the Smart Control Console to support face login via Windows Hello biometric authentication. It's also capable of tracking movement, enabling gesture-based input reminiscent of Minority Report. Hand movements can control basic functions like mouse movement, scrolling, dragging, zooming, swiping, and volume. An integrated array mic adds Cortana voice recognition support, so you don't have to wave your hands to make things happen. There's also an ambient light sensor for adjusting to environmental brightness and a dedicated time-of-flight IC to determine when you arrive at your machine and when you leave.
The Smart Control Console isn't our first external module with an integrated display, but it's far more versatile than any motherboard accessory we've created to date. Its unique combination of forward-looking features reflects our desire to push the boundaries of what's possible with a class of product we've been making since the 1980s.
Prime X299 Edition 30
Size
ATX
Memory
8 x DDR4 up to 4266MHz (OC)
Multi-GPU
3 x SLI, CrossFireX
PCIe
3 x16 (CPU): x16/x16/x8
2 x1 (Chipset)
Storage
1 x M.2 (NVMe x4 or SATA 6Gbps)
2 x M.2 (NVMe x4)
8 x SATA 6Gbps
Networking
1 x Aquantia 5G Ethernet
1 x Intel Gigabit Ethernet
Intel Wi-Fi 6 AX200 (802.11ax)
Bluetooth 5.0
Audio
Realtek S1220A
Thunderbolt
2 x Type-C (shared with USB 3.2 Gen 2)
USB
3.2 Gen 2: 1 x front, 2 x Type-C
3.2 Gen 1: 4 x front, 4 x Type-A
2.0: 4 x front, 2 x Type-A
Node
Yes
Aura
I/O shroud, chipset heatsink
2 x strip headers
2 x Gen 2 addressable headers
3 x strip headers (Fan Extension Card II)
Cooling
2 x pump headers (AIO, pump+)
5 x fan headers
1 x thermal sensor header
6 x fan headers (Fan Extension Card II)
2 x thermal sensor headers (Fan Extension Card II)
Pricing and availability
Join us to commemorate 30 years of ASUS motherboards with the new Prime X299 Edition 30, which is on display at Computex 2019 in Taipei, Taiwan from May 28 to June 1. You can see it in the ASUS showcase at the Nangang Exhibition Center, booth M0410, from 9:30AM ~ 5:30PM on May 28 to May 31, and from 9:30AM ~ 4:00PM on June 1. Check with your local ASUS representative for details on availability and pricing in your region.
We announced a lot of hot new tech at Computex 2019. You can find all of the latest gear from ASUS and ROG in this article.