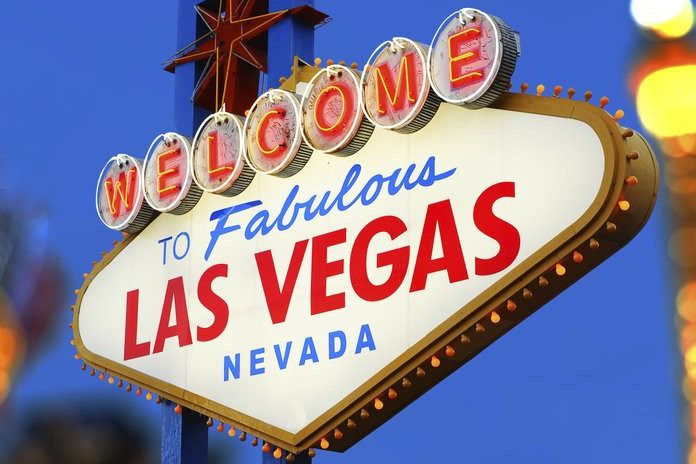 CES 2019 has descended upon Las Vegas, blanketing the city of lights with the next generation of PCs and components. Our CES showcase is filled with fresh products across multiple categories, including consumer laptops, professional-grade gear, scholastic Chromebooks, and all manner of hardware for gamers. Some of them refine existing designs in pursuit of perfection, while others explore new territory with innovative designs and concepts that challenge conventional thinking. There's a lot happening between ASUS and ROG over just a few days, so we've summarized the highlights the handy digest below. Click the individual product links to go to in-depth stories with more details on each new product.
Pour a round from Whiskey Lake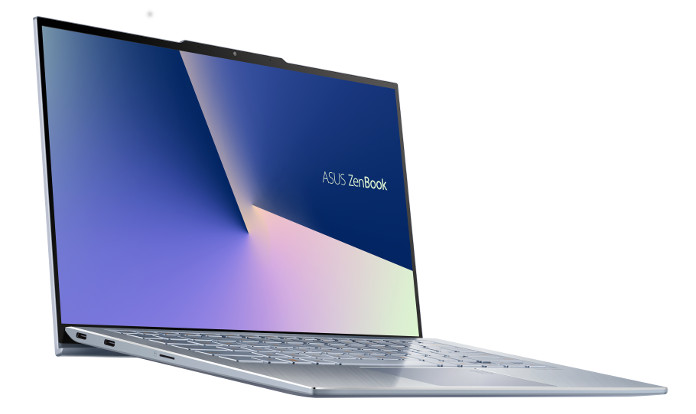 Ultra-slim laptops have become ubiquitous, but there's still room to improve the experience with thoughtful design. The new ZenBook S13 UX392 tweaks the formula in subtle ways that have a big impact. It starts with a larger 13.9" display that uses narrower bezels to squeeze into the same footprint as the 13.3" UX391. The 4-way NanoEdge design slims the frame down to just 2.5 mm, and we add a small bump for the webcam that also makes it easier to open the laptop with one finger. Lifting the lid props up the keyboard on an ErgoLift hinge that enhances typing comfort and improves cooling for the Intel Whiskey Lake CPU and discrete NVIDIA GeForce graphics under the hood. Despite being just 12.9 mm thin, the ZenBook S13 has longer key travel than its predecessor along with a full-sized Type-A USB that provides a legacy alternative to the dual Type-C ports. Everything is wrapped in a gorgeous CNC-machined chassis with clean lines and elegant design.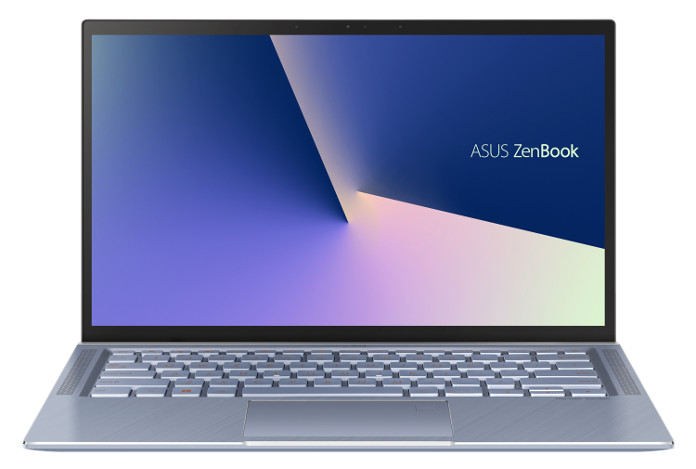 The UX392 is draped in Utopia Blue with Rose Gold accents, a combination shared by the ZenBook 14 UX431 that's also debuting at CES 2019. This model is geared toward striking the right balance between value and performance. You get plenty of perks, like 4-way narrow bezels that help the 14" display squeeze into a 13" chassis, an ErgoLift hinge that props up the keyboard for a better typing experience, and discrete GeForce graphics that complement the selection of ultrabook-grade CPUs. We also enhanced the audio to improve sound quality for streaming videos and listening to music. Deeper bass comes through two speakers that fire downward, while higher notes are pumped out a second pair of speakers that fire up from either side of the keyboard. This setup offers wider frequency response than conventional designs, but you don't have to take our word for it. The design is also also certified by the experts at Harman Kardon.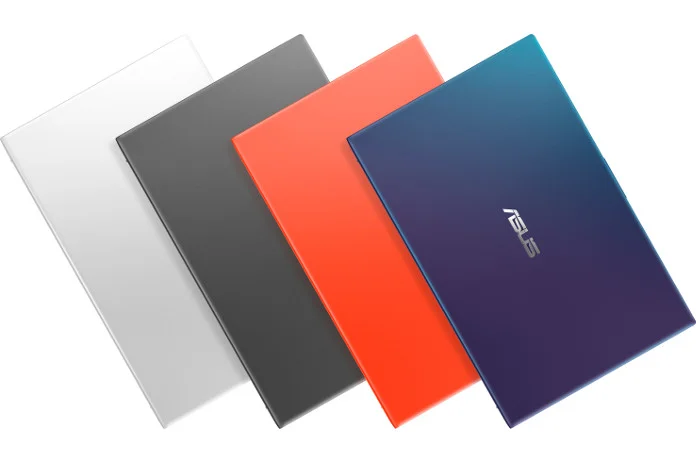 Our VivoBook lineup is more affordable without sacrificing personality. Bold new colors for this season include iridescent Peacock Blue and captivating Coral Crush; if you prefer something subtler, we have Transparent Silver and Slate Gray. There are three sizes—14", 15" and 17"—and they're all available with slim bezels and our ErgoLift hinge. New Intel Whiskey Lake quad-core CPUs provide plenty of processing power, and optional GeForce discrete graphics adds a little extra oomph for gaming and other applications that can exploit the onboard GPU. With HDMI and both flavors of USB, you can connect to all the essentials at home and school, if not the office as well.
Premium hardware for serious professionals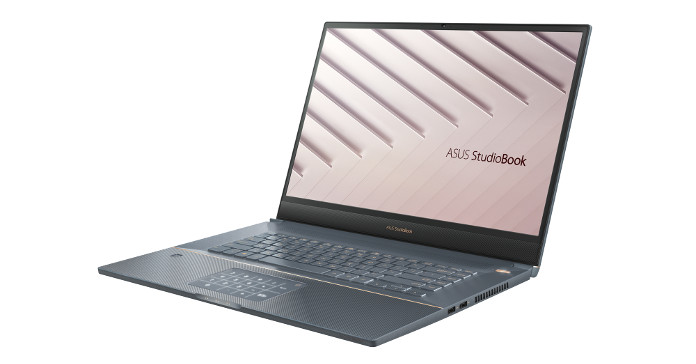 Professionals often rely on their PCs for income, so they ask for a lot more than the average user. The StudioBook S W700 answers the call with an all-new design tailored for not only content creators, but also designers, architects, programmers, and engineers. This mobile workstation walks the walk with configurations that include up to a six-core Intel Xeon processor, discrete NVIDIA Quadro graphics, ultra-fast SSD RAID 0 storage, and reliable ECC memory. And it includes little details like shortcuts for snipping screenshots, disabling the webcam, and locking the machine. Slim bezels allow the 17" display to squeeze into a 15" body, and its 16:10 aspect ratio provides extra vertical real estate for toolbars. With 97% coverage of the DCI-P3 gamut, the panel offers exceptional colors with Pantone Validated accuracy. If you want to go big, you can also connect up to an 8K display via Thunderbolt 3.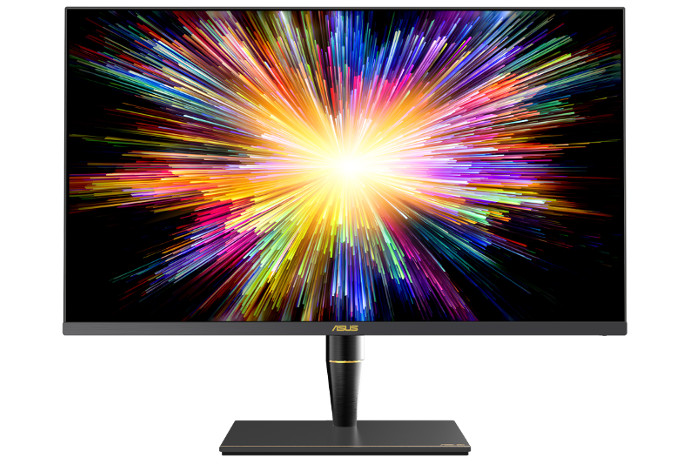 The new 32" ProArt PA32UCX offers a 4K resolution with our most advanced HDR implementation to date. It's the first professional-grade display powered by mini LEDs, which enables not only incredibly rich colors, but also phenomenal brightness. The backlight is capable of bumping out a maximum of 1200 nits, far surpassing DisplayHDR 1000 requirements. More importantly, it supports local dimming across one thousand individual zones, which prevents brighter objects in the scene from bleeding into their surroundings. You can connect with a range of inputs, including HDMI, DisplayPort, and Thunderbolt.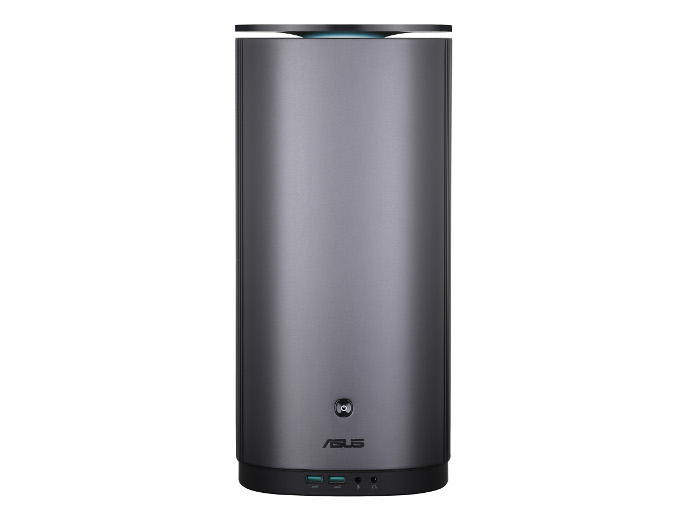 The massive display makes our ProArt PA90 compact desktop look even smaller than it actually is. But they make an attractive couple, especially when you know what's lurking inside the PA90's stylish shell. The system combines liquid-cooled 9th Gen Intel Core i9 processor with a professional-grade NVIDIA Quadro graphics card, and it's available with both Thunderbolt and multiple DisplayPort outs. A unique adaptive cooling system opens a vent at the top when extra cooling is required, helping to keep temperatures in check when you're crunching on a tight deadline.
Get schooled by our latest Chromebooks
Before you graduate, you've got to get a handle on the basics. Our new family of rugged Chromebooks covers every class of student, from kindergarten to senior year. Building on the success of our tough Chromebook laptop and 2-in-1 convertible, we're expanding the family this year to include a laptop for older students and our first Chrome OS tablet, which is aimed at little kids just getting to grips with technology.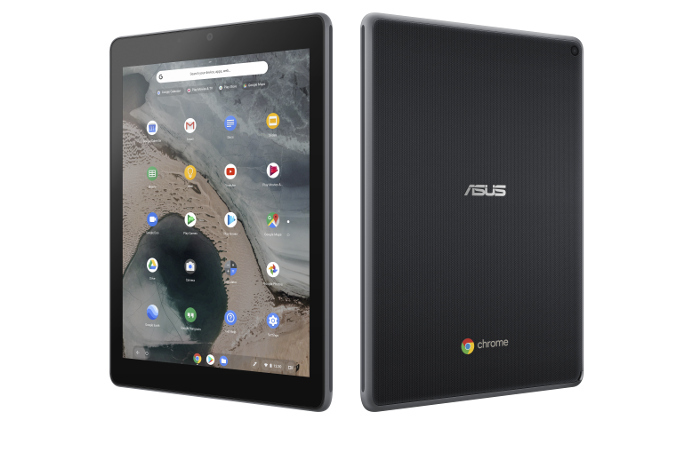 The 9.7" Chromebook Tablet CT100 removes the keyboard from the equation to simplify interactions for kids who likely already have experience with touchscreen devices.The rubberized chassis is just under 10 mm thick and easy to hold on to, though it's rated for drops up to 100 cm if it does happen to take a tumble. Stylus support allows for more natural practice when tracing letters, learning numbers, and drawing, and a front-facing camera makes it easy to reach mom and dad in an emergency. Android apps can be installed via the Google Play Store, which gives kids something to do during recess, and the 32GB of onboard storage is plenty for their favorite games as well as any schoolwork that needs to be saved offline.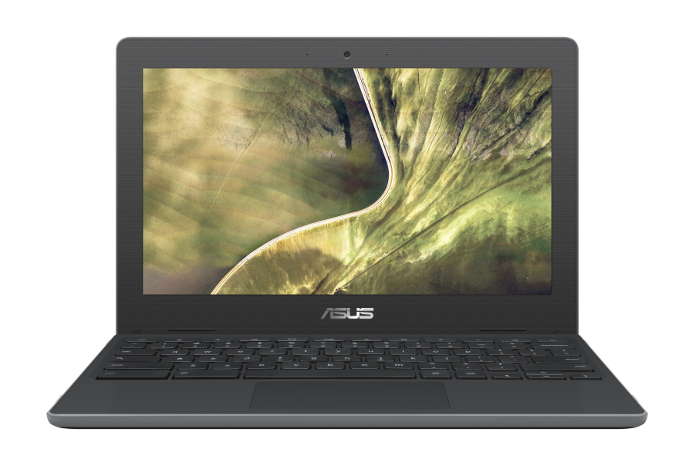 Learning to write is important, but students won't get far if they don't have a real laptop. The Chromebook C204 and Chromebook Flip C214 are the perfect entry to the world of big-kid computers. Reinforced corners and rubberized edges help to protect against damage. The C204's 11.6" HD display is anchored by a 180° hinge that allows for a wider range of positions for kids of varying heights, while the Flip C214 adds a 360° hinge and stylus support for seamless transitions between tablet and laptop mode.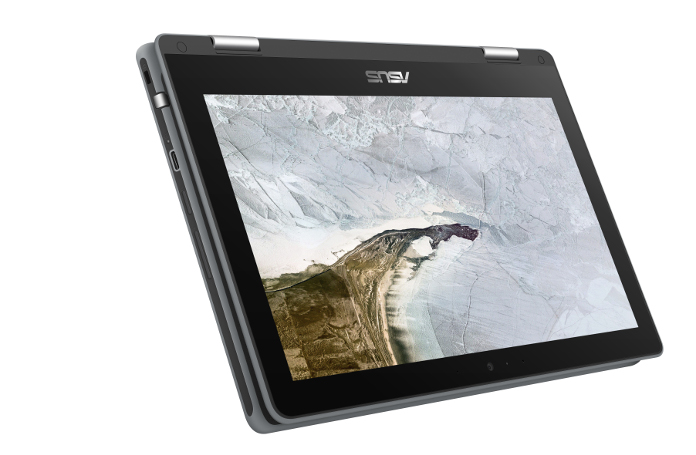 Both have spill-resistant keyboards with 1.5 mm of key travel so kids can work comfortably during snack time. Under the hood is a dual-core Intel Celeron processor and up to 4GB of RAM. They work together to keep things running smoothly when switching back and forth between Chrome windows and Android apps. The C204's 32GB of onboard storage is enough to store all the best Android games and coursework, too, and a MicroSD slot is serves as a backup if you need to add storage or transfer photos. The C214 offers up to8GB of RAM and 64GB of storage for kids sticking with the same device over a longer period of time, and adds a second world-view camera for show and tell in tablet mode.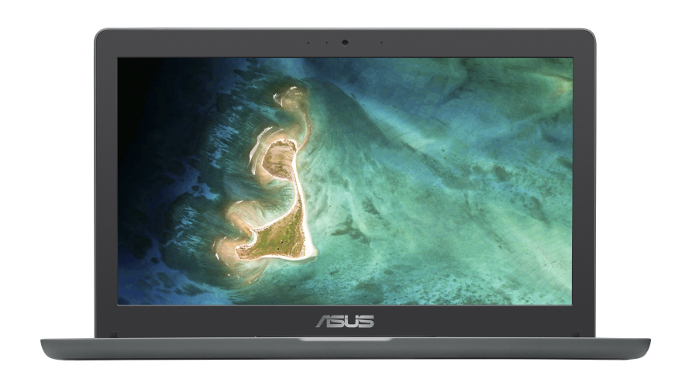 The Chromebook C403 takes the C204's design and hits the enlarge button. It packs the same rubberized aesthetic and 180 hinge but the 14" HD display is made for students working on essay questions and more complex projects that would feel cramped on a smaller screen. The bigger chassis allows for a deeper 2 mm of key travel on its spill-resistant keyboard, and bigger speakers, too. Though at 13.6" wide and 0.8" thick, it's by no means bulky and still fits easily into a backpack.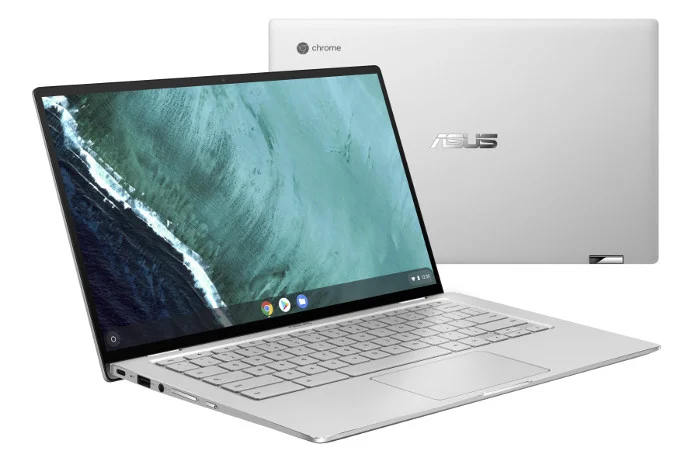 The Chromebook Flip C434 sits on the opposite end of the spectrum with a gorgeous, professional design. Wrapped in all metal, it's made for grownups who want simplicity and convenience in premium package. A 14" Full HD display is squeezed into a 13" frame thanks to our slim NanoEdge bezels, and it rotates on a 360° hinge for easy switching between tablet, laptop, and tent modes. Though lots of 2-in-1s compromise on the keyboard in favor of a slimmer package, the C434 uses the same great keyboard as its predecessor, the Chromebook Flip C302. Propped up at a more comfortable angle by our ErgoLift hinge, it boasts 1.4 mm of key travel and a backlight for getting work done on the plane or late at night. Chrome OS isn't a demanding operating system, but support for Androids via the Google Play Store and an ever-growing number of Chrome extensions means Chromebooks need to be more capable to keep up. With up to to an Intel Core i7-8500Y, 8GB of RAM, and as much as 128GB of storage into its 15.7-mm chassis, the Chromebook Flip C434 is a next-generation Chromebook primed for the future.  
ROG Gaming laptops get new models and an RTX redux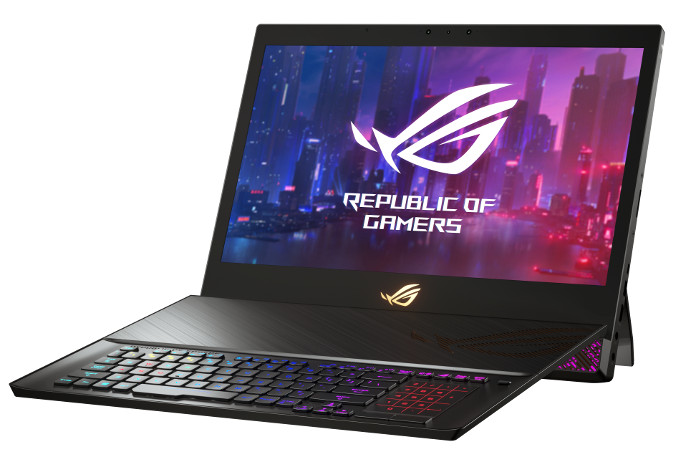 Gamers have among the most demanding requirements, but we have a wide range of systems that exceed them, including a new lineup of ROG gaming laptops based on NVIDIA's new GeForce RTX 20-series GPUs. The family is led by the ROG Mothership, an innovative desktop replacement that completely rethinks the form factor to improve cooling and ergonomics. Its CNC-machined aluminum chassis stands tall rather than lying flat, which dramatically improves airflow for its factory-overclocked Core i9 CPU, and the keyboard detaches for wired or wireless operation, allowing you to position it exactly where you want. Add cutting-edge components like the GeForce RTX 2080, a three-drive NVMe RAID 0 array, and both 2.5G Ethernet and 802.11ax WiFi, and you have a truly next-generation system inside and out.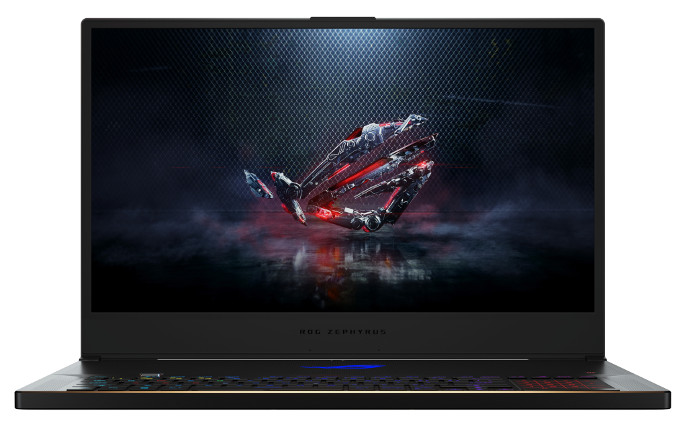 At the other end of the spectrum, the all-new Zephyrus S GX701 expands ultra-slim gaming with a 17" display that fits into an amazingly compact chassis just 18.7mm thin. Super-narrow bezels make the display feel larger than life, and the Pantone-validated panel is calibrated at the factory to guarantee color accuracy for professionals who want a more serious gaming machine. Our innovative GPU switch lets the GX701 go between G-Sync mode for an improved gaming experience and Optimus mode for longer battery life, while Type-C charging support lets you run lighter workloads using a smaller 65W adapter or even top off the battery using a portable USB power pack. Our proprietary Active Aerodynamic System provides more airflow to the six-core Intel Core i7 CPU and up to GeForce RTX 2080 with Max-Q Design graphics.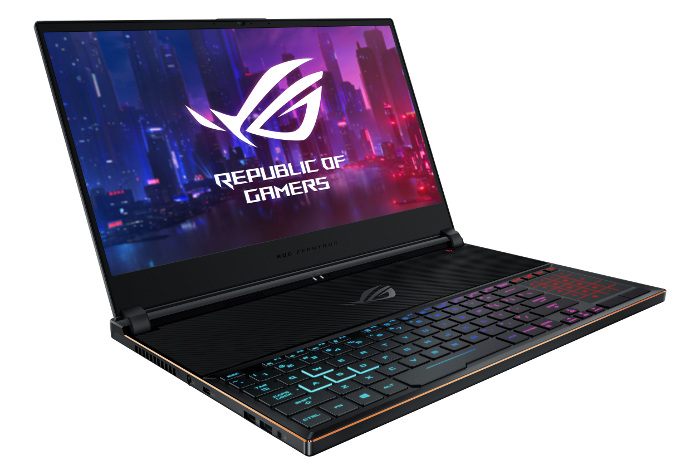 These all-new laptops complement existing models with updated RTX graphics. The 15" Zephyrus S GX531 is even slimmer and more portable than its 17" counterpart, yet it's still available with a top-of-the-line GPU. Although we've redefined the desktop replacement form factor with ROG Mothership, the G703 provides a clamshell alternative with the same factory-overclocked components in a more lap-friendly format. The Strix SCAR II and Hero II reprise their roles as more mainstream gaming laptops optimized for esports competition. They're available with more affordable GPUs down to the GeForce RTX 2060, which still has plenty of power to play popular games.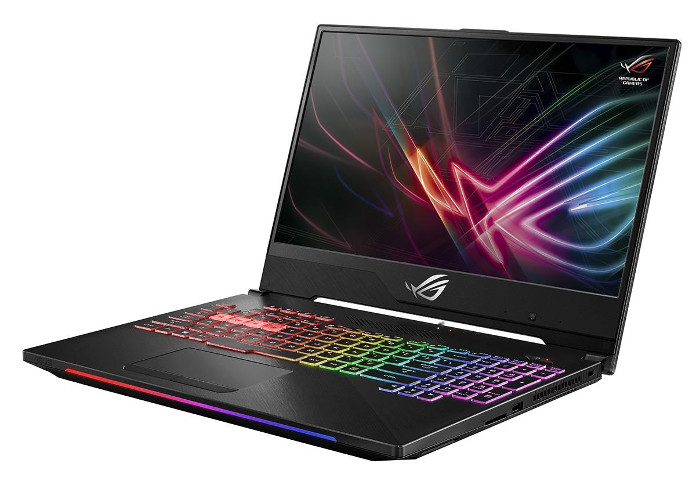 All of our new ROG gaming laptops are available with super-fast 144Hz/3ms displays that let you experience true triple-digit FPS. For years, we've been working closely with panel maker AUO to ensure that we're on the cutting edge of display technology. That collaboration allows us to debut at CES 2019 the first HDR displays for gaming laptops. The panels use brighter backlights, local dimming, and support for 10-bit color to bring greater dynamic range without sacrificing the refresh rate or response time. They're also not alone. In addition to demoing HDR, we're showing a new 4K screen with slim bezels and full Adobe RGB coverage for serious content creators. It's joined by the world's fastest display for gaming laptops, a impressive 240Hz panel available with both slim bezel and brilliant colors.
TUF Gaming introduces Ryzen-powered laptops and new peripherals
While the Republic of Gamers pushes the envelope, TUF Gaming delivers a great experience at more affordable prices. And it's still on the cutting edge. At CES 2019, we're unveiling the first gaming laptops powered by AMD's new Ryzen-powered Picasso platform. The TUF Gaming FX505DY and TUF Gaming FX705DY pair the quad-core Ryzen 5 3550H processor with discrete Radeon graphics. FreeSync amplifies immersion by matching the display's refresh rate with the GPU's frame rate, and the 15" version is available with a speed 120Hz panel. Like their FX505 and FX705 predecessors, these new AMD editions survive enhanced durability testing and meet military-grade standards, so they're tough enough to endure the challenges of everyday life.
TUF Gaming goes beyond complete systems and into a whole ecosystem of components from ASUS and our partners. We're showing a complete build filled with parts from the TUF Gaming Alliance, and it's contained in the TUF Gaming GT501 chassis introduced earlier this year. The machine is equipped with a full loadout of matching peripherals, including the TUF Gaming H5 headset and M5 mouse. The mouse sits on the new TUF Gaming P3 soft mousepad, which provides plenty of real-estate for smooth tracking and rolls up for quickly for easy transport.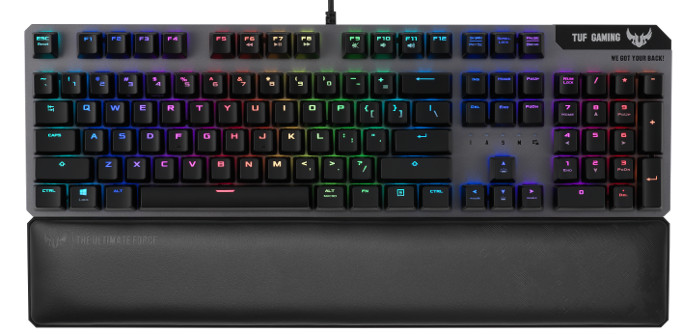 New for CES 2019, the TUF Gaming K7 keyboard uses optical technology to deliver faster actuation with better durability than mechanical switches. There are two versions of the TUF Optical-Mech switch: one with a complete linear stroke, and the other with tactile feedback and an audible click at the actuation point. Both have a short throw with ultra-quick actuation, and they're rated to survive a stagginer 100 million presses. The keyboard boasts IP56-rated dust and water resistance, allowing it to survive accidental spills, and it's equipped with per-key RGB lighting, so you can easily customize the looks and synchronize with compatible Aura Sync components.
Going big on cutting-edge gaming displays
ROG's leadership with gaming laptop displays is complemented by a diverse lineup of desktop monitors that continues to push the limits of what's possible. The new ROG Strix XG438Q blurs the line between desktop display and big-screen TV with a massive 43" panel that's equally at home in a battlestation or living room. The 4K panel boasts a 120Hz refresh rate augmented by FreeSync 2 HDR technology that helps to smooth out performance fluctuations with compatible graphics cards, an especially important feature for such a high resolution. Visually stunning from every angle, the VA-based panel meets VESA DisplayHDR 600 requirements, supports 10-bit image processing, and uses local dimming to intelligently modulate backlight brightness across different regions of the screen. A monitor-grade TCON combines with our GameFast Input Technology to ensure the low input lag required for serious gaming.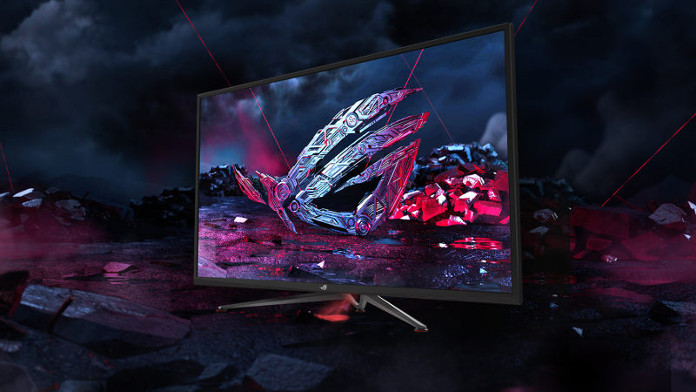 While the XG438Q sticks to a conventional aspect ratio, the curved ROG Strix XG49VQ stretches an ultra-ultra-wide 32:9 panel across an expansive 49" diagonal. The double-full-HD resolution extends deep in your periphery for extra immersion, and FreeSync 2 HDR tech keeps the refresh rate synchronized with compatible Radeons all the way up to 144Hz. The Strix XG32VQR completes our FreeSync 2 HDR lineup with a curved 32" display that takes its WQHD resolution up to 144Hz with wider 94% DCI-P3 coverage. We're also showing coveted ROG Swift G-Sync displays, including the jaw-dropping PG65 with its high-refresh 65" 4K panel, and the PG35VQ, an ultra-wide 35" display with DisplayHDR 1000 certification and a peak refresh rate of 200Hz.
Graphics get liquid cooling at the high end and RTX down the middle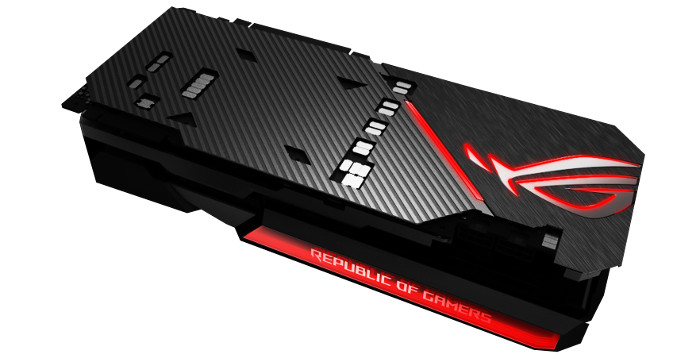 Keeping up with the latest high-end displays requires hardcore graphics power. The new ROG Matrix GeForce RTX 2080 Ti obliges with the fastest GPU in the 20-series lineup, but that's only the beginning. We spent over two years developing the first completely self-contained liquid cooler for graphics cards. The fans, radiator, pump, and all the plumbing squeeze into just three slots, allowing the Matrix enjoy superior liquid cooling without requiring an external radiator or custom loop. We pair the cooler with cherry-picked Strix PCBs chosen for their ability to run at higher speeds, making the new Matrix the most powerful single-GPU card ROG has ever produced.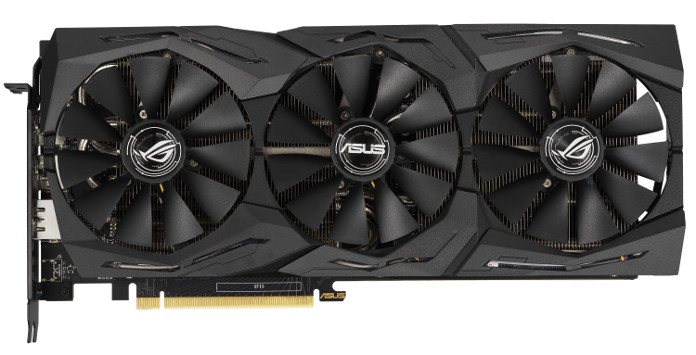 While the Matrix stakes our claim to the best high-end graphics card on the market, the new GeForce RTX 2060 enables a lineup of more affordable cards based on the same NVIDIA Turing architecture. We've deployed the mid-range GPU across a trio of graphics cards led by the Strix GeForce RTX 2060, which uses the same advanced MaxContact cooler as the Strix RTX 2070. This model has all the bells and whistles, including Aura Sync RGB LEDs to match your system lighting, and FanConnect headers that let GPU temperatures control system cooling. The ASUS Dual GeForce RTX 2060 puts cooling above all else with a 2.7-slot design comprising a massive heatsink with dual fans. If you prefer something smaller, the ASUS Turbo GeForce RTX 2060 is a better fit for really compact builds. Despite squeezing into only two slots, its blower-style cooler has multiple upgrades to improve airflow, including a larger 80-mm fan, fewer obstructions around the rear exhaust, and a carefully shaped shroud that helps direct more air into the fan when the card is in cramped quarters.
Raising the stakes for high-end desktop motherboards
High-end DIY desktops enter the next generation with all-new ROG Zenith Extreme Alpha and Rampage VI Extreme Omega motherboards. Nearly identical twins based on AMD X399 and Intel X299 platforms, these EATX monsters are loaded with PCIe slots for multi-GPU configs and NVMe slots for SSD RAID arrays. Both boards can run dual triple-slot graphics cards with a full 16 lanes of bandwidth each, and they have integrated heatsinks for at least three M.2 SSDs. The rest of the specs are as stacked as you'd imagine, with support for up to 128GB of memory across eight slots, loads of USB connectivity, and both Gigabit and 10G Ethernet built in. Each board also features premium extras like a LiveDash OLED display, exquisite aluminum armour, and our new Node connector for external devices. The Fan Extension Card II included with each board uses the Node interface to further expand the already generous assortment of cooling and lighting headers on the PCB.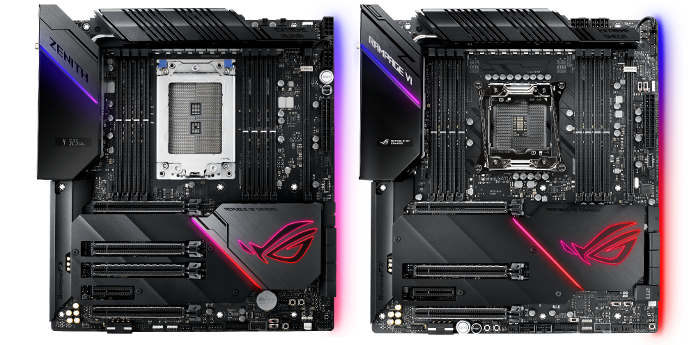 The Alpha and Omega draw inspiration from the ROG Dominus Extreme, which takes high-end desktop motherboards to a whole 'nother level for 28-core Skylake-X processors. Its massive 14" x 14" EEB form factor is populated with 12 memory slots with support for up to 192GB of DDR4 RAM, dual DIMM.2 modules with room for two NVMe SSDs each, dual U.2 ports for additional SSDs, and quad PCIe x16 slots spaced for a stack of dual-slot cards. More impressive than the sheer number of components is how they're laid out, with connectors neatly clustered and lined up along the edges to help you create a clean-looking build. That includes the astonishing nine EATX power connectors, plus the 32 power stages arranged along the top edge. The Dominus Extreme is on display at CES 2019 inside a beautiful build guaranteed to turn heads.
Hands-on with the latest peripherals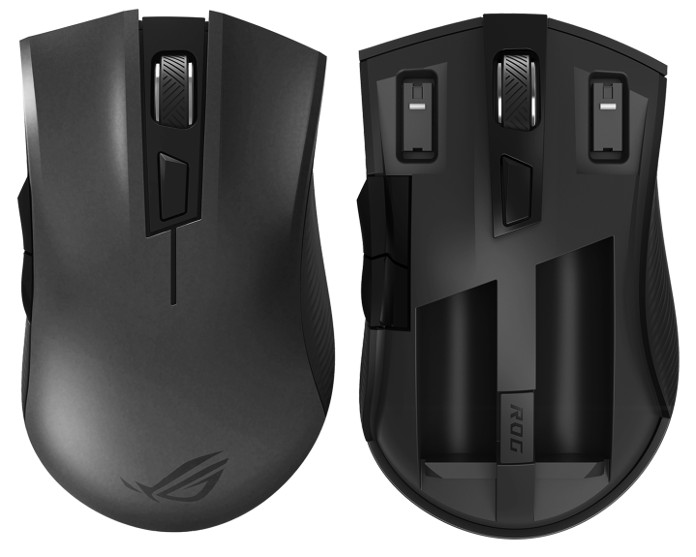 Our peripheral lineup is getting bigger but also smaller. The new ROG Strix Carry mouse has diminutive dimensions designed specifically for mobile use. It fits easily into a bag and weighs only 120g, but we didn't skimp on features or performance. You get the same Pixart sensor as the ROG Pugio, complete with a DPI switch for changing the sensitivity instantly on the fly, and the main buttons are backed by swappable Omron switches rated to survive 50 million clicks. Support for both 2.4GHz and Bluetooth LE wireless connections lets you choose between lower latency for gaming and lower power consumption for other tasks. Even when connected via 2.4GHz, you can still get more than 200 hours of run time from a pair of AA batteries.

On the desktop, the ROG Strix CTRL keyboard puts a full-sized layout inside a compact frame. The left Ctrl key is notoriously difficult to reach on conventional keyboards, so our Xccurate design enlarges it and adds stabilizers for easier crouching and walking in-game. We also tweaked the function row to give media shortcuts priority by default and added a new feature for F12. Otherwise known as Stealth, this shortcut automatically mutes your audio and hides open applications, putting privacy easily within reach at all times. Each key sits on top of a Cherry MX RGB switch, and versions of the keyboard will be available with a full range of MX flavors, including Silent Red and Speed Silver.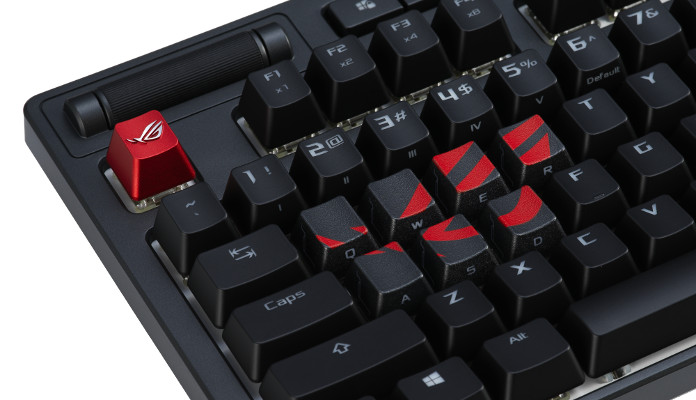 The Strix CTRL ships with a set of silver WASD keycaps that break up the all-black look, but we're making separate caps as well. The ROG Gaming Keycap Set replaces the QWERASD keys with textured caps that have a grainy surface with extra grip, making them easier to find by feel alone, and reducing the chance of your fingers slipping off in the heat of battle. Plastic construction ensures similar weight to conventional caps to avoid affecting actuation, but the Esc key sits off on its own, so we added an aluminum housing with a diamond-cut ROG eye. The metal skin is wrapped around a plastic core to prevent damage to the switch underneath, and the set is compatible with standard Cherry MX switches.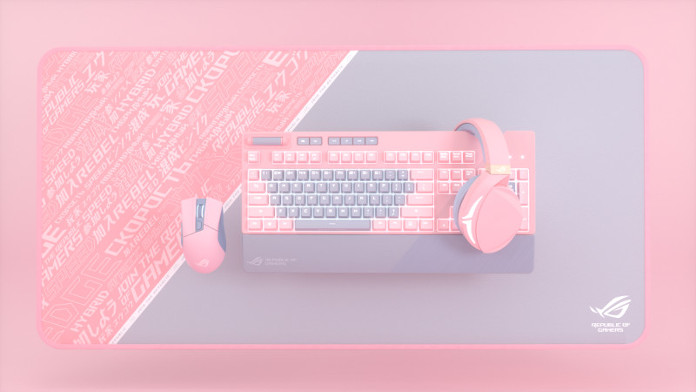 Like the rest of our gear, the caps use familiar ROG colors, but we know that some gamers have different tastes. The new ROG PNK LTD line goes in a completely different direction with a combination of warm pink and cool grey. Available on special versions of the ROG Strix Flare keyboard, ROG Strix Fusion 300 headset, ROG Gladius II Origin mouse, and ROG Sheath desk mat, this limited-edition colorway brings a whole new look to the Republic of Gamers while retaining the technology and features that define those peripherals.
RGB even more of the things
After introducing our first liquid coolers at Computex last year, we're filling out the lineup with an entry-level ROG Strix AIO cooler. The more affordable design is based on the exact same Asetek technology as the ROG Ryuo, and it's available with the same Wing Blade fans and 120-mm or 240-mm radiator options. The only difference is the absence of the LiveDash OLED found on our other coolers. Instead of using this integrated display, the Strix lights up the CPU block with 16 addressable LEDs diffused to a bright, even glow.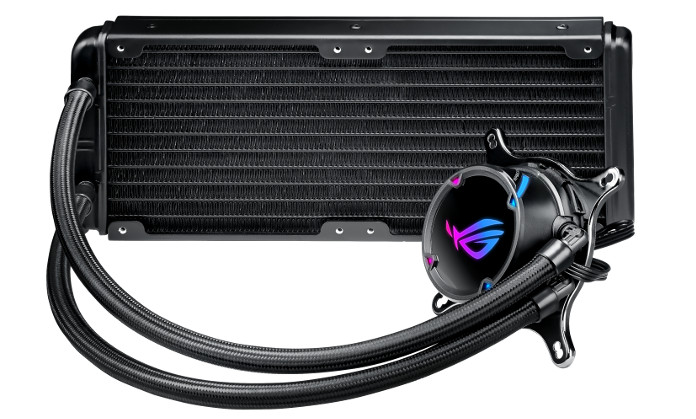 One might say that we've become somewhat obsessed with RGB LEDs, but it's hard not to love a technology that lets you customize, match, and change colors so easily. At CES 2019, we're extending RGB lighting to furniture with the ROG Chariot gaming chair, which features a backlit logo behind the headrest and an illuminated infinity mirror over your shoulders. The automotive-inspired design adjusts to accommodate different body types, and we selected materials that are both supportive and cool, so you can sit though marathon gaming sessions without overheating.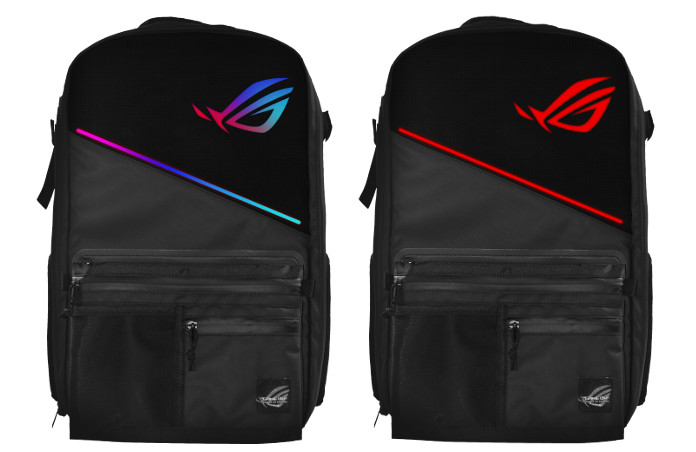 RGB lighting adds a new functional twist with the ROG Ranger BP3703 backpack. The illuminated ROG logo and slash improve visibility for cyclists and anyone else who needs to be seen in the dark. An ambient light sensor automatically adjusts the brightness to match your environment, but you can crank it up with a dedicated Android app that also controls colors, effects, and up to seven profiles. Power is provided by a standard USB power pack, an RFID-blocking pocket protects your wallet from skimming scams that target RFID-enabled cards, and interior lighting helps you find things inside the main compartment.
Networking brings it all together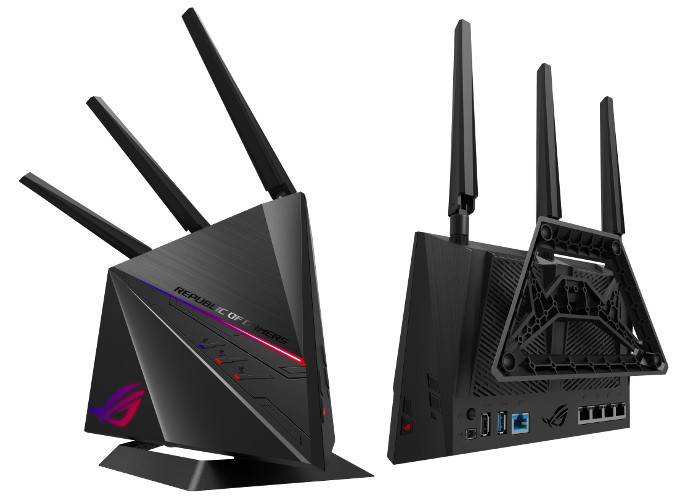 Customizable lighting is even extending to networking. The ROG Rapture GT-AC2900 offers an Aura Sync-compatible glow, but that's not all. The dual-band design employs four antennas, one of which is hidden in the body and dedicated to 5GHz traffic. Packets are prioritized by Adaptive QoS that can be programmed to send traffic from specific applications and clients to the front of the line, and free access to the Gamers Private Network optimizes your connection to select online game servers. The router also includes a special mode that's being optimized for NVIDIA's GeForce Now cloud gaming service, allowing you to stream games at up to 1080p resolution and 60 FPS.