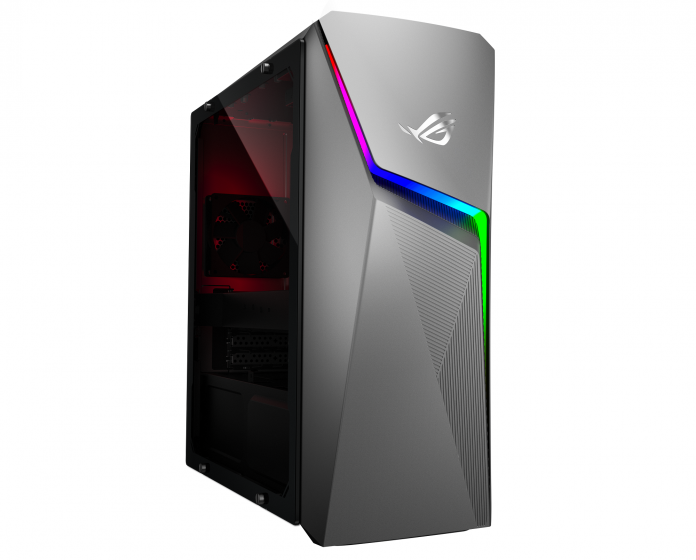 Constant reinvention is required to continue creating compelling gaming experiences that meet evolving player needs, wants, and budgets. By staying at the forefront of emerging technologies and adopting the latest platforms, ASUS has developed a full family of dynamic gaming machines that delivers serious performance per dollar. This includes an increasing number of systems that combine AMD Ryzen CPUs with NVIDIA GeForce GPUs, a pairing long-favored by hardware enthusiasts looking to maximize each component's impact, and one that helps us bring great gaming machines to a wider audience than ever before.
The ROG Strix GL10DH is among the world's first gaming desktops with AMD's new 3rd Gen Ryzen processors, bringing together formidable firepower with core gaming fundamentals. It was demonstrated live during AMD's "Next Horizon Gaming" event at E3, in Los Angeles, CA on June 10.
We're also continuing to shake up our laptop lineup with the latest Ryzen mobile APUs. The new TUF Gaming FX505DV raises the bar for our Ryzen family with a 144Hz/3ms display and GeForce RTX 2060 GPU tuned for fast-paced gameplay. It joins a cast of durable TUF contenders along with the subtly sleek ROG Zephyrus G GA502, an affordable ultra-slim gaming laptop with surprisingly good battery life.
Matisse expands possibilities for gaming desktops
Gaming and streaming go hand in hand. Players need to be able to hop in-game and share their experiences quickly and efficiently, and their extra-curricular activities often aren't limited to streaming. We're focused on creating attainable gaming machines with the power and flexibility to do more, from streaming to content creation to heavy multitasking. The new Strix GL10DH gaming desktop uses the latest Ryzen CPUs to bring a new level of performance and versatility to affordable gaming desktops.
Equipped with up to a Ryzen 7 3800X CPU with eight cores and 16 threads, the Strix GL10DH packs heavy duty horsepower. The 3rd Gen Ryzen processor otherwise known as Matisse is based on an updated Zen 2 microarchitecture that boasts up to 15% higher performance per-clock than the previous generation, plus a larger cache and higher clocks. These improvements accelerate both gaming and more serious workloads, which made us eager to be the first to deploy the new processors in a gaming desktop.
The Strix GL10DH flexes its gaming prowess with a range of ASUS graphics cards that includes the Turbo GeForce RTX™ 2070, or options from the Phoenix family featuring GPUs up to the GeForce® RTX 2060. NVIDIA's new Turing GPU architecture uses a mix of CUDA, RT, and Tensor cores dedicated to programmable shading, real-time ray tracing, and artificial intelligence to produce incredible visual effects. They enable advanced lighting, lifelike reflections, and realistic shadows that make in-game experiences more immersive. These capable cores can also accelerate a range of computationally intensive tasks from 3D modeling to deep learning.
The graphics cards slot neatly into a reliable ASUS Prime B450M-K motherboard that offers a solid foundation with flexible connectivity for a wide range of components. If you're interested in upgrading, the board is backed by thousands of hours of validation testing to ensure compatibility and stability with popular devices. Out of the box, the GL10DH is configured with up to an M.2-based NVMe SSD with 512GB of super-fast storage that accelerates load times for demanding games and apps. The SSD is paired with up to 1TB of mechanical storage for the rest of your library, along with up to 32GB of system memory for smooth multitasking.
The Strix GL10DH puts performance and potential into a streamlined case with Aura Sync accents. Choose between a vented side panel that increases airflow into the main chamber or an expanse of clear acrylic that provides an unobstructed view of the illuminated internals. The dual-chamber chassis groups the CPU, GPU, and motherboard in the main housing, while the storage bays and power supply sit in a separate cooling zone below. Everything squeezes into just 27 liters to save space wherever you play.
Ryzen gains faster mobile sidekicks
TUF Gaming brings military-grade toughness and a strong core experience together at affordable prices, making these laptops excellent options for everyday gaming machines. Our TUF Gaming FX505DY was the first adopt AMD's Picasso platform, combining its mobile Ryzen APU with discrete Radeon graphics and a FreeSync display. The TUF Gaming FX505DD/DT/DU laptops released in April paired the same processor with GeForce GTX graphics to maximize gaming performance.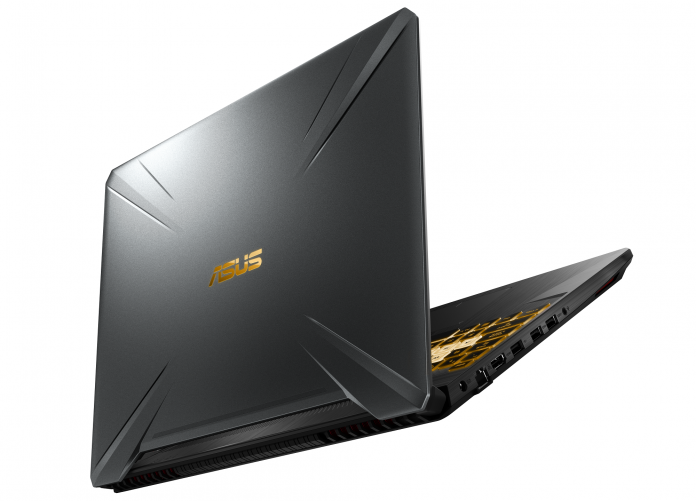 The next step forward is the TUF Gaming FX505DV, which carves out a new sweet spot at the intersection of durability, performance, and price by teaming the latest Ryzen mobile APU with a GeForce RTX 2060 GPU and 144Hz/3ms panel. Great graphics are crucial to any gratifying gaming experience, and the FX505DV can pump out reliably high frame rates that take full advantage of its NanoEdge display. The high refresh rate makes fast-paced gameplay significantly smoother than on standard 60Hz displays, and the quick response time keeps the picture sharp at speed, giving players a competitive advantage in esports and FPS gaming. Sharing your screen for movies or multiplayer is also more enjoyable thanks to IPS-level panel technology that ensures consistent colors for every seat in the house, and slim 6.5-mm bezels that keep your attention focused on-screen.
Paired up with the AMD Ryzen 7 3750H mobile APU, this TUF Gaming laptop is fast and efficient whether you're hopping into a match or taking care of work on the go. The processor's quad cores and eight threads make quick work of everyday multitasking and productivity, and the system's performance is further bolstered by an efficient cooling system that pairs innovative internal design with on-demand switching that optimizes the system for the task at hand. With a keyboard shortcut, HyperFan lets you quickly adjust system settings so that you get the cooling you need when you need it. Turbo mode pushes fan speeds and performance to the max, unleashing the full power of the FX505DV. Balanced mode optimizes operation to deliver strong performance with lower acoustic levels for gaming. Silent mode minimizes fan noise for less demanding tasks, which is perfect for working in quiet environments and streaming videos.
Under the hood, our self-cleaning cooling system channels particles and other debris out of the laptop through anti-dust tunnels integrated into the fan housings. This preventative measure prevents dust buildup on the heatsink and fans that can compromise cooling over time. It's essential to maintaining long-term performance and stability, helping the FX505DV live up to its TUF Gaming name.
Like its predecessors, the family's newest recruit is defined by durability. It meets strenuous MIL-STD-810G standards in a range of tests, from basic drops and vibration to surviving extreme temperatures and altitude. The TUF Gaming FX505DV can handle everything from an everyday commute to a trek across the desert, as long as you cross paths with an outlet oasis somewhere in between.
Slim style takes your game anywhere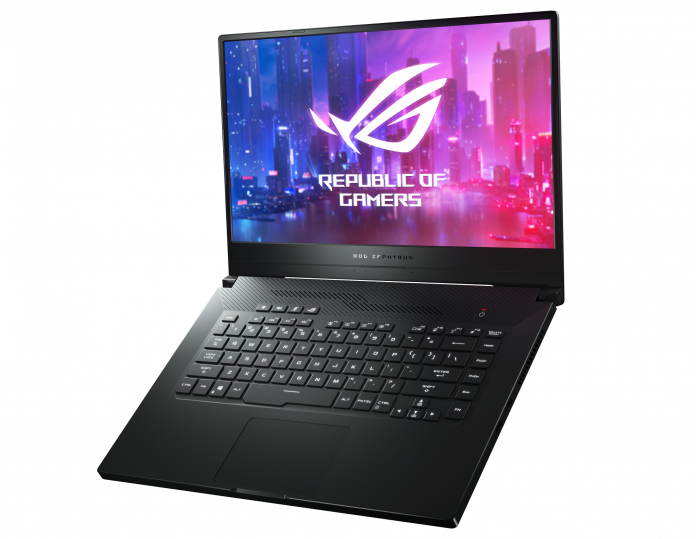 If sleeker, lighter laptops are more your speed, the mobile Ryzen platform makes ultra-slim gaming more affordable with the ROG Zephyrus G GA502. Portability is typically considered a premium feature, but with the Zephyrus G it's attainable for freelancers, students, and everyone else who wants to work on the go.
Despite being only 20mm thin and 2.1kg, this machine is no slacker when it comes to gaming performance. Configurable with up to GeForce GTX 1660 Ti graphics and a 120Hz display framed by super-narrow bezels, the GA502 capably cuts through a wide range of popular games. In Turbo mode, ROG Boost clocks the discrete GPU up to 1435MHz at 60W, which is ample power for everyday gaming and streaming.
Modern multitasking is also well within the GA502's wheelhouse. The Zephyrus G is equipped with the same quad-core, eight-thread AMD Ryzen 7 3750H mobile APU as the TUF Gaming FX505DV. The processor optimizes performance and power consumption with SenseMI technology, allowing the battery to last up to nearly nine hours in MobileMark, or survive almost seven hours of video playback or Wi-Fi web browsing.
Paired with a superfast NVMe SSD, the Zephyrus G zips through everyday tasks with quick load times across games and applications. Up to 32GB of RAM guarantees enough memory for major multitasking, and all this power and utility is lightweight and slim enough to slip into standard backpacks. The laptop's brushed black exterior and tasteful white keyboard backlighting distinguish it from other gaming machines, letting you blend in everywhere from classrooms to coffee shops to local LANs.
AMD x ASUS brings premium gaming to everyone
Enabling great gaming experiences that truly connect with every player's needs is core to our design philosophy. That's why we push ourselves to break conventions, experiment with new ideas, and take early advantage of new platforms. Our latest collaborations with AMD demonstrate this dedication, resulting in an exciting range of affordable gaming machines suited to different interests and needs.
With the ROG Strix GL10DH, gamers get a flexible and customizable 3rd Gen Ryzen desktop powerful enough to go beyond gaming. The military-grade TUF Gaming FX505DV puts mobile Ryzen horsepower into a reliable, do-it-all laptop that's exceptionally durable. And the ROG Zephyrus G GA502 provides an ultra-slim, ultra-versatile machine portable enough for gamers who want to stream, work, and play anywhere. The GA502 is already selling at retailers worldwide, while the others systems will join it in Q3. Check with your local ASUS and ROG retailer for information on specific configurations and availability in your region.