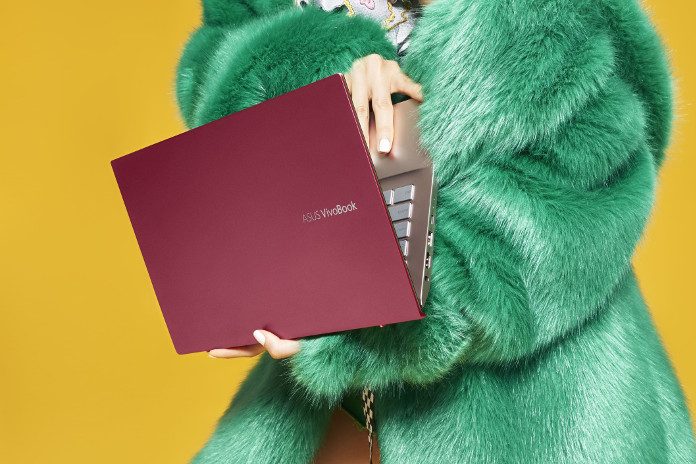 Showing your style is important, yet it's rare to find a laptop that stands out from the crowd. Last year, our colorful VivoBook series proved that productivity and plain design do not come as a package deal. For Computex 2019, we're doubling down on color and sharing a new and refined VivoBook vision in five stunning shades.
Featuring a slim and attractive colorful design, the new VivoBook S14 and VivoBook S15 perfectly express your individuality while allowing you to get more done. Inside these stylish packages is a powerful combo of 8th Gen Intel processors, discrete graphics, and lightning-fast SSDs designed to keep pace with your every aspect of your life, be it work, school, or your side hustle making videos for YouTube.
But these VivoBooks are more than just a fresh new look. For years, we've been bringing the best bits of our premium ZenBooks to the VivoBook family, and this year that includes the ScreenPad 2.0, which transforms the single-use touchpad into a multi-functional tool designed to streamline your workflow.
Express yourself
Anyone who plasters their computer with colorful stickers knows that personality matters. In a lecture hall of lookalikes, it's important your computer represents you. But what if a computer could do this right from the start?

We're introducing five stunning and unique new VivoBook shades to help you find the best fit for your personal taste. Whether it's calm Moss Green, subtle Transparent Silver, sleek Gun Metal, spunky Cobalt Blue, or renegade Punk Pink, this year's VivoBook S series runs the gamut and blends brushed aluminum with lightweight plastic for a more premium design. Each one features a bold, color-blocked trim in a contrasting but complementary color. Moss Green is accented by an Energetic Orange racing stripe, while Transparent Silver benefits from a pop of Pure White. Cobalt Blue's already bold exterior is enhanced by a Neon Red streak, and Gun Metal uses a smooth Cobalt Blue to brighten a more traditional hue. Finally, a muted stripe of Moss Green offsets Punk Pink's fuchsia shade, softening the punchiest of the bunch with just a hint of nature.
Fashion-forward attention to detail continues throughout the whole laptop. A menswear-inspired twill design is splashed across the underside. The pattern is injection-molded, so it won't wear down over time, and though you won't see it every day, touches like this lend a premium feel that's often missing in mid-range or budget laptops. Up top, you'll notice a brand new mirrored VivoBook logo sits off-center on the lid. It's more modern than the old ASUS logo that adorned previous generations of VivoBook, and the shiny silver glints when the sun catches it just right. The bright colors and fresh new design are fashionable enough on their own, but if you want to further customize your laptop, each VivoBook will come bundled with a sticker pack so that you can add your own personal touch.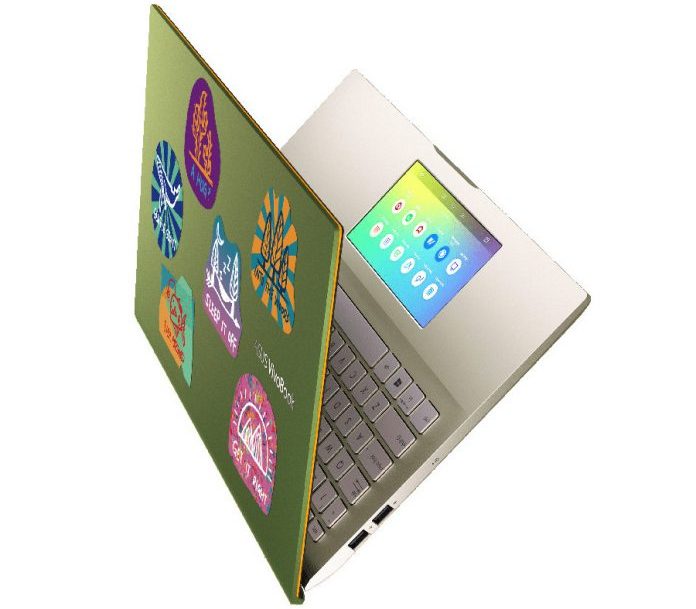 Take a load off
From long lectures and library cram sessions to cross-campus treks, school days are exhausting. But it's even worse when they're painful, too. With backpacks weighing anywhere from a whopping 18 to 30 pounds (or more!), it's no surprise many back and shoulder issues start during school years.
Most ultrabooks with slim and light designs come with a premium price tag, but we believe it's possible to balance performance, price, and portability. The VivoBook S series is purpose-built to add as little weight as possible to already overladen bags. The 14" S14 is just 3 lbs, while the 3.9-lb S15 is lighter than a lot of 15" laptops available today. Throw this super-compact ultrabook into your backpack, slip it in your messenger, or tuck it under your arm; no matter what way you carry it, it won't weigh you down.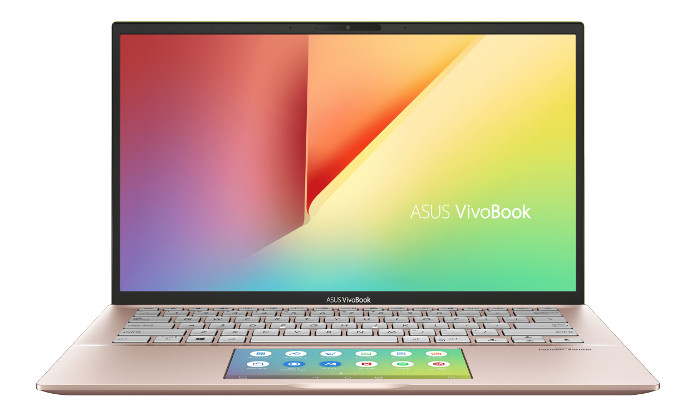 Our ultra-slim four-way NanoEdge bezels help trim down the overall size, as well as provide the illusion of a larger screen. These immersive, nearly frameless displays feature bezels as thin as 5.2 mm, which helps to minimize the laptop's footprint so it takes up less space. The itty bitty VivoBook S14 measures just 12.7" x 8.3", yet boasts a roomy 14" Full HD 1920 x 1080 display. Meanwhile, big brother the S15 squeezes its 15.6" Full HD display into a snug 14.1" x 9.1" package. Collaborating on projects can feel cramped when you have to crowd close to see the screen, but both the S14 and S15 feature wide 178° viewing angles to keep colors vivid and bright, even for friends sitting next to you.
Multitasking marvel
One of the most difficult aspects of staying productive on the go is that your constantly changing location makes it hard to really settle in. To help you stay productive no matter where you are, the 2019 VivoBooks have taken a cue from our most powerful ZenBook and adopted the ScreenPad, an innovative alternative to a standard trackpad that adds a second display for multitasking.
The new ScreenPad 2.0 is a 5.65" touchscreen gives new life to the underutilized touchpad on the VivoBook 15 S532 and VivoBook 14 S432. It can change functions depending on the app you're using, or serve as a dock for handy tool panels and media controls.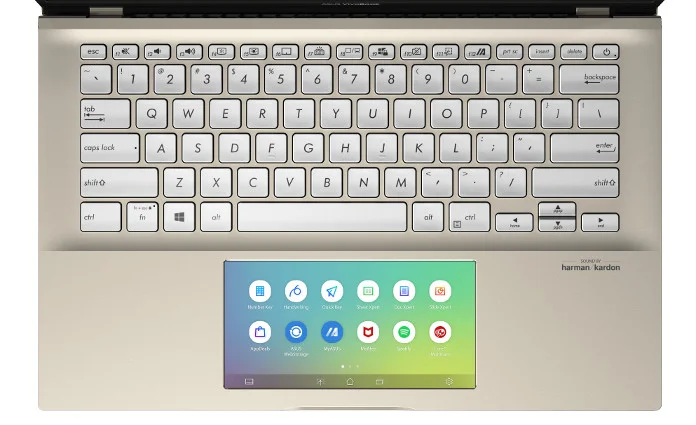 For amped-up multitasking, you can drag and drop your favorite chat client in the ScreenPad to ensure you don't miss a message. Or you can keep an eye on the score of the game without reaching for your phone. While you use the ScreenPad, the App Switcher function can be used to easily move docked windows between your main display and second screen, and App Navigator makes flipping between different active apps on the ScreenPad a breeze. Your normal touchpad is only a tap away, too. Just hit the dedicated Mode Switcher to activate the trackpad, and press the "X" in the top right corner when you're done with the cursor and ready to get back to the ScreenPad.
Versions of the S14 and S15 will also be available without the ScreenPad, though those models don't skimp on clever design tweaks to improve usability. The VivoBook 14 S431 and VivoBook 15 S531 both pack a traditional trackpad that matches their colorful finishes. The S15 is a little wider, so it has room for a traditional number pad on the keyboard, while the more compact S14 features a light-up NumberPad built right into the trackpad.
Pretty and powerful
Shopping for a school laptop is tough. Some are small and lightweight, but aren't designed to handle demanding workloads. Others are powerful enough for more than written assignments, but too big and bulky, making cross-campus treks painful. Thankfully, the VivoBook combines its portability with practicality. Every model offers up to an 8th-generation, Intel Core i7-8565U CPU. This ultraportable processor has four cores and eight threads for turbo-charged mobile multitasking. With the help of up of up to 16GB of RAM, these laptops make quick work of intensive multimedia tasks like editing photos or cutting together videos for YouTube. For extra oomph in photo and video applications, or even a little light gaming after class, every new VivoBook offers up to NVIDIA MX250 dedicated graphics.
There's plenty of space for all of your work, whether you're creating a big presentation or the ultimate DJ mix. The S431, S432, and S532 offer up to 1TB of lightning-fast SSD storage, so you're ready to start note-taking within seconds of boot and have loads of room for assignments and projects. On the S531, up to 1TB of SSD storage joins forces with an up to 2TB HDD for a one-two punch of fast boot and plenty of capacity.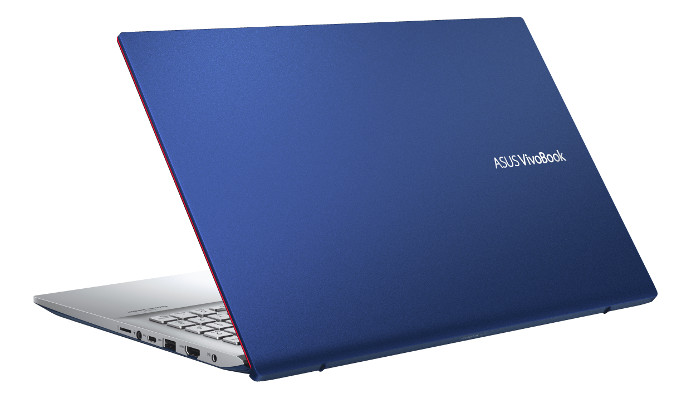 We've found most students need to use their webcam at least once a month, so for the first time VivoBooks also add an IR HD camera. Secreted away in the top bezel, this webcam offers great video quality, plus enhanced laptop security with Windows Hello's face-based login. When your face is your instant password, you can rest assured that none of your friends will be able to sign in and prank your Facebook.
All day in the comfort zone
Of course, endurance is as important as weight and performance. It's no use having a light and powerful laptop if it can't keep pace or isn't pleasant to work on. Comfort is key when you're using a laptop all day. An increasing number of high school and college students report hand, wrist, and arm pain, and prolonged computer use, poor posture, and too-small keyboards can contribute to the problem. To address these issues, the VivoBook uses our ErgoLift hinge to prop up the keyboard at a slight angle, and the display can be positioned between 0° and 135° for a comfortable viewing. The ErgoLift hinge doesn't just add an ergonomic slope to the keyboard, though.
The full-size keyboard and 1.4 mm of key travel provide pleasant, pain-free typing when you're working all day, and a backlight ensures you can always see what you're doing, even after lights out. A clever layout prioritizes the function keys' actual functions, so you don't have to do finger gymnastics while panic-muting a video in the library.

Long battery life across the family keeps your bag as light as possible by letting you leave your charger at home. These latest VivoBooks are made to last through your afternoon classes, but if you forget to charge, fast charge tops up the battery to 60% in only 49 minutes.
While you're out and about, support for next-gen Wi-Fi 6 with Gig+ (802.11ax) ensures a stable, reliable connection. Not only is Wi-Fi 6 faster, but it's particularly beneficial when everyone on campus is on the same network trying to download materials and upload notes simultaneously.
When you're back at your desk, you can hook up all your peripherals. Every version of the S14 and S15 packs in an HDMI port for connecting to external displays and projectors, as well as three USB Type-A ports and a USB Type-C port for newer storage devices. For photographers, the entry-level S431 features a full-size SD slot while the rest incorporate a MicroSD slot that's handy for pulling photos and video off your smartphone or GoPro. The combo audio jack and up to Bluetooth 5.0 give you multiple options for drowning out your loud roommates with headphones. When you're home alone you can enjoy the clear vocals and rich bass of SonicMaster-enhanced Harman Kardon-certified speakers as you crank out your paper.
Work smarter and look good doing it
Whether you're a multitasking machine, an after-dark DJ, or a budget-conscious student seeking style, performance, and practicality, the new VivoBooks are up to the task. Their unique good looks join forces with powerful components, stunning NanoEdge displays, multitasking trackpads, and comfortable keyboards for the ultimate cross-campus machine that's made to cater to school work and your extra-curricular activities.
VivoBook 15 S532
VivoBook 15 S531
VivoBook 14 S432
VivoBook 14 S431
CPU
Up to Intel Core i7-8565U, 1.8GHz (8MB cache, up to 4.6GHz)
GPU
Intel UHD Graphics 620, NVIDIA GeForce MX250 with 2GB GDDR5 VRAM
Display
15.6" four-way NanoEdge, 178° wide viewing angles
5.65" ScreenPad 2.0
15.6" four-way NanoEdge, 178° wide viewing angles
14" four-way NanoEdge, 178° wide viewing angles
5.65" ScreenPad 2.0
14" four-way NanoEdge, 178° wide viewing angles
Resolution
Full HD (1920x1080)
Full HD+ ScreenPad (2160x1080)
Full HD (1920x1080)
Full HD (1920x1080)
Full HD+ ScreenPad (2160x1080)
Full HD (1920x1080)
Memory
Up to 16GB LPDDR4
Up to 16GB LPDDR3
Storage
256GB / 512GB / 1TB PCIe SSD
256GB / 512GB/ 1TB PCIe SSD plus 1TB / 2TB HDD
256GB / 512GB / 1TB PCIe SSD
Networking
802.11ax Intel Wi Fi 6 (GIG+)
Connectivity
1 x USB 3.1 Type-C Gen 1
1 x Type-A USB 3.1 Gen 1
2 x USB 2.0
1 x HDMI
1 x Combo audio jack
1 x MicroSD card reader
1 x USB 3.1 Type-C Gen 2
1 x Type-A USB 3.1 Gen 1
1 x USB 2.0
1 x HDMI
1 x Combo audio jack
1 x SD card reader
Integrated NumberPad (Transparent Silver only)
Color
Moss Green
Punk Pink
Transparent Silver
Moss Green
Punk Pink
Cobalt Blue
Transparent Silver
Gun Metal
Moss Green
Punk Pink
Transparent Silver
Moss Green
Punk Pink
Cobalt Blue
Transparent Silver
Gun Metal
Dimensions
14.2" x 9.6" x 0.7"
12.7" x 8.3" x 0.7"
Weight
3.97lbs

3.96lbs

3.1lbs
3.1lbs
Battery
42Wh
42Wh
47Wh
OS
Windows 10
Windows 10
With stunning new colors, the refined VivoBook S lets you be as unconventional or understated as you'd like. Practical multitaskers will love the ScreenPad-equipped S432 and S532 in mellow Moss Green, Punk Pink, and cool Transparent Silver, while urban trendsetters will love life in color with the S431 and S531, which are available in Cobalt Blue and Gun Metal.
If you're ready to express yourself, the new VivoBook S14 and S15 will be available in a variety of unique configurations in the coming months. Check with your local ASUS representative for information on pricing and availability in your region.
We announced a lot of hot new tech at Computex 2019. You can find all of the latest gear from ASUS and ROG in this article.
By Kimberly Koenig