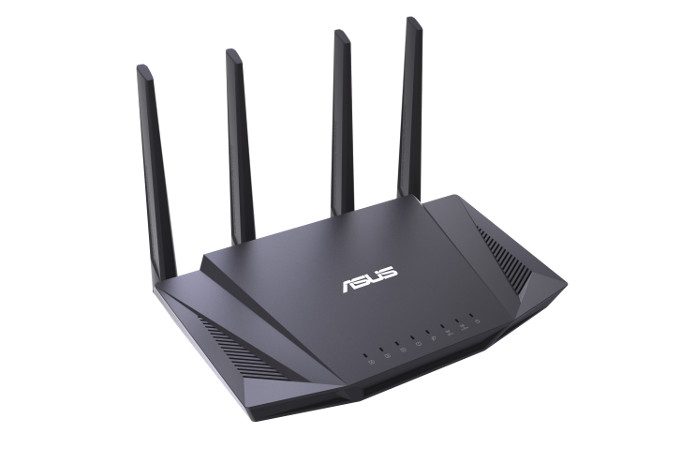 The next generation of WiFi based on the 802.11ax standard is upon us. Commonly referred to as Wi-Fi 6, the next big thing in wireless networking not only boosts throughput compared to 802.11ac, but it also handles busy networks more adeptly, ensuring your latency-sensitive frag session isn't interrupted by a family member streaming 4K video one room over.
Before you're able to enjoy the benefits of 802.11ax on wireless devices rolling out this year, you'll need a capable router equipped to handle the standard's many improvements. Fortunately, cutting-edge technology is available at the mainstream level in our RT-AX58U router.
Next level wireless networking
Although Wi-Fi 6 does deliver higher speeds than its predecessor, a long list of improvements also serves to juggle packets of data more efficiently and make sure they get to where they're going. The standard was built around the reality of how Wi-Fi is used today. It's no longer a luxury. Rather, Wi-Fi coverage is an expectation. And with desktop PCs, phones, tablets, home automation devices, and security systems all sharing the same frequency spectrums, it's no wonder performance drops when they're all forced to compete.
Unlike 802.11ac, which only operates on the 5GHz band, 802.11ax utilizes the 2.4GHz and 5GHz bands. If you remember back to when 2.4GHz was in vogue, its longer wavelengths are better for penetrating walls, so adding it back to the mix is good news for overlapping mesh networks. Moreover, the addition of 1024-QAM modulation facilitates speeds up to 1.88 times faster than what 802.11ac could muster.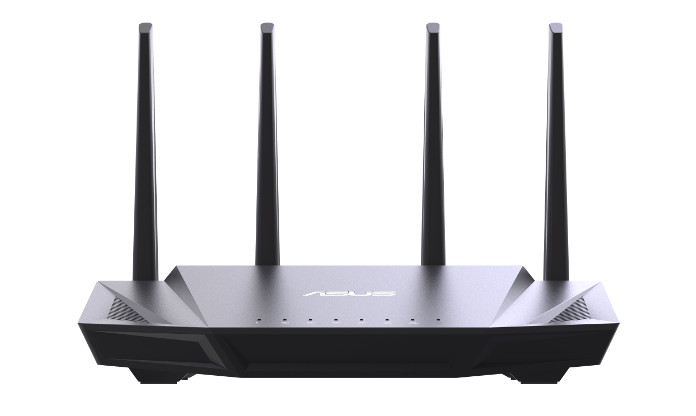 Using a 2×2 antenna configuration (two antennas for transmitting and two for receiving), the RT-AX58U offers up to 574Mbps peak throughput on the 2.4GHz band and 2402Mbps on the 5GHz band. That's almost 3Gbps of networking speed between them.
The RT-AX58U also supports multi-user MIMO in the downlink direction, meaning it can send data to multiple devices simultaneously. In a household with multiple people streaming from Netflix and Twitch, browsing the web, and surfing social media, multiple downlink streams can help prevent bottlenecks.
Each one of those streams can now be utilized more efficiently thanks to orthogonal frequency-division multiple access, or OFDMA. This technology carves Wi-Fi channels into subdivisions that carry smaller payloads without as much overhead, rather than allowing them to monopolize the entire channel unnecessarily. All those sub-channels facilitate parallel transmissions to multiple users, where only one could be serviced previously. As you can imagine, OFDMA plays a significant role in improving efficiency and reducing latency.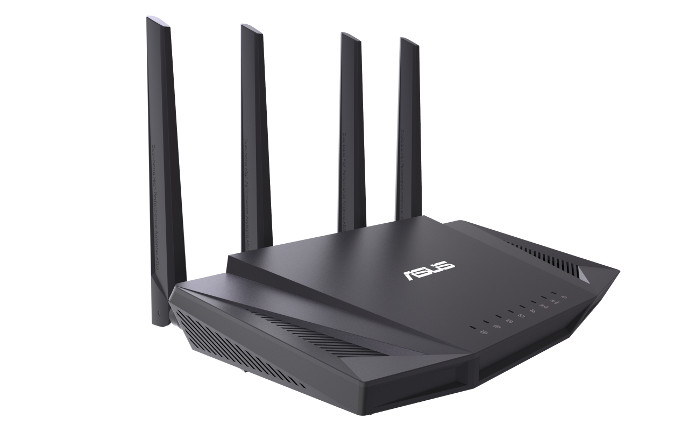 Getting maximum benefit from the RT-AX58U will require a house full of Wi-Fi 6 devices that are based on the 802.11ax standard, but that's going to be happening sooner than you know. In fact, ASUS is showing off a number of Wi-Fi 6-ready devices at Computex 2019, including motherboards, mini PCs, and laptops. In the meantime, the RT-AX58U is compatible with all current gen Wi-Fi devices, so you don't need to worry about incompatibilities with your existing tech.
The rest of the goods
Beyond its wireless chops, the RT-AX58U sports a full suite of ports and features to meet your home networking needs. WAN port aggregation combines a pair of Gigabit Ethernet port to deliver faster transfer speeds. Four gigabit LAN ports accommodate nearby client systems, while a USB 3.1 port makes it easy to share external storage or a printer with other machines. The RT-AX58U also includes lifetime protection from online security threats through AiProtection Pro, powered by Trend Micro.
All of our 802.11ax-capable routers, including the RT-AX58U, support AiMesh. Using this ASUS-exclusive technology, you're able to drop a compatible router elsewhere in your house to create a mesh network and extend your network's reach. AiMesh can be set up using the ASUS Router app, which serves as your one-stop-shop for adding nodes and managing your network.  You can deploy multiple AX58U units in your house or combine it with another of our AiMesh-compatible routers, like Blue Cave or the high powered Rapture gaming router. AiMesh allows you to mix and match based on the layout of your house and your network needs rather than forcing you to invest in a complete of identical nodes. Setup is easy and takes just a few minutes to add additional nodes.
All in the family
With the RT-AX58U, ASUS expands its line-up of 802.11ax routers. Not too long ago, there were but three options to choose from. Sitting atop the stack, our ROG Rapture GT-AX11000 is the world's first tri-band 802.11ax router boasting up to 11,000Mbps of aggregate throughput (1148Mbps on the 2.4GHz band and up to 4804Mbps on each of two 5GHz bands). The RT-AX88U sheds one 5GHz band and costs less, but still delivers almost 6Gbps of wireless throughput between the 2.4GHz band's 1148Mbps link speed and the 5GHz band's 4804Mbps maximum. Of course, the aforementioned AX6100 Wi-Fi System is ideal for mesh networking and comes in a convenient two-pack.
The RT-AX58U is a cost-effective way to ready your home for 802.11ax networking as more client devices hit the market. It serves up a great balance between price and performance for enthusiasts who want to explore the benefits of Wi-Fi 6, but don't need the massive throughput of more powerful enthusiast-oriented solutions like the ROG Rapture GT-AX11000.
We announced a lot of hot new tech at Computex 2019. You can find all of the latest gear from ASUS and ROG in this article.