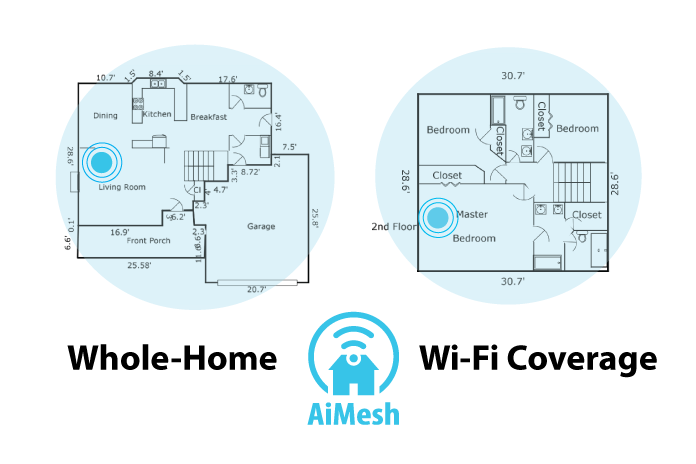 Earlier this year, our engineers set off on a quest. They already knew that our latest AiMesh routers built with Wi-Fi 6 technology could deliver unprecedented performance and far-reaching coverage, but they wanted to demonstrate the power of mesh networking and Wi-Fi 6 in real-world environments.
Our team came up with a challenge for the world. We asked folks to tell us about the issues they'd had in getting a fast, stable wireless signal in every room and far-reaching corner of their homes. Our networking engineers would then work on a cure for those ills using Wi-Fi 6-capable AiMesh hardware (and leave that AiMesh Wi-Fi kit as a parting gift). If we couldn't come up with a solution, we'd cough up $1,000 in cash. We ultimately selected 18 of the worst cases we reviewed as candidates for a Wi-Fi 6 rapid response.
Our networking team then fanned out across the country and visited the contest's 18 winners, determined to deploy high-speed, low-latency networking in rooms where it previously wasn't possible.
Prowling for dead spots to fill with glorious Wi-Fi
We told the story of Jake Hanrahan, our first winner, in The AiMesh Challenge 2019: fixing bad Wi-Fi coverage, one home at a time. We blanketed his two-story house in wireless goodness using the AiMesh AX6100 Wi-Fi System, composed of two RT-AX92U routers. Their dedicated 5GHz Wi-Fi 6 backhaul and 4×4 antenna array ensured a solid link between nodes, extending his top-floor Internet connection down to a 4K TV on the first floor and a gaming console in the basement.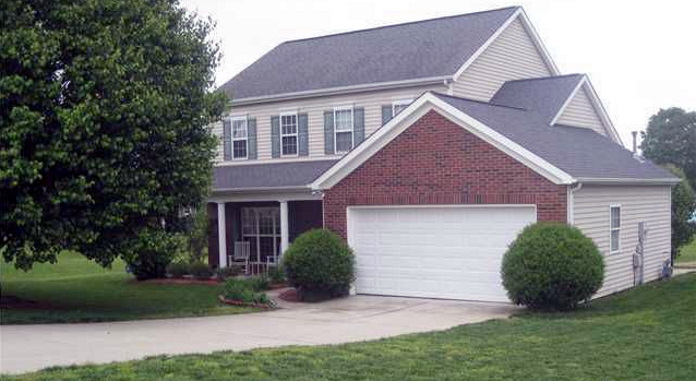 Our next case came courtesy of Stacy Maynard, who summoned us to help diagnose a wireless network that was coughing and sputtering under the demands of an increasingly dense networking topology. Stacy estimated that as many as 35 devices might be connected to her wireless router at any given time, causing significant congestion and infuriatingly inconsistent performance.
Stacy's network relied on a single wireless router on the first floor of her two-story home. Three Roku streaming players were clearly starved for bandwidth, resulting in intermittent buffering during 4K streaming sessions. A PlayStation 4 console suffered from persistent latency problems, culminating in server disconnections. Wireless security cameras at the edge of the router's range drifted on and off the network, defeating their ability to provide an unblinking eye on the comings and goings on Stacy's property.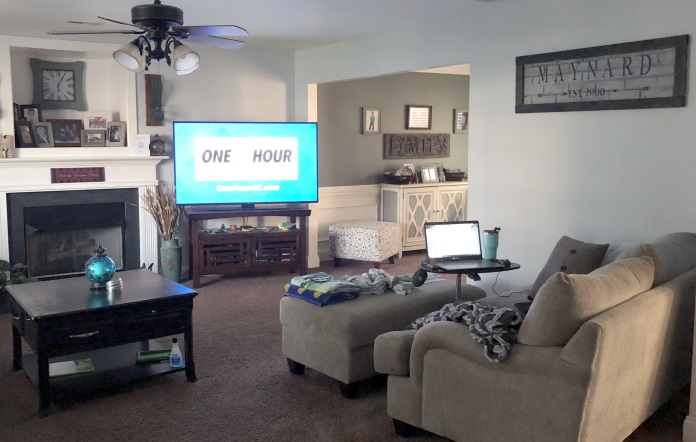 The scope of Stacy's issues varied from day to day. With phones, printers, PCs, game consoles, remote controls, and a handful of smart home devices all communicating over Wi-Fi, the user experience was anything but consistent.
Speed tests performed around the house made it clear that the single router on the first floor was insufficient for covering the second story and the cameras outside. In Stacy's master bedroom, right above the old router, our engineers measured a mere 12.9 Mbps down. In her child's bedroom, on the same upstairs level, our team saw 44.5 Mbps. And outside, where the cameras were installed, the Internet connection was constrained to 15.5 Mbps.
Kicking the tires and lighting the fires with AiMesh
Just like at Jake's house, all it took was a two-pack of our RT-AX92Us, available as the AiMesh AX6100 Wi-Fi System, to create a faster, more reliable blanket of coverage over the Maynard home. We simply replaced the old router with one of the kit's nodes and added a second unit to the master bedroom upstairs. A blazing-fast 5GHz backhaul kept the two nodes linked, leveraging a full complement of Wi-Fi 6 features to deliver up to 4,804 Mbps between them.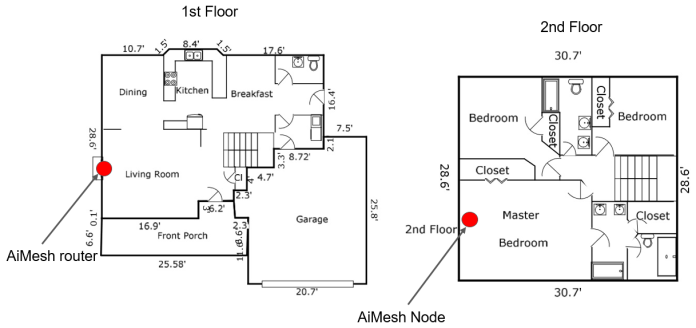 The beauty of AiMesh is illustrated by that second upstairs node, which extended the reach of Stacy's wireless network SSID and preserved its full performance. We configured the exterior cameras to communicate over the 2.4GHz band for better reach, boosting throughput by 12% to 17.4 Mbps. More importantly, though, the cameras stopped dropping off the network unpredictably. Adding a router one floor up was all it took to pick the cameras up loud and clear.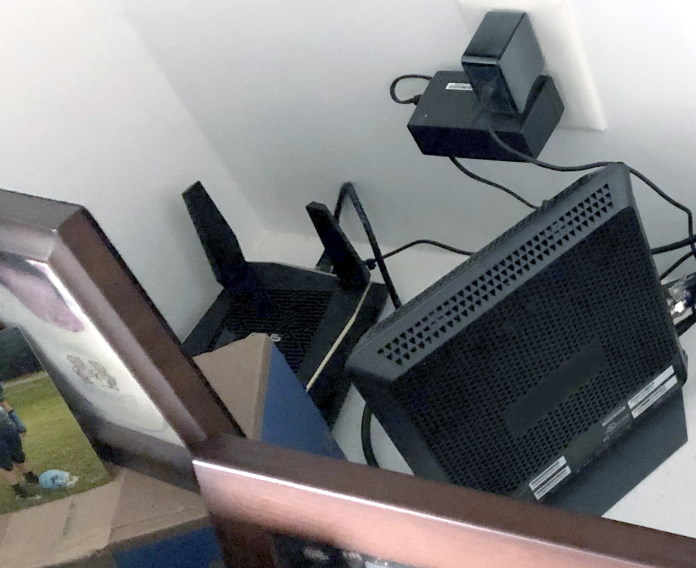 The mesh network's second node had a profound effect on data rates inside the house, too. Using the 5GHz band, we saw speed tests as fast as 148.7 Mbps down in Stacy's teenager's bedroom—a 234% improvement. Stacy isn't hearing any more complaints about lag or dropped connections when her teenager starts playing online multiplayer games.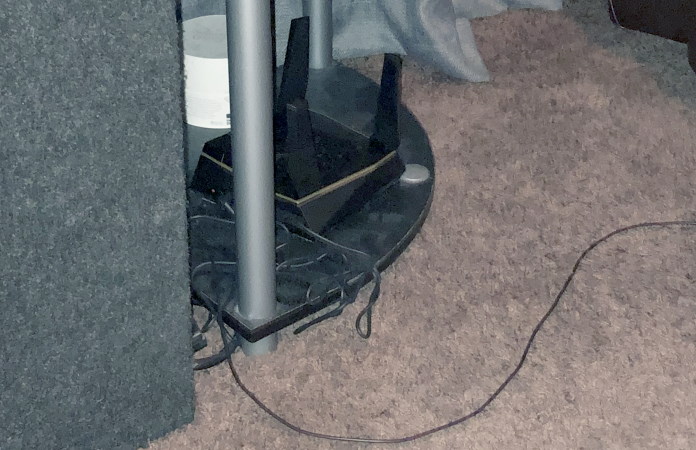 Even more impressive, real-world bandwidth in the master bedroom jumped to 217 Mbps, representing a 1,582% increase. After saying goodnight to the kids, Stacy could have WoW Classic downloaded and ready to play in a little more than five minutes (rather than the hour and a half it would have taken before). That's a huge quality of life increase.
AiMesh and Wi-Fi 6 are more than the sum of their parts
To the uninitiated, AiMesh must seem magical. You swap out old networking equipment with a new router, drop another node or two nearby, and enjoy the luxury of high-speed Wi-Fi in places where a wireless signal just didn't exist before.
Wi-Fi 6 takes a lot of the credit for supercharging the network's throughput. Although the Maynards own plenty of devices with older radios that don't take advantage of this cutting-edge Wi-Fi standard, both RT-AX92U nodes do support Wi-Fi 6. You'll recall that they're able to communicate with each other at up to 4,804 Mbps, regardless of the other devices Stacy has connected to the 2.4GHz and 5GHz bands. That's an upgrade that can be felt today, and Stacy's network will only get more efficient as older devices are replaced with newer tech that has Wi-Fi 6 radios inside.
There's a lot of cutting-edge technology involved to make the system so effective. For example, the combination of orthogonal frequency division multiple access (OFDMA) and multi-user, multiple input multiple output (MU-MIMO) technology greatly improves the capacity and spectral efficiency of Wi-Fi 6 equipment in traffic-dense environments like Stacy's house. The ability to break network channels into smaller sub-channels and bundle signals from multiple devices together will ultimately result in more efficient use of available bandwidth as Stacy brings more Wi-Fi 6-capable devices into her home.
Of course, our primary objective was solving Stacy's connectivity conundrum with AiMesh and Wi-Fi 6 technology. But we also wanted to keep the Maynard house protected from the potential dangers of an always-on Internet connection. The AiMesh AX6100 WiFi System we used includes unlimited access to our AiProtection Pro package, powered by Trend Micro, with security signatures that are automatically updated. Advanced parental controls extend beyond blocking specific websites; a deep packet inspection engine filters content based on its composition, protecting against malicious traffic from mobile apps, too.
Another successful AiMesh transformation
Stacy followed up after we left to let us know that her security cameras were still working well, her teenager's gaming experience remained lag-free, and her Rokus were streaming 4K content from Netflix to multiple TVs in the house without buffering. We expected nothing less, but the proof is in the pudding.
A big congratulations once more to Stacy and the other 17 winners of our AiMesh Challenge 2019. When you're ready for your own whole-house makeover, check out our Wi-Fi 6 family of AiMesh routers. And if you want to upgrade your own network using the RT-AX92U AiMesh two-pack, here's where to buy it in the USA and in Canada.