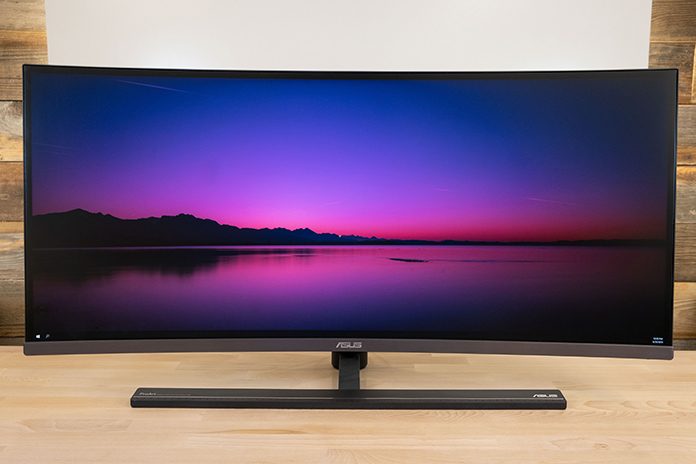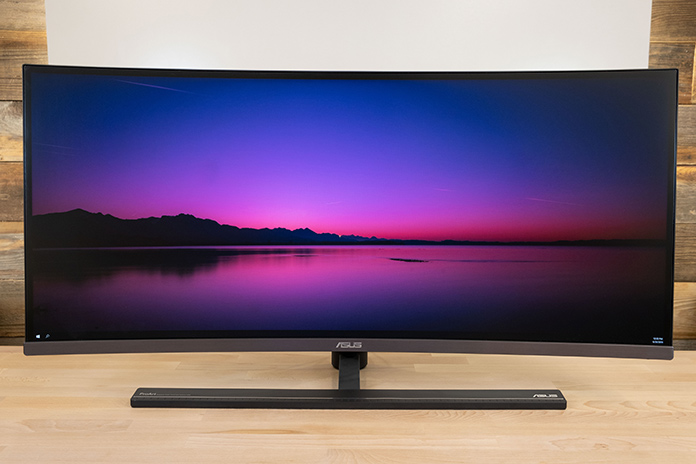 Curved monitors aren't just for gamers. The immersion you enjoy while blasting through first-person shooters translates to the workstation world, too. The ASUS ProArt PA34VC combines that curvature with an ultra-wide format and impeccably-calibrated color to create an ideal tool for creative professionals.
The 1900R IPS-based display delivers a wide viewing experience, wrapping around your field of view to keep work front and center no matter how you organize windows on the screen. A 34.1" diagonal measurement ensures plenty of room to work with. Given its aspect ratio of 21:9, the PA34VC sports a native resolution of 3440×1440, which is 2.4 times the pixel count of a 1080p monitor. The impossibly-thin bezels all but disappear when you're editing photos or video.
Eye caramba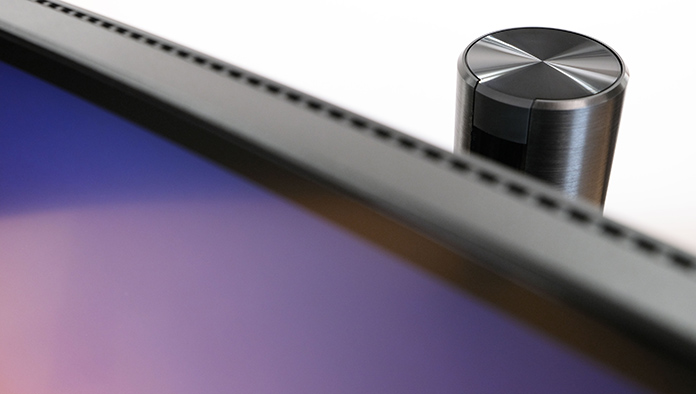 It was pure joy to work on my pictures and videos on the PA34VC. 100% coverage of the sRGB gamut translates to more lifelike colors in both mediums. You never really know what you're missing until you see something better, and the combination of amazing contrast and pristine color with the curvy screen got me hooked. HDR10 support allows you to create content designed to be viewed on the latest capable TVs. You also get the added benefit of enjoying those same HDR movies and games in all their high dynamic range glory in your downtime.
To ensure that color accuracy is perfect straight out of the box, each PA34VC is calibrated before it leaves the factory to guarantee a Delta E of less than 2. That means its accuracy is superb, coming as close as possible to matching input colors with the output it reproduces. What you see on-screen reflects the content as it was originally created.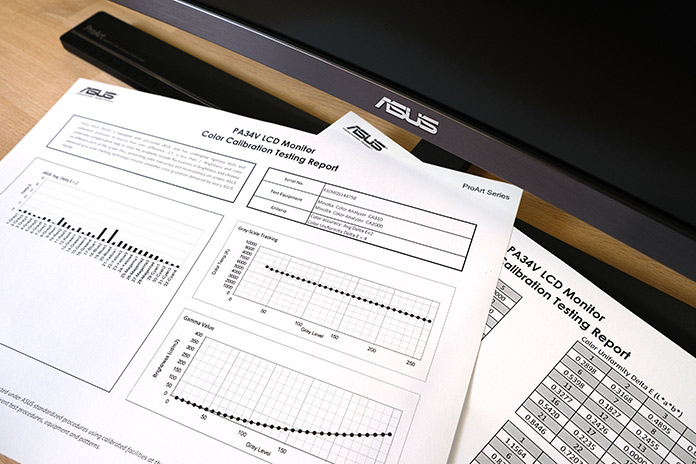 The 1900R curvature rating is quite pronounced, but absolutely suited for up-close viewing on a 34.1" panel. It encompassed the majority of my field of view, allowing me to completely immerse myself in whatever I was doing. Plus, with so much horizontal screen real estate to work with, I could keep multiple windows open side by side. It was easy to open an Adobe Premiere Pro how-to guide positioned next to Premiere Pro itself and bounce between them. There's no distortion at the PA34V's far edges like what you might see on a large, flat monitor. Making the jump to a curved display is like flying first class—it ruins what you were used to back in coach.
The calibration station
Even the highest-end display specs can only be fully realized after a careful calibration. More to the point, creative pros know that there's no one-size-fits-all color setting; sometimes you're working with photos, or video, or previewing movie playback, or handling office documents and browsing the web.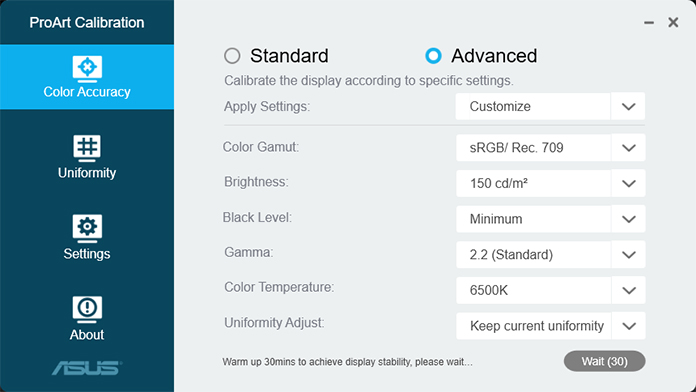 The PA34VC is already pre-calibrated to guarantee a Delta E of less than two. However, over time even the most perfectly-calibrated monitor will see its color and brightness gradually shift. Download the ASUS ProArt Calibration Technology software and make your own adjustments to ensure maximum brightness consistency and color accuracy. The software is compatible with third-party color calibrators like the X-Rite i1 Display Pro and Datacolor Spyder 5 series. It's easy to use, just be sure to let the PA34VC warm up for 30 minutes before starting the process.
With your calibrator plugged in, the Calibration tool requires little input to get started. You can choose to manually adjust the color accuracy parameters using the Advanced settings if you have some special requirements. Otherwise, selecting Standard will use the default options. There are also Standard (3×3) and Thorough (5×5) options for brightness consistency, depending on your needs. Once you've made your selection, the process begins.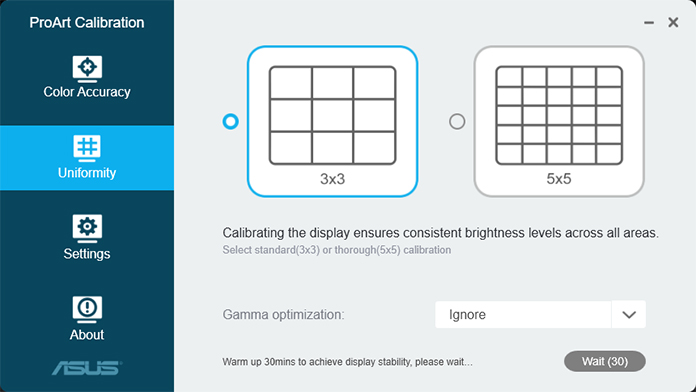 When the calibration completes, you can save your work as a User Mode calibrated profile. You can even set a reminder to recalibrate every week, two weeks, month, or every three months.
Getting physical
An amazing panel is only as good as the frame it's mounted in. And when it comes to ultra-wide form factors, getting all that horizontal screen space positioned optimally is especially important.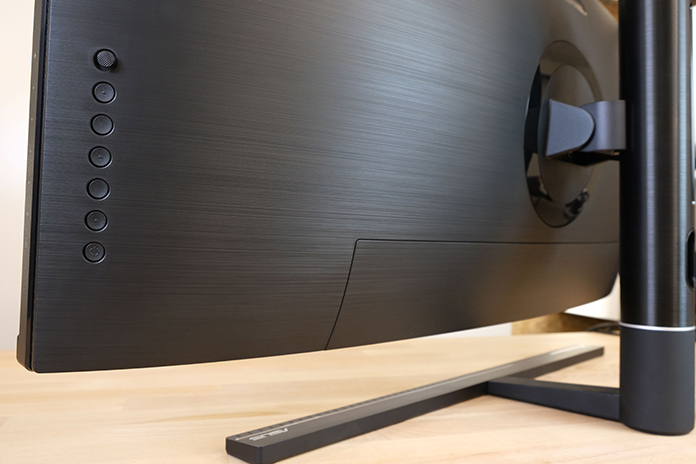 The attention to detail was apparent before I even got the PA34VC set up on my desk. Many monitors require a certain amount of construction, sometimes involving multiple sets of screws to get the base and stand connected. Juggling those two heavy pieces can be precarious work, especially since one of them is a fragile LCD. Even though assembly is typically a one-time task, I appreciated that the monitor snapped right into its quick-release stand, with no screws or tools required.
Aesthetically, the PA34VC is decidedly professional-looking. Simple shapes and a minimalist design blend right into an office setting. Yet, the classic brushed finish also has no trouble complementing potent gaming PCs. A cylindrical monitor arm holds the panel up securely, attaching to a low-profile, T-shaped base that gives the PA34VC a sort of delicate, floating effect. There's a well-placed hole in the arm for cable management, allowing you to route your input and power cables discreetly. Or, if you'd rather skip the stand and hang your PA34V, use the 100x100mm VESA wall mount instead.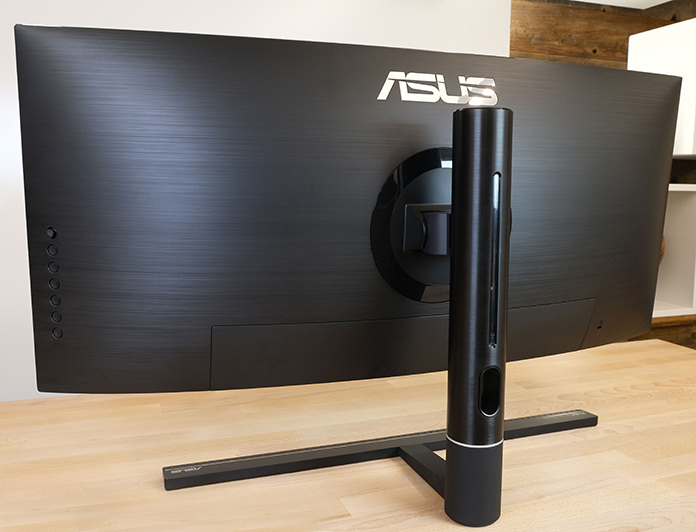 Flexible adjustments get the PA34VC set up in front of you for maximum comfort. It can tilt up 23° or down 5°, and it swivels 30° in both directions for showing work to colleagues on either side of you. I prefer a completely straight-on view with no tilt at all, which can be tricky to achieve if you're especially short or tall in your chair. Fortunately, the PA34VC slides up or down by 120mm, so I could place it directly in front of my eye line.
The PA34VC was designed to be comfortable to look at over long periods, whether you use it for critical graphics work or fast-paced gaming. A 100Hz refresh rate benefits both applications equally, providing smooth visuals in motion. ASUS Ultra-low Blue Light and Flicker-Free technologies go a step further, reducing stress on your eyes by filtering out high-energy blue-violet light and dynamically adjusting the PA34V's backlight to minimize flicker. Long hours editing video clips or raiding with your guild won't leave your eyes feeling fatigued.
Enjoy the plethora of ports
The front of the PA34VC is kept clean and distraction-free, with the range of ports carefully arranged on the back of the monitor. For the most common video connections, the PA34VC offers two HDMI 2.0b ports and a DisplayPort input. If you can get the bundled USB Type-C to Type-A cable or a Thunderbolt cable over to a PC, you're able to use the PA34V's downstream USB 3.0 Type-A ports for peripherals.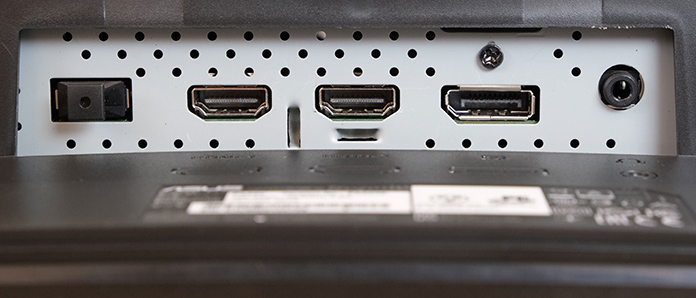 A pair of USB Type-C ports with Thunderbolt 3 (one for input and one for output) support data transfer speeds up to 40 Gb/s, DisplayPort signaling, and USB 3.1 with 60W of power delivery for driving a laptop. You can also daisy-chain other displays through the PA34VC without needing a hub or switch. Since all those interfaces also carry audio, a 3.5mm jack on the back gives easy access for headphones. When privacy is less of a concern, two 2W drivers serve as an alternative to a dedicated speaker system.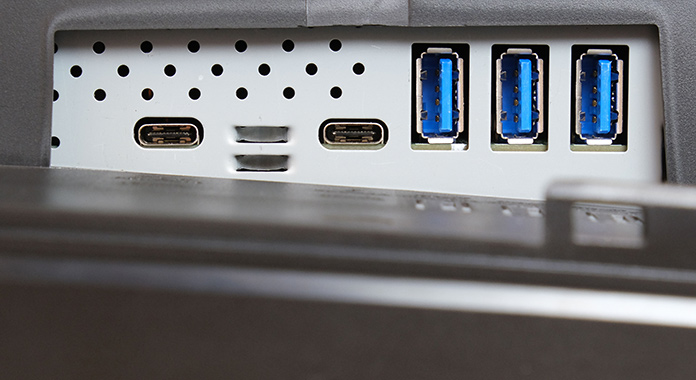 But don't think that you're limited to attaching one device at a time. With Picture-in-Picture and Picture-by-Picture (PiP/PbP) technologies, plus the PA34V's ultra-wide form factor, you can comfortably display two inputs at the same time. PiP and PbP are enabled through the on-screen menu system. It's loaded with options for setting color modes and choosing inputs, but also super easy to navigate. For PiP/PbP to work, you need to have Adaptive Sync, Dynamic Dimming, and HDR all disabled.
Curves ahead
When it comes to your professional toolbox, there's no room for compromises. The ASUS ProArt PA34VC balances compelling specs like an ultra-wide, curved panel with a 3440×1440 native resolution, noticeably superior color accuracy, and support for high dynamic range content. Whether you're a creative professional in search of consistency across a calibrated LCD or a gamer looking for dynamic refresh rates at up to 100Hz, this model delivers the goods. It has a plethora of ports for broad compatibility and the ability to display two inputs on-screen at the same time. To say the PA34VC is multi-talented would be an understatement indeed. You can find the monitor for $999 USD and $1,299 CAD from the retailers listed below.
ProArt PA34VC
Panel
34" IPS direct-type LED
UWQHD resolution (3440x1440)
Backlight
WLED
HDR
HDR-10
Refresh rate
100Hz
Response time
5ms (Gray to Gray)
Colors
1.07 billion colors with average △E accuracy < 2
Brightness
300 cd/m² (Typical)
Contrast
1000:1 (Typical)
Viewing angles
178°(H)/178°(V)
Ports
Signal Input:
2x USB Type C Thunderbolt (In x1, Out x1)
2x HDMI v2.0b
2x DisplayPort 1.2

Connectivity:
2x USB Type-C Thunderbolt
3x USB 3.0 Type-A
1x 3.5mm Mini-Jack

Price
$999 USD
$1,299 CAD
Availability (USA)
Amazon
B&H
NewEgg
Availability (Canada)
Newegg