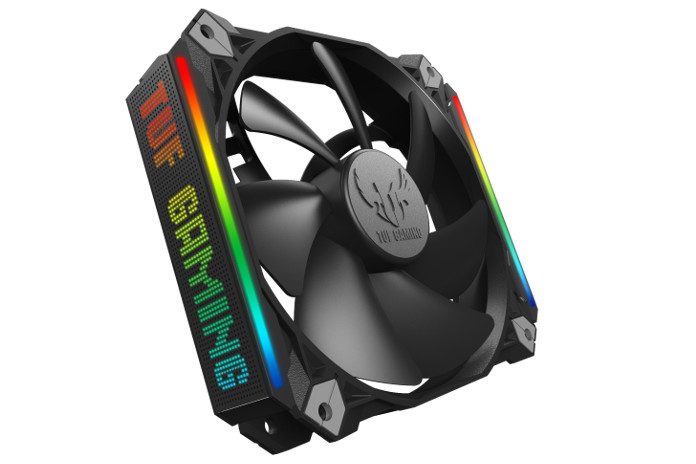 There's a definite art to setting up case fans correctly. In general, though, you want intake fans up front, pulling air in, as exhaust fans in the back (or top) of your case push air out. While you want those fans to move plenty of air volume, you're likely installing several of them, so they also need to be as close to silent as possible.
Our new 120 mm TUF Gaming ARGB fan ticks all of the performance boxes for enthusiasts. The MagLev system ensures the TF120A1 does its job quietly, while low-profile Aura Sync lighting adds a splash of RGB via the illuminated side panels.
Finding your bearings
As we designed our first ASUS-made case fan, we wanted to start with a bearing that would perform well at a whisper and outlast every other component in your PC. The MagLev system we tapped creates a magnetic field, which keeps the shaft from coming in contact with the bearing, which means almost no friction to wear down the fan's parts or make noise.
The result is an expected lifetime of up to 400,000 hours, or a little more than 45 years at 25°C with your PC running non-stop. And while some bearing types are sensitive to orientation due to the way they're lubricated, the MagLev system functions equally well mounted to the front, top, back, bottom, or side of your case.
Building a better fan
Optimizations for airflow, static pressure, and acoustics are much more conspicuous outside of the bearing system. The fan blades sport a precision-engineered groove meant to deaden the sound created by air vortices coming off the tips. This subtle enhancement helps increase airflow, too. Rounded corners on each fan blade do their part to control turbulence, further improving the TF120A1's acoustic properties.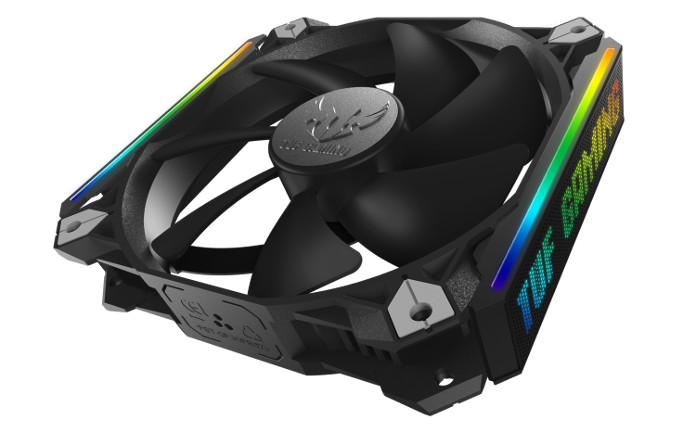 Even parts of the fan that don't move are meticulously tuned. The frame is a potential source of disruption as air moves past it and through the blades, so we created curved and angled struts that serve to direct airflow, facilitating more throughput and improving our maximum static pressure to 3.07mm H₂O. Anti-vibration pads in all four corners isolate the fan, minimizing the vibrations transferred to your chassis. The result of our crusade to keep the TUF Gaming ARGB quiet is a noise level of just 22.5dB. When the TUF Gaming ARGB's peak performance isn't needed, PWM support allows for precise control between 1,800 and 400 RPM. Plug the TF120A1 into one of your ASUS motherboard's 12-volt headers and use Q-Fan to set up a temperature-controlled curve through the firmware or Fan Xpert 4 for Windows-based tweaking.
Let's make it pretty
Addressable Aura Sync lighting serves to enhance the TUF Gaming ARGB rather than detract from its performance potential. A lot of case fans that feature RGB lighting utilize larger hubs or thicker frames to house their LEDs. We specifically sought to avoid those compromises, instead opting to mount low-profile panels on the fan's sides. The lighting is completely external to the fan's functionality, so it doesn't impact our 62.5 CFM airflow rating in any way. Because a great many case mount points support 120 and 140 mm fans, the extra bit of width doesn't present any issues with fit, and our TUF Gaming fan is able to offer configurable LED lighting on both sides with no negative effect on performance.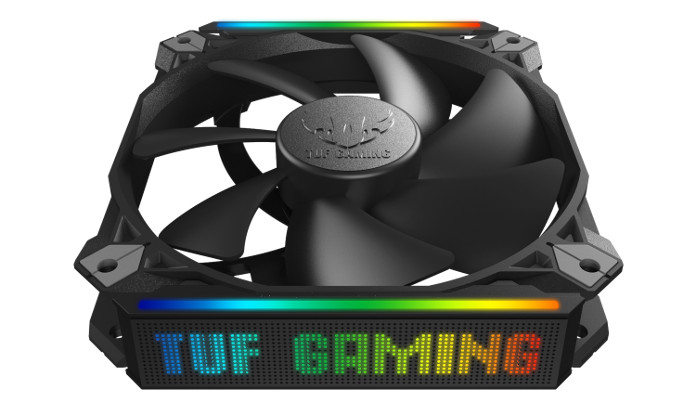 Enthusiasts with tastefully illuminated PCs are going to want a handful of these fans for a bit of positive pressure as they move air through their cases. The TUF Gaming ARGB TF120A1 will launch soon priced at $30 USD. Check with your local ASUS representative for details on availability and pricing in your region.
We announced a lot of hot new tech at Computex 2019. You can find all of the latest gear from ASUS and ROG in this article.
By Paul Cross