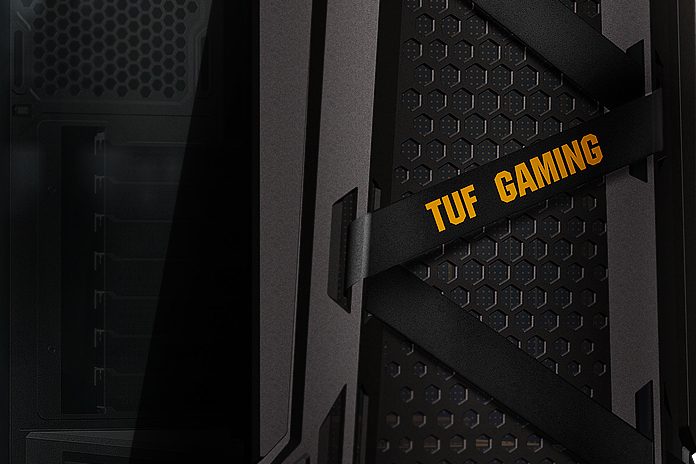 Building a PC on a budget isn't easy. Each component requires careful consideration, and we contemplate every compromise, obsessively weighing the pros, cons, and long-term implications of each cost-cutting choice.
Too often, the chassis is an afterthought, pushed aside as we pore over more critical pieces of the puzzle, but the right case is crucial for a quality build. Choose poorly, and you're liable to have buyer's remorse as you deal with insufficient cooling, poor layout, and fewer options for upgrades down the line.
The right case will keep you happy for years and leaves room for you to upgrade other elements of your build as time goes on. Our TUF Gaming series draws on our considerable expertise in the PC DIY space to cater to a more modest price point without compromising on what matters, and the latest addition to the family is a mid-tower chassis meticulously made for builders on a budget. It's designed to deliver on all of the essentials of a great case, as well as a few unexpected features for good measure.
Flexible, combat-ready cooling
The importance of quality cooling is often underestimated, but a bad chassis design can make for higher internal temperatures that in turn impact performance, and even the life span of your components. The TUF Gaming GT301 is designed to give you plenty of airflow throughout the system, reducing the possibility of heat pockets in key areas, like the graphics card.
A perforated honeycomb design spread across the front and top of the chassis aids airflow and also lends some style to an already unique aesthetic. The patterned front panel sits behind a crisscross of fabric straps that can be laced multiple ways and threaded through the three eyelets on either side of the frame. You can arrange them in a zig-zag pattern, left to right, or even diagonally.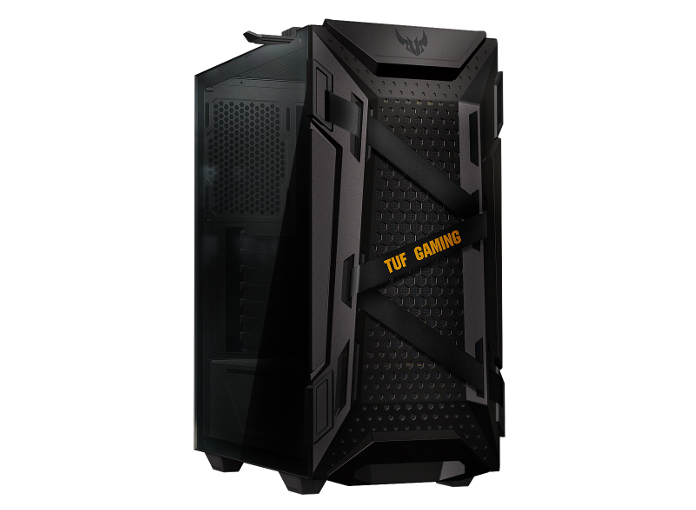 The GT301 doesn't put form over function, though. While it looks bound in place, the front panel can be fully removed for easy fan installation. You can equip the included bracket with three 120-mm fans or two 140-mm fans. If you have a liquid cooling setup, you can opt to install your 240-mm radiator here instead. It's the ideal position since a top-mounted radiator would be punished with heat rising from the graphics card.
The top of the chassis supports a pair of 120-mm fans, and there is one preinstalled at the rear. In total, this mid-tower supports a total of six fans, and it has space for air coolers up to 160-mm high. Three separate air filters on the top, bottom, and front of the case trap dust as it comes into the case and keeps it off your components. All three filters are easy to remove and clean, and the ones on the front and top are magnetic for faster maintenance.
With so many fans and a case full of other components, you'll need some help routing all of your cables, and the TGT301 takes care of that, too. A 30-mm gap behind the motherboard helps keep your rig tidy and spares you the visual of a nest of cables that spoil the look.
Stylishly sturdy
Measuring 18.9″ x 16.9″ x 8.3″, the GT301 is not too big to sit on the desk where you can show it off. One side of the GT301 sports a full-sized window to give you a glimpse of the guts inside, and this is definitely a case built for exhibitionists. A GPU holder fights heavier cards that are too weighty to be held in place by just a couple of screws, and it's decked out with RGB lighting so that it casts a glow on the PSU shroud below. Lots of GPUs have their own lighting, but it's only on one side. Adding some more to the underside of the GPU holder offers a uniform glow on the top and bottom.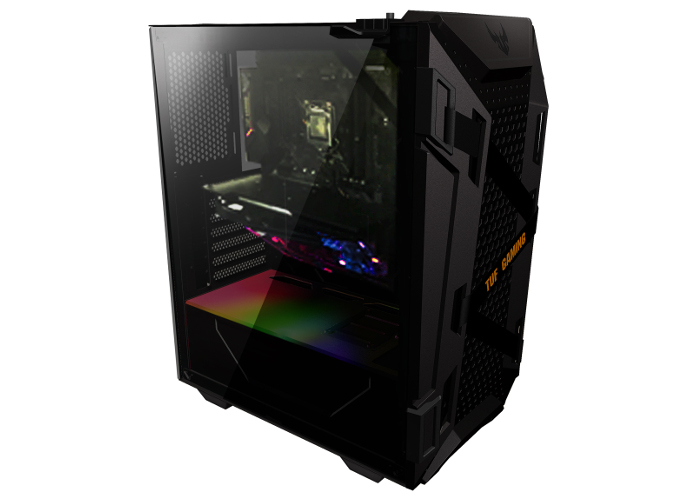 The RGB lighting is controlled with a dedicated button on top of the chassis and supports Aura Sync so you can coordinate it with other compatible components in your build. Alongside the RGB control button are dual USB and audio ports as well as a large, gold-trimmed power button.
If your love of RGB extends to your storage, you'll be happy to see that the GT301 puts installed SSDs on full display. On the left side of the chassis, there's room to mount an SSD drive on the power supply shroud where it will be easily visible. Three more SSDs can be mounted against the side panel, where cut-outs offer a peek of the drives from the other side of the case. All told, the GT301 has room for two 3.5" HDDs and four 2.5" SSDs.
Smart design extends to the outside, too. Clips on the side of the case keep your mouse and keyboard wiring tidy while also preventing people from messing with your peripherals when you're at LAN parties. An optional headphone hook is included in the box to keep your favorite set of gaming headphones from getting buried in the clutter on your desk.
Game on
The TUF Gaming GT301 will be priced at $79.99 USD when it launches in the United States later this year. Check with your local ASUS representative for pricing and availability in your region.
We announced a lot of hot new tech at Computex 2019. You can find all of the latest gear from ASUS and ROG in this article.