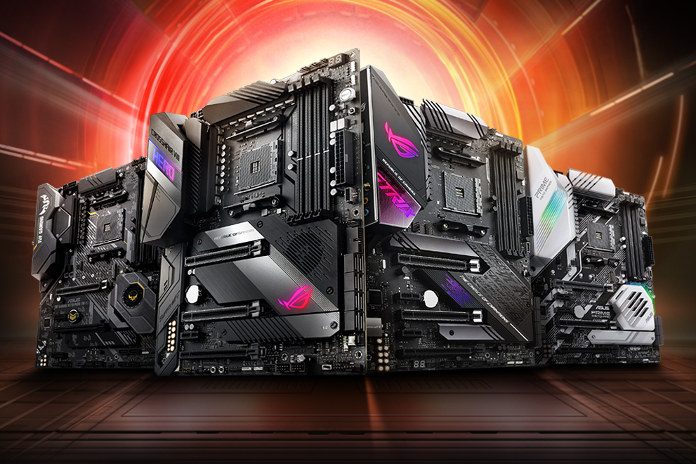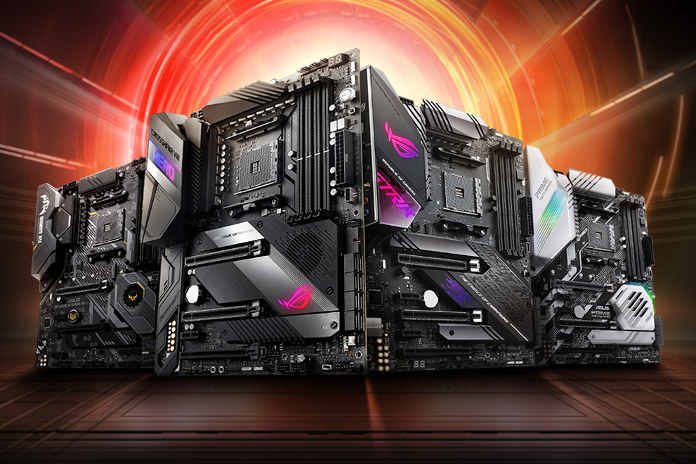 AMD's first- and second-gen Ryzen™ desktop processors have been a massive hit with both gamers and professional users everywhere. They pack lots of cores underneath their heat spreaders, and every model offers Simultaneous Multi-Threading (SMT) for extra parallel computing grunt—just the ticket for heavy multitasking, gaming while streaming, or thread-heavy professional pursuits like 3D modelling and video rendering. Now, AMD is back with third-generation Ryzen CPUs, and those many-core chips need X570 motherboards to unleash their full potential.
Pair a third-gen Ryzen chip with an X570 motherboard, and you'll get a wealth of next-generation expansion options. The first and foremost leap comes from PCI Express 4.0 (PCIe) connectivity. PCIe 4.0 promises double the bandwidth of its predecessor for graphics cards, storage devices, and other future peripherals. Third-gen Ryzen chips and the X570 chipset bristle with USB 3.1 Gen 2 connectivity, as well. ASUS is ready for action with third-gen Ryzen CPUs with an array of new motherboards.
Our starring cast starts with the Republic of Gamers, whose Crosshair VIII boards are fit for the most demanding overclockers and gamers looking to extract every ounce of performance from their systems. The ROG Strix series focuses on good looks coupled with strong core performance, while TUF Gaming rolls up essential features in battle-tested packages with affordable prices. Those who prefer subdued styling with carefully chosen features can turn to the Prime family, which still has enough punch for power users. Pushing further in that direction, our first Pro workstation motherboard for Ryzen processors provides a platform for serious workstations and creative professionals. This ASUS X570 guide helps new and experienced users find the best Ryzen motherboard for their needs and budget.
Extreme bandwidth for extreme storage and peripherals
New Ryzen processors are designed to pair with the AMD X570 chipset, the first desktop chipset to put PCI Express 4.0 connectivity at your disposal. The brand-new spec doubles peak throughput to 2GB/s per lane, paving the way for a new generation of graphics cards, solid-state drives, and peripherals. A four-lane NVMe SSD based on PCIe 3.0 can reach a maximum raw speed of close to 4GB/s. That's pretty fast but already capping the performance of modern drives. With PCIe 4.0 on the X570 platform, the same number of lanes gives devices peak raw bandwidth of 7.9GB/s, a figure previously only attainable with a multi-drive RAID 0 array and a direct connection to the CPU. Future graphics cards sitting in x16 slots will have nearly 32GB/s of bandwidth available, laying the foundation for games with higher-resolution textures, and letting machine-learning algorithms access more data faster than ever before.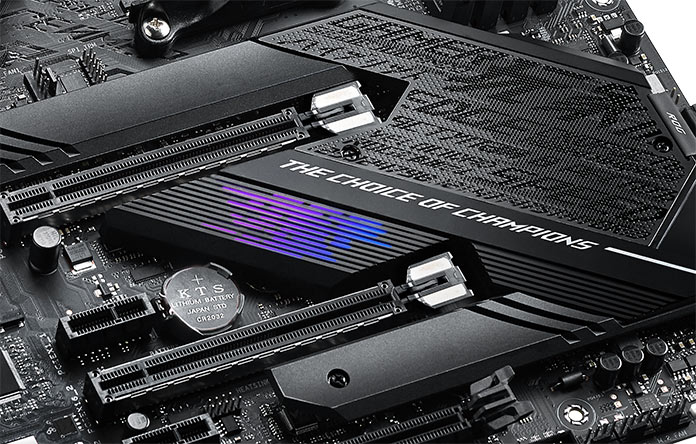 No matter which ASUS X570 motherboard you choose, we want to ensure you can take advantage of the power of PCI Express 4.0. Every single PCIe x16 and M.2 slot on most of our lineup is wired with PCIe 4.0 for maximum bandwidth. Only our most affordable models make a couple small cuts to keep prices down and stick to PCIe 3.0 for their secondary x16 and M.2 slots. No matter the model, you can use a next-gen graphics card or NVMe drive without fear it'll be bandwidth-constrained.
High wattage, low temperatures
Hosting a high-end CPU requires a voltage regulator module (VRM) that can not only supply the chip with a sizable amount of stable power, but also adapt quickly to drastic shifts in demand. This is why we've designed our new X570 motherboards to use digital ICs feeding control signals directly to teamed power stages for improved transient response. The ROG Crosshair ATX models in particular offer 16 IR3555 PowIRstages, split between the CPU and the SOC, each rated for 60 amps. Great power requires great cooling, so ROG ATX boards employ large VRM heatsinks that strike the right balance between surface area and mass.
All ASUS X570 motherboards include sizable chipset heatsinks coupled with efficient fans that help the underlying silicon stay cool under pressure. With double the bandwidth via PCIe 4.0, the X570 presents a greater thermal challenge than its X470 predecessor. Higher-end models have extra-large chipset heatsinks that improve cooling by also covering multiple M.2 slots, and all but the Prime X570-P offer integrated cooling for at least one M.2 SSD. Small-form-factor boards from the ROG and Strix families integrate an additional fan dedicated to cooling the VRMs under extreme power draw like heavy overclocking. The extra fan helps compensate for their smaller heatsinks and the limited airflow inside compact cases.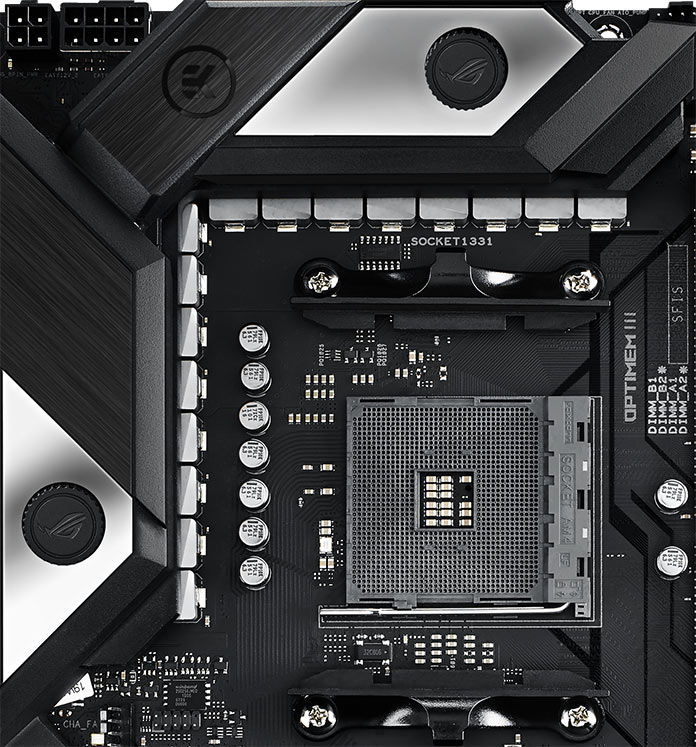 Having heatsinks on the motherboard is vital, but they're only one aspect of maintaining a chilly PC. Efficient airflow through the case and around components is key to keeping temperatures low and clock speeds high. Our X570 boards are loaded with hybrid fan headers that know if they're hooked up to 3-pin DC or 4-pin PWM fans, and adjust accordingly. Most also include a dedicated AIO pump header that makes it easier to set up common all-in-one liquid coolers. You choose the temperature sensor that dictates the speed of each fan and whether it responds based on a preset profile or a custom curve you tweak yourself. All the grades are available between loud and fast for maximum performance, and quiet and smooth for unobtrusive acoustics. With our FanXpert 4 software, you can even configure individual system fans to respond to the temperature of not only the CPU, but also the GPU on compatible ASUS graphics cards. This capability enables optimal cooling for any workload, from processor-heavy tasks to graphics-intensive gaming.
For more ambitious liquid cooling, mid-range and high-end boards include a dedicated pump header primed to power a custom loop. The Crosshair VIII series also has headers for tracking coolant temperatures and flow rate for those who obsessively monitor their machines. The Crosshair VIII Formula goes a couple steps further still, employing a CrossChill EK III hybrid cooler that covers the VRM with a combined water block and heatsink that works with both air cooling and standard fittings for liquid plumbing.
Networking is key to a happy team
Desktop machines are often tethered to the outside world with a cable, but as wireless speeds climb higher and latency drops, more gamers and professionals are turning to fast Wi-Fi for their networking needs. To keep them on the cutting edge, we fitted most of our ROG boards with brand-new Intel Wi-Fi 6 AX200 adapters. Recently released, they support the latest 802.11ax protocol and can broadcast blazing-fast signals up to a theoretical peak of 2400Mbps. At that kind of speed, cables are an option, not a necessity.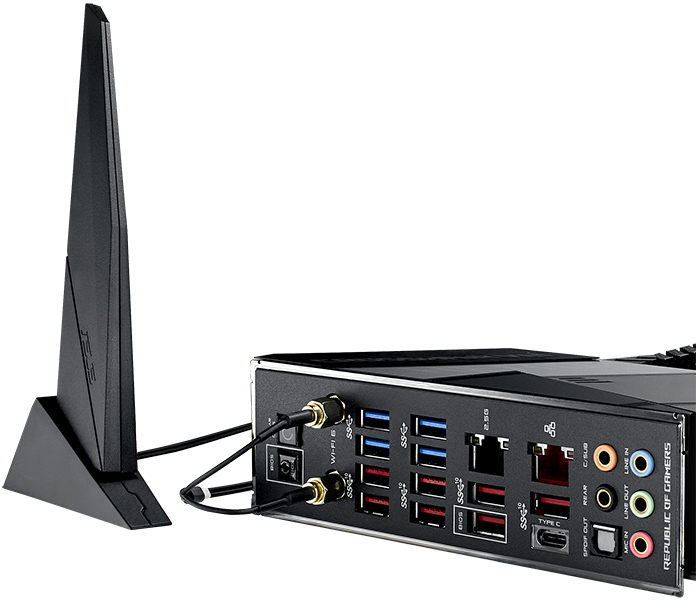 Raw throughput is only part of the story, though. The latest Wi-Fi technology fares much better than 802.11ac and its predecessors in crowded environments like apartment buildings and dorm rooms, where lots of devices and networks are competing. Latency is likewise improved—when using an 802.11ax access point or router like the ROG Rapture GT-AX11000 or the RT-AX88U, ping times can be lower than before thanks to the magic of OFDMA, letting you dominate online matches even when using a wireless connection.  Additionally, the AX200 adapter supports Bluetooth 5.0 for easy pairing and quick data transfer with devices like headsets and phones.
You can't beat wires when you need ultra-low latency and steady speeds. Intel's networking chips are some of the best and business, so we've added its I211AT Gigabit Ethernet controller to almost the entirety of our X570 lineup. Higher-end Crosshair and Strix boards have additional Aquantia 5G or Realtek 2.5G Ethernet controllers that enable even higher speeds to easily handle multi-terabyte file transfers on fast networks. Along with the rest of the ROG models, they also feature enhanced GameFirst V network packet prioritization capabilities.
OptiMem III
ROG X570 boards are fitted with our latest-gen OptiMem III technology. This exclusive tech offers additional margin for memory tuning compared to the previous generation—even when tested using an identical 2nd Gen Ryzen processor on the same board with and without this technology. Look forward to announcements on 3rd Gen Ryzen RAM performance as the launch draws nearer.
Turn on the bright lights
Motherboards aren't just functional; they're works of art in their own right. Our X570 series couples advanced engineering with meticulous design to create boards that form the centerpiece of any build. Nearly every member of the family has an integrated I/O shield for streamlined looks and easier installation, as well as integrated Aura Sync RGB lighting with carefully placed diffusers for exquisite illumination. The Crosshair and Strix series have multi-zone lighting and graphical styling in subdued monochrome tones to avoid clashing with colored lighting. Should you find the glow distracting (say, when playing a horror game or watching a movie), it's easy to slip into stealth mode to enforce a total blackout that includes secondary diagnostic LEDs.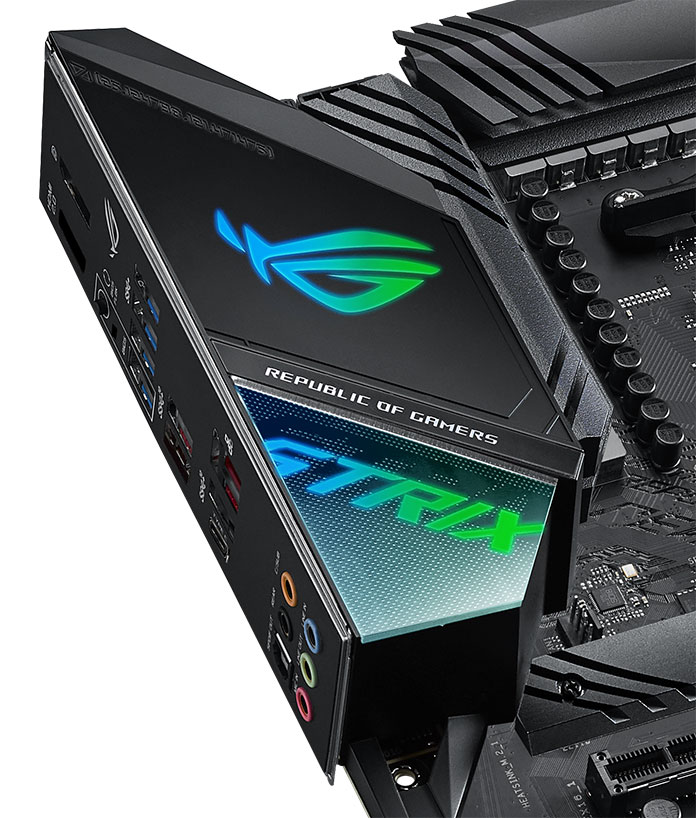 Having lots of RGBs across your machine and peripherals can look like a real mess if the lighting is difficult to tweak and synchronize for a cohesive look. Aura Sync offers the most complete ecosystem of compatible components along with intuitive software that puts the controls at your fingertips. It's available across all of our RGB-equipped X570 boards, letting you configure multiple components and peripherals from ASUS and our partners with just a few clicks. Lighting up your battlestation and its accessories has never been easier. Developers can also use our freely available Aura SDK to roll their own effects and link system lighting to games or applications. Call of Duty: Black Ops 4, Anthem, and other titles already heighten immersion by using Aura Sync to reflect some of what's happening in-game.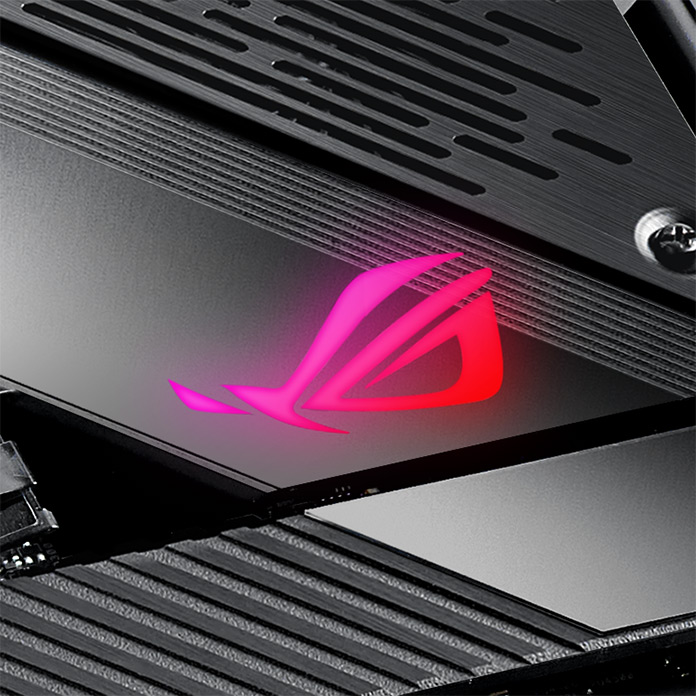 Customized chassis lighting is key, so you'll find plenty of headers for RGB LED strips on almost every one of our X570 boards. Headers for addressable strips that allow control over individual LEDs enable more advanced effects and extensive personalization. ROG and Prime boards include upgraded addressable headers ready for next-generation lighting devices. These Gen 2 headers can detect how many addressable LEDs are on an attached device, simplifying the setup process and allowing software to automatically configure lighting effects. They're backed by a new, low-latency controller capable of lighting every LED on long strips in a perfectly synchronized dance. The new headers are backward-compatible, so existing addressable RGB strips work fine, too.
Additionally, most high-end models in our X570 lineup come with a Node connector that allows bidirectional communication between the motherboard and compatible devices. This creates new possibilities like the ability to monitor system accessories or peripherals, or have external devices control board features.
A pleasant burst of sound waves
When talking about immersion, we tend to think of visuals first, but sound also plays an important role. The audio chips and associated circuitry on our X570 motherboards have been scrupulously designed for crystal-clear sound processing and output. Your teammates will appreciate the clarity of your communication, and woe to enemies who try to sneak up on you.
In the ROG family, the Crosshair and Strix series carry premium SupremeFX audio solutions with integrated amplifiers and op-amps. Auto impedance detection lets you use even high-impedance audiophile headphones and get crystal-clear, distortion-free output. The onboard codecs are capable of a 120 dB output signal-to-noise ratio and 113 dB mic input SNR for crisp squad communication. The Crosshairs put an ESS Sabre DAC to good use pumping top-notch audio to the front-panel output, which is perfect for plugging in high-quality headphones. The Strix employ a similar SupremeFX S1220A solution that drops the dedicated front-panel DAC but otherwise keeps the same high-end circuitry. No matter the motherboard, the audio circuit design uses Japanese capacitors, interference shielding, and discrete traces for the left and right channels.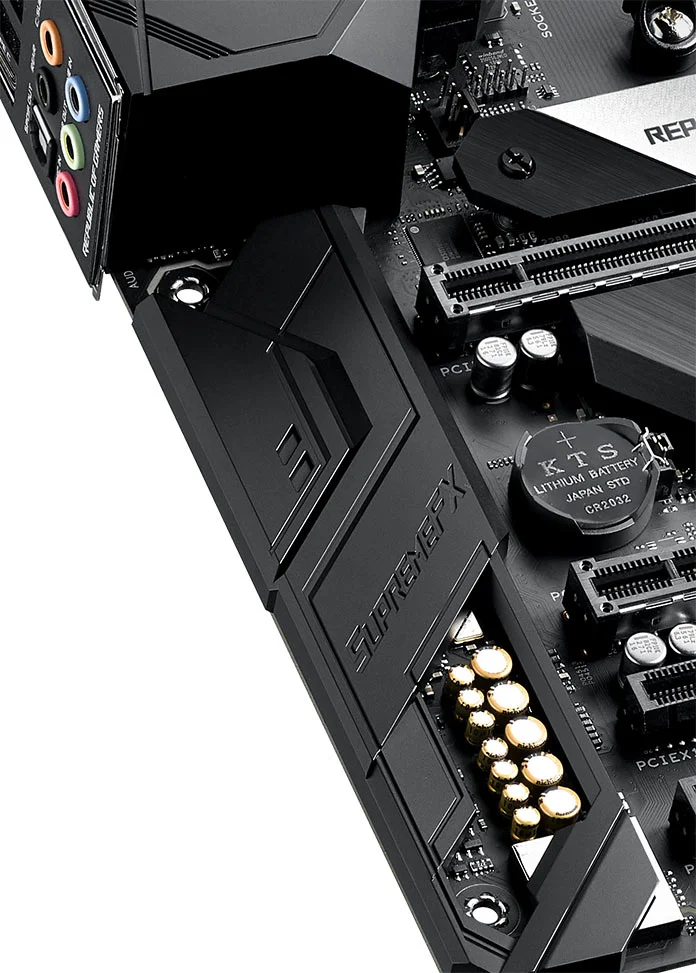 Our SonicStudio III software can inject virtual surround sound and other effects into any audio device, whether it's analog headphones, a USB DAC, or a VR headset; it even works with Bluetooth gear. The virtual mixer is particularly handy for streamers, as it allows routing multiple audio sources at once (like game sound, music, and your own voice) into a single virtual device for broadcasting or recording. The ROG boards offer DTS Sound Unbound technology for object-based audio, letting you enjoy next-gen surround sound virtualization that also allows sound to be mapped above and below you in compatible games.
Detail is key
Attention to detail separates merely good motherboards from the absolute best. The small touches we add ensure a smooth assembly and setup experience. Reliability is assured thanks to a host of physical and electrical protection measures. Each and every one of our X570 boards has overvoltage and ESD protection, and higher-end models boast Ethernet ports with LANGuard power spike protection and reinforced electronics for cleaner signaling. Modern graphics cards hang heavy coolers off the PCIe x16 slot, so we reinforce it with SafeSlot metal armor and nickel clips that improve durability and offer peace of mind. The Crosshair and Strix models go one step further with ProCool power connectors featuring beefier pins and metal casings.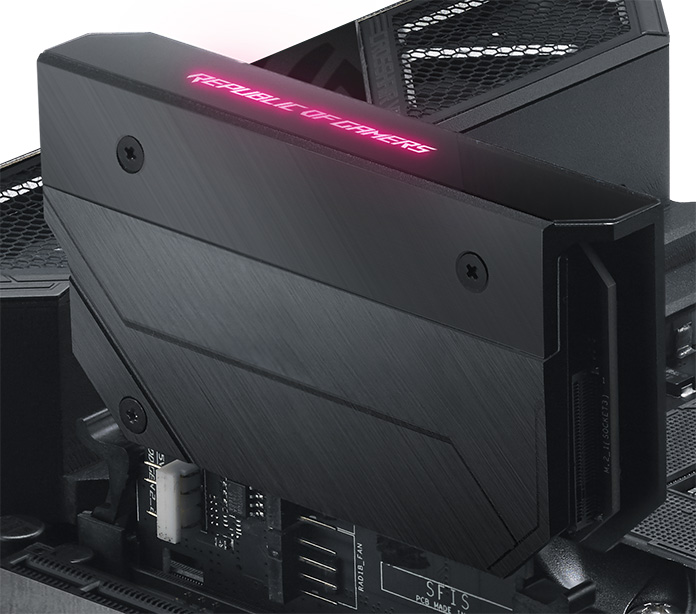 Having a ton of features at hand isn't very useful if they're hard to use. Thanks to Easy and Advanced setup modes, our critically acclaimed UEFI lets both beginners and experts get a system up and running with minimal fuss. Any changes made to the UEFI are summarized in a handy panel before saving and rebooting, so it's easy to check what changed (and what didn't). Tweakers, overclockers, and enthusiasts can dig into the expert menus to tune every aspect of the motherboard to do their bidding.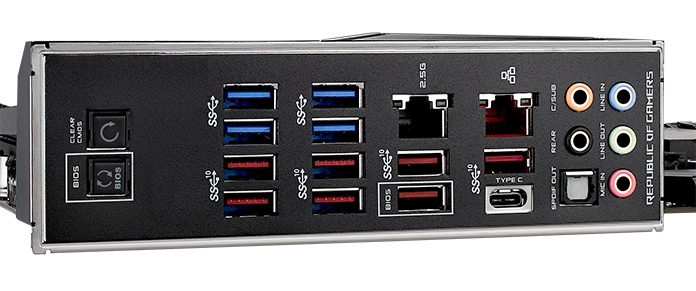 Updating the UEFI is trivial with the integrated EZ Flash tool, which automatically downloads and installs the latest firmware for your board. If you're building a system and need to update the UEFI to support a recently-released CPU, the USB BIOS Flashback available on select models lets you do that using nothing but a power supply and a USB stick containing the firmware file.
Gathering the crew
Across the ASUS X570 army, five divisions stand ready to handle the latest Ryzen firepower. The ROG Crosshair VIII series has the biggest arsenal and should be the first choice for hardcore gamers, overclockers, and enthusiasts. Following closely, ROG Strix models are fit for gamers with a keen eye for good looks, high speeds, and quality components that don't need to be embellished by luxuries. The TUF Gaming series distills the essential elements of the new AMD platform and combines them with game-ready features at affordable prices, while Prime boards offer a perfect balance between high-end features and visual restraint. The Pro WS is the working professional's choice, ready to dress Ryzen CPUs in workstation clothes.
Everything you need to know about each model is summarized in the table below or detailed in the pages that follow. Scroll horizontally to see the full lineup, use the search bar to filter the results, and click model names to jump to that section of the guide.