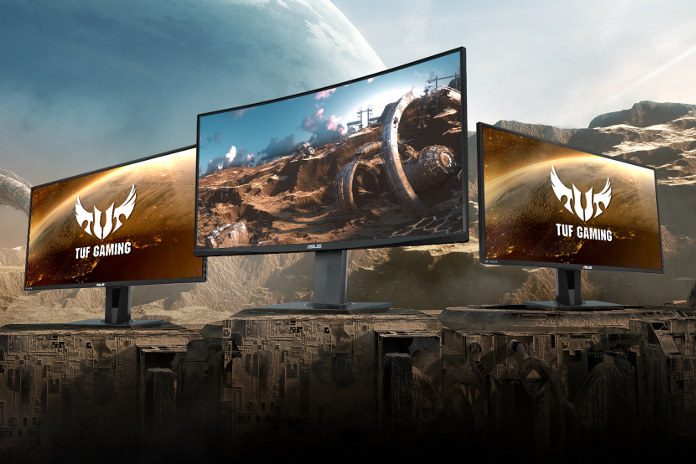 It's been roughly two decades since slim LCD monitors effectively replaced the enormous, heavy, and power-hungry CRT displays of ages past. The old screens were tried-and-true gear, but modern LCDs are more than a match for the ancient giants in nearly every spec, except for one particular area: motion blur. CRT monitors created a picture by scanning a phosphor beam from the top to the bottom of the display at an extremely high speed. This technique had an interesting side effect: every single frame is drawn anew on a black screen, ensuring they're visually distinct from one another. The end result is that motion on CRT displays looked clean and smooth without any blur.
The way things were
LCD displays, however, have to contend with the problem of response time. Each individual pixel takes time to change colors, and the entire screen is always lit. While 4ms may sound like an exceedingly short duration (equivalent to 1/250th a second for a standard IPS panel), our eyes can still see the pixels changing colors, resulting in a picture that looks slightly blurry when moving, particularly around the edges of objects. TN panels do offer a lower response time, but it comes at the cost of viewing angles. On the other hand, faster IPS or VA units tend to be quite expensive. The fight for panels both colorful and fast is a pricey one.
To try to reduce the effect and let gamers enjoy fast, blur-free pictures at affordable prices, ASUS introduced monitors with Extreme Low Motion Blur (ELMB) backlight strobing. By turning the monitor's backlight on and off many times per second, ELMB achieves close to the same visual effect as CRT monitors once did, resulting in crisp, clear motion with minimal tradeoffs. A display with ELMB has a Moving Picture Response Time of only 1ms. MPRT is a measurement of how long a pixel stays visible on the screen. The lower the figure, the clearer motion looks.
It's not a perfect solution, though. Due to technical limitations, it's not possible to use adaptive sync and ELMB simultaneously; it has to be one or the other, so gamers had to choose between smooth, lag-free animations or blur reduction—until now, that is.
Have your cake and eat it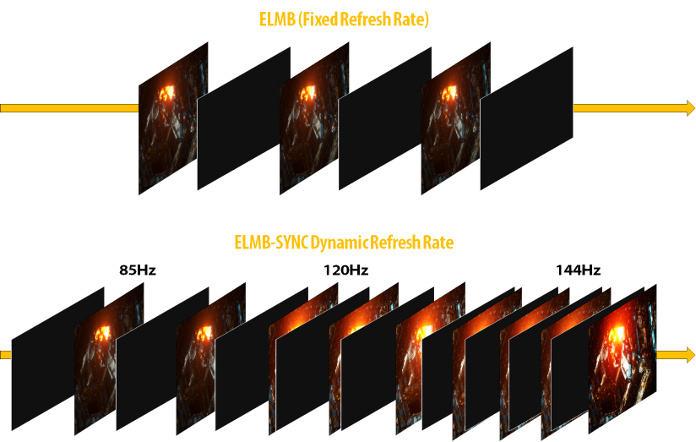 Our newest TUF Gaming displays let you enable both technologies at once using a new version of the technology called ASUS Extreme Low Motion Blur Sync, or ELMB Sync. This next-gen tech lets you use both ELMB and variable refresh rates (VRR) in tandem, ensuring that not only are animations smooth and free of the judder introduced by Vsync, but the entire picture is crisp and blur-free. Perfect moving pictures are now within reach, and a line of affordable displays offers multiple options depending on your preference. For best results, an ELMB Sync display should be combined with a graphics card capable of pushing around 100 FPS in your favorite games. Since an adaptive refresh rate is variable by definition, the effectiveness of the black frame insertion technique that ELMB uses is dependent on the effective frame rate.
We have three variations on this theme: the 32" curved TUF Gaming VG32VQ, and its 27" flat brethren, the TUF Gaming VG27AQ and TUF Gaming VG27BQ. With refresh rates up to 155 Hz on the 27" models and 144Hz on the VG32VQ, each monitor comes with ELMB Sync, enabling a 1ms MPRT while eliminating tearing and keeping input lag low for sharp gaming visuals at high frame rates. These TUF Gaming monitors are also compatible with the HDR10 standard for reproducing content with extended color and brightness levels.
Every gamer has their own personal ergonomics and preferences, so all three displays include stands with a wide range of height, tilt, and swivel adjustments. Two HDMI 2.0 inputs and a DisplayPort 1.2 connector stand ready to take in high-refresh-rate signals, while a pair of stereo speakers will come in handy when you feel like removing your headset.
As members of ASUS' gaming monitor family, these monitors include our GameFast input lag reduction technology, as well as GameVisual optimized color, presets, Shadow Boost for better visibility in dark scenes, and GamePlus customization. These displays also bear TÜV certification for flicker-free operation and low blue light emission.
TUF Gaming VG32VQ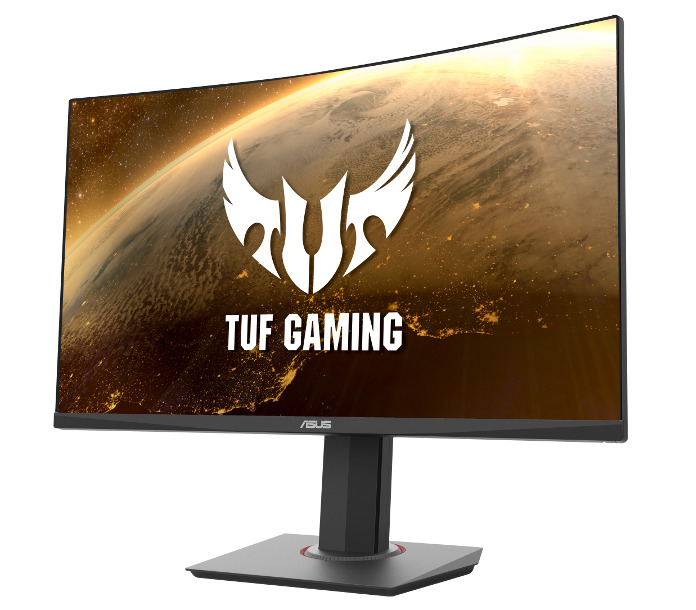 When it comes to monitors, there is no substitute for size. A display of increased proportions covers more of your natural field of view and increases the immersion for games and movies alike, especially if the panel is curved and extends into your peripheral vision. The TUF Gaming VG32V's panel measures 31.5" across its diagonal and has a 16:9 widescreen ratio. The panel is curved with a 1800R radius for a big, immersive display that sticks with a standard aspect ratio for better compatibility with games.
The VG32V boasts a resolution of 2560 x 1440 and has a Vertical Alignment LCD (VA) type panel. It offers excellent viewing angles and color reproduction, as well as a contrast ratio superior to IPS and TN variants. The variable refresh rate can go from 48Hz to 144Hz, meaning you'll get the benefits of adaptive sync as long as the graphics card can output 48 FPS at any point in time—not a difficult task for today's high-end and even mid-range GPUs. Since enabling ELMB causes a drop in perceived brightness, the VG32V makes up for it with its high 400 cd/m² typical brightness rating.
If you're looking to get your hands on an immersive display with next-gen ELMB Sync support, excellent contrast and color reproduction, and a fast 144Hz refresh rate, the TUF Gaming VG32VQ is the best option.
TUF Gaming VG27AQ
Not everyone has enough room for a large 32" display, or you might simply prefer the higher pixel density that a smaller monitor affords. The TUF Gaming VG27AQ's 27" IPS panel sports a 2560 x 1440 resolution and offers a balance between size and picture sharpness at a comfortable 109 pixels per inch. Compared to the VA model above, this IPS LCD should offer slightly improved response time and viewing angles, and equivalent color reproduction.
The VG27AQ isn't quite as bright as its bigger brother, but it has an additional trick up its sleeve: the refresh rate can go as low as 40Hz and as high as 155Hz when using a DisplayPort connection. A 40 FPS minimum means you can turn up detail levels a little higher in games without losing the benefits of VRR, and the 155Hz upper limit should offer an even better experience with ELMB Sync on, provided the graphics card can feed frames into the monitor at that pace.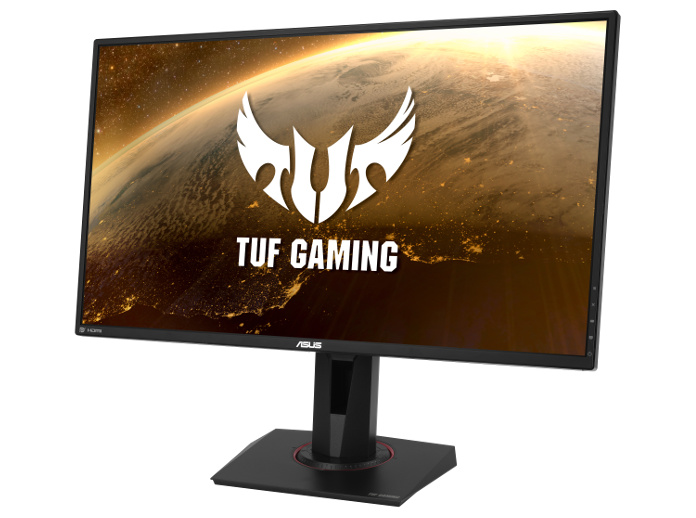 Balancing image quality versus response time is always a delicate act, but it's what the TUF Gaming VG27AQ does best, all while running at a 155Hz refresh rate.
TUF Gaming VG27BQ
While it's generally accepted that TN panels have narrower viewing angles and color gamuts compared to IPS or VA types, they have a particular skill of their own: the pixels can change colors in a single millisecond, significantly reducing blur in fast-moving pictures. That's ideal for a fast gaming monitor, particularly in combination with our next-gen ELMB Sync. Those two ingredients form the exact recipe of the TUF Gaming VG27BQ.
The VG27BQ shares the same base specs as its IPS twin: a 27" panel with a resolution of 2560 x 1440, and support for ELMB Sync with an adaptive refresh rate that can go from 40Hz to 155Hz. However, the super-fast response time of the TN panel joins forces with ELMB Sync in a best-of-both-worlds combo that elevates motion clarity to a whole new level.
Thanks to its exceedingly low response time and top-notch motion blur reduction, the TUF Gaming VG27BQ should be the tournament gamer's first choice.
VG32VQ
VG27AQ
VG27BQ
Size
31.5" wide screen
27" wide screen
27" wide screen
Panel
VA
IPS
TN
Resolution
2560x1440
Aspect Ratio
16:9
Refresh Rate
Adaptive-Sync 48 - 144Hz
Adaptive-Sync 40 - 155Hz
Response Time
1ms MPRT
4ms (GtG)
1ms MPRT
1ms (GtG)
HDR Support
HDR-10
Brightness
400 cd/m² (Typical)
350 cd/m² (Typical)
Ports
HDMI 2.0 x 2
DisplayPort 1.2 x 1
Speakers
2W x 2 Stereo RMS
Our TUF Gaming monitors with ELMB Sync are the ideal option for competitive gamers on a budget, delivering a carefully selected set of high-end gaming features at palatable prices. All three models are on display at Computex in the ASUS booth and will be launching soon. Check with your local ASUS representative for more information on pricing and availability in your region.
We announced a lot of hot new tech at Computex 2019. You can find all of the latest gear from ASUS and ROG in this article.