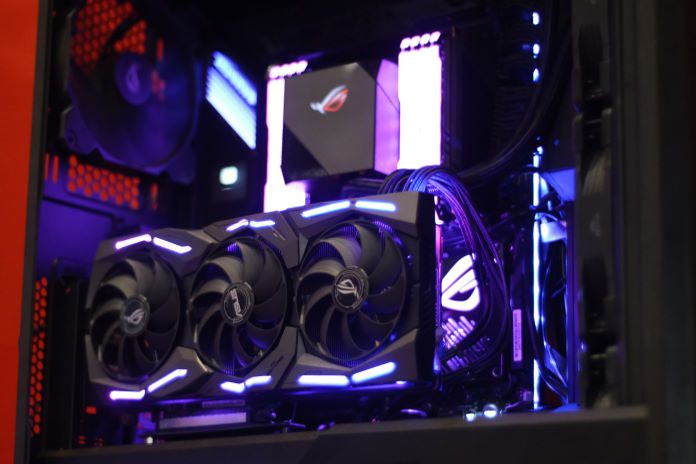 AMD's third-generation Ryzen CPUs offer system builders plenty of appealing reasons to consider an upgrade, whether they want high performance per dollar, dozens of cores and threads, or impressive power efficiency. Building a PC with one of the latest AMD chips as its centerpiece is certainly alluring, but picking out an entire set of components can be a time-consuming task if you don't keep a close eye on the hardware market. That's where this ASUS build guide for AMD platforms comes in. We've assembled complete parts lists for you around ASUS B550, X570, and TRX40 motherboards that are chock-full of the finest components for your new gaming rig or workstation.
The processors in the mainstream third-gen Ryzen family will enable next-gen PCIe 4.0 connectivity for graphics and storage in one of our new B550 motherboards. Builders who want all the PCIe 4.0 lanes they can get from Socket AM4 should look at the X570 platform, while high-end Ryzen Threadripper chips in one of our three TRX40 motherboards. Packed chock-full of enthusiast-friendly features, our AMD motherboards leverage the latest technologies like PCI Express 4.0, high-speed wired and wireless connectivity, USB 3.2 Gen 2 ports, and more.
Carefully considering all angles
You may not realize it, but we make most of the components you need to build a PC. To go with AMD's Ryzen CPUs, we've drawn on our wide range of motherboards, graphics cards, cases, power supplies, and CPU coolers to complete our parts lists. Building with as many of our components as possible ensures that you reap all of the innovation that we put into every one of those individual parts, but it also makes life easier when it comes time to monitor, tweak, and tune your new build as a system.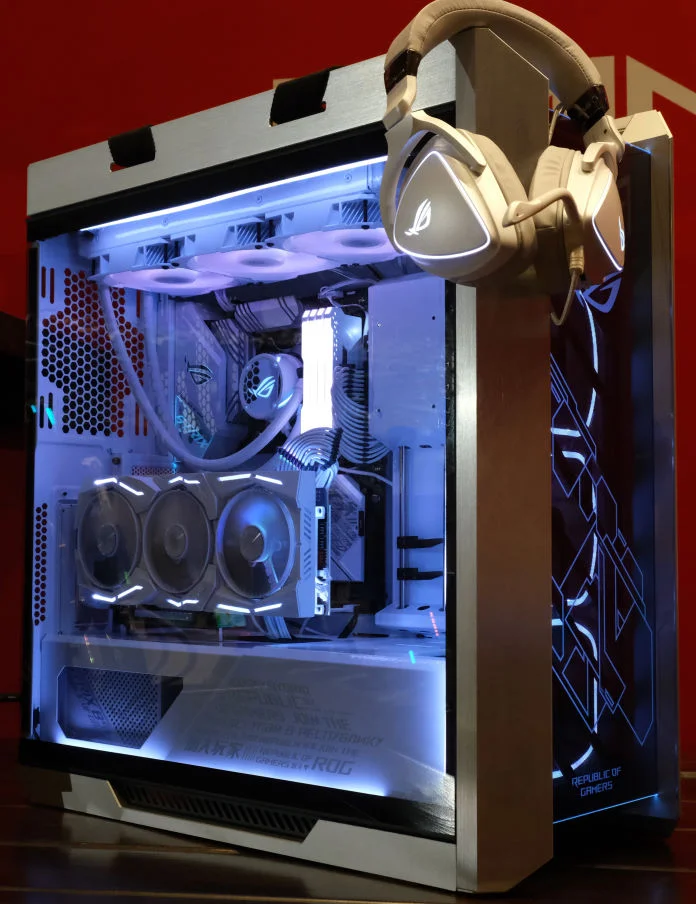 The right motherboard is arguably the most important choice you can make when building a new PC. You're not just choosing a circuit board to plug the rest of your components into. The hardware on board and the software that controls it define the quality of experience you'll get from your PC over many years of service. Our easy-to-use firmware, best-in-class fan control, and powerful Windows software ensure that you can easily tune your ASUS system to perform at its best for the long haul.
Next up, there's aesthetic coherence to consider. Our components are all designed around consistent visual themes, and when you build with ASUS, all the Aura Sync-compatible RGB LEDs in your system can be controlled with only a few clicks thanks to our companion Armoury Crate utility. You don't have to worry about using three or four different utilities to set up your unique lighting scheme—just set your colors and effects all at once and spend more time gaming or working instead of fiddling around.
Finally, there's ASUS support to fall back on. When it's time to download firmware, driver, and software updates for your system, you can get them all from a single source. If you run into any setup issues or just get a poor roll of the hardware dice, our support team and warranty services are ready to help. 
Building a path to success, one component at a time
As we put together our parts lists, we did our best to craft carefully balanced systems. After all, it wouldn't make sense to pair a budget processor with the mightiest graphics card around, or have an undersized power supply juicing up a top-end gaming rig. We've laid out a sextet of unique builds, taking usage patterns, performance targets, and wallet fatness into consideration. Whether you're an up-and-coming streamer, a caffeine-fueled high-refresh-rate CS:GO addict, a developer, or a content creator with a penchant for massive 3D renderings or video projects, we have you covered.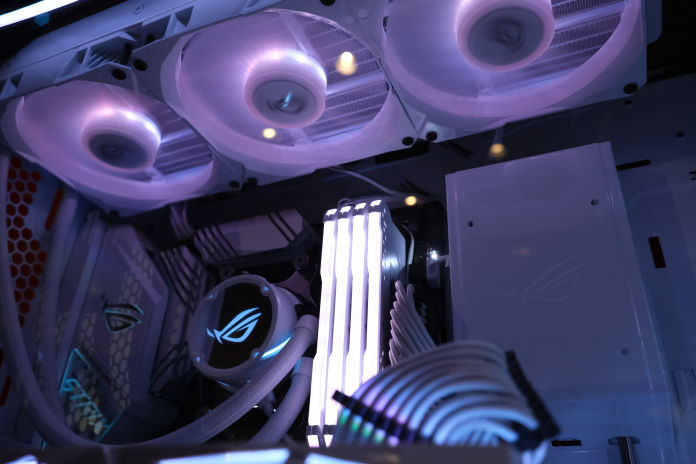 All six machines have the ability to both work and game with aplomb. Storage for every build comes by way of NVMe SSDs, ensuring top-notch responsiveness and minimal app and game loading times. We also made sure that they're all upgradeable by choosing cases and motherboards with ample expansion options, as well as using higher-wattage power supplies. You don't need to take our choices as gospel, though. We realize that every system is different, and you might choose to upgrade one component or another in one of our suggested builds to get the right performance for your needs and budget. We encourage you to use these builds as templates and adjust them according to your own demands.
Although each of the six builds was constructed with a certain type of user in mind, be aware that their abilities overlap nicely. That means that even if you're not too deep into the specifics of PC components, you can pick a build at a price point that feels reasonable to you and rest assured that you'll get a powerful work- and gaming-ready machine that'll serve you well for years to come, or until you want higher performance.
This guide focuses specifically on PC system part selection, and you can complete your build with our vast range of monitors, input devices, and headsets. If you're looking for additional guides, tips, and tricks, be sure to check out some of the other articles here on Edge Up.
We've provided approximate total prices for the builds we put together to give you an idea of what to expect when you put these systems in your cart. Exact prices are subject to change as sales come and go and supplies vary over time, though, so be sure to double-check your grand total before you run your credit card. 
The Budget Box
Even the most epic journeys start with a first step, and if you're new to PC building, consider our wallet-friendly Budget Box. Ready for the challenges of 1080p gaming or high-refresh-rate eSports competition, this machine is a fine entry point into the adventure of DIY PC building. 
AMD's Ryzen 3 3300X processor offers four high-performance Zen 2 cores and eight threads of processing power to help the graphics card sustain high frame rates, and it offers enough multithreaded grunt to power through productivity tasks with ease.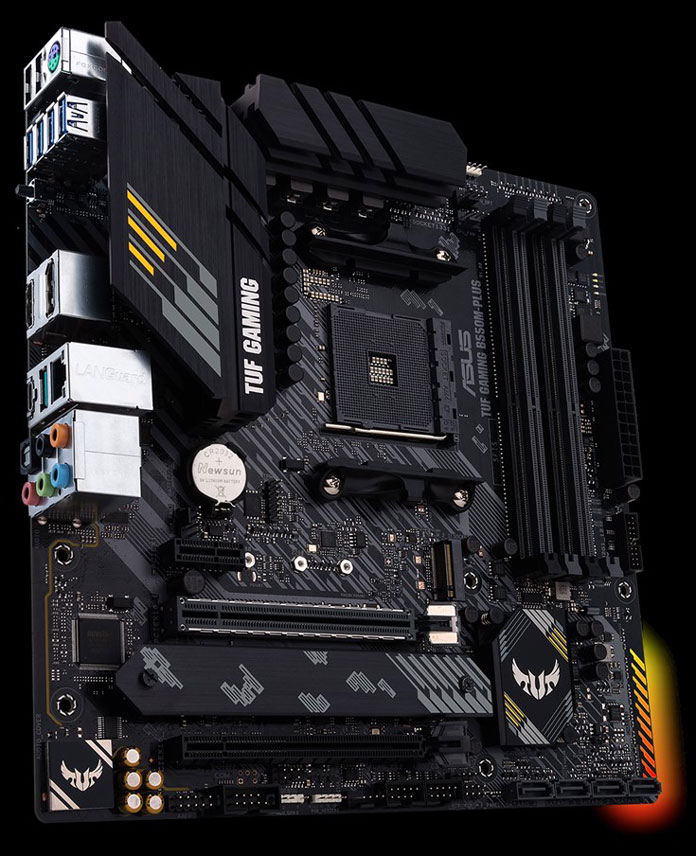 When you pair this chip with our TUF Gaming B550M-Plus motherboard, you get access to plenty of other cutting-edge features, including 2.5 Gigabit Ethernet, high-quality Realtek S1200 audio, and AI Noise Canceling Mic technology for clear voice comms. Add in a sturdy, well-cooled VRM and Aura Sync RGB LED lighting, and you may find yourself surprised at just how feature-packed this system is for the money—especially considering it includes 16GB of DDR-3200 RAM, letting you keep all your documents and tens of browser tabs open while you go for a quick match. After all, closing programs to free up resources is so last decade.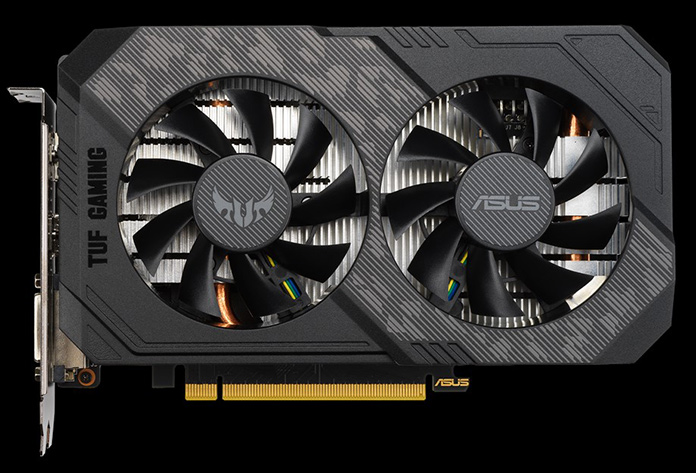 When it's time to fire up a game, you'll enjoy smooth performance thanks to the TUF Gaming GTX 1650 SUPER. This card's compact, dual-fan cooler helps us dial in overclocked core speeds of up to 1800MHz in OC mode, and it'll last through years of gaming thanks to IP5X dust resistance and a protective backplate. 4GB of fast GDDR6 video memory holds critical game data close at hand. And you can share your gaming exploits on your streaming platform of choice thanks to the high-quality NVENC video encoder on board.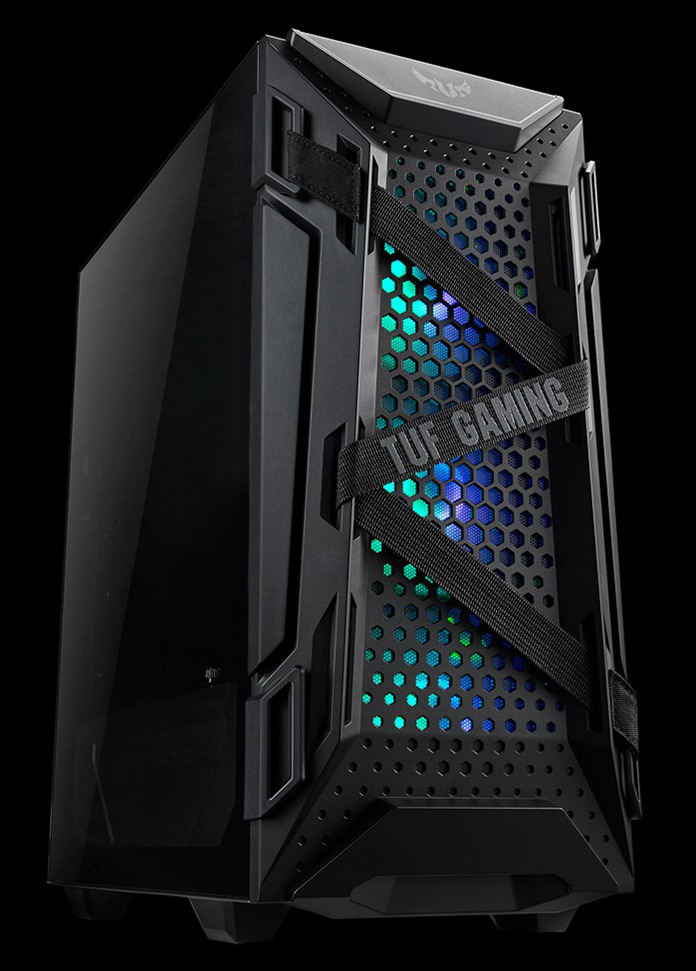 One of the best parts of building with TUF Gaming components is an effortlessly coordinated look between components, and the TUF Gaming GT301 case lets you show off that style through a tempered-glass side panel. The three addressable RGB LED fans behind the honeycomb front panel can sync up with the rest of your components thanks to Aura support. The open internal layout allows for easy expansion and upgrades, and the compact footprint is a boon for small rooms or dorms. A modular headphone hook adds an extra utilitarian touch.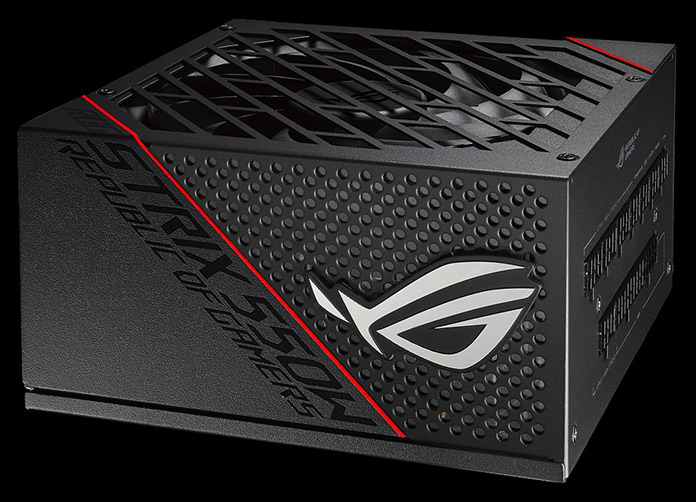 We round out this build with a powerful, high-quality ROG Strix 550W modular power supply with a customizable magnetic logo and stickers, and a swift yet spacious 512GB NVMe SSD to store your operating system and games. 
The Budget Box
Component
Shop at
Processor
AMD Ryzen 3 3300X
Newegg
Amazon

Motherboard
ASUS TUF Gaming B550M-PLUS
Newegg
Graphics card
ASUS TUF Gaming GTX 1650 SUPER OC
Newegg

Memory
Team T-Force Vulcan TUF Gaming 16GB (2x8GB) 3200MHz
Newegg
Amazon
Storage
Western Digital Black SN750 500GB NVMe
Newegg
Amazon
Case
ASUS TUF Gaming GT301
Newegg
Amazon

Power supply
ASUS ROG Strix 550W
Newegg
Amazon
CPU cooler
AMD stock cooler (included w/CPU)
-
Price (approx.)
$825
The Middle-weight Marvel
The Middle-weight Marvel is a significant step-up that doesn't go overboard. Compared to the Budget Box, it offers higher gaming performance and more multi-threaded grunt. You can expect to play AAA titles comfortably at 1440p—or at lower resolutions and ultra-high refresh rates, too, depending on the title. For productive purposes, extra CPU cores and RAM make for a workhorse capable of taking on most every task, including content creation and development.
The fun starts with the AMD Ryzen 5 3600. Six cores and 12 threads provide breathing room for multitasking and multithreaded applications, and they'll keep the graphics card happily fed with work when it's time to play.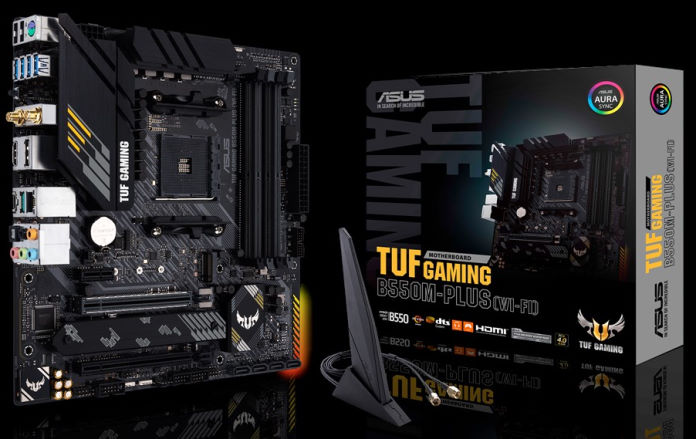 The TUF Gaming B550M-Plus (Wi-Fi) motherboard reprises its role, this time around in a variant with Wi-Fi 6 and Bluetooth 5.1 connectivity on board. The Intel wireless radio can perform transfers at speeds potentially exceeding a gigabit per second over the airwaves with compatible networking hardware, offering added convenience in homes or offices where running an Ethernet cable could prove tricky. Since the extra processing power will certainly invite heavier workloads, we bumped the system memory to 32GB. There's nothing quite like opening dozens of applications and browser tabs, an entire memory card's worth of photos, or a lengthy video without worrying about how much RAM your PC has free.
If you keep up with the news about the PC hardware, the three big letters you'll hear of late are "RTX". Nvidia's latest GeForce graphics cards have finally turned the everlasting dream of real-time ray tracing into tangible pixels. Multiple titles including Call of Duty: Modern Warfare, Minecraft, and Control now reap the benefits of the technology to display lifelike shadows and ambient lighting, realistic reflections, and gorgeous interplay between multiple light sources.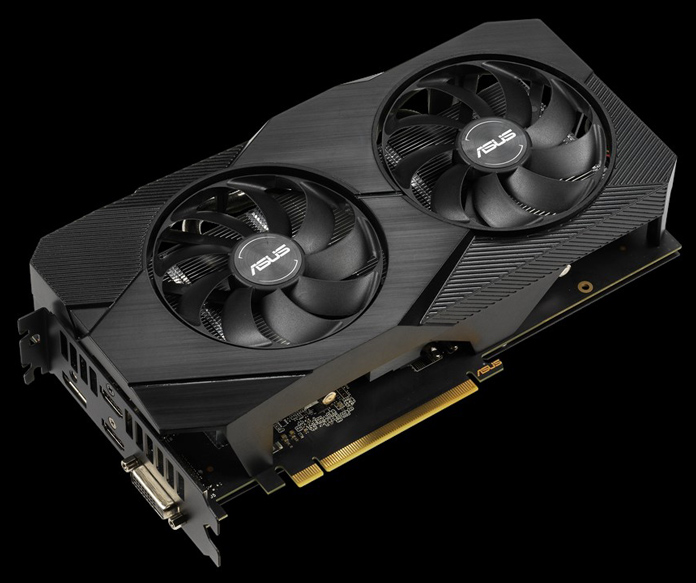 This build is our first with  a ray tracing-ready graphics card, in the form of the Dual GeForce RTX 2060 SUPER EVO V2. The Turing chip underneath the DirectCU II heatsink runs at speeds up to 1725MHz in OC mode, and 8GB of GDDR6 RAM helps bring dazzling visuals to life. A protective backplate bolsters the card against sagging and damage, while dual fans with our Axial-tech design offer increased airflow over conventional spinners. When you're not gaming, the card's fans will shut off entirely for silent running.
The TUF Gaming GT301 case makes an encore to host the entire system, but we upgraded the power supply to a beefier ROG Strix 750W modular unit to keep up with the components inside. The NVMe SSD has likewise been upgraded to a 1TB model to hold more games and applications at once.
The Middleweight Marvel
Component
Shop at
Processor
AMD Ryzen 5 3600
Newegg
Amazon
Motherboard
ASUS TUF Gaming B550M-PLUS (Wi-Fi)
Newegg
Graphics card
ASUS Dual GeForce RTX 2060 SUPER EVO V2
Newegg
Amazon
Memory
G.Skill Trident Z RGB 32GB (2x16GB) 3200MHz
Newegg
Amazon
Storage
Western Digital Black SN750 1TB NVMe
Newegg
Amazon
Case
ASUS TUF Gaming GT301
Newegg
Amazon

Power supply
ASUS ROG Strix 750W
Newegg
CPU cooler
AMD stock cooler
(included w/CPU)
Price (approx.)
$1300
The Sweet Spot
When discussing a new machine, PC enthusiasts love to build not just a high-performance parts list, but one that's optimized in every way for performance-per-dollar. The Sweet Spot is the proverbial Goldilocks among our selection of builds, where every component offers what we think is the best bang for the buck in its respective category. 
This is the machine we recommend to anyone looking for a powerful PC that won't break a sweat under heavier workloads like 3D rendering and heavy-duty video editing. Gamers building in the Sweet Spot will be satisfied with its ability to drive most contemporary titles at 1440p and high refresh rates with the detail turned up.
This time around, we drop the AMD Ryzen 7 3700X in the CPU socket. This powerful sliver of silicon contains eight cores and 16 threads running at boost speeds up to 4.4GHz. It gives you plenty of headroom to run multiple applications while you're gaming, or to encode a high-quality local recording of your gameplay for editing and sharing later. It's also a champ for highly parallel applications like 3D rendering, video editing, and much more.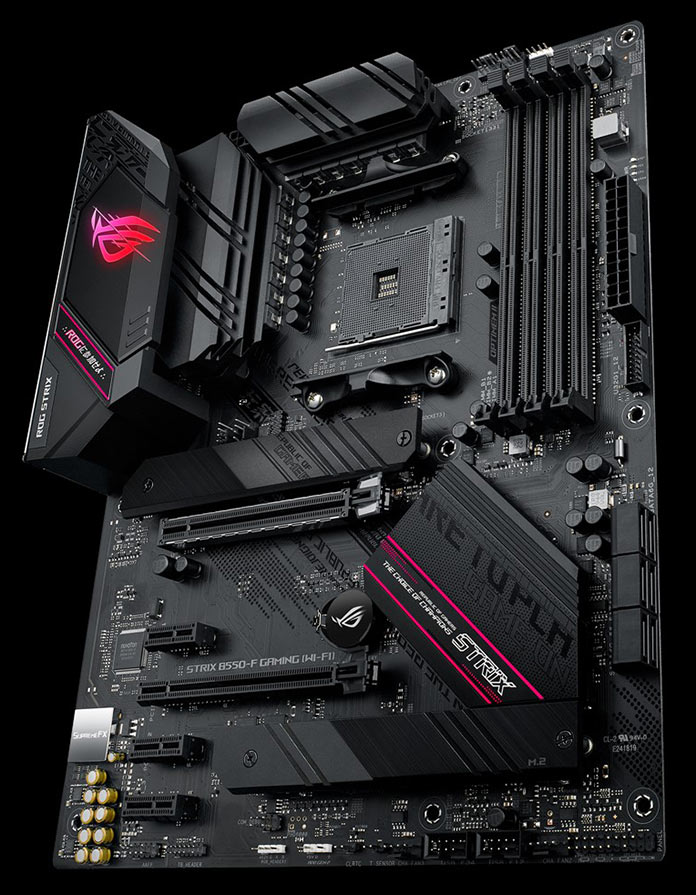 To tap into the full potential of that powerful CPU, we paired it with the ROG Strix B550-F Gaming (Wi-Fi) motherboard to provide a stable, full-featured platform. The 12+2 teamed-power-stage VRM is fed by ProCool solid-core auxiliary power connectors for extra stability under high CPU loads, and large heatsinks ensure consistent performance over time. The main PCIe 4.0 SafeSlot is reinforced with metal for added peace of mind, and both M.2 slots are covered by aluminum heatsinks to prevent SSD thermal throttling.
The preinstalled I/O shield serves up a healthy helping of USB 3.2 Gen 2 ports, an Intel-powered 2.5Gb Ethernet port, and connectors for the Wi-Fi 6 and Bluetooth 5.1 antennas. The audio ports are wired to a SupremeFX S1220A codec that offers crystal-clear input and output along with DTS Sound Unbound support for pinpoint-accurate 3D positional audio.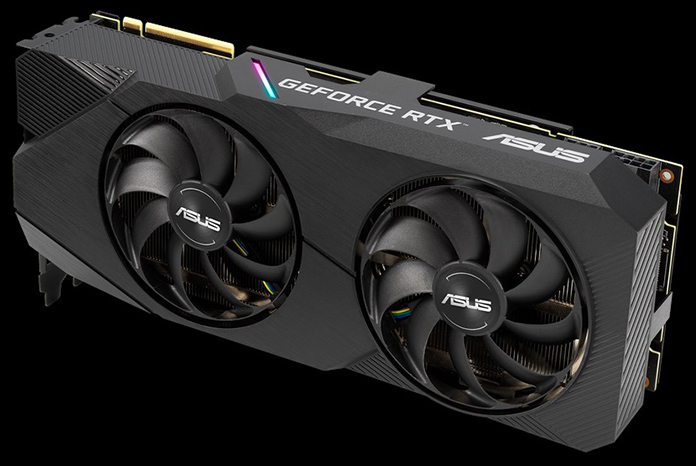 All the speedy pixel-pushing from this system is performed by a Dual GeForce RTX 2070 Super EVO OC graphics card. Thanks to a massive 2.7-slot heatsink cooled with a pair of fans built with our Axial-tech design, this card's Turing GPU is clocked at up to a meaty 1845MHz in OC Mode and employs 8GB of 14Gb/s GDDR6 memory for delivering frames at an accelerated clip.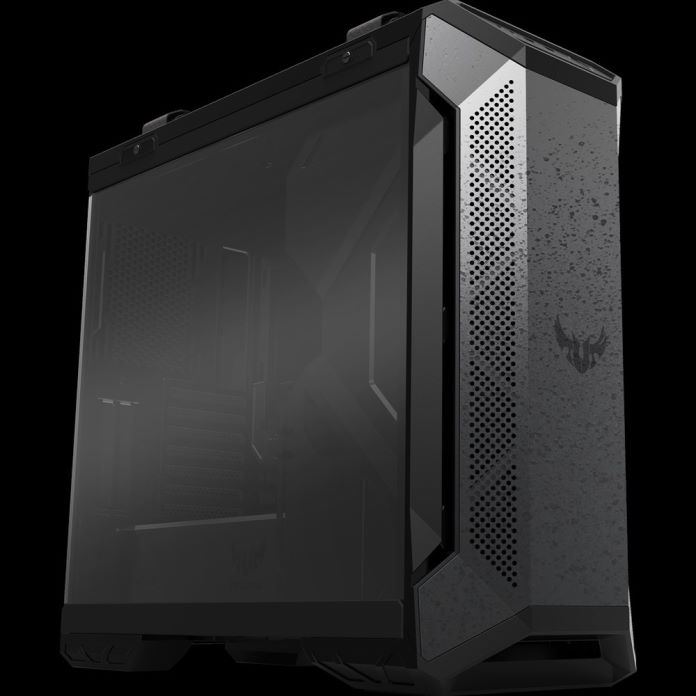 The motherboard is also quite the looker, and it shines with RGB LED lighting that can be further augmented by onboard headers, including Gen 2 addressable headers.The cyber-text motif gels wonderfully with the ROG Strix 750W power supply and the TUF Gaming GT501 case. This mid-tower enclosure has a striking smoked-glass side panel and comes with four addressable RGB LED case fans with Aura Sync support for plenty of cooling power. The main chassis itself is crafted from up to 1.5mm-thick galvanized steel with a scratch-resistant coating. Up top, two carrying handles built to handle up to 30kg let you easily move the system around if need be, and there's 30mm of free space behind the motherboard tray for tidying up cabling. The build is completed with a 1TB NVMe solid-state drive.
The Sweet Spot
Component
Shop at
Processor
AMD Ryzen 7 3700X
Newegg
Amazon
Motherboard
ASUS ROG Strix B550-F Gaming (Wi-Fi)
Newegg

Graphics card
ASUS Dual GeForce RTX 2070 SUPER EVO OC
Newegg
Amazon
Memory
G.Skill Trident Z RGB 32GB (2x16GB) 3600MHz
Newegg
Amazon
Storage
Western Digital Black SN750 1TB NVMe
Newegg
Amazon
Case
ASUS TUF Gaming GT501
Amazon
Power supply
ASUS ROG Strix 750W
Newegg
CPU cooler
AMD stock cooler
(included w/CPU)
Price (approx.)
$1700
The High-End Gaming Rig
Here we have a build designed for those with a need for high frame rates and to make short work of highly parallel tasks. The High-End Gaming Rig does exactly what it says on the tin: it's designed to play the latest crop of AAA titles with utmost efficiency, letting you turn up every visual slider and still keep the frame rates high. You'll want to pair this build with a 1440p monitor with at least a 144Hz refresh rate for optimal usage, or roll with a 4K display for high-res goodness.
The heart of this system is the mighty Ryzen 9 3900X—a 12-core, 24-thread beast that can hit clocks as high as 4.6GHz, just the recipe for helping graphics cards push triple-digit FPS numbers on frame rate counters. If you love to share your gameplay live or record high-quality game footage locally for later editing, this chip can perform demanding software encoding with ease—not to mention its multi-threaded prowess for most any other parallel workload.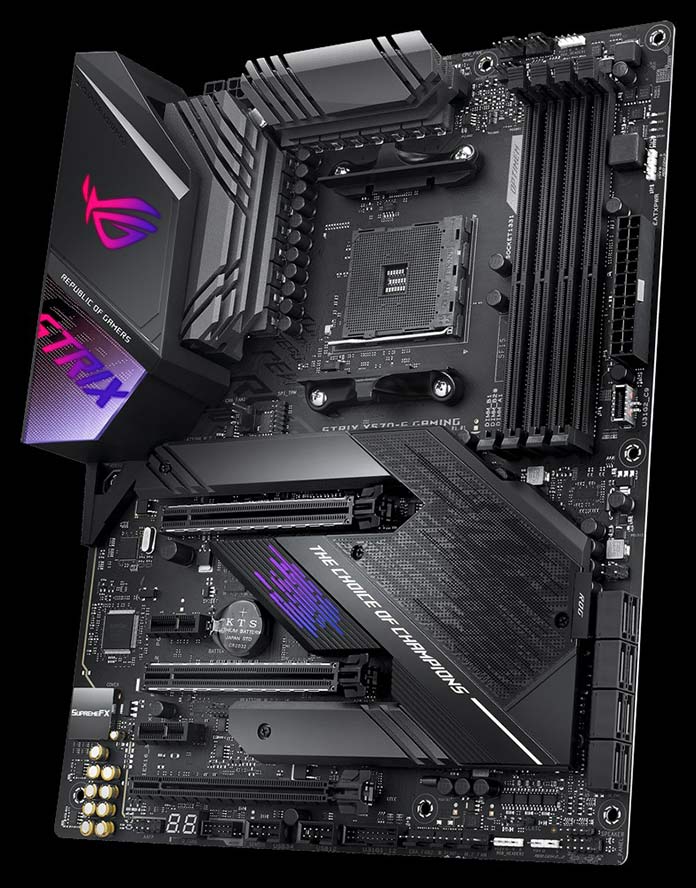 We pair that chip with an ROG Strix X570-E Gaming motherboard, fully wired with PCIe 4.0 connectivity throughout. A Digi+ VRM with 12+4 power stages juices up all of the processor's cores, and we keep it cool using large heatsinks with 8mm copper heatpipes at their base. Both main PCIe slots are wrapped in our SafeSlot metal reinforcements for durability. A handy Q-Code POST display and remappable FlexKey reset button assist with tweaking and tuning efforts. The I/O shield features prominent RGB LED illumination, and the pre-installed I/O shield contains a USB port with BIOS FlashBack support for easy firmware upgrades. On top of a bevy of fast USB 3.2 Gen 2 ports, you get a tag-team trio of network controllers providing 2.5Gb and 1Gb Ethernet ports along with Wi-Fi 6 and Bluetooth 5.1.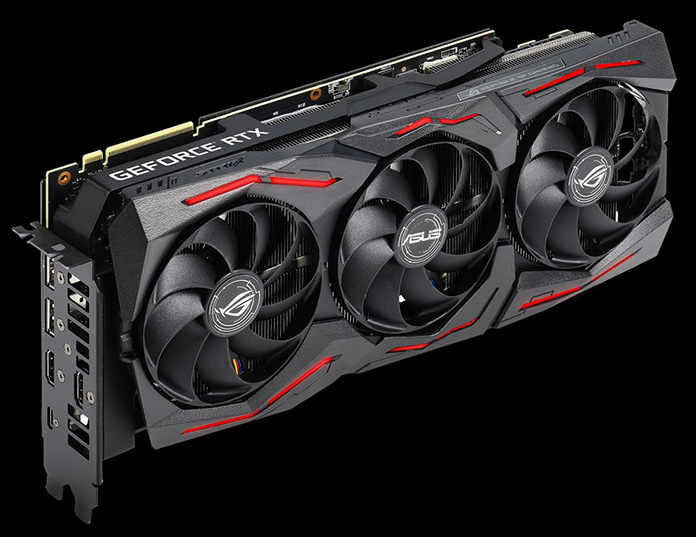 A gaming machine of this caliber requires a potent graphics card: the ROG Strix GeForce RTX 2080 SUPER OC. We push the Turing GPU on this card to 1890MHz in OC mode on this model and cool it with a massive 2.7-slot MaxContact heatsink with twice the contact area of standard designs, topped off by three fans using our Axial-tech design. The shroud features plenty of prominent RGB LED lighting, too.
This GPU's circuit board is sandwiched between a reinforced frame and a full-length backplate for long-term stability, and the backplate is inset with an Aura-illuminated ROG logo to show your allegiance from any angle. The generous port cluster includes a VirtualLink connector for wiring up a VR headset with a single cable. Finally, system fans hooked up to the card's FanConnect II headers can react to GPU temperatures directly, ensuring optimal system cooling no matter the workload.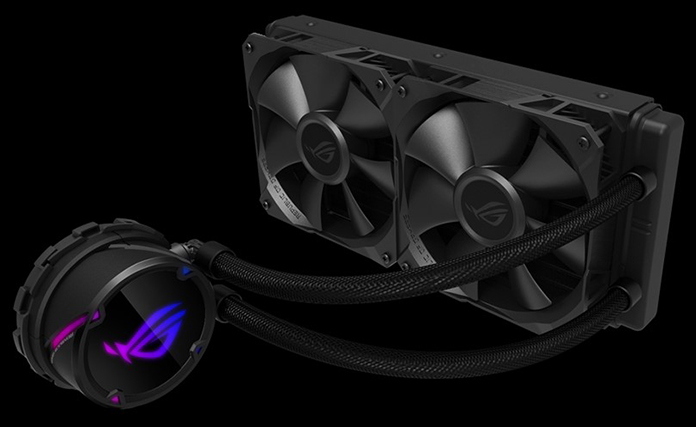 To keep all of the Ryzen 9 3900X's Zen 2 cores chilly at high clocks, we opted for the ROG Strix LC 240 all-in-one liquid cooler. Atop the radiator sit two specially designed ROG 120mm fans with improved airflow and static pressure over regular spinners. The pump head features Aura RGB lighting with addressable LEDs, and its internal structure uses a micro-channel design for extra thermal dissipation area.
We retain the fine TUF Gaming GT501 enclosure with its four Aura fans and generous room for radiators for this build, but we harnessed the thunder of the ROG Thor 850 80+ Platinum power supply for watt-wrangling duties. This is one beefy unit, built with 100% Japanese capacitors for stability and durability, and cooled by a proprietary 135mm fan and large ROG internal heatsinks.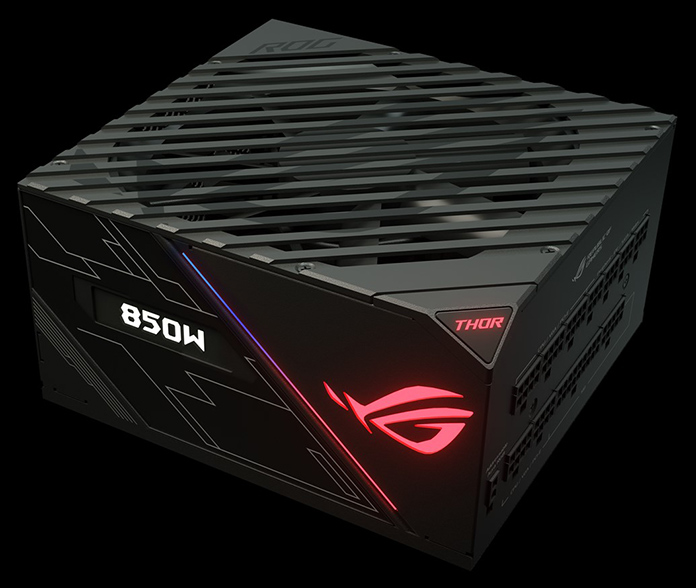 All told, the Thor's operating temperature can be up to 20% lower than common units, extending component lifespan and allowing for 0dB operation for longer periods. Even with the fan on, noise output stays under 20dB, earning the PSU a Lambda A+ certification for noise. The cybernetic styling is flashy by itself, and it's augmented by Aura lighting with addressable LEDs. The proverbial cherry on top is the OLED display on the side that displays power consumption in real-time. A 2TB NVMe SSD and 32GB of fast system memory wrap up this build.
The High-End Gaming Rig
Component
Shop at
Processor
AMD Ryzen 9 3900X
Newegg
Amazon
Motherboard
ASUS ROG Strix X570-E Gaming
Newegg
Amazon
Graphics card
ASUS ROG Strix GeForce RTX 2080 SUPER OC
Newegg
Amazon
Memory
G.Skill Trident Z RGB 32GB (2x16GB) 3600MHz
Newegg
Amazon
Storage
Western Digital Black SN750 2TB NVMe
Newegg
Amazon
Case
ASUS TUF Gaming GT501
Amazon
Power supply
ASUS ROG Thor 850W
Newegg
CPU cooler
ASUS ROG Strix LC 240
Newegg
Amazon
Price (approx.)
$2600
The Ultimate Gaming Rig
Up to this point, our builds exercised a certain amount of restraint. However, high-octane builds with truly high-end parts spark joy, performance, and copious amounts of frames per second. For demanding gamers who want nothing but the absolute best, we present the Ultimate Gaming Machine: a rig that aims to offer the highest-possible frame rates at any resolution across the entire landscape of games while doubling as a credible workstation when it's time to get down to business.
For this purpose, the clear CPU option is the AMD Ryzen 9 3950X. It offers a total of 16 cores and 32 threads and boost clocks that climb as high as 4.7GHz. That performance profile is ideal for properly driving the best graphics cards as fast as they can go, and with that many cores and threads at your disposal, highly parallel applications will do more in the same amount of time or complete faster than they would on lesser systems.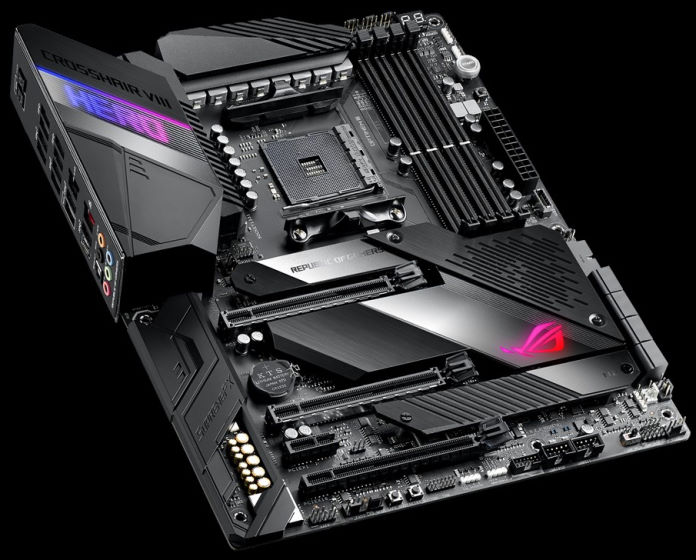 Keeping so many cores at running high clocks requires a stable, steady supply of power. Enthusiasts looking for the widest range of connectivity and upgrade options wouldn't be satisfied with just any motherboard. Enter the ROG Crosshair VIII Hero (Wi-Fi) and its extensive collection of top-notch features. A 14+2 power stage VRM with IR3555 ICs, covered by extensive heatsinks, stands ready to drive even the most demanding Socket AM4 CPU with enviable efficiency. We extend this comprehensive cooling to the X570 chipset and main M.2 slots to prevent any throttling under load. 
There's much more to this board than its core functionality, though. The back panel contains a total of 12 USB connectors of various types, next to a 2.5Gb Ethernet port and Wi-Fi 6 and Bluetooth 5.1 antenna connectors. There are enough onboard fan and liquid-cooling headers for creating the most elaborate cooling setup you can imagine. If you dabble in overclocking, you'll find the integrated Q-Code display and power buttons most handy should you dial the virtual knobs a little too far past 11. For your aural delectation, the SupremeFX S1220 codec is enhanced by an ESS Sabre DAC for some of the purest analog output this side of studio gear.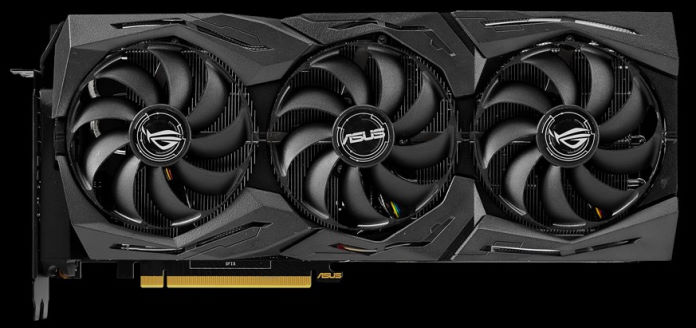 Since we're going for maximum horsepower in this build, it's time to bring out the top-of-the-line ROG Strix GeForce RTX 2080 Ti OC graphics card. This GPU is unquestionably the fastest consumer graphics card around, and it packs 4352 CUDA cores that our engineering team pushes to 1665MHz in OC Mode. To go with the top-of-the-heap GPU itself, this card provides 11GB of video memory for loading all those gigantic 4K texture packs you've always wanted to use.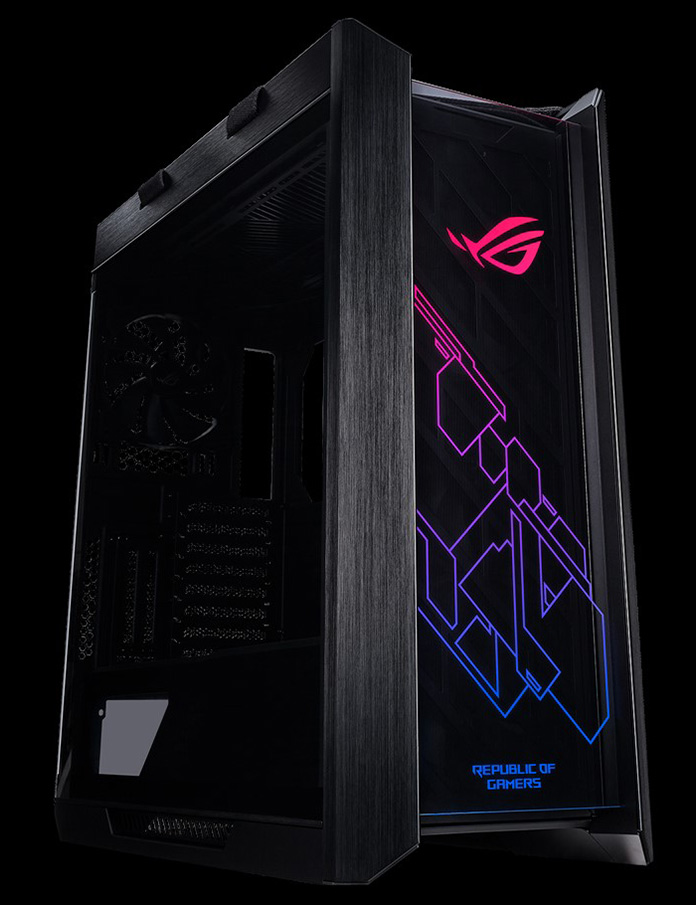 A build like this deserves to be showcased, and the imposing presence of the ROG Strix Helios GX601 case dominates any room. Its oversized brushed aluminum and steel construction evokes a powerful monolith, and the dual tempered glass panels let envious bystanders take a good, long, look at the system inside. There's room for multiple radiators, some up to 420mm long and 90mm thick, along with a pump and reservoir bracket for custom liquid cooling setups.
You can mount your ROG Strix GeForce RTX 2080 Ti vertically in the Helios to proudly display it, while the adjustable PSU shroud has an acrylic cut-out so you can keep an eye on the PSU's readings—more on that in a second. The Helios comes with four 140mm fans plus a built-in fan hub for easy setup and control, and there's room for seven additional spinners. The snazzy front panel motif has Aura Sync addressable RGB LED lighting. The port cluster includes dedicated fan speed and lighting controls, four USB Type-A ports, and a handy USB-C connector.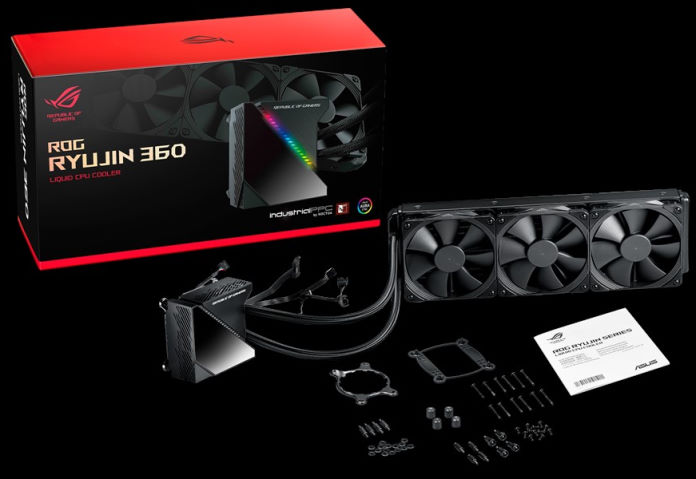 A ROG Ryujin 360 all-in-one liquid cooler keeps the Ryzen chip's temperature in check. This is no ordinary CLC, though. First off, the 120-mm fans sitting atop the radiator are industrial-grade iPPC-2000 PWM designs from Noctua. Each one can generate 122 m³h of airflow at 2000 RPM, all while wooshing away at a mere 29.7 dBA. The pump housing includes a 60-mm fan to circulate air to the motherboard's VRM and surrounding components. The Ryujin is also the world's first AIO cooler with an embedded 1.77" LiveDash color OLED display that can show system info like temperatures, voltags, or fan speeds. You can customize that space with your own images or animations, too. A ROG Thor 850 power supply, 64GB of system RAM, and a 2TB SSD complete this mighty machine.
The Ultimate Gaming Rig
Component
Shop at
Processor
AMD Ryzen 9 3950X
Newegg
Amazon
Motherboard
ASUS ROG Crosshair VIII Hero (Wi-Fi)
Newegg
Amazon
Graphics card
ASUS ROG Strix GeForce RTX 2080 Ti OC
Newegg
Amazon
Memory
G.Skill Trident Z 64GB (2x32GB) 3600MHz
Newegg
Storage
Western Digital Black SN750 2TB NVMe
Newegg
Amazon
Case
ASUS ROG Strix Helios GX601
Newegg
Amazon

Power supply
ASUS ROG Thor 850W
Newegg
CPU cooler
ASUS ROG Ryujin 360
Amazon
Price (approx.)
$2950
The Powerhouse
The vast majority of computing tasks can only be executed so fast. The speed of web pages or office documents usually rely on a single CPU thread to execute, and many multi-threaded applications can't always use every CPU core. However, there's a selection of people for whom every processor thread, every gigabyte of RAM, and every CUDA core is never quite enough. Developers, AI researchers, 8K video editors, architects, and 3D artists are just a few of these users. The Powerhouse is a bespoke tool for those power users.
The build's foundation is a very special one: an AMD Ryzen Threadripper 3970X with 32 cores, 64 threads, and 144MB of combined cache. This imposing chip gives our engineers 64 PCIe 4.0 lanes to route to multiple GPUs and massive NVMe arrays at full speed. Its memory controller can use four channels of DDR4 simultaneously, making gobs of RAM bandwidth available for efficiently handling gigantic datasets. We've opted for a quartet of DIMMs with 128GB of capacity for that exact reason.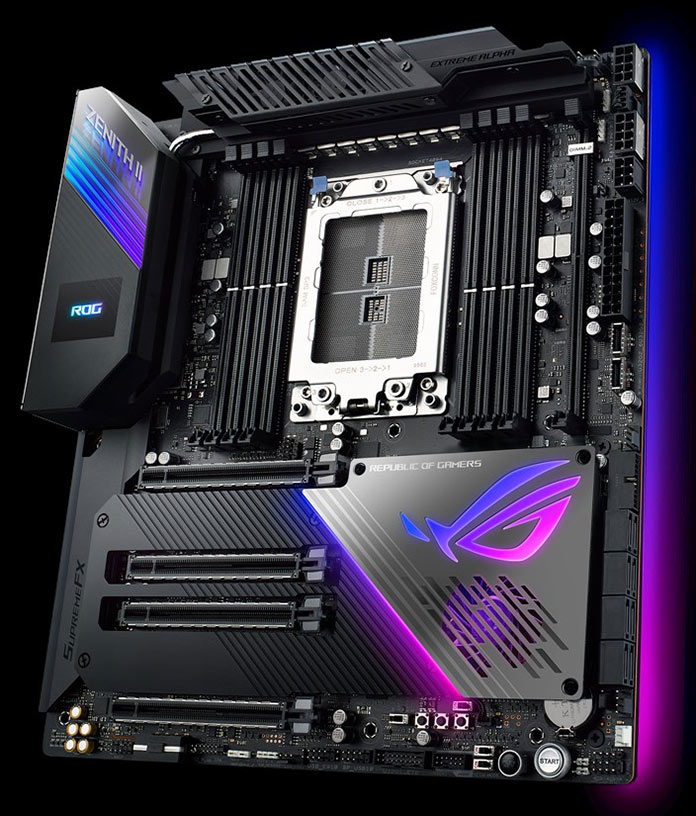 The platform for the Threadripper CPU is perhaps our most advanced motherboard at the moment, the ROG Zenith II Extreme Alpha. Even with the E-ATX form factor's real estate at our disposal, it was a challenge to fit every feature we wanted within its confines. Threadripper chips can draw prodigious amounts of power, so the sTRX4 socket is fed by 16 teamed power stages comprising Infineon TDA21490 integrated circuitry and MicroFine alloy chokes. Juice from the PSU flows through ProCool II solid-core auxiliary power connectors. One could say this board is a big fan of heavy metal, since it employs alloy armor in several spots: on the VRM heatsink, chipset and main M.2 heatsinks, as part of the backplate, and even as shielding for the audio circuitry.
There's room for expansion everywhere on this beastly board. The Zenith II offers four PCI 4.0 x16 SafeSlots, and there's a total of five M.2 slots—three onboard, plus another two on our exclusive DIMM.2 riser. If there was ever a time for putting multiple graphics cards or NVMe RAID arrays to good use, it's now. The back panel counts a total of twelve ports, including two USB 3.2 Gen 2×2 20Gbps connectors. An 10Gb Ethernet port allows for effortless multi-terabyte transfers over the network, while Intel-backed Gigabit Ethernet and Wi-Fi 6 controllers provide additional connectivity options. Additional niceties include a LiveDash OLED display that can present system vitals or custom graphics, and a SupremeFX S1220 codec in a combo with an ESS Sabre DAC for audiophile-grade sound.
This system uses the same ROG Strix Helios GX601 case, ROG Strix GeForce RTX 2080 Ti OC graphics card, and ROG Ryujin 360 seen in the Ultimate Gaming build, but the power supply moves up to our top-end ROG Thor 1200 given the potential loads involved, especially in configurations with multiple graphics cards. A pair of 2TB PCIe 4.0 SSDs makes the most of the Ryzen Threadripper CPU's bandwidth and offers both plenty of speed and room for large-scale data crunching. How you configure them is up to you. 
The Powerhouse
Component
Shop at
Processor
AMD Ryzen Threadripper 3970X
Newegg
Amazon
Motherboard
ASUS ROG Zenith II Extreme Alpha
Newegg
Amazon

Graphics card
ASUS ROG Strix GeForce RTX 2080 Ti OC
Newegg
Amazon
Memory
G.Skill Trident Z Neo 128GB (4x32GB) 3600MHz
Newegg
Storage
2 x Sabrent Rocket 2TB PCIe 4.0
Newegg
Amazon
Case
ASUS ROG Strix Helios GX601
Newegg
Amazon

Power supply
ASUS ROG Thor 1200W
Newegg
Amazon
CPU cooler
ASUS ROG Ryujin 360
Amazon
Price (approx.)
$6300
What about Mini-ITX?
We'd love to draw up a ready-to-rumble Mini-ITX parts list for this guide, but we decided to err on the side of caution. Small-form-factor builds are an art in themselves, and even with the most carefully prepared list of components, it's not unusual to hit a minor compatibility snag or to run into the need for a bit of elbow grease to make everything fit into a Mini-ITX system. If you're set on building with a Mini-ITX motherboard, you likely have a particular set of components in mind already or don't mind the challenge of tucking everything into a smaller enclosure.
Rather than prescribe an entire list of parts, we'd like to draw your attention to a couple of motherboards that can serve as the foundation of your next small-form-factor PC, as well as a few other parts that might serve you well as you bring that system together.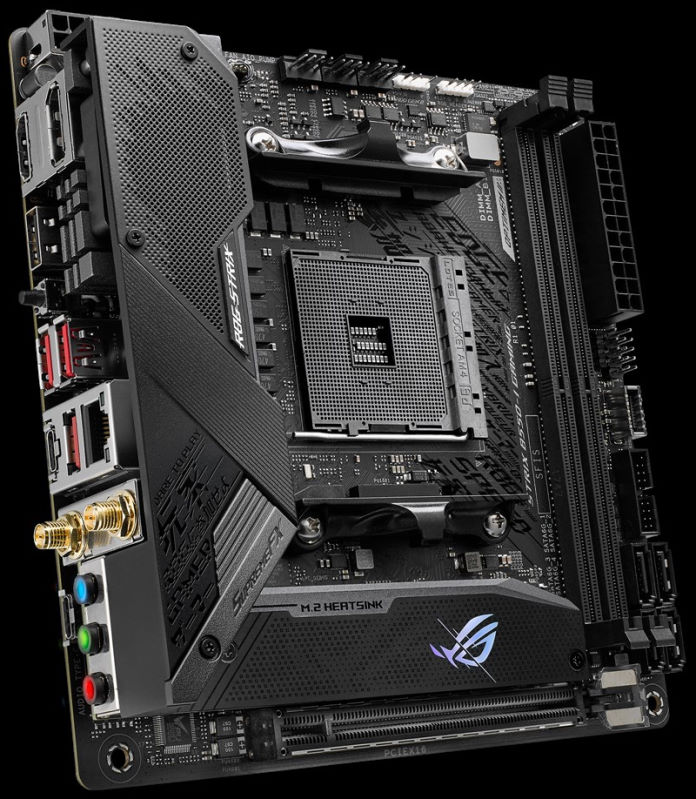 For mainstream third-gen Ryzen CPUs, we recommend the ROG Strix B550-I Gaming motherboard. This board unlocks the next-gen bandwidth of PCIe 4.0 with those chips, and its actively-cooled 8+2 teamed power stage VRM design, twin M.2 slots (one PCIe 4.0), and PCIe 4.0 primary x16 slot all stand ready to make the most of AMD's latest chips. SupremeFX S1220A audio with LED-illuminated audio jacks at the rear of the system make it easy to find the right place for your cables in the dark. It's the perfect platform for mainstream small-form-factor builds.
ROG Strix B550-I Gaming
Size
Mini-ITX
Memory
2 x DDR4 up to 5100+ (OC)
PCIe
1 PCIe 4.0 x16
Storage
1 x M.2 2280 (PCIe 4.0 x4 or SATA)
1 x M.2 2280 (PCIe 3.0 x4 or SATA)
4 x SATA 6Gbps
Networking
Intel I225-V 2.5Gb Ethernet
2x2 802.11ax (Wi-Fi 6) MU-MIMO; Bluetooth 5.1
Audio
SupremeFX S1220A codec
DTS Sound Unbound
USB
3.2 Gen 2: 1 x Type-C, 3 x Type-A, 1x front
3.2 Gen 1: 2 x front
2.0: 1 x Type-A, 2 x front
Thunderbolt 3
1 x internal header
Aura
1 x strip header
1 x Gen2 addressable header
Cooling
1 x pump headers
3 x fan headers
Availability (USA)
Amazon
Newegg
Availability (Canada)
TBA
If you demand the most from your Mini-ITX motherboard, may we suggest considering Mini-DTX instead? The ROG Crosshair VIII Impact takes advantage of the extra space below the main PCIe x16 slot in many high-end Mini-ITX cases to cram as many features as possible into a small-form-factor system.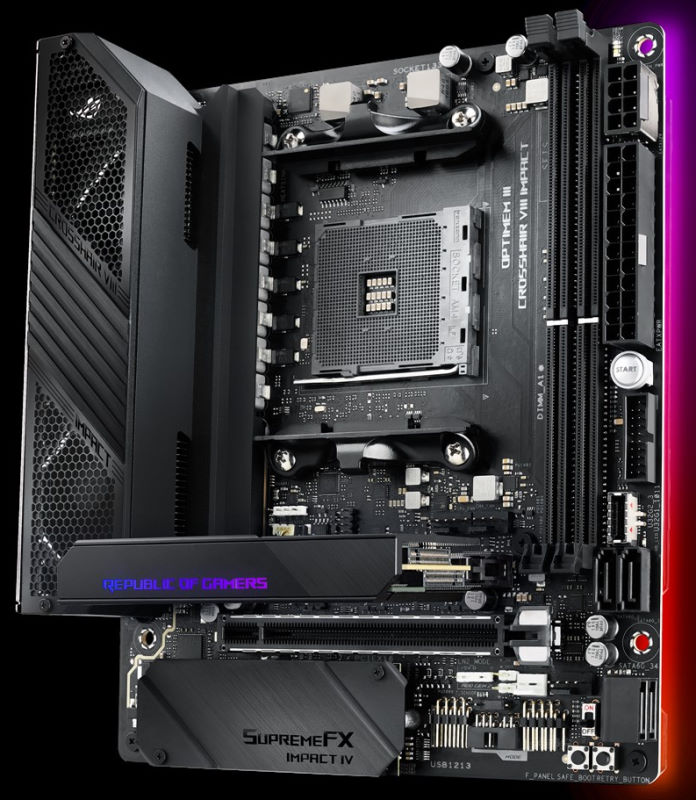 The extra room afforded by the Mini-DTX form factor lets us add a SupremeFX audio card with a companion ESS DAC for audiophile-grade sound quality, and a SO-DIMM.2 card with a dedicated heatsink keeps up to two high-performance M.2 SSDs away from other heat-producing components for maximum performance. Active VRM and chipset heatsinks paired with a boatload of other enthusiast-friendly features make the Crosshair VIII Impact an ideal small-form-factor foundation for systems that punch well above their weight.
ROG Crosshair VIII Impact
Size
Mini-DTX
Memory
2 x DDR4
Multi-GPU
NA
PCIe
1 x16
Storage
2 x M.2 (NVMe x4 or SATA 6Gbps)
4 x SATA 6Gbps
Networking
Intel I211AT Gigabit Ethernet
2x2 802.11ax (Wi-Fi 6) MU-MIMO; Bluetooth 5 (optional)
Audio
SupremeFX S1220 codec
USB
3.2 Gen 2: 1 x front, 1 x Type-C, 5 x Type-A
3.2 Gen 1: 2 x front, 2 x Type-A
2.0: 2 x front
Aura
1 x strip header
2 x Gen2 addressable headers
Cooling
1 x pump header
4 x fan headers
1 x coolant temperature sensor
1 x coolant flow rate sensor
Availability (USA)
Amazon
B&H Photo Video
Micro Center
Availability (Canada)
TBA