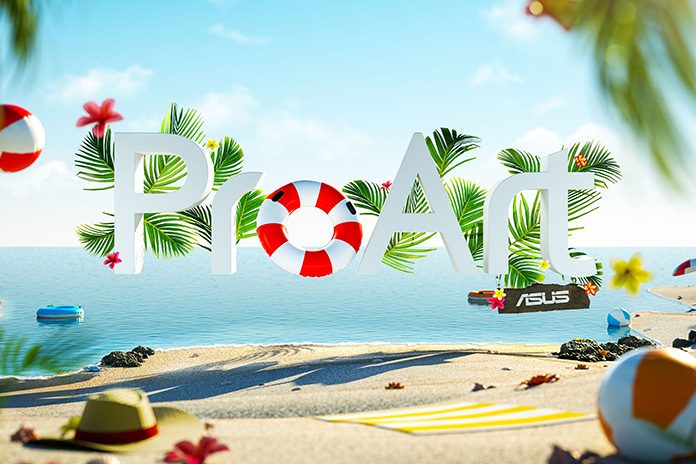 "Summer" by Evan Winters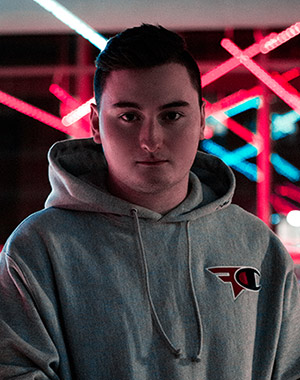 ASUS ProArt monitors and PCs are purpose-built for the needs of creative users. A while back, we opened the ProArt Wallpaper Contest and asked creators to submit their unique takes on the ProArt brand in the form of a desktop wallpaper. We received many inspired submissions, but Evan Winters' work stood out above the rest. We recently sat down with Evan to learn more about his creative process, his inspirations, and how ProArt gear helps him make his ideas a reality.
Tell us a little about yourself. Did you always want to be a graphic designer?
Design was something I stumbled upon in grade nine. At that point, all my friends were grinding trick shots for Call of Duty teams, and since I didn't have a console to partake in that, I took the design route to try and join the same teams as them. I've always been artistic, which was mainly expressed via drawing when I was younger, and as I got older my main outlet was kicking butt on assignments in school that would require an artistic eye.
Tell us about some of your favorite artists. Who has had the greatest influence on your work and why?
Rather than favorite artists, I'd say I have favorite studios. Man vs Machine and The Mill are both amazing design studios, and they constantly blow my mind with what they are able to produce. It just goes to show that when you gather a group of talented designers, what they make is going to be amazing. I hope that one day I get the opportunity to work with them.
Tell us about your creative process. How do you approach new projects and refine them on the way to a finished project?
I'm usually able to get a vision for what I want to create, but not always. If I have to follow a specific theme I often create a mood board and sometimes sketch ideas out. I do enjoy creating designs focused around a specific product when I'm not sure what I want to do for a scene. I'm able to play with shapes and colors that accent the specific product.
A lot of designers can be really hard on their own work, as we are often our biggest critic, but I've never been too hard on myself as that can take away the inspiration to create. I know when I'm truly happy with a piece, and when I'm not, I look for ways to improve it to a point where I'd be happy to showcase it in my portfolio.
Are there other examples of your work that you're particularly proud of? Can you tell us a bit about what led to the creation of those projects? 
I'm most proud of the project I created for my university 3D modeling and animation final. The piece is named "Rescue," and to this day it is still the largest project I have done in terms of skills required to pull it off.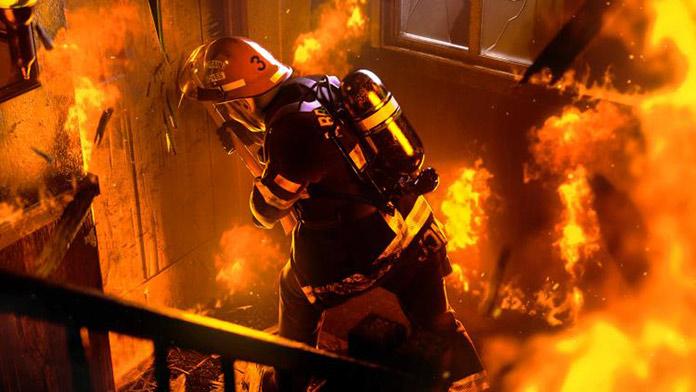 "Rescue"
The project required 3D sculpting, which was new to me; use of the 3D clothing simulator Marvellous Designer, and compositing in Nuke, another program I was unfamiliar with at the time. It's still a piece that I have yet to top, but I haven't really had time to dive into a personal project all on my own.
Tell us what inspired your winning entry for our wallpaper contest. How long did it take you to design from start to finish?
"Abstractness" is something I personally struggle to incorporate in my designs, and the wallpapers usually promoted on the ProArt monitors are just that. I decided to go with something I was stronger at so I opted to turn the ProArt text itself into something eye-catching and have the scene play off that.
It was -30° C here in Calgary with snow on the ground when I started working on this design, so I decided to roll with that concept. When I was creating a mood board, several interesting pictures of cabins helped me create a nice color scheme with an eye-catching orange glow to draw your eye to the text. The overall piece took between five and six hours, not including the time spent brainstorming and creating mood boards.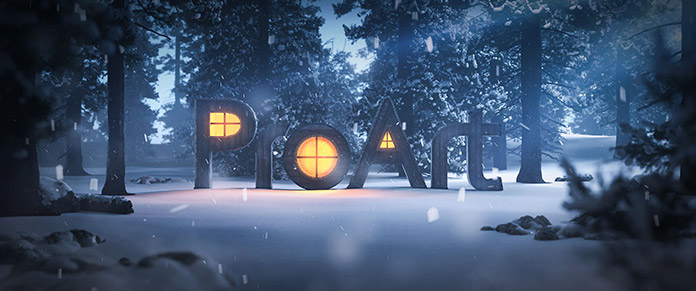 "Winter"
Tell us about your creative environment and studio. How do you arrange your space to cultivate inspiration and get into the zone? What software and tools do you find most useful in creating your artwork? 
My current studio still screams "gamer" to some, but I find that it's become more professional-looking compared to how it was during school. For 3D modeling and animation I primarily use Maxon Cinema 4D, and for texturing, lighting, and rendering I use the OTOY Octane Renderer plugin for Cinema 4D. I use Photoshop for post effects for stills, or After Effects for post for videos.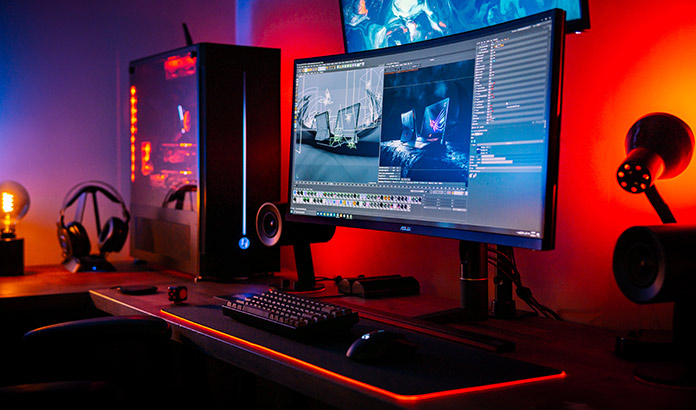 What are the things you look for specifically when choosing hardware for your workflow? Is color accuracy a factor that you consider when looking at displays?
Hardware is very important to me, as the last thing I want while designing is to have technical issues that interrupt my creative process. I am finally at the point where I have my dream computer, and my favorite part of it is its dual ROG Strix RTX 2080 Ti cards which power all of my 3D renderings.
Color accuracy is definitely important to me and was something I was ecstatic to get with the ProArt PA34VC that I won. My first ever monitor was a hand-me-down from my dad and was awful for color accuracy. This actually resulted in me doing a few designs that were way too dark before I caught on. At that time my workflow consisted of me sending images to my phone to check for color and brightness since the monitor wasn't trustworthy. So as you can imagine, having a monitor with precise color accuracy is extremely important to me now that I design professionally.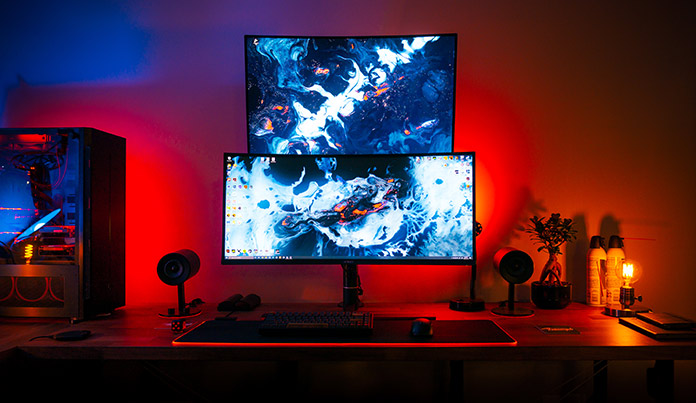 Since winning our contest you've been using the ProArt PA34VC to design more wallpapers. How has it improved your workflow? What are your favorite features about this display?
First and foremost, the color accuracy of this monitor takes away any concern I have about how my designs will look on other devices and monitors. The fact that it's an ultrawide monitor allows me to have both my 3D modeling window and live view display window sit comfortably next to each other without feeling cramped when I'm working. The same can be said for other programs that I frequently use, such as having more canvas space in Adobe Photoshop and more timeline coverage in After Effects.
If you can give one piece of advice to aspiring designers, what would it be?
I have been asked a lot if graphic design can be a career, and it truly can. Luckily, with the growth of esports over the past year or two, more and more people are finally seeing that, even within the gaming industry. If you ever need some constructive criticism, or program help you can always DM me on twitter.
Download your own ProArt wallpaper
Want to grace your own desktop with one of Evan's creations? You can head over to our ProArt Wallpaper page and download any of his four seasonal designs today.